Featuring: Digitizing B2B
New
B2B eCommerce
Podcast Now Available for Listening
OroCommerce is the only true B2B eCommerce platform
built with out-of-the-box features and ultimate flexibility.

Build Your Online Presence
It doesn't matter if you're digitizing your catalog, building a customer portal, or rolling out a complete B2C or B2B eCommerce strategy. Expand your business into new markets with an online and mobile presence.

Get eCommerce & CRM. All-in-One
Use our built-in CRM to gain a 360-degree view of all customer touch-points. Have sales, marketing, customer support, and eCommerce teams all on the same page.

One Platform for All Your Commerce
Address all B2B, B2C, and B2X (B2B2B, B2B2C, etc.) scenarios in a single platform regardless if you're a manufacturer, distributor, wholesaler, retailer, or brand.
Read Our Customer Case Studies
We evaluated other solutions like Magento and Hybris. We selected OroCommerce because of its great flexibility, customization capabilities, comprehensive out of the box B2B features set, the strong technology stack and the team behind it. Moreover, its unique deep integration with OroCRM will help us to put the customer at the center of our B2B e-commerce strategy.
The robust functionality and highly customizable OroCommerce platform will be a great fit for our company's B2B needs.
B2B eCommerce is one of Aldo's key strategies for success. We evaluated various solutions and agencies to help us successfully execute on our strategy and vision. After a careful evaluation, it was very clear to us that OroCommerce is the best B2B eCommerce solution...
We evaluated Magento 2, Shopware and OroCommerce Enterprise versions for our B2B specific needs. OroCommerce came out as the clear winner. We saw that OroCommerce is the platform that will fit our current and future need and will help our business grow.
Leverage eCommerce Expertise with
B2B Functionality
Enjoy our out-of-the-box B2B features like managing corporate accounts, displaying unique price books, showcasing specific catalogs, creating custom workflows for different customer groups, and much more!
Built for B2B eCommerce
OroCommerce is built for both mid- and large-sized B2B companies selling online. We support any business-to-business eCommerce scenario including Self-Service websites, Buyer-Seller Interactions, and B2B Marketplaces. Businesses, both new or experienced in eCommerce, can benefit from our B2B platform.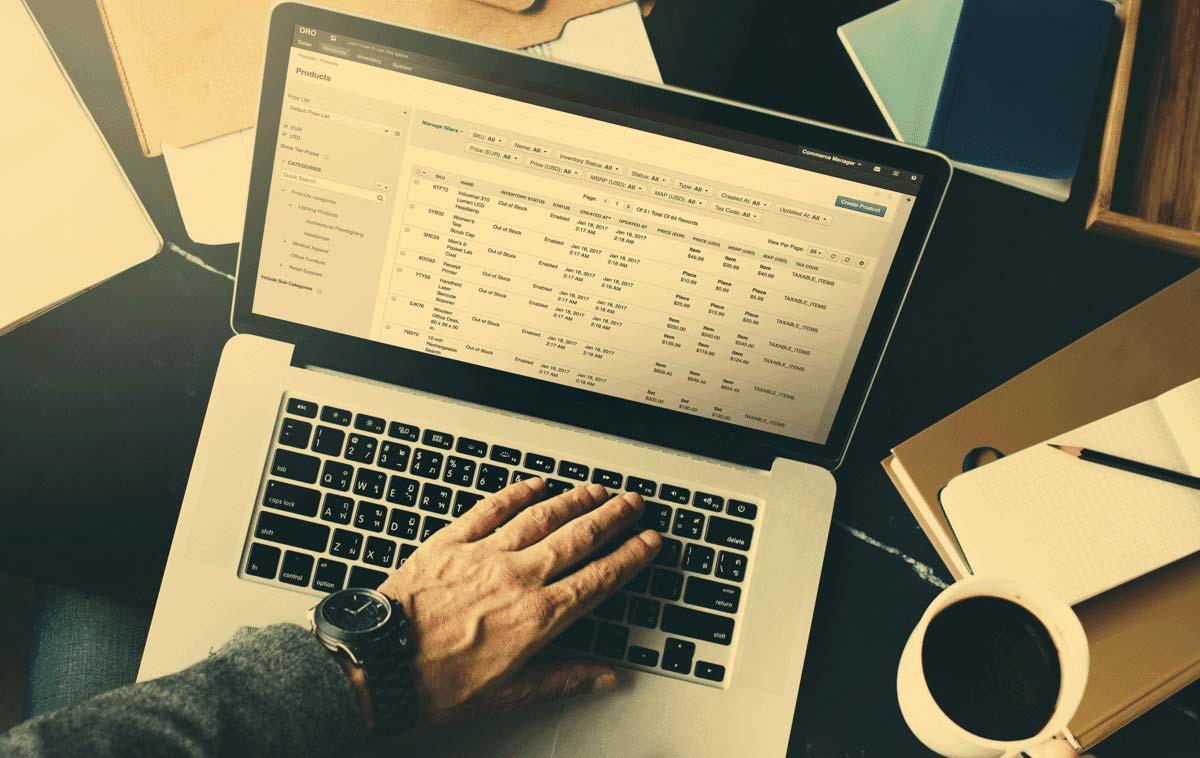 The Power of Open-Source for B2B eCommerce
Compared to other B2B commerce products, OroCommerce continues to partner with the strongest ecosystem of developers and solution integrators. These open-source eCommerce experts combine their services with our platform to offer businesses the best choice among B2B eCommerce software platforms.
Easily Integrate with Existing Business Applications
Integrate with existing applications, such as ERP, CRM, order management, Product Information Management (PIM), and any other complimentary software to streamline business operations for better workforce efficiency and lower operating costs.