B2B eCommerce for Distributors
The emergence and popularity of online purchasing has given B2B distributors favorable conditions to tap into a growing pool of online B2B buyers. Google reports that nearly half of all B2B researchers are millennials and today's modern buyers expect to view and easily make purchases – not only during working hours, but at any time and from any location.
As a leading B2B eCommerce solution for distributors, OroCommerce supports both on-premise and SaaS deployments with a platform that enables strong, personalized online experiences for B2B buyers. Whether you want to boost sales, reach new markets, win over new customers, or improve internal productivity with powerful automation tools, you need a flexible and robust B2B eCommerce platform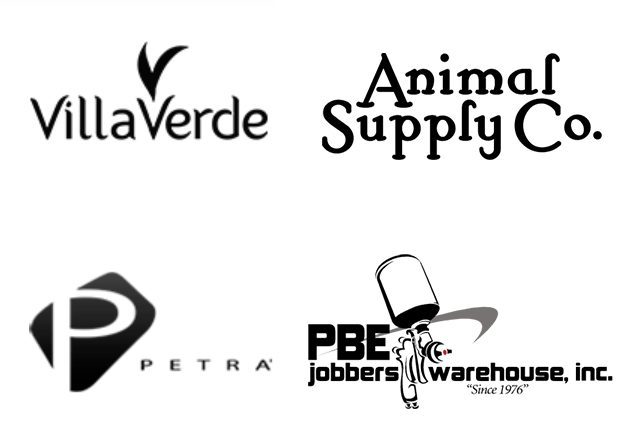 Key Benefits of B2B eCommerce for Distributors
INCREASE SALES
IMPROVE CUSTOMER EXPERIENCE
AUTOMATE YOUR BUSINESS
LEVERAGE MOBILE
IMPROVE YOUR CRM
OroCommerce Distributor Success Story

Animal Supply Company grows nationwide B2B eCommerce operations with OroCommerce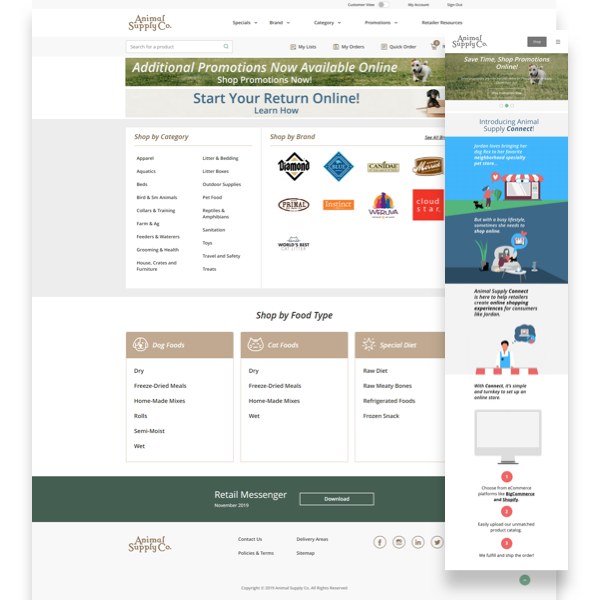 +400,000

in B2B Online Orders

5 Month

Implementation

+10,000

Price Lists
B2B Distribution eCommerce Lays the Foundation for Growth
Animal Supply Company, the national leader in pet food and supplies distribution, consolidated catalogs from multiple sources into a single platform. OroCommerce helped simplify complex pricing structures on thousands of products to create a personalized shopping experience for retailers.
We chose OroCommerce because it gave us the flexibility and functionality to implement our digital strategy exactly how we wanted it.
Why Leading Distributors Choose OroCommerce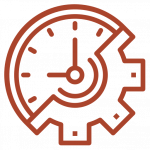 Speed to market and ROI
Forget about costly add-ons. Oro already includes the necessary features for an ideal sales environment. Start selling with a fully functioning eCommerce webstore that works on all devices without going over your budget. We at OroCommerce are completely clear about our prices, so there are fewer surprises along the way.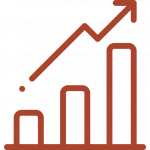 Scalable and enterprise-grade
Distributors need scalable solutions that support large catalogs, complex products, and a diverse customer base. No matter the nature of your business, OroCommerce's B2B eCommerce platform for distributors streamlines your purchase process, increases customer satisfaction, and reduces your overall costs.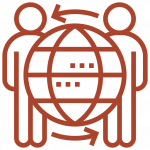 Ecosystem of 600,000+ developers
Businesses around the world choose open-source software for their robustness and innovative prowess behind their communities. Aside from a B2B focus, extensive eCommerce marketplace features, and decades of software development experience Oro offers a growing customer and partner network, and a thriving developer community.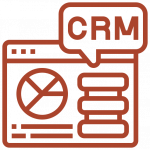 Native CRM integration
If you engage in eCommerce for wholesale distributors, you need to focus on your audience. OroCommece comes built-in with OroCRM. A leading CRM system, it gives sales and marketing teams a 360° view of prospects and customers.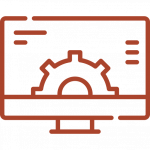 Created for B2B from the ground up
Oro's B2B focus allows us to offer more native functionality than other industry players, saving distributors time and money. Instead of dealing with unreliable add-ons and customizations, you can focus on growing your business.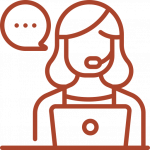 Support at all times
Global eCommerce distributors often work around the clock. That's why we offer our customers 24/7 support, a self-service library of resources, and a powerful community to get any question answered.
Why Leading Distributors Choose OroCommerce
Frequently Asked Questions About B2B eCommerce for Distributors
Do distributors need eCommerce?
A distributor is usually the middleman between the manufacturer and the customer. Most distributors sign contracts with manufacturers enabling them to represent the manufacturer in certain territories. Distributors primarily sell to other businesses and not to consumers.
Let's consider B2B electronic distributors. Many sell to wholesalers, retail partners, retailers, or other businesses simultaneously. However, their B2B customers, like independent consumers, want to compare products, place orders, and get their deliveries fast. Thus, B2B eCommerce can help distributors grow sales, increase average order values, and repeat purchases.
Why should a distributor try eCommerce in 2021?
Today's B2B customers expect their distributors to be online and have complete, up-to-date product information in easy-to-use ordering portals. A B2B eCommerce presence attracts new customers, allows them to browse, order, and reorder products. In the back-office, eCommerce helps distributors automate data entry, order approvals, contract negotiation, and offer better customer service.
As more and more customers move online to make purchases, they demand better customer experiences. To meet customer expectations, distributors must go beyond SEO-friendly and responsive websites. They must embrace an omnichannel sales strategy and expand across industry verticals, sales channels, and geographic locations. Thankfully, a B2B eCommerce platform makes all of that possible.
Why are distributors reluctant to try eCommerce?
While there are no reasons why distributors shouldn't try eCommerce, many distributors are discouraged from investing in eCommerce. Some think that their products and customers are not made for eCommerce, while others doubt that their digital transformation investment will pay off.
The turbulent 2020 has shown us that moving online might be the only way to remain profitable. Advances in technology make it easier to meet customer expectations and boost staff productivity. Furthermore, creating an eCommerce presence does not require huge software development teams, clunky software, or lengthy timelines. With the help of an eCommerce ROI calculator, distributors can estimate the cost of their project before they begin.
How do you build an eCommerce site for a distributor?
To build an ideal eCommerce website for distributors, you'll need to start by researching your industry and customers. Then, look within your B2B business and identify the features and capabilities you need and the technology you can use.
To do this, you'll need to assemble or get together your IT team and connect them with marketing, sales, and customer service staff. Getting input from various departments will help you identify real problems and narrow down the B2B eCommerce solutions that could be right for you.
What kind of eCommerce features do distributors need?
Business buyers are looking for selection, convenience, personalization, and a smooth buying experience. If you plan on selling through eCommerce for distributors, your platform must be flexible enough to adjust to every buyer. Storefronts should display personalized products, product information options, and pricing according to customer. Self-service portals must allow customers to manage orders and track their shipments.
Distributor B2B eCommerce sites should support account management options, permission management, custom price generation, various payment and shipping options. They should also support multiple organizations, languages, locations, and currencies. Lastly, the platform should be robust and flexible enough to support complex integrations and deploy in many different environments.
Looking for game-changing eCommerce insights? Explore these resources for B2B eCommerce for distributors:
This guide covers all the stages of the ecommerce replatforming process: starting from identifying replatforming is necessary to the actual plan of action for your migration and post-migration stages.
Download the Copy
This guide shares best practices on how to convert offline B2B buyers into online customers by overcoming resistance and effectively communicating them the benefits of B2B online portals.
Download the Copy
In this whitepaper, you'll learn about automated workflows, how they benefit your business, and why flexible workflows are essential for B2B digital transformation.
Download the Copy