Originally published April 25, 2019, updated June 8, 2021
Successful B2B businesses have one thing in common: they understand their B2B buying process and use digital tools to help them maintain it. If your website can't set you apart from your competitor, it's easy to lose your customers (to Amazon, for example).
The B2B business world is massive and certainly diverse, but what a digital commerce solution or a marketplace management platform can do is remarkably similar.
To offer the ideal customer experience and make it easy for others to do business with you, you need an eCommerce platform with features built specifically for B2B duty. To successfully address the needs of their online buyers and succeed in their competitive markets, B2B sellers must equip their webstores with a number of key features for B2B eCommerce.
Features Key to a Great B2B Experience
With the B2B eCommerce market booming, companies are becoming more accustomed to buying online and more demanding when it comes to the B2B online experience.
Whether you're a B2B business upgrading your existing website, building it from scratch, or already using a B2B eCommerce platform, make sure you can support the following B2B capabilities.
Top 10 B2B eCommerce Features List
Let's take a look at the most important B2B eCommerce features as well as ​marketplace website features to streamline sales productivity and improve the customer experience.
1. Access Controls, Roles & Permissions
In marketplace B2B platforms and eCommerce websites, customers tend to be different users with different job titles and responsibilities. That's why it's important to ensure that users have access to only the information needed to perform their work and nothing more. Typically, there is always an admin user who can create other customer users and grant permissions to buyers and non-authorized users.
As the most common category of users, buyers can be further split to differentiate between purchase managers and junior buyers. In such a use case, a purchase manager may have full permissions to work with invoices, orders, tax codes, etc., while junior buyers may only access quotes, prices, and shopping lists.
Access controls are a must-have if your B2B deals with vastly different customers. OroCommerce allows sellers and buyers to create unique experiences for their employees. As you add more back-office staff, buyers, and guests (non-authenticated buyers), it's easy to set and later modify their permissions.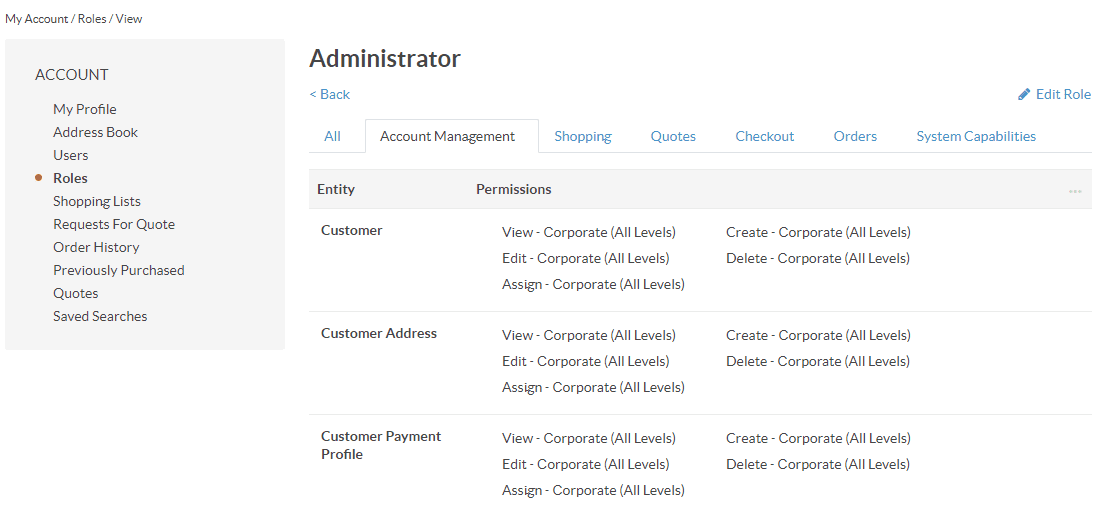 2. Corporate Account Management
Unlike in B2C, the B2B eCommerce user experience requires much more personalization. A B2B account can often comprise multiple users with unique roles and purchasing rights, especially when dealing with company subdivisions or sub-units. 
Your system's corporate account management capabilities should be able to address complex, hierarchical corporate account structures. Buyers should be able to configure their own account management structure, add authorized users, and create purchasing rules regardless of how many businesses, teams, departments, offices, or branches they may have.
One of the standout features of OroCommerce is flexible account management capabilities built into the admin console. Administrators can set up a corporate structure that reflects their business. This extends to corporate buyers, too, who can replicate their business structures in similar ways.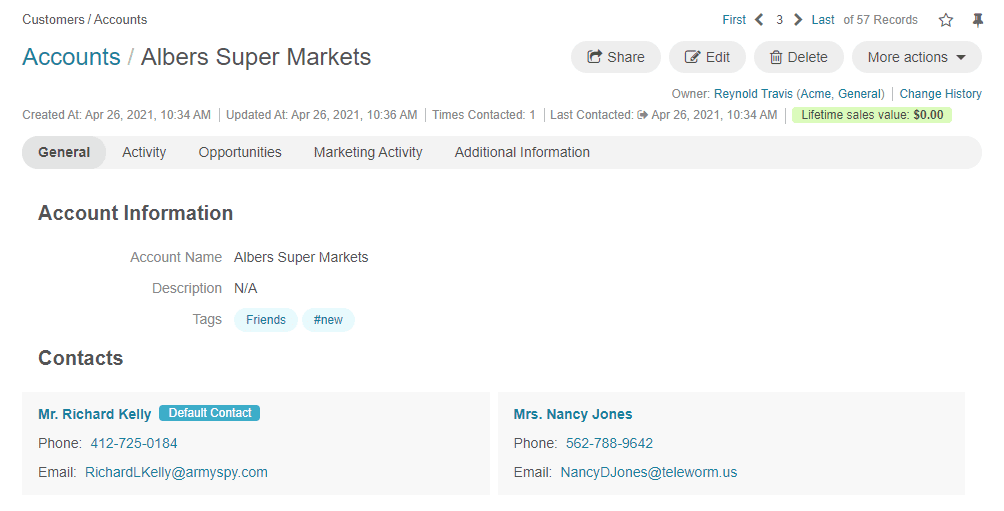 3. Multiple Organizations, Websites & Stores
Many businesses manage multinational brands that operate across various countries, currencies, and tax regulations. Thus, scalability and localization capabilities of your B2B eCommerce solution may become a critical requirement for your business.
These B2B eCommerce features are typically addressed by a purpose-built B2B platform out of the box. For example, OroCommerce Enterprise Edition includes flexible and robust tools allowing organizations to control multiple businesses, sub-brands, and divisions from one place. If you build a custom eCommerce solution from scratch, don't forget to address scalability and PCI DSS eCommerce security requirements that come with multi-website capabilities.
If you run several business entities and need to segment employees and customers, it's also a good idea to unify it all under a single eCommerce platform. With OroCommerce's multi-organization and multi-website functionality, you can set organizations, customer groups (including restrictions) and manage it all from a single admin interface.

4. Content Management System
Since B2B buyers purchase items for pragmatic (not emotional) reasons, merchants have to offer supplemental information to ensure buyers know what they are buying. Product descriptions, videos, certifications, marketing sheets – all this information helps you clearly communicate the advantages of your products and preemptively address questions and pain points of many decision-makers.
Any B2B eCommerce platform requires strong content management capabilities to grant you full control of the content, layout, and embeddables. Content editors should be intuitive to use and enable marketing and merchandising teams to update content and product pages with ease and without coding knowledge.
OroCommerce
comes with a WYSIWYG editor that includes blocks - a system of drag-and-drop elements letting you easily apply the desired look and feel to your content. You can also adapt layouts to different displays and preview them on localized pages, and on behalf of certain users.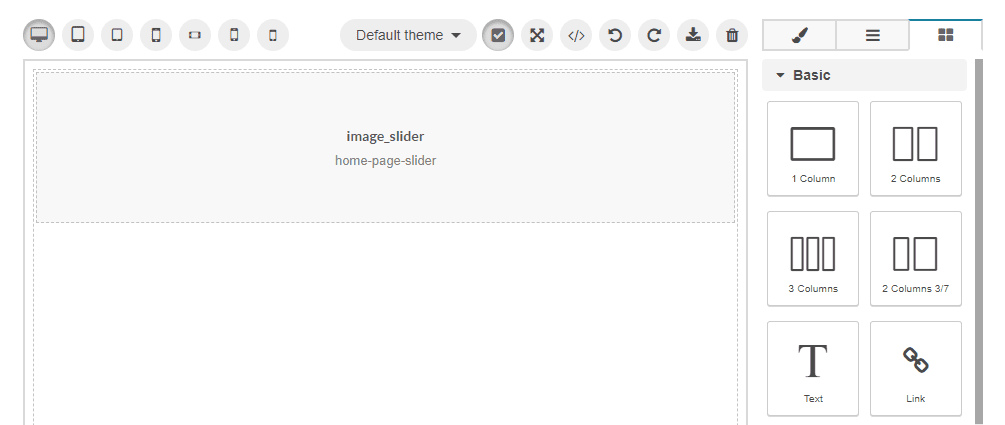 5. Personalized B2B Catalog Management
There's no one size fits all approach to online selling. Your eCommerce solution must be tailored to the way you do your business and not the other way around. Thus, personalized B2B catalog management is among the most critical B2B eCommerce features.
Ample personalization options enable sellers to customize product catalogs to specific corporations, divisions, business units, and even individual buyers or customers. Each group has access to its own catalog where purchasing managers are able to view content and purchase products. For example, you may want to bundle certain products together or set minimum order quantities for different customers.
With personalized web catalogs, you can offer customers relevant promotions, upsell and cross-sell more effectively, and increase repeat purchases. OroCommerce allows you to create unlimited web catalogs, customize their contents, including collections and landing pages, or restrict them to specific users.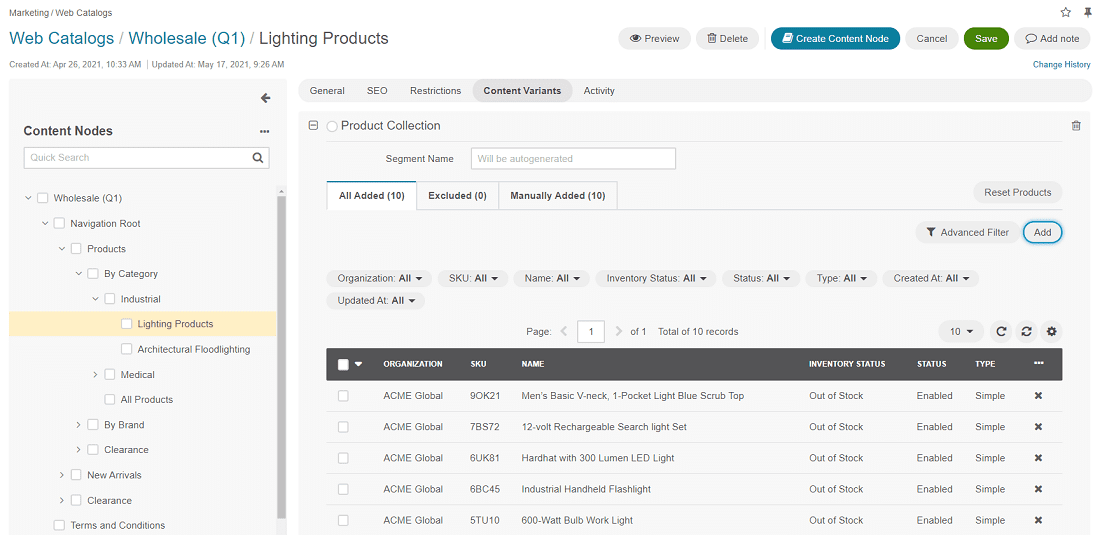 What are the the best B2B eCommerce solutions for 2023?
Our comparison table lists the best platforms on the market.
6. Multiple Price Lists
Pricing in B2B eCommerce can get quite complex. Prices may depend on the purchasing volume, pre-negotiated discounts, frequency of purchasing, and many other factors. They may also be calculated dynamically based on specific business and pricing rules (another useful eCommerce feature).
All this calls for the ability to create and customize many different price lists for each customer, company, or business unit authorized to purchase from you. Price lists can also contain an unlimited number of price points, various tiers, and different currencies, adding to their complexity. Moreover, keeping these price lists in sync with your ERP system is another challenge, but more on that later.
OroCommerce helps you adapt your pricing strategy to the needs of individuals, customer groups or business accounts. It also comes included with an advanced pricing engine and supports working with various pricing strategies, attributes, tiers, fallbacks, and price merging functions.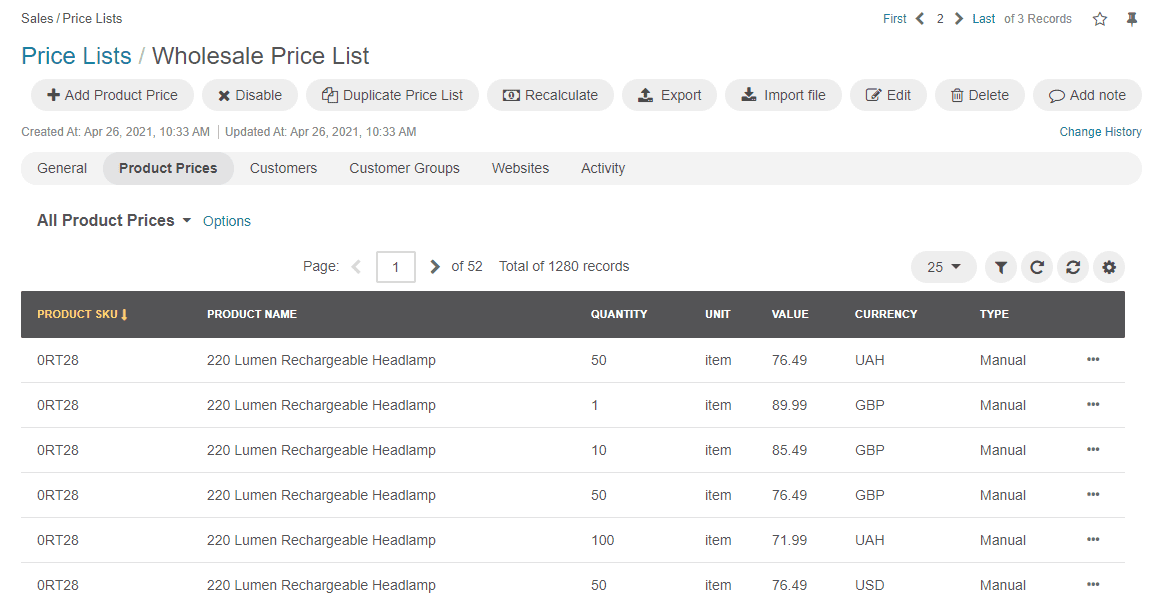 7. Multiple Shopping Lists
While corporate buyers can place orders through multiple venues, many prefer to use shopping lists for bulk or repeat orders. That's because many B2B customers juggle numerous projects, require different products for different areas of business, or can even purchase on behalf of different individuals. Such selling environments necessitate more than one shopping cart for different purchasing needs.
Shopping lists should also include time-saving features like the ability to perform actions in bulk. Look for ways to allow buyers to add, remove, duplicate lists, or use them to request quotes or submit orders. Other businesses may want to offer customers both shopping list and cart capabilities.
We at OroCommerce were one of the first to recognize the need to offer B2B buyers a convenient shopping experience. That's why the platform is built around a shopping list function that allows buyers to add, remove, or duplicate items via shopping lists. It also supports bulk functions as well as quick ordering with one-page checkout.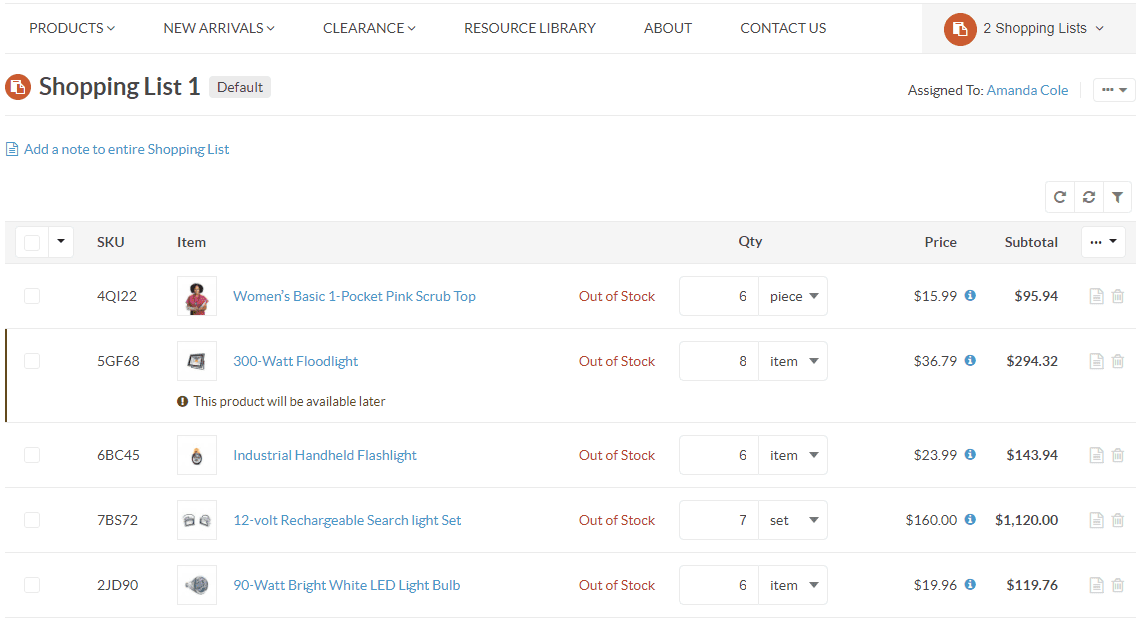 8. Segmentation & Custom Reports
With a treasure trove of customer data, your B2B eCommerce platform is fertile ground for account-based marketing, segmentation, and customer behavior analytics. You should be able to track key business KPIs and determine how they get affected by different marketing tactics, UX improvements, and new product offerings.
As an essential feature for B2B eCommerce analytics, your solution should include a customizable reporting engine and dashboards enabling your marketing teams to gain actionable insights into the customers' data. Apart from tracking key business indicators, it will help you understand your customers' purchasing patterns, and prepare timely, targeted marketing campaigns.
OroCommerce comes with a powerful reporting engine allowing you to track any metric, according to a business unit or account property. The reporting engine also comes with segmentation features to narrow down results and supports Google Data Studio reports, which users can save to their dashboard based on their permission.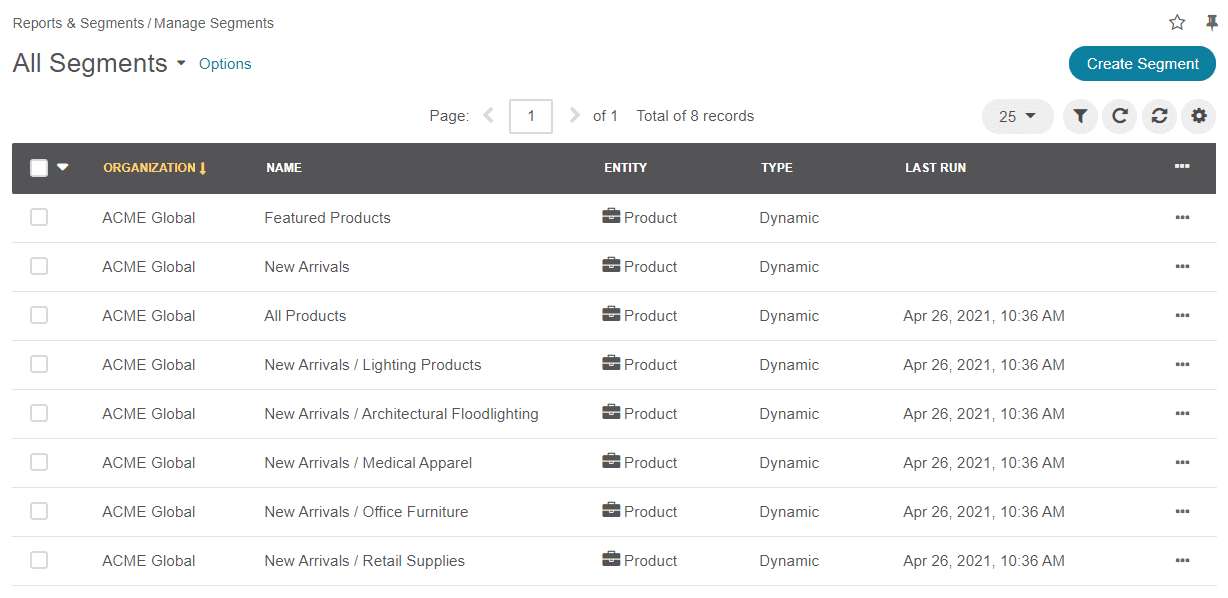 9. Flexible Custom Workflows
When selecting your B2B eCommerce software, don't forget to consider the flexibility of your solution. An eCommerce website should never be "set it and forget it" exercise. Eventually, markets will change, opportunities will present themselves, and customers will ask you for more features.
One crucial capability during your technical evaluation should be the ability to create an unlimited number of custom eCommerce workflows to support both buyer and seller-related processes. A flexible workflow engine should allow you to customize various workflows from onboarding and quotation, to order submission, checkout, and replenishment.
Ecommerce automation
is easy in OroCommerce. The built-in automation engine facilitates everything from inventory synchronization, pricing calculations, quote management, order confirmation, negotiation, routing, and approvals. It also eliminates time-consuming tasks and makes it easy to offer personalized customer experiences at scale.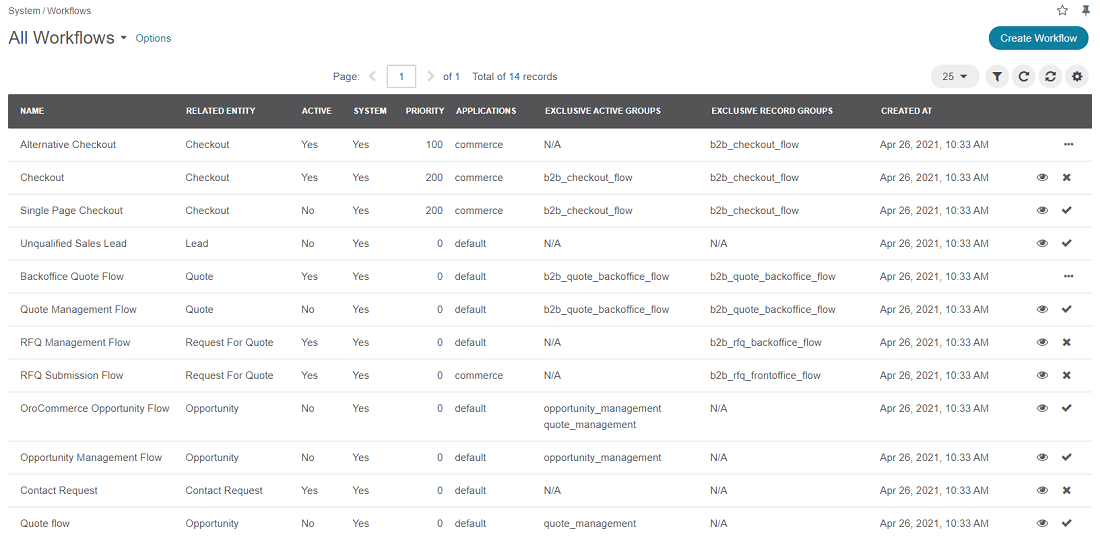 10. Self-service Options
Customers increasingly prefer to self-serve instead of calling sales reps over the phone. However, not just any self-service portal will do. B2B-specific portals should be responsive, intuitive to use, and have specific functionality. For example, business buyers often have to ask for quotes, submit orders, create reorders, modify details, or track shipment – your solution should support this.
However, sometimes, all the B2B portal features in the world will not replace human interaction. Look for B2B eCommerce self-service capabilities that you can personalize to each customer or adjust as circumstances change. If you want to build and nurture strong customer relationships, self-service capabilities play a part in getting you closer to these goals.
OroCommerce's self-service portals allow customers to place orders 24/7, as well as check their order status, order history, shipping, or delivery information. Business customers can also manage their buyer roles, shopping lists, and perform bulk actions without the need to contact the sales rep.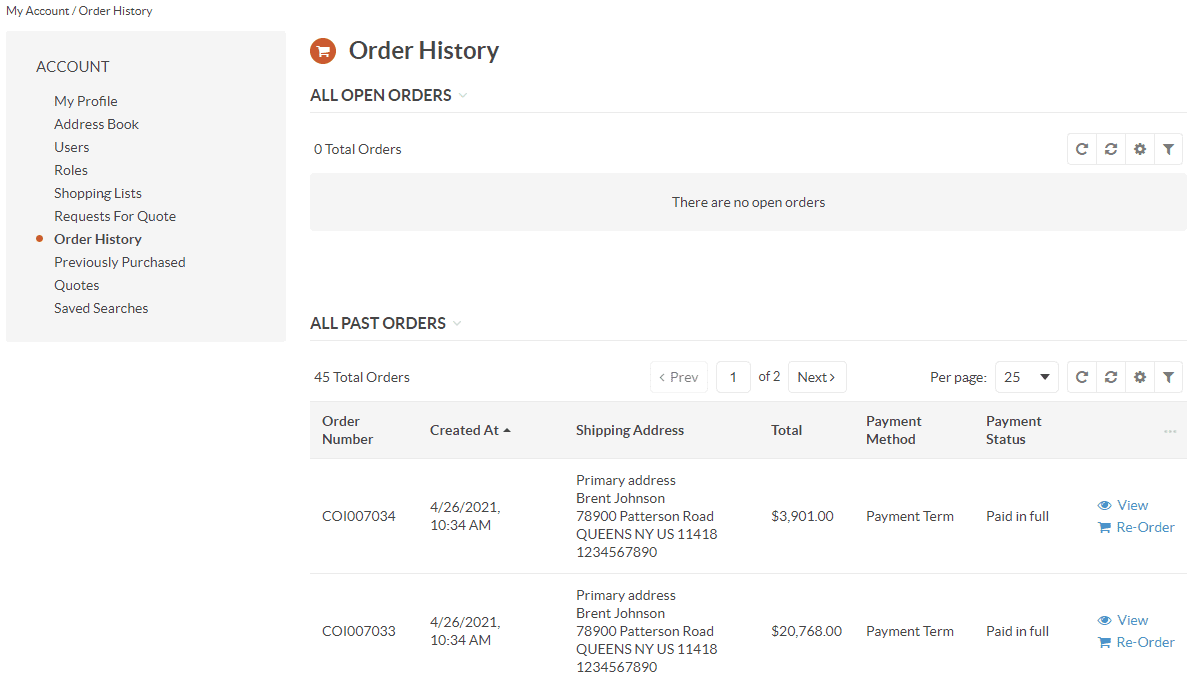 The Ultimate Guide to eCommerce Replatforming
Make the right moves during digital commerce migration.
Bonus B2B eCommerce Features
Aside from the above must-haves, we've included three additional eCommerce features. Their significance will depend on the individual use case, but they go a long way in improving operational efficiency and customer experience.
Streamlined Buyer-Seller Interaction
However advanced a website may be, a B2B eCommerce website cannot offer a complete substitute for a salesperson. Even in a negotiation between the buyer and seller, some B2B eCommerce capabilities can significantly streamline this buyer-seller interaction.
For example, one way OroCommerce improves these interactions is by providing buyers with an easy way to create and submit inquiries, purchase orders, and Request of Quotes (RFQs) electronically. Sellers are then able to easily respond to orders and quote requests on the same platform, thus facilitating an efficient negotiation process between the buyer and seller.
With OroCommerce, customers can request quotes, negotiate pricing, and manage orders self-service. Powerful back-office automation features save staff time on manual order and data entry. A Buyer Assistance feature allows sales reps to perform purchases and
order management
functions on behalf of the customers, ensuring a stress-free buying experience.
Payment and Invoicing Options
Business transactions are complex and differ from company to company. While one company may choose to pay on delivery via wire transfer, another company may want to purchase on approved credit or Net 30 payment terms. Aside from credit card, eCheck, and other traditional B2B payment methods, the best B2B eCommerce solution should offer additional options such as ACH, partial payment, credit lines, and guarantees either natively or through integration.
Once payment goes through, you may want to transfer this information to other systems. Besides integration with payment gateways and processors, consider if you'll need to sync orders to accounting and financial systems.
Payments are crucial in eCommerce, and even more so in B2B eCommerce. That's why OroCommerce supports payment rules that display unique payment options to clients, separate payment terms, and payment approvals by individuals. It also supports invoices, delayed payments, and other B2B payment needs.
Integration Options
The average B2B business relies on many systems, and their eCommerce platform is just one of them. Integration facilitates critical functions such as real-time inventory updates, pricing consistency, and order synchronization, AI powered eCommerce, enabling you to offer customers a better experience across diverse channels.
Most businesses rely on enterprise resource planning (ERP) systems to manage product specification, customer, pricing, and order data. Others may rely on customer relationship management (CRM), PIM eCommerce, eProcurement, warehouse management, and other systems. B2B brands require an effective way to send data between these systems and the eCommerce software.
Apart from connecting with many tools you already use, OroCommerce is built on robust open-source architecture features and expendable API that supports all types of
eCommerce integration
. Oro's large developer ecosystem, technology and solution partner network have extensive integration experience.
The Right B2B eCommerce Solution Sets You Up for Success
Your B2B eCommerce store is the first impression many buyers will have of your brand. Therefore, you must take the time to understand your needs, your customers' needs, as well as your future trajectory before you start your eCommerce software selection process.
Once you identify what you want to accomplish, don't evaluate your eCommerce options by feature set alone. What's important is thinking ahead and selecting a solution that will serve your needs today and tomorrow. Look for a scalable system – you won't have to re-platform in a few years. Pay close attention to integration and customization options – they'll help you react to changing market conditions and deliver on customer needs.
Now that you know what features of a B2B eCommerce platform to look for, how do you make the right eCommerce vendor decision? We've created a comprehensive RFP (request for proposal) template to help you inquire about the features important to you. Find out what to look for and what questions to ask to better assess your shortlisted solution providers.
Get started with a free B2B eCommerce RFP template
Know what to ask when shortlisting B2B eCommerce vendors.
Questions and Answers
What are the B2B eCommerce features?
The three most important B2B eCommerce features include personalization: customer specific catalogs and pricing; bulk ordering functions: support for shopping lists, minimum orders, volume purchases and discounts; as well as support for various organizational structures and corporate customer account management.
What types of B2B eCommerce sites are there?
There are four common types of B2B eCommerce: B2B2B, which involves selling to additional businesses in the supply chain; B2B2C, where a B2B business maintains a link to the end-consumer; D2C where a B2B business sells directly to a consumer, and B2B marketplaces.
How do I choose a B2B eCommerce platform?
The best way to choose an eCommerce platform is to start with your current needs. Once you have an initial set of requirements, consider how they may change down the road. Your shortlisted platforms' ability to scale and adjust to your needs is crucial, and will likely be a deciding factor in your selection.