As the pandemic drove most B2B customers to purchase online, it wasn't entirely clear how that translated to actual buying activity. A recent April 2021 survey from DigitalCommerce360 revealed that the typical B2B buying process repeats on a monthly or weekly basis. When asked why they purchased online, respondents cited greater selection, convenience, purchase efficiency, and costs savings as primary reasons.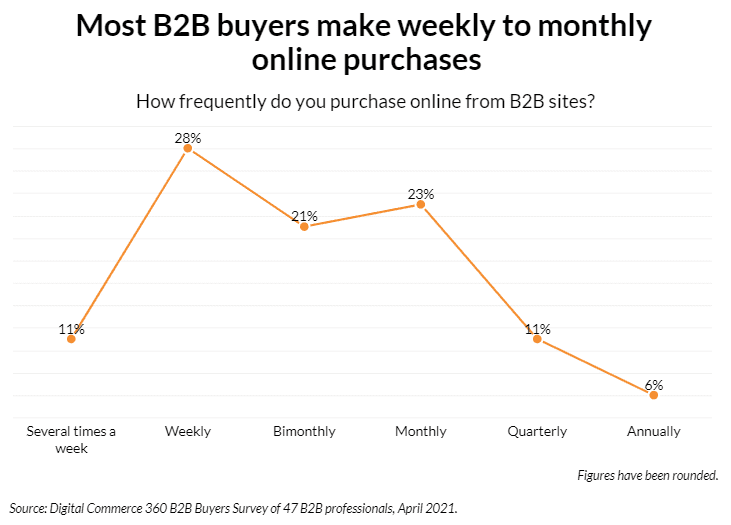 On a global scale, the pandemic is still a hot topic. For example, in the US, we're seeing more and more places opening up and lifting COVID restrictions. As of early May, 22 states have either partially or fully reopened. States like Florida, Texas, and Georgia, and most of the Midwest are open for business. 
Things are much different in Asia, where varying degrees of outbreaks are sweeping across various nations. Perhaps the most devastating news came out of India, which peaked at an all-time record of 400,000 cases by the end of April. Other countries such as Malaysia, Nepal, and Sri Lanka also show growing case numbers.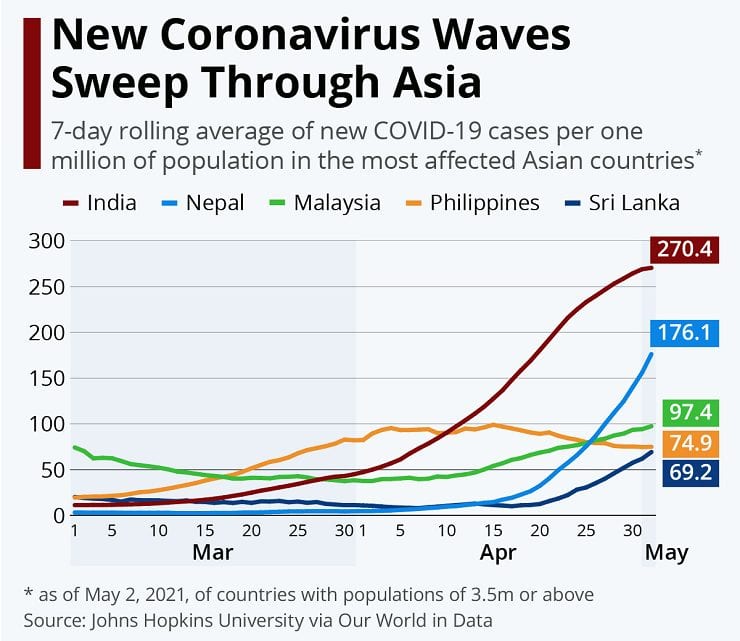 Despite the changing dynamic, digital activity is booming, and that includes all aspects of digital commerce. According to a report by the UN, the B2B eCommerce market is 82% of all eCommerce, which includes both sales, online market platforms, and electronic data interchange transactions (more about EDI in eCommerce). What's more, B2B buyers are always on the lookout for more convenient, personalized experiences – and are not afraid to change brands to get it. Over 80% of frequent B2B buyers will switch suppliers in a 24-month period, highlighting a growing dissatisfaction among buyers in the B2B space.
Our 2021 April B2B eCommerce roundup covers the latest news and updates in manufacturing, distribution, and the latest commerce technologies, such as AI in eCommerce. We'll also share the latest B2B marketing, workplace, and marketplace developments.
April 2021: B2B eCommerce and Continued Online Growth
As buyers of all sizes embrace digital shopping, there are many segments in B2B eCommerce, particularly large enterprise and government buyers, who are yet to take full advantage of this selling medium. They need to shop in B2B marketplaces or source local suppliers to help them diversify their suppliers, boost efficiency, and lower costs.
What is your post-pandemic selling strategy?
As the vaccinations proceed and lockdowns subside, many executives are wondering if B2B eCommerce software has been a blip on their radar or a permanent shift. Harvard Business Review discusses what moves to make as the crisis eases – and what does that mean to B2B eCommerce?
B2B real-time payments (RTP) developments
The pandemic drove a surge of global payment processing and mobile wallet adoption, and the next big thing in payments is expected to be with real-time payments. While only 0.6% of all processed transactions were real-time in the US, this number will likely grow to 3% in 2025.
The epic rise of Indonesia's FMCG eCommerce industry
The shift to online consumption is driving one of Asia's hottest FMCG markets. Trade dominates Indonesia's fast-moving consumer goods (FMCG) segment, occupying $25 billion in sales. Consultancy Asia describes the peculiarities of the market and eCommerce models used.
Manufacturing News in B2B eCommerce
Manufacturing economy sees April activity boost
The manufacturing economy overall grew consecutively for the 11th month – and optimism is continuing to increase slowly but surely. However, according to IndustryWeek, struggles still remain – the COVID-19 pandemic still restricts the availability of parts and materials.
Sustained optimism in the manufacturing sector
A year ago, it was a challenging time for the manufacturing sector. Today, according to the State of International Ecommerce in Manufacturing report (registration required) by Copperberg, Intershop, and Evident, more than a third of manufacturers expect over 25% growth in eCommerce sales in the next two years.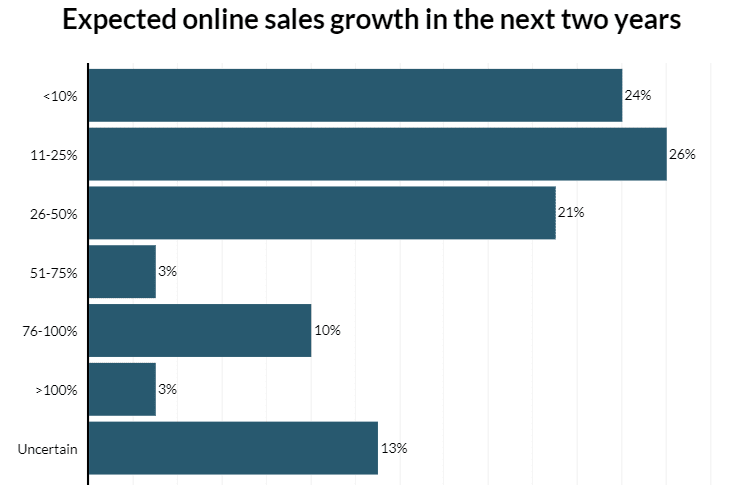 Distribution News in B2B eCommerce
Knowing how to pivot to new channels: a must for distributors
When moving from B2B shipping into the B2C space, distributors face many challenges. From different customer expectations to warehousing, technical, and returns management needs – businesses should consider it all for a successful pivot.
Marketing News in B2B eCommerce
The pandemic brings increases in awareness, openmindedness
Everything from social issues and uncertainty caused by the pandemic means it's now more important for brands to give back and be authentic. In fact, according to an eMarketer, 84% of US CMOs realize customers are more receptive to brands that go above and beyond to connect with them.
The B2B eCommerce Workplace
Communication in the workplace: as important as ever
Today, more than ever, it's important to ensure open communication with frontline workers. Managers must keep employees up to date on changing regulations, restrictions, and company guidelines. Leveraging mobile technology can go a long way in streamlining productivity, communication, and safety.
B2B Marketplace News
New enterprise-grade B2B marketplace platform
Oro Inc. announced OroMarketplace, a powerful end-to-end enterprise marketplace platform. It's flexible enough to accommodate B2B marketplace of any size and complexity, and supports products, services, bookings, and digital products. It's made for businesses in the B2B, B2C, D2C, B2G, franchise, and other industries.
Thanks for Reading Our April 2021 Roundup!
And that's a wrap for April 2021. We hope you found our B2B eCommerce roundup interesting and informative. If you'd like to contribute an article or a news piece, let us know in the comments below or by getting in touch with us. For now, don't forget to bookmark the OroCommerce blog to stay on top of future updates.