As we move forward into 2021, many are wondering if this year will give us some semblance of normalcy. Whether we'll see a return to prior aspects of economic and social life is anyone's guess. One thing for sure: as the global pandemic continues, many companies are continuing the year with just as much uncertainty as they saw in 2020, with continued swings in sales and demand.
The recent report by McKinsey demonstrates that executives remain somewhat optimistic about the future, with over half believing their local and global economies will improve within the next six months. At the same time, 24% expect the economy to take a turn for the worse. What's remarkable is that this outlook remains stable and virtually unchanged from responses seen at the end of last Summer.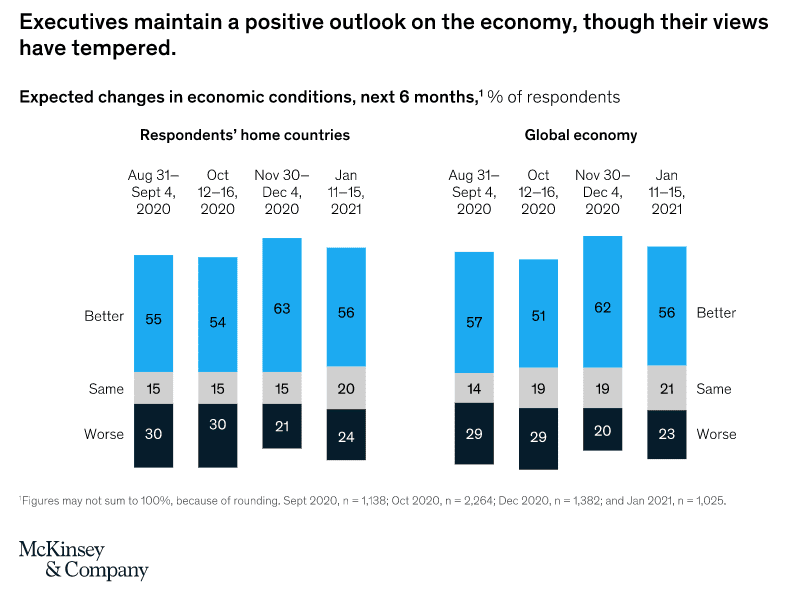 In general, however, B2B eCommerce is pushing past the turbulence of 2020, garnering growing attention from sellers and buyers alike. While the growth trajectory varies from industry to industry, the reliance on digital tools and services is holding strong across the board. That said, many companies still face organizational resistance when it comes to digital. That's why they often turn to digital transformation consulting firms to ensure they execute digitization projects successfully.
As we head into Spring, it's time to look back on February with our monthly B2B eCommerce news roundup. We'll explore the general trends in manufacturing, distribution, supply chains, and B2B eCommerce. We'll also touch upon the trends in B2B marketing, B2B marketplace news, and the customer experience.
What Happened in February 2021 in the World of B2B eCommerce, Business, and the Economy
Oro's analysis of 2021 B2B eCommerce trends
What should we expect in 2021? We updated our comprehensive B2B eCommerce market analysis with lessons learned from 2020, various statistics, trends, and growth areas to watch in the years ahead.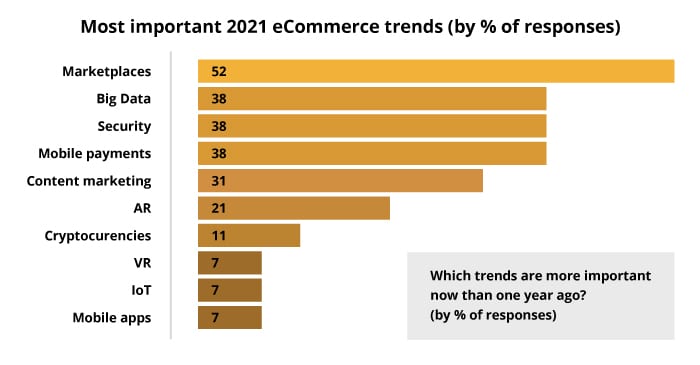 B2B buyers and sellers flock to B2B eCommerce
Last month, DigitalCommerce360 surveyed about 100 companies (signup required), asking them about their priorities for the future. The majority of B2B sellers are looking at digital commerce technology and infrastructure to improve the customer experience.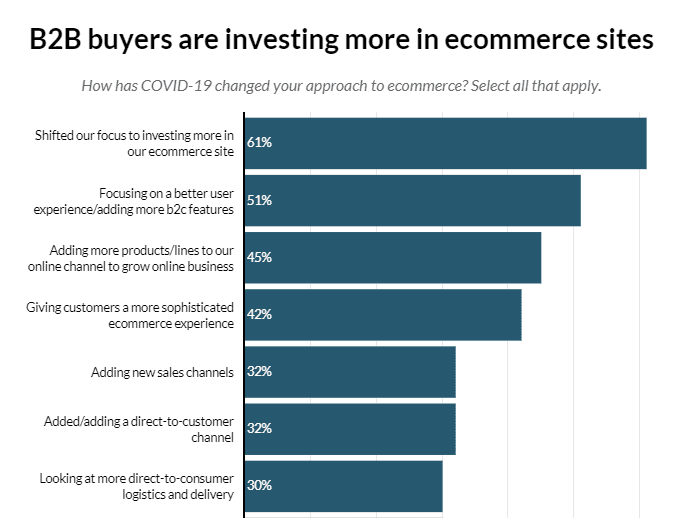 Selling to existing customers as a source of growth
Economic uncertainties are pushing brands towards tried and true, low-risk selling strategies. According to Gartner, seventy-three percent of chief marketing officers (CMOs) plan to engage with existing customers in 2021.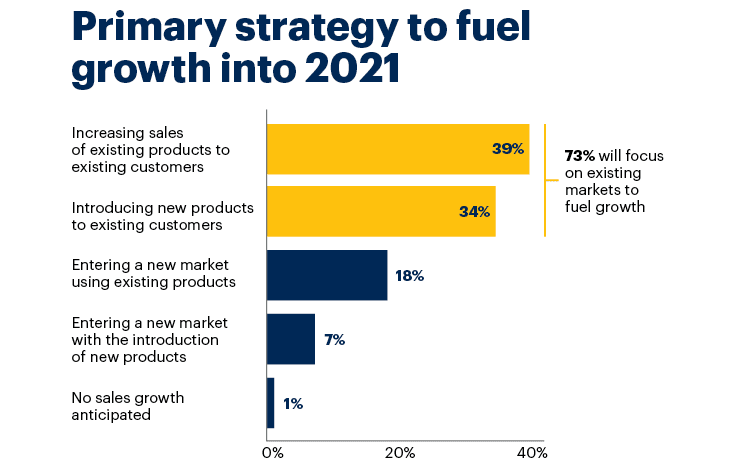 Start selling wholesale clothing online in 10 steps
The fashion and apparel industry is constantly evolving, and new opportunities are always emerging. Alibaba shares all the tips and steps involved in starting a digital wholesalers clothing business.
Importance of B2B loyalty programs for 2021
It's easier to sell to existing customers, and business-to-business customers are no exception. This guide explores the most popular loyalty programs, features you should consider, and their role within B2B eCommerce software.
Strategies for a post-pandemic workforce
Even as the world gets the pandemic under control, there's no going back to the pre-pandemic work environment. Many B2B brands are realizing that the only way forward is a hybrid – that is a mix of both remote and co-located work.
Marketing and Customer Experience in B2B eCommerce
Why B2B Marketing? Understanding B2B sales
How does B2B marketing differ from B2C and why should we approach it differently? The answer lies in a unique B2B sales process that is more complicated and nuanced than we're used to seeing in B2C sales.
SEO tips and tricks to get in top place
It's an important yet sometimes overlooked aspect of B2B eCommerce. SeoSherpa prepared a detailed guide on URL optimization which includes structuring URL slugs, and other URL-related best practices.
Manufacturing and Distribution in B2B eCommerce
COVID Hurts apparel, luxury; helps alcohol, food, bev
How did COVID impact the packaging industry? Last month's report from the FPA and Euromonitor reveals how the pandemic impacted various vertical markets in different ways.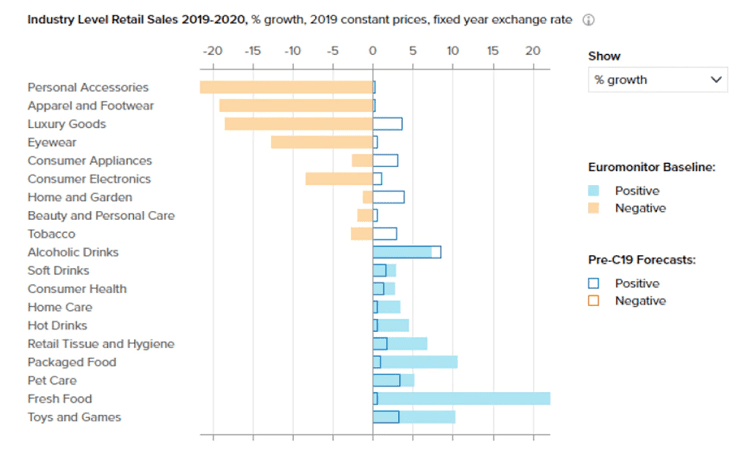 What does history teach us about trade wars?
The US-China trade war might sound like an elephant in the room for many global manufacturers and distributors. It's worth looking back to see how we can better prepare for what lies ahead.
Leveraging big data capabilities in the name of safety
AI, data, and analytics already play an important role in predicting outcomes. Safety consultant Kevin Miranda explores some real-life examples where data is a deciding factor in improving the health and safety of industrial workplaces.
B2B eCommerce and Marketplace Success Stories
Volvo, all-in on electric and online sales
Volvo is one of the few brands taking full advantage of digital transformation in the automotive industry and going all-in into eCommerce. The company promises half of its cars should be electric in 2025, and half of all sales happening online.
Office Depot reports gains in B2B digital commerce
Office Depot is feeling the heat from Amazon and Walmart. Its acquisition of eProcurement company BuyerQuest and partnership with Microsoft indicates it is taking B2B eCommerce seriously.
GeniusCentral launches BuyHQ, a B2B marketplace
One of the largest B2B SaaS providers of supply chain services, GeniusCentral launched its own B2B marketplace recently, offering retailers even more options to engage directly with distributors and manufacturers.
Furniture manufacturer grows with B2B eCommerce
A custom furniture manufacturer moved into B2B furniture eCommerce once corporations and retailers started approaching them for furniture design projects. They used COVID to focus on business and since moved to direct-to-consumer (D2C) sales.
Thanks for Reading Our February 2021 Collection!
Did you find this month's roundup informative? Would you like to share a tip or a story? If so, we'd love to hear from you. Get in touch with us on Facebook and Twitter or in the comments below. Don't forget to keep checking this blog for more industry trends and see you in the next month's roundup.