As we enter the summer season, the waves of coronavirus infections seem to have stabilized or declined sharply. Much of that can be attributed to widespread vaccinations. Medical experts have concluded that at least 40% of people must be vaccinated for herd immunity to take effect. Indeed, once Israel reached the 40% mark earlier this month, it saw a significant drop in the case count. However, it will take some time before other nations catch up.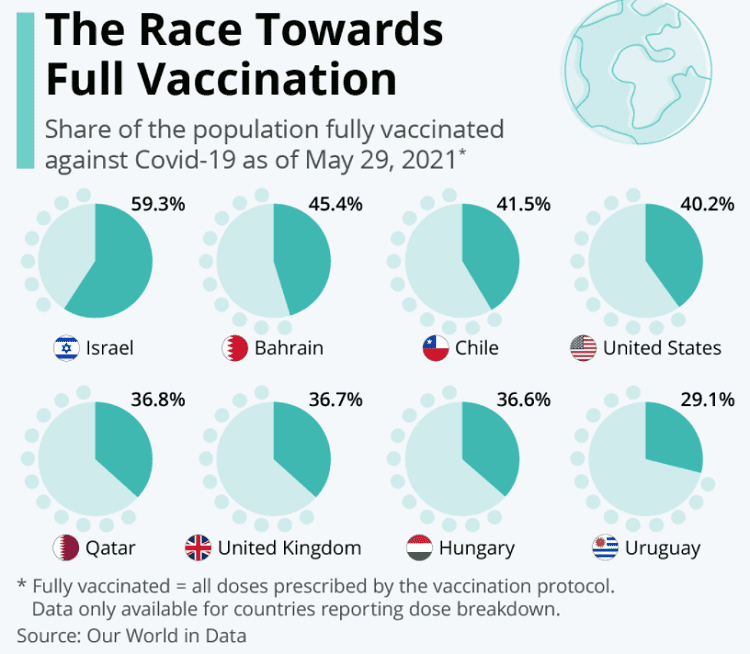 While the pandemic might show some signs of winding down, the trends left in its wake seem to be staying in place. According to Digital Commerce 360's research, B2B eCommerce sales for manufacturers have risen year over year by over 6.7%. Since then, manufacturers have switched their physical meetings and manual order tasks for digital tools. Today, it's clear that even as lockdowns subside and quarantine measures ease up, this way of working is not going away.
Numerous surveys suggest that at least a third of the total US workforce will work remotely post-pandemic. While this is considerably lower than the numbers seen during the pandemic's peak, data from Gallup suggests that we won't see a rapid decline either. According to one survey, a whopping 56% of today's employees work from home either all or part of the time.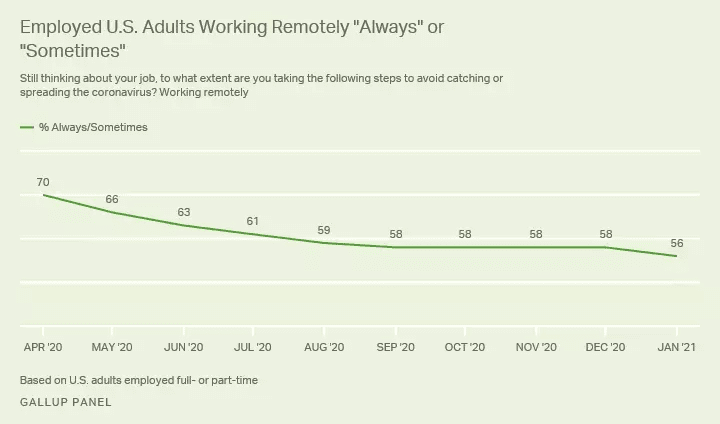 Rising employee expectations and acceptance of flexible work arrangements should be a concern for manufacturers. Given the current inflation worries and difficulties of finding skilled workers, manufacturers should seriously consider how to leverage distributed teams. As more people enter the workforce, they will be less incentivized to seek out manufacturers opposed to any remote work.
Let's look back at May 2021 with our B2B eCommerce news roundup. What's new in manufacturing, distribution, and marketplaces? We'll discuss the latest developments in the industrial sector, the workplace, marketing, and customer experience.
What Happened In B2B eCommerce in May 2021?
Sales enablement in B2B eCommerce
While sales enablement technology has been making the rounds in B2B sales, there's little understanding of what it means to manufacturers, distributors, and other B2B businesses. Forrester's Joe Cicman and Oro's Yoav Kutner talked all about it in the recent webinar.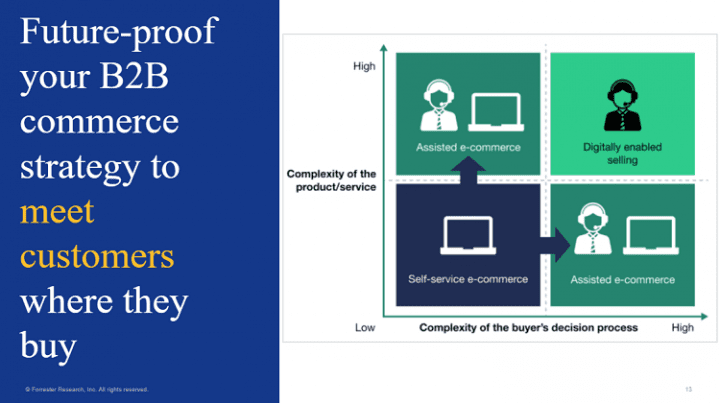 Embracing social responsibility and inclusion in procurement
The pandemic brought attention to social equality and transparency. While inclusion and supplier arrangements are rarely used in the same sentence, data by MIT Sloan suggests ways industries can foster diversity among suppliers.
Packaging in subscription-based refill bottles
Many D2C brands are revisiting their packaging strategies, including sustainable measures like subscription-based refills. This model can serve as a powerful value proposition for the environmentally conscious buyer.
1/3 ready to pay more for environmentally-friendly fulfillment
According to Digital Commerce 360, customers are ready to pay more for sustainable fulfillment practices. While B2C customers ditching plastic and cartons is nothing new, could B2B businesses be next?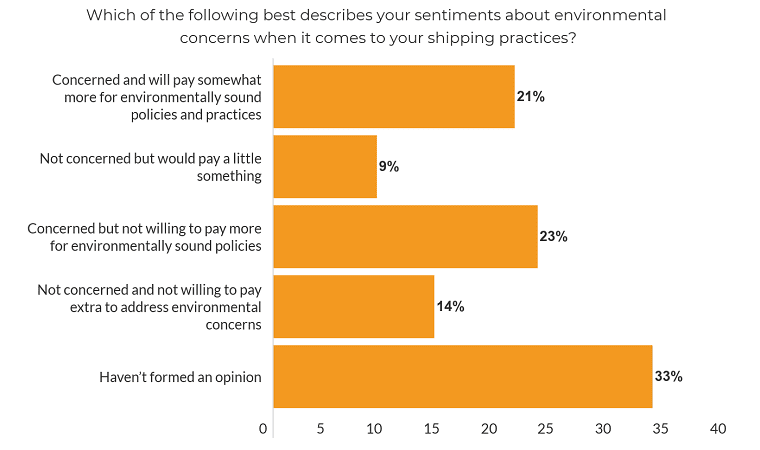 Manufacturing News in B2B eCommerce
US and German firms partnering with Chinese manufacturers
B2Bs are strengthening their supply chains across the world, and Chinese manufacturers represent a unique eCommerce growth opportunity. Unybrands offers some best practices in forging and growing these relationships.
Distribution News in B2B eCommerce
2021 Global Resilience Index
Supply chain resilience is more important than ever, so it's good timing that the 2021 FM Global Resilience Index is out. With over 130 countries and territories included, the resilience index covers each country's economy, risks, and supply chain quality. 
Marketing News in B2B eCommerce
Adjusting for the post-covid business world
For many businesses out there, uncertainties won't end even if lockdowns and quarantines do. Here are some B2B reopening tips from Small Biz Trends community members to better adjust to life post-pandemic.
Frictionless payments driving B2B and B2C transactions
The demand for frictionless payments is forcing brands to adopt proximity payments – both offline and online. What are the trends surrounding this fast-rising mobile payment method? EMarketer explores in more detail.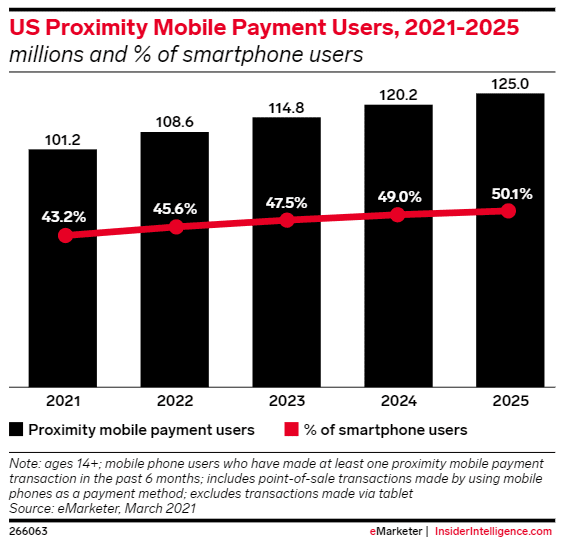 Marketplace News in B2B eCommerce
Small yet mighty: The fine print of launching a B2B marketplace
Despite the never-ending buzz around Amazon and Alibaba, the B2B marketplace still remains an untapped opportunity. Yoav Kutner, Oro's CEO, lists the often overlooked points about building and managing a successful B2B marketplace.
Indian B2B marketplace Moglix a unicorn after USD 120 million round
India's B2B eCommerce solution marketplace now has over 500,000 small and medium enterprises selling industrial, automotive, laboratory, agricultural, restaurant supplies, among others. Moglix competes against the likes of IndiaMart and IndustryBuying marketplaces.
Sary, a B2B eCommerce marketplace raises $30.5 million Series B
Founded in 2018, the B2B marketplace that connects small grocery store businesses with wholesalers claims that over 100,000 users have installed its solutions. As with other eCommerce brands, COVID-19 helped Sary rise to the top.
Thanks for Reading Our May 2021 Roundup!
If you found this roundup informative or would like to drop us a suggestion on what to include next, we're here for you! Just drop us a line in the comments or get in touch with us on Facebook and Twitter. Don't forget to keep checking this blog for more industry trends and see you next month!