As we navigate the supply chain crisis and the pandemic's negative economic impact, there's a huge opportunity for optimizing B2B eCommerce conversion rates. Websites are receiving more traffic, but most of these new visitors are just window-shopping. They aren't adding items to their cart, and they aren't checking out.
The challenge for today's websites is to curb cart abandonment and convert incomplete orders to paid orders. That's why it's time to be thinking about B2B conversion optimization and tactics to retain existing customers and attract new ones. By embracing personalization and looking at data in new ways, you'll convert more of those clicks into sales.
Conversion Rates by Industry, Channel, and Device
When looking at your data analytics, do you wonder what your eCommerce conversion rate should be? Conversion rate benchmarks vary greatly by channel, industry, and the device your customers are using when they visit the site. It also depends on your headlines, messaging, user experience, site performance, and the call to action.
There's no one-size-fits-all approach to boosting your numbers, as every B2B company, product, and customer base is different. For example, B2B professional and financial services conversion rates may average 10% while manufactured and packaged goods convert at about 4% based on B2B conversion rate data from MarketingSherpa.
Conversion rate by industry
As said before, conversion rates in B2B eCommerce vary widely according to industry. MarketingSherpa's analysis of B2B conversion rates is often cited for its accurate portrayal of average B2B website rates. Industry benchmarks for manufacturing, technology, software, and professional services range widely.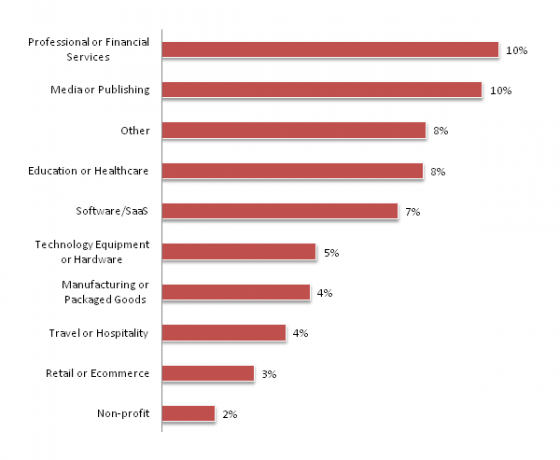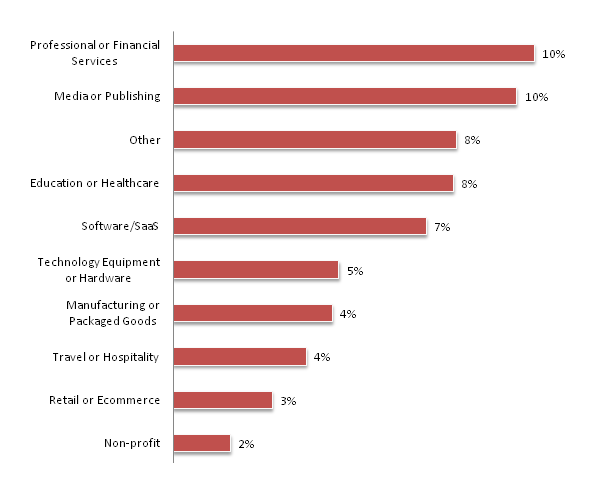 Conversion rate by channel
Traffic channels are how eCommerce traffic arrives. Visitors can originate from a social network such as Facebook, from a search engine query, a direct link, or an email campaign. According to Salesforce, the top B2B lead-to-opportunity converting traffic channel is the website, while for opportunity-to-deal is referrals.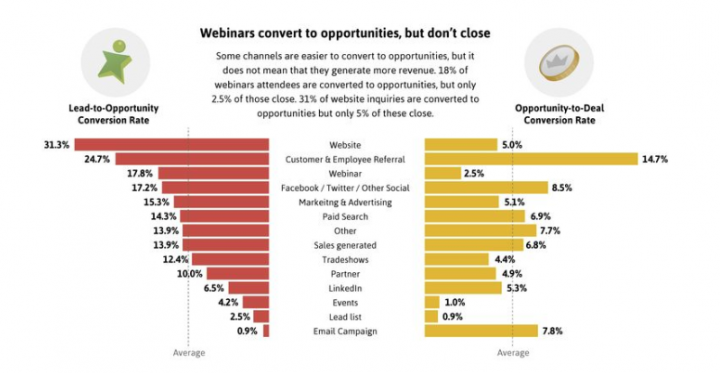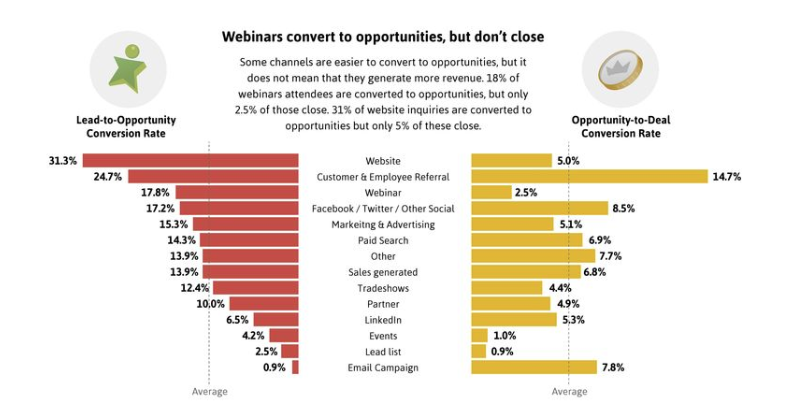 Conversion rate by device
While smartphones are attractive for quick purchases, large expenditures and contract generation typically associated with business to business tend to occur through a desktop. This is quickly changing as mobile gains more popularity. In fact, mobile usage in the workplace is projected to increase from 2 to 3 hours a day and will likely continue rising.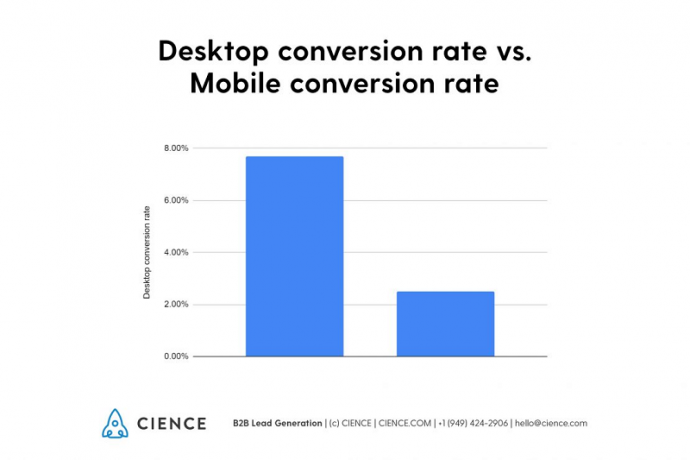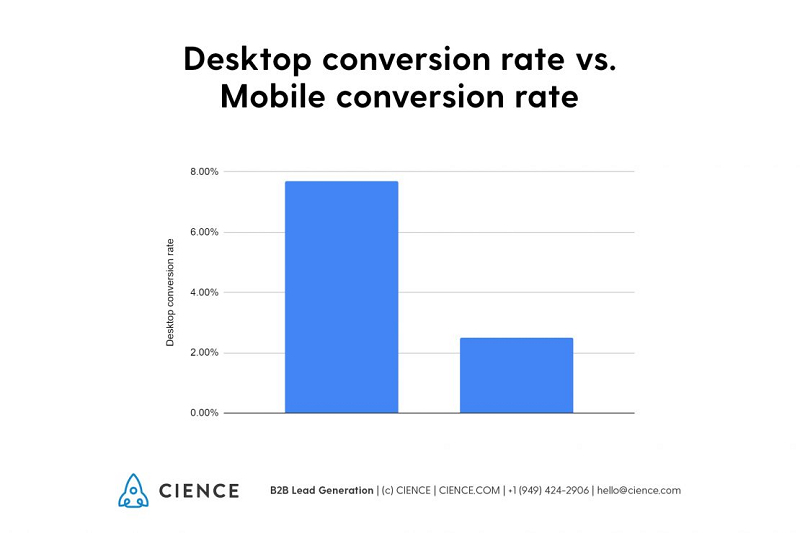 Conversion rates matter in B2B
B2B conversions are the top performance metric for B2B sellers and B2B marketplace managers. In a survey of 43 organizations, B2BecNews revealed that the majority of companies give a score of 8 or higher when asked how important is to know the benchmark and the average B2B eCommerce conversion rate in their business.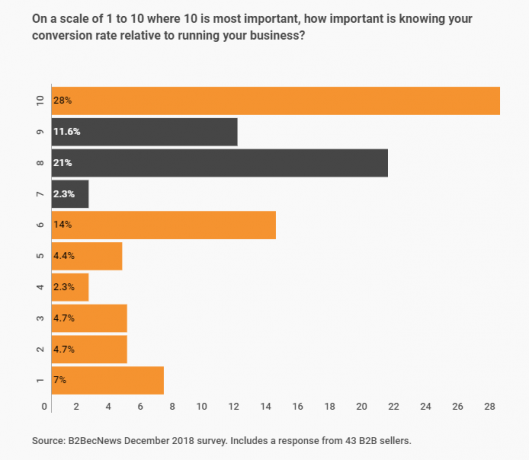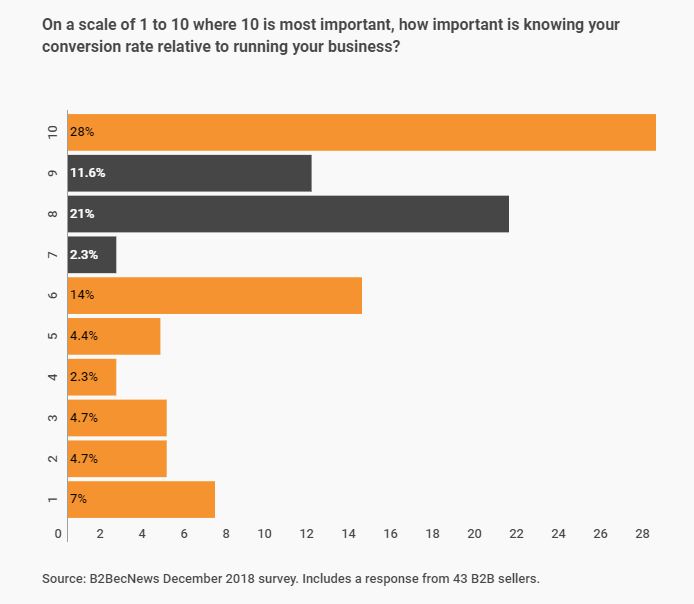 The process of B2B conversion rate optimization (CRO) is more complicated than in B2C. B2C eCommerce websites typically aim at a large-scale market. But the difference doesn't end there: consumer purchase decisions are emotionally driven and involve a single individual.
B2B businesses typically deal with much larger orders. Due to their longer sales cycles involving many individuals, B2B companies tend to be more attuned to the sales cycle and customer journeys as they spend time nurturing leads and prospects that are more qualified. Also, B2B buyers may start their search on a smartphone and make the purchase on a desktop. B2B buyers are omnichannel creatures.
Set the Right B2B eCommerce Conversion Goals
As a part of your B2B conversion optimization strategy, it's important to set a conversion goal as a KPI. Within the overall B2B site conversion optimization goal, you should also set supporting goals.
Most B2B eCommerce sellers don't expect first-time site shoppers to buy during their initial visit. So, you need to measure the smaller actions driving traffic and leading to the purchase. These are known as micro-conversions. A micro-conversion could be filling out a demo or contact form or adding a product to favorites. Other examples include:
Creating an account
Number of customer reviews or case studies read
Number of browsed pages
Number of products compared
Downloaded product specifications
Added product to cart
Once you've evaluated what micro-conversions lead to the main conversion – the purchase, then you can determine the KPIs to measure how close you are to your goals. They can include conversion metrics like:
Email subscriber rate
Pages per session
Traffic distribution
The most popular (and perhaps easiest) way to monitor your metrics and calculate your conversion rate is through Google Analytics. It allows you to track many KPIs at once, including signups, email marketing campaigns, or best-performing landing or exit pages.
Heatmapping can be another way to get insight into CRO metrics.
Conversion rate heatmaps are like an infographic or a dashboard that allows you to see the clicks and interactions on a specific page that were most likely to lead to conversion or a specific action.
Lastly, map your conversion goals to your customer journeys. Not every customer decision journey (CDJ) will look the same, so the actions within every customer journey must be optimized.
Conversion Rate Optimization in eCommerce
Your analytics are the "engine" that works behind the scenes of your business to give you real insights into how people are interacting with your website. First of all, where are they coming from, how do they navigate the site and product pages. Most importantly, are there any patterns in this data?
It's tempting to make B2B marketing decisions based on inconclusive customer opinions or what you think the competitors are doing.
However, your eCommerce conversion rate optimization B2B strategy should be all about keeping a close eye on the analytics and making data-driven decisions.
Don't be afraid to experiment and conduct A/B testing to guide your decision making process. For example, if testing shows that a lengthy product description results in a 3% conversion while a product video results in 5% conversion, then using the video is the direction you should take to ensure high conversion rate.
Something as simple as a video can reveal a lot about what a buyer does or their intent when landing on your page. Qualitative data tools such as CrazyEgg, HotJar, or FullStory allow you to capture page views and the number of visitors, analyze customer behavior, and factors that lead to a purchase or high bounce rate in real time.
Tips to Improve Your B2B eCommerce Conversion Rate
How do you increase the conversion rate of your B2B eCommerce site? The first step is to recognize the goal is overall improved conversion. So don't focus solely on the website. Use these tips to improve conversion across all channels and traffic sources. Don't forget to look at your email, account-based marketing (ABM), and sales funnel strategies to help you with growth.
1. Integrate with CRM
During down cycles, customers cut unessential spending, so only messaging and products that offer real value help you stand out. B2B eCommerce platforms such as OroCommerce come with an integrated OroCRM to give sales 360-degree visibility into target audience data. This allows you to segment customers according to their purchase habits and niche, group them in personas, and offer tailored discount or price options to them.
2. Map out customer personas
Speaking of personas, don't forget that B2B buyers are people too. They have their own demographics, lifestyles, and objectives. They don't all shop the same way. Decision maker personas can also include hobbies, interests, marital status, and more. By targeting your personas, B2B marketers can fine-tune their content marketing strategies and campaigns to improve B2B websites' transactions.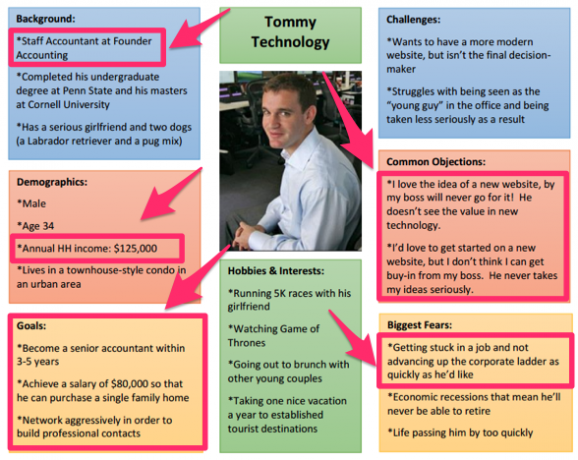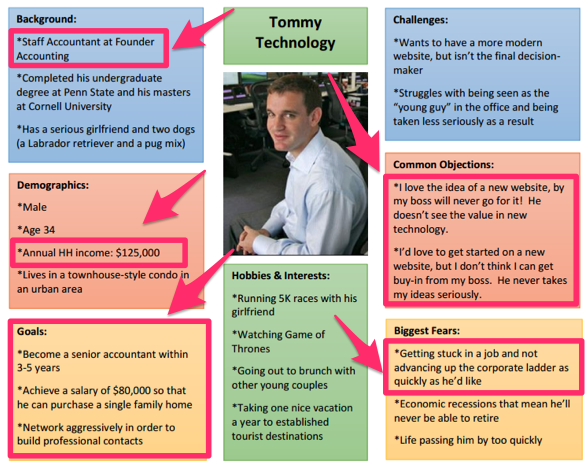 3. Build for mobile devices
While smartphone conversion rates are lower than those of desktops and tablets, mobile traffic sees a steady 22% traffic increase year over year, making it a market you can't ignore. In addition, the research by Boston Consulting Group saw that a huge percentage of B2B buyers (over 80%) are already using mobile at work, and mobile-optimized sites greatly increase their chance of making a purchasing decision.
Those looking for ways of improving eCommerce conversion rates should focus on the quality of their mobile shopping experience. Instead of developing mobile apps, businesses can focus on responsive design and their eCommerce APIs for headless applications.
4. Improve search functionality
Online buyers are used to Google offering them accurate suggestions based on their needs. Similarly, customers expect contextual searches with advanced autocomplete functionality. This increases the odds that site visitors will find what they seek, especially if the product type has many different names, SKUs, part numbers, or other identifiers.
5. Improve site navigation
It takes more than great search functionality to help customers find their desired product. Customers expect to easily navigate categories, product trees, and pages.
Breadcrumbs help them keep track of their current location. For instance, Petra offers a full-page menu that takes the user to the right category with just two clicks. It's perfect for large product catalogs and product configurations that combine different sizes, prices, colors, and other characteristics.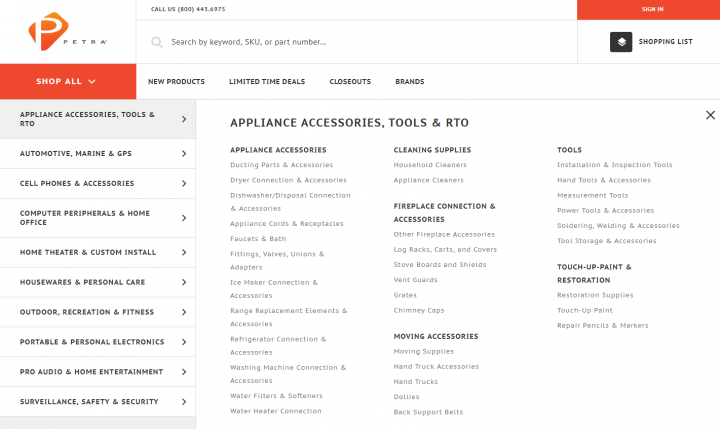 6. Personalize the B2B experience
Consumers have come to expect personalized experiences based on past purchases and behavior. For B2B customers, it's not merely a nice-to-have. Business customers require eCommerce experiences that closely mirror their business structures, user access requirements, invoicing, and payment needs.
Businesses can span multiple vertical or horizontal industries with unique management structures consisting of branches, divisions, and departments. Let users set roles and authorities for their account and make it easy for them to manage quotes, returns, and place orders. Not only will they convert, you'll boost their confidence in your brand and increase the chance of another sale.
7. Provide clear shipping and pricing
One of the most common reasons for shopping cart abandonment is the lack of shipping information. Studies have shown that just like B2C customers, B2B brands gravitate towards free shipping more than any other regular incentive.
The same goes for pricing. Whether you're offering MSRP vs MAP pricing or using a pricing engine, offering customers accurate, personalized pricing will boost conversions. By posting shipping costs and return policies upfront, customers know the charges before they place an item in their basket.
8. Optimize your landing pages
You can't bank on every visitor to convert. In a recent study, the best landing pages converted at 30%, while the average rate stood at 4%. The digital marketing and advertising principle AIDA (Attention, Interest, Desire, Action) is useful for creating a powerful landing page. Test a number of titles; pique their curiosity in the form of a compelling statement; identify their pain points, and suggest a solution with a CTA. Solutions like Intercom, Hootsuite, and Optimizely offer great examples of landing pages done right: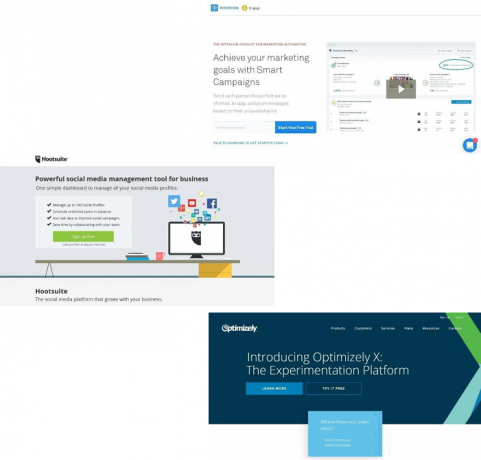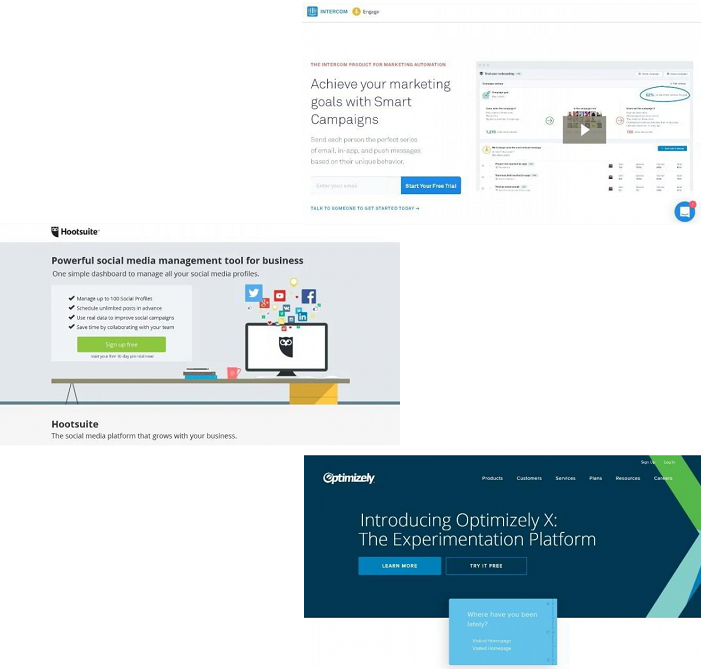 9. Make CTAs consistent
Make sure your call-to-action buttons are consistent with your personas – down to their copy, color, and placement. Experts found that even the smallest changes have an effect on B2B conversion optimization. At the same time, a great CTA is not everything. Your title, images, layout, and product descriptions all play into a visitor's decision whether to convert or bounce.
10. Communicate value clearly
When crafting a content marketing strategy, think from the point of view of the customer. For example, why should they purchase from you instead of the competition, and what makes your product special? How does your product benefit someone like them? When creating landing pages and product descriptions, make the information clear, concise, and easy to remember.
11. Allow pre-ordering of out of stock items
No one is happy when the item they want is out of stock, but it's more frustrating when the out-of-stock status isn't identified. Aside from clearly displaying stock status with every product and product configuration, offer to notify customers when stock is replenished or allow them to preorder it as shown in the example by Growmap.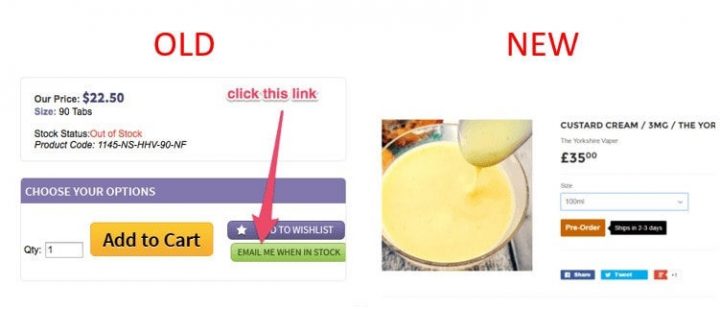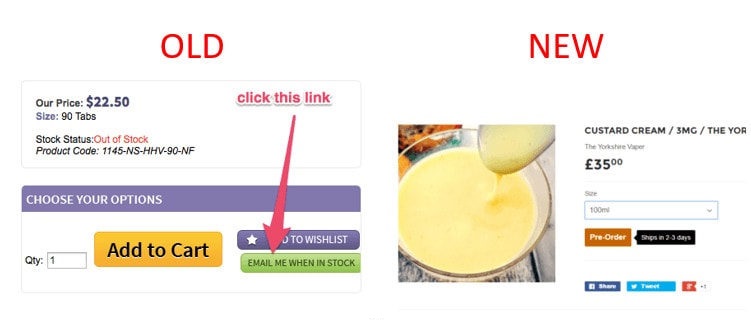 12. Keep track of your SEO
According to BrightEdge, organic search drives more than 53% of revenue for B2B and other verticals. Positions matter, too – the first position can get as much as 20% of clicks, while the ninth position nets you only 5%. To rank higher, update every product page with SEO-friendly descriptions, multimedia tags, and URL structures to increase your chances of ranking higher. Optimize page load speeds and compatibility with mobile devices. Remember, investing in SEO today gives you a stable, long-term supply of well-converting traffic in the future.
13. Improve product descriptions
One standard way to increase conversion rates is by providing as much information about your product as possible. Depending on what you are selling, you may want to list all features, instruction manuals, or safety & security certificates on your product pages.
Adding rich multimedia such as high-resolution images, interactive zooming, or videos brings your product pages to life. Offer a more immersive experience with little effort and improve the customer experience. They will be more inclined to buy once they fully understand the product.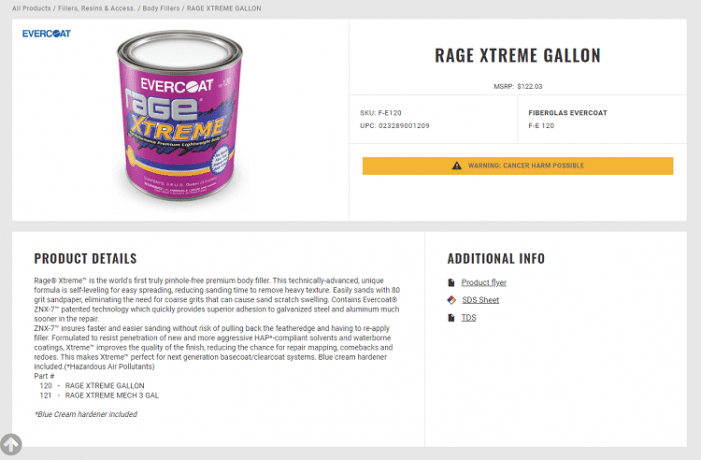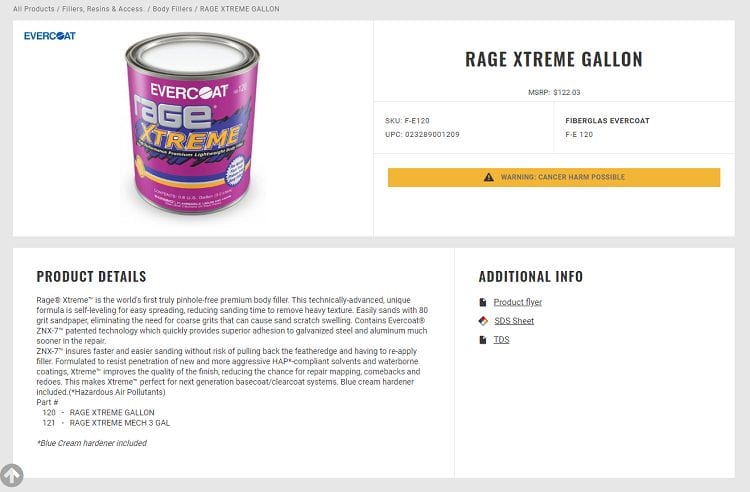 14. Examine page load speed
Slow load times have a detrimental effect on the shopping experience. Sites that take longer than 2 seconds to load lose the desktop and mobile customers. It can also hurt your SEO rankings, CPC campaigns, and by extension, your B2B eCommerce conversion rates. What's more, Hubspot revealed that slow sites make 80% of customers less likely to buy again, which is a huge loss in potential customers.
15. Promote high-converting products
Focus your marketing initiatives on what already does well. Highlight best selling, high-margin products, or suggest bundles of items that sell well together. This can be done with custom pricing labels, retargeting practices, and Google ads. You can also create "recommended", "similar" or "bought with" product banners that may offer social proof for customers sitting on the fence.
16. Display your contact options
With any online business, and with B2B eCommerce in particular, customer service is key. Make sure all support options, including telephone numbers, options to chat, or email are prominently visible on your website. Managing these contact options allows you to quickly resolve customer issues and answer product questions.
17. Push lead generation strategies
A great low-hanging fruit tactic is lead generation. Experiment with gated content such as whitepapers, presentations, or webinars. An account-based marketing strategy can target hot leads within key accounts. Lastly, AI chatbots are great for lead generation, particularly with contacts who abandon key pages, may not want to fill out a form, or leave a page.
18. Create loyalty programs
Since B2B buyers are naturally looking for long-term partnerships, it's a great idea to offer them a loyalty program as a reward. Since a B2B customer often orders larger volumes and has larger lifetime values, a loyalty member program is a great financial investment. This can take the form of partnerships, referral programs, discounts, or tiered purchases. The benefits of the program should be prominently displayed.
19. Include product testimonials
Social proof is important for everyone, not just retail consumers. B2B buyers are always on the lookout for products that help businesses as theirs succeed. A face and a brand behind a name are not enough. If you want customers to take notice and convert, include some hard-hitting numbers that uncover increased efficiency or money saved by existing customers.
20. Focus on channels that work
If a high B2B eCommerce conversion rate is your top priority, focusing on your best-performing channels and techniques will yield better results. For example, review your analytics to track email opens, social media engagement, and organic search clicks. Determine where your best converting traffic is coming from and divert marketing resources to where they create the highest ROI.
21. Never Stop Testing!
Your product pages aren't the only place to practice split testing. You can a/b test different layouts, a different form of navigation, product categorization, and the checkout stages.
See if conversion rates are affected when you replace "Add to Cart" with "Buy Now" as the CTA on your purchase button. See if removing one or two unnecessary steps can boost conversion and give you measurable benefits. Try one-page checkout workflows versus multi-page checkout.
For most effective testing use the same traffic referral sources. For some tests, you can split traffic to different pages. In others, you can route different types of traffic (SEO traffic and social media) to the pages they might prefer.
Strive for Continuous Improvement
While everyone else is preoccupied with the health crisis, you should take this opportunity to put in the time and effort to increase the average conversion rate of your B2B eCommerce store.
Determine the rate at which you are converting today and set benchmarks for improvement. Experiment with the way users interact with various website functions, rethink your landing pages and checkout steps, optimize for speed and SEO. Never stop testing and never stop improving.
How do top midmarket brands use technology?
Forrester shares real-life case studies from leading business sellers.
Frequently Asked Questions
Why is conversion rate important?
Knowing your business's conversion rate is important because it tells you how many potential buyers you were able to convert into customers. This information provides much-needed context for how well your eCommerce site is performing over a specific timeframe.
What is considered a good conversion rate for B2B eCommerce?
In B2B eCommerce, conversion rate benchmarks vary depending on industry. An acceptable average conversion rate for B2B should be somewhere between 2% to 5%. For comparison, in retail, the ideal conversion rate could be around 10% or more.
How to calculate a conversion rate in B2B eCommerce?
Conversion rate is the ratio of transactions to sessions, expressed as a percentage. To calculate it, take the number of transactions and divide that by the number of sessions on your site that can be tracked to a conversion during the same time period.