This post was contributed by Gaurav Belani, Senior SEO and Content Marketing Analyst at Growfusely.
Pandemic or no pandemic, the global B2B eCommerce market has been growing rapidly and the supply chain serves as the foundation for their online and offline operations. However, the B2B eCommerce supply chain is a constant work-in-progress. A recent research report shared by DHL reveals that 60 percent of B2B firms are still to fully implement a full-blown eCommerce supply chain strategy. 
The reason? 
Check out this bar graph. Changing customer expectations and business priorities come in the way of B2B marketers when implementing supply chain strategies and programs.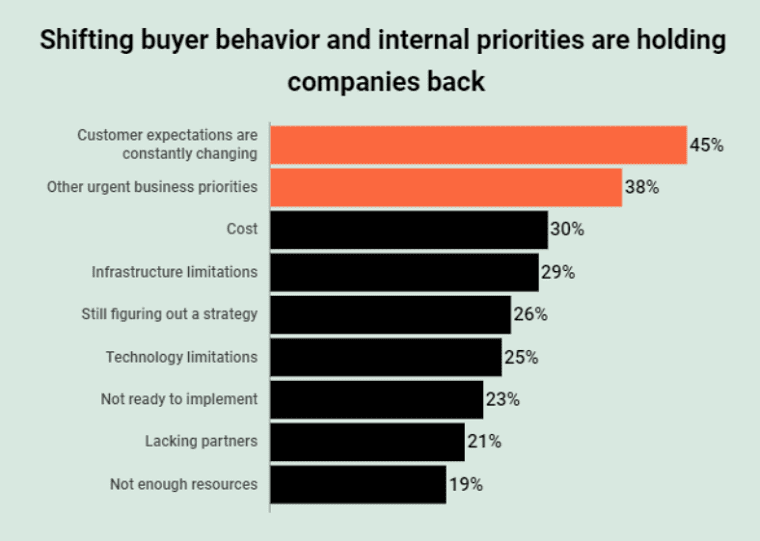 [Source]
The burgeoning B2B eCommerce industry has seen several supply chain trends that emerge and disappear. Being aware of these upcoming trends can help businesses optimize their supply chain operations, improve customer relationships and business agility, and boost profits. 
Read on to find out what's coming up in the B2B eCommerce supply chain management realm.
Top Five eCommerce Supply Chain Trends
1. Increased Popularity of Digital Supply Chain Management (SCM)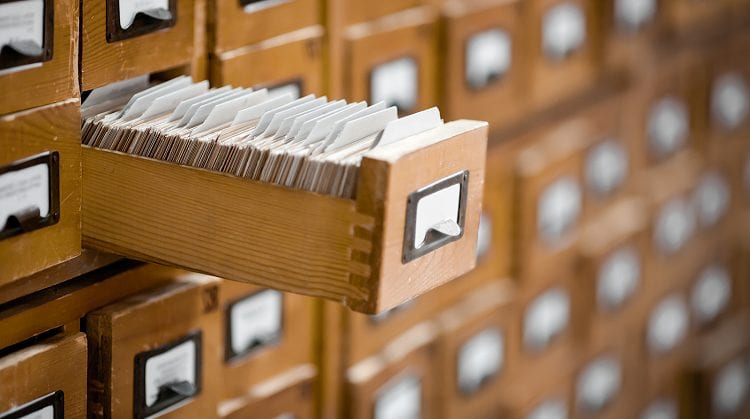 The pandemic was the turning point for most B2B eCommerce firms. It impacted the global supply chain and exposed several loopholes in the business operations of various B2B eCommerce companies. 
During the supply chain crisis, companies relying heavily on countries like China for manufacturing and supplies suffered.
Hence, most eCommerce companies are investing in digitization to improve operations and boost revenue. Companies using cloud-based logistics management are rewarded with high efficiency and productivity and growing profits. Such cloud-computing technologies are powering breakthrough innovations in supply chain management. 
B2B eCommerce firms are slowly realizing that digital SCM can make their supply chain dynamic, secure, and interactive. Moreover, the seamless integration of humans and machines increases operational efficiency and allows them to offer personalized channel-centric experiences to customers. 
Digital SCM is emerging as a real game-changer for B2B eCommerce marketers, offering them a route to rapidly and efficiently access and deploy innovative supply chain solutions. Going forward, marketers and suppliers will experience a supply chain digital transformation that will enable further innovation in this domain.
To name a few:
Cloud Computing-Based Product Lifecycle Management (PLM)
These solutions will help marketers to offer field force product support and facilitate marketing operations in collecting or analyzing customer data. 
New next-generation applications and real-time data platforms will help businesses process data within seconds. 
Basic supply chain analytics will evolve into tactical departmental analytics, giving eCommerce marketers a robust view of the supply chain operations.
2. Omnichannel Sales Will Disrupt the Supply Chain Landscape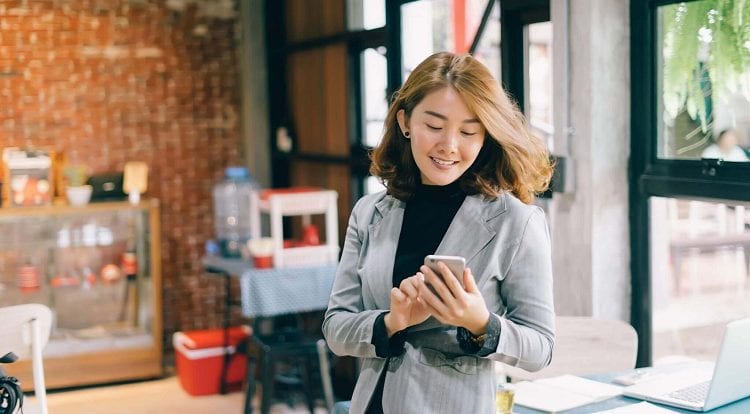 A small but interesting fact for you:
A little more than 23% of B2B retailers with eCommerce channels still accept orders through fax. The rest use mobiles, websites, and emails.
The past decade has seen a proliferation of digital sales channels, namely social media, mobile apps, marketplaces like Amazon, and others. Customers are buying across all channels as all information needed to complete the buying process is available on these channels in real-time. This requires the B2B supply chain realm to reinvent how it supports everything from production to after-market services.
For instance, Walmart, the global leader in retail has deployed several omnichannel retailing initiatives like the pay-with-cash option that allows customers to order merchandise online and pay with cash at its stores. 
At present, orders are managed by sales teams who receive orders from customers and they monitor the process until the product is delivered to them. This approach has been used in the B2B eCommerce industry for several years. However, this process will have to change, considering the rise of a new cohort of tech-savvy decision-makers. 
For instance, with continued globalization and shift to digital channels, B2B eCommerce businesses will have to provide customers with capabilities that help them manage business operations on mobile devices. Customers are expected to do business on the go. Hence, they should be able to place orders and check its status anytime and anywhere.
3. Shift from B2B to B2B2C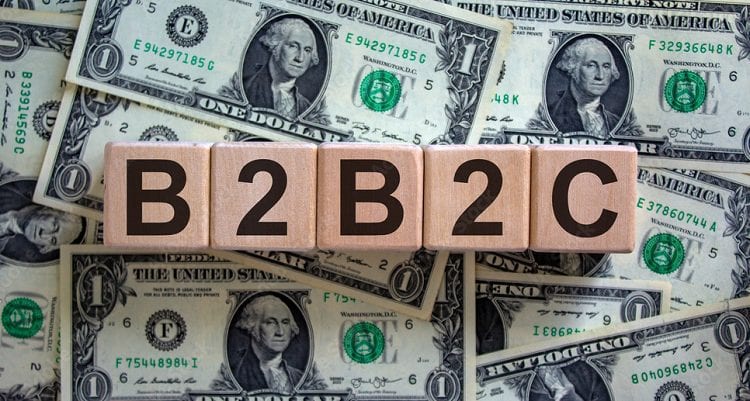 The fact that eCommerce marketers are moving towards an omnichannel world has blurred the line between B2B (business to business) and B2C (business to customers), forcing businesses to relook at their marketing value chain. Thus, we can see many companies moving to the B2B2C model (business to business to customer) where they are more cognizant of their end-consumer needs and not just catering to the business buyer. 
For instance, a manufacturer may appear to be selling to the end consumer but outsources the order fulfillment process to a distributor. So, in this case, the onus of marketing still lies with the manufacturer but the distributor is in charge of the logistics. 
But adopting the B2B2C model can be challenging. Firms need detailed insights into the end consumer, their purchase behavior, and intent triggers. Plus, B2B2C firms heavily rely on dependable logistical operations. Thankfully, platforms like Logmore are available that help these businesses collect and record logistical data over time and in different environments. By offering QR data loggers that send data to a sophisticated analytics app, Logmore makes it easy for B2B2C stakeholders to monitor the conditions and locations of shipments, adding a layer of quality assurance transparency for all involved. 
Despite these challenges, it's impossible to ignore the benefits of this model. B2B2C allows marketers to personalize buying experiences and position the business as an 'ideal brand' independent of the supplier or distributor. Further, it allows businesses to cut down on commission payments and operation costs. 
Research reveals that 70% of business buyers expect an awesome user experience similar to websites like Amazon when buying online. As consumers grow more comfortable with seamless omnichannel experiences, B2B2C is only likely to expand in the future. No wonder, B2B2C is one of the key supply chain trends B2B eCommerce firms should watch out for in the coming years.
4. Reliance on Dropshipping Will Increase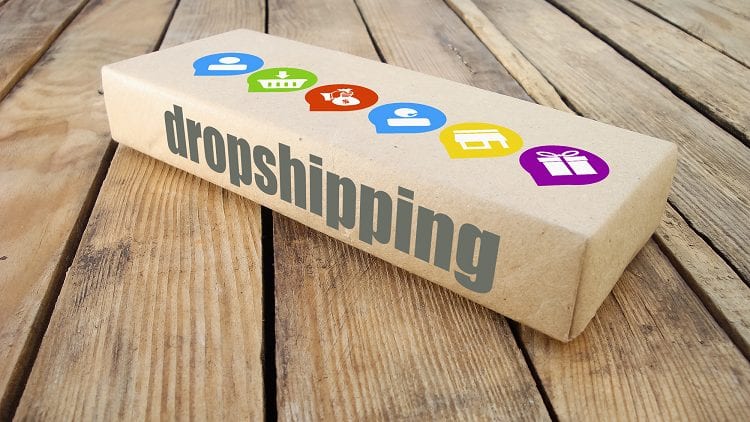 B2B retailers are constantly looking for innovative ways to drive business growth and meet customer expectations. They are striving hard to cater to the needs of a more digitally-driven audience. Hence, an increasing number of B2B retailers are embracing dropshipping as it's helping them strengthen their supply chain and streamline inventory management.
If you notice, brands and suppliers have been dropshipping orders on behalf of retailers for years. For instance, if a shopper visits a Samsung website to bulk purchase smartphones, a distributor is likely to fulfill the order on behalf of the retailer or the manufacturer. 
However, the dropshipping trend accelerated during the pandemic because:
The frequent lockdowns wreaked havoc on eCommerce supply chains. This forced most B2B eCommerce businesses to invest heavily in fulfillment infrastructure. 

During this time, the eCommerce industry spiked, causing businesses having their own fulfillment to turn to suppliers. 

Several wholesalers and retailers were forced into bankruptcy. But they continued selling online because of dropshipping. 
Owing to the above-mentioned reasons, several B2B retailers changed their habits and survived the crisis, thanks to dropshipping. Hence, it seems that dropshipping will continue to see accelerated growth in the coming years. 
5. Rise of eCommerce Integration
As mentioned earlier, eCommerce sales (B2C and B2B) skyrocketed during the pandemic. Hence, growing eCommerce firms needed other third-party systems to manage the huge volume of data residing in different sources while offering users a unified view of that data.
In other words, the demand for eCommerce integration rose. It facilitated bidirectional connectivity between a firm's eCommerce platform and the backend accounting and inventory system (ERP). This allowed wholesalers, manufacturers, and retailers to create bidirectional flows of information between the two systems. So, they had to enter data into a single system. 
These eCommerce integrations took advantage of application programming interfaces (APIs) to connect platforms and data. This allowed brands and distributors to provide information related to inventory, supply chain details, and other vital business data. Moreover, eCommerce integrations make it possible to deliver data and place orders channels such as mobiles through native apps and progressive web apps. 
As more companies embrace online sales, eCommerce integration will become more prominent because of the following benefits: 
No need for manual order entry

– eCommerce integration platforms allow companies to eliminate manual data entries. Further, integrating eCommerce platforms like Magento, Shopify, and Amazon with their own ERP systems boosts the speed of data exchange. This improves customer service efficiency and satisfaction.

Accurate inventory levels

– Manual data poses the risk for errors. With eCommerce integration, the accuracy of data is ensured. Inventory synchronization and real-time track updates make the data exchange more accurate.

Automatic notifications

– When eCommerce applications and backend applications work in sync, automatic notifications to customers become easy. Customers know when firms have shipped orders. They can track the entire delivery process of the product ordered.

Simplified pricing

– Because there's only one update required per system, the pricing changes and product information updates are quick and decisive.

Opportunity for a wider reach

– eCommerce integration gives B2B marketers the opportunity and adaptability to enter new online marketplaces while maintaining their operational efficiency. Each sales channel allows them to reach and engage a new set of customers. Besides, eCommerce integration has offered businesses diversified revenue streams, enhanced customer experience, and improved operating margins.
No wonder, B2B suppliers and retailers are making and will continue to make significant investments in eCommerce integrations.
Summing Up
The global pandemic accelerated the wholesale domain's digital transformation. During this period B2B commerce which was already a rapidly growing market experienced a number of industry shifts. Since the supply chain is the backbone of eCommerce, we have attempted to share the trends emerging in this segment. 
The five trends shared above will continue to disrupt the B2B supply chain realm for the coming years. Hence, as a B2B marketer or business owner, it's important to stay on top of these trends and consider them when making critical decisions.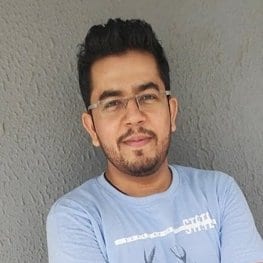 Gaurav Belani is a senior SEO and content marketing analyst at Growfusely, a content marketing agency specializing in content and data-driven SEO. Gaurav has more than 7 years of experience in digital marketing. He enjoys sharing his knowledge on marketing, human capital management, and much more. His work is featured in several authoritative business publications.