This post has been contributed by Oro's solution partner – Madia.
In the increasingly digital Business-to-Business field, it is becoming almost inevitable for businesses to set up a webshop. Yet setting up a webshop is not a small effort as it brings along a lot of new aspects to keep in mind. One of these aspects includes the content of the webshop itself. Even though eCommerce webshops have been around for a while, it has mainly been in the form of B2C webshops. Rules that apply to B2C often do not fit B2B completely. So how to set up a shop that meets specific B2B needs? In this article, we elaborate on 5 features that should be taken into account when setting up B2B eCommerce sites.
Minimalistic Flat Design
First of all, in the design of your webshop, go back to the basics. Contrary to B2C, B2B has a complex multi-step buying process. In B2C eCommerce, customers 'click and buy' while B2B includes specific pricing, personal contact with the client, quotations, invoicing and much more. During offline communications, this process is often clear: the customer knows who to go to with specific questions, where to order and how to pay. However, for online communications, this path might be less straightforward. The best B2B websites utilize a simple, minimalistic, flat design that ensures customers are pointed in the right direction without distractions. Rather than focusing the design on aesthetics, the design should be thought of in terms of the sales funnel and it should only provide the type of navigation needed to get more potential clients.
Storytelling
Next to minimalistic and flat designs, there's another way that the best B2B websites lead potential customers into the funnel: storytelling. Rather than providing an in-depth navigation menu, it is important to focus on a navigation system that leads customers through a journey. By offering a logical flow, a story is told about where customers can find the products or services offered by the company. To establish a flow, content should be presented in an engaging and interesting matter. This will motivate customers to browse the webshop and find out more about products and services.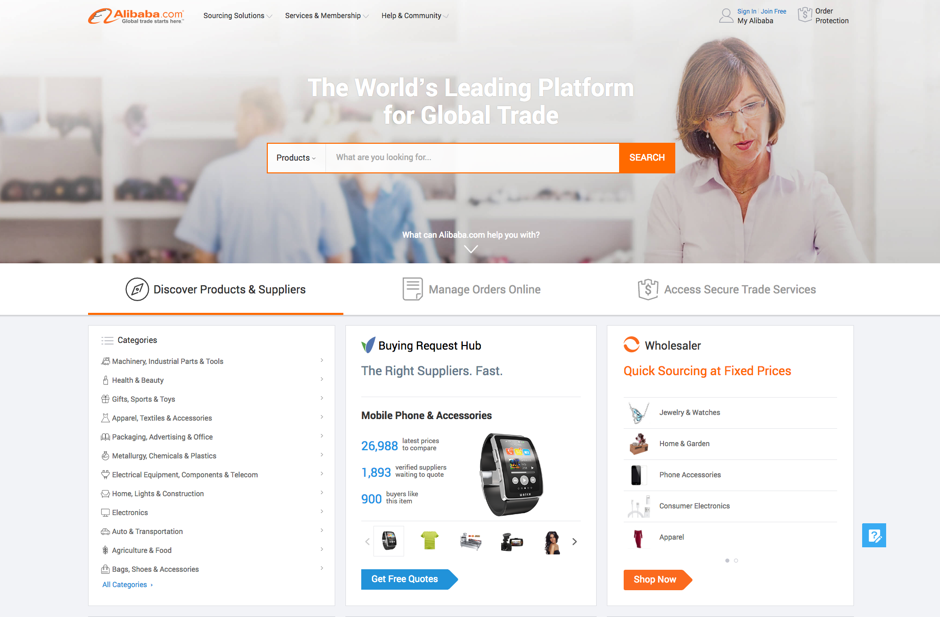 An example of both minimalistic design and telling a story. Alibaba's web page shows only a few images, little color and mainly focuses on navigating the user towards the products they might be looking for. For example: by asking "what are you looking for", and providing a clear directory, a story is told. (www.alibaba.com). Discover what you can learn from the success of the Alibaba marketplace model.
Content Marketing
In addition to telling a story by offering a logical flow, there is another meaning to 'telling a story'. Content marketing is a great way to provide customers with the information they are looking for. Write blog posts or product reviews, publish whitepapers, e-books, or case studies in order to inform customers on what they are looking for and why they need it. A great way to present this information is by also including interactive content such as video's, pop-up questions and webinar presentations.
Service
B2B marketing is very much relationship-driven. This means that a lot of contact with the prospect is needed in order to sell. It is important to also include customer service into the webshop. Businesses have to think of customer service in a broad sense: customer service does not only include providing a phone number or a contact form.
One way to ensure customer service is by applying a live chat. This allows customers to easily ask questions without leaving the webpage, opening a mail program, or picking up the phone. Live chat can be included in the page itself, but may also be conducted via social media such as Twitter and Facebook. Whether you would like to use live chat or not, at least make sure that customers can easily see how they can reach you.


Various contact options have a prominent place on MSC's website, giving the customer the option to choose how to contact the company. (http://www.mscdirect.com)
Another way to be service centered is by offering a personalized experience. Data about how customers interact with the website can be used to improve services. Sending personalized emails, setting up campaigns that specifically interest certain customer segments, and retargeting efforts can all be used to positively contribute to the overall customer experience, as well as boost sales. Connecting your webshop to a CRM system is a great way to establish a service centered webshop.
Responsive Design
Last but not least: do not forget that a webshop should always be responsive. It is common for B2B customers to order from different locations and, more importantly, different devices. Always make sure that your webshop is accessible across devices such as computers, tablets and smartphones. Do keep in mind that the user experience should be the same across devices.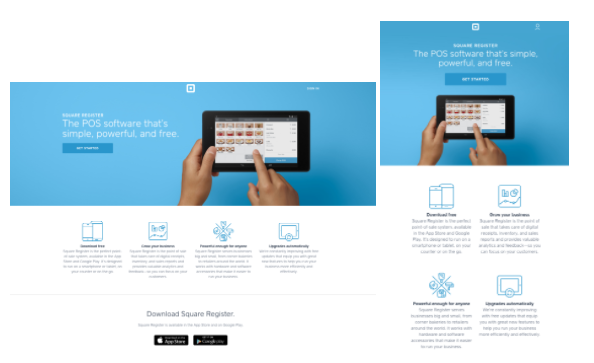 A simple, yet striking, example of responsive design. The first picture shows the webdesign. The second picture shows mobile design in which the logo's shift so that they are still readable. The look and feel of the site stay the same (https://squareup.com)
Quick Recap
In order to create a successful B2B webshop, several steps have to be taken. Making sure your webshop has a simple design that provides an easy customer journey, gives relevant information in an interactive manner, ensures a personalized experience, and is available across different devices, will lead customers down the sales funnel. Starting up a B2B webshop might not seem easy at first, but once set up, it will increase conversions and help make your business more successful.
About the Author: Marloes Vriend is a marketing communications manager at Madia, based in Eindhoven, the Netherlands. As a full-service eCommerce agency, Madia BV is a leading eCommerce specialist in the Netherlands. Madia helps e-Businesses find success through a mix of marketing, creativity, and technology. They are an OroCommerce and OroCRM partner. Marloes specializes in B2C and B2B content marketing and social media.