Selling to B2B customers is not a walk in the park.
At times, it feels nearly impossible to reach this elusive market and you just want to throw in the towel.
But before you give up, remember that the B2B buying process has never been easy. Now, these difficulties are amplified by the pandemic and remote work. To survive, you must adopt new strategies and approaches. After all, the greater the effort, the sweeter the reward.
Consider that the seller is no longer in charge of the buying process. Today, buyers are in charge.
According to statistics, buyers now prefer conducting research and picking what to buy on their own without any influence from the seller. 
Only 29% of buyers will contact a salesperson to learn more about a product. 57% of buyer decisions are made before buyers contact the seller. 
This may come as a surprise, only 17% of the entire B2B buying process involves meeting with potential suppliers.
But, does this mean that this year, you no longer need to market to your B2B buyers?
No, of course not!
However, to make it work at a time when buyers are more involved, you first need to understand modern B2B marketing. In a nutshell, even though B2B buyers are more informed than ever, making a buying decision can be an enormous source of stress. 
So, taking a prescriptive or educational approach will not only win you a sale but perhaps a lifetime customer. Hence, come up with relevant tactics to educate buyers about how your services can solve their problems and build a relationship with them. 
In this article, we'll share practical marketing strategies that you can implement to keep the modern buyer interested in your services. 
5 B2B Marketing Tips To Engage Your Buyers
1. B2B email marketing
Remember how we mentioned that customers want to do their own research? 
Well, make it easy for them by providing them with the knowledge they need to make informed buying decisions. Newsletters are a great way of sharing information that resonates with B2B customers. 
Just a few years ago, marketers were predicting the death of email marketing. Fortunately, it remains one of the most effective marketing tactics of the digital marketing era. Email marketing has a median ROI of 122%.
Be careful – just sending a weekly email and waiting for the leads and sales to come pouring in will not work. 
Effective email marketing requires planning and consistency. Here are a few things you should keep in mind:
Build your email list:

There are several ways that you can build your email list. For one, you can give customers the chance to opt into your newsletter on your website or social media. In return. offer them something valuable such as an e-book or access to promotions. Also, you can ask for business cards at trade shows or buy a list of prospective customer contacts. Whichever tactic you choose, just ensure that you have a way of collecting email addresses to

keep your email list growing

. 

Have an email marketing calendar and stick to it:

Consistency is key when it comes to email marketing. Decide whether you will be sending your newsletter weekly, bi-weekly, or monthly. Pick a schedule that works best for you and stick to it. People will notice if you are or are not consistent, and that plays into whether they can trust you or not. 

Plan your content:

Don't just sit down and write anything that comes to your mind on the day you are supposed to send your newsletter. Put some thought into the content that you'd like to share with your leads. Remember, customers demand value. Be intentional with your emails and make sure they offer real value. 

Automate your newsletter using a good email marketing tool:

There are plenty of good email marketing tools such as

ConvertKit

,

Mailchimp

, and

Constant Contact

. Using an

email automation tool

will help you stick to your email marketing calendar as the process is automated.
2. Social media marketing
Use social media to build brand awareness and make your brand seem more human and trustworthy. 
According to Hinge Marketing, about 60% of buyers will first check out new sellers on social media before engaging them. This makes social media one of the most commonly used sources of information and often a first touchpoint with your brand.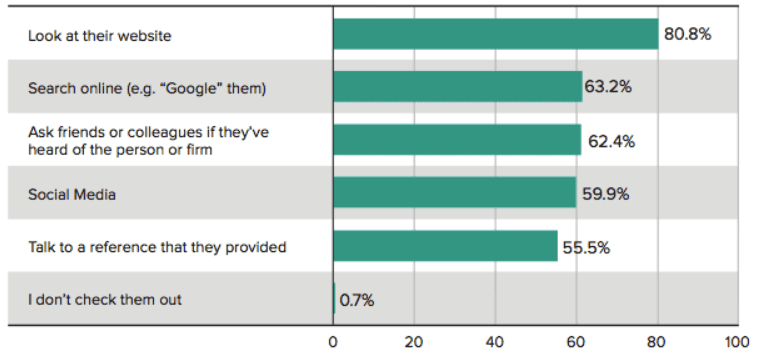 [Source]
Using social media to educate your buyers will help build your reputation and increase the reach of your expertise, and content. Additionally, it is a great platform to connect with valuable contacts and influencers. 
But before you jump into B2B social media marketing, one word of advice: pick your platforms wisely. 
Not all social media platforms will be effective for your company. Some of the best platforms to consider for your B2B include:
LinkedIn:

This is the best platform for B2B companies, especially to position themselves as a thought leader in their industries. Use LinkedIn to provide your buyers with expert content regarding your business, services, and industry. See, for example, how

Salesforce

uses LinkedIn to distribute content that would resonate with their target users: marketing and sales teams.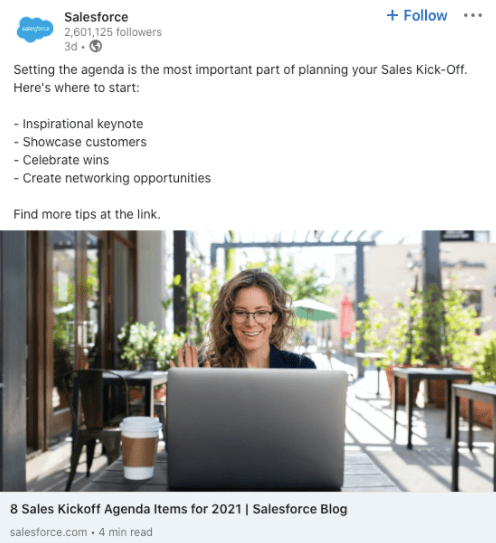 Facebook:

This is great for showing your human side. Use content that provides customers a glimpse into your company's personality and values. See how

Cisco Networking Academy

uses Facebook to give its audience a glimpse into how they are putting their inclusivity goals to action.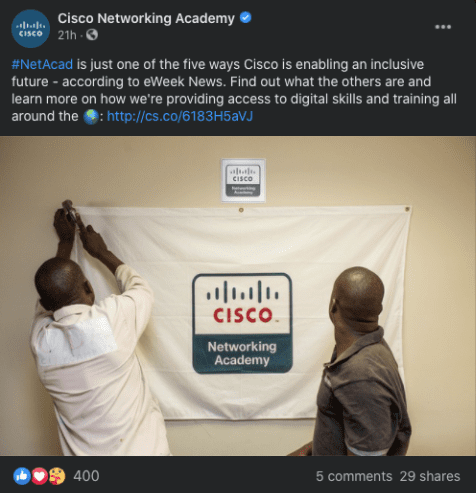 Twitter:

Use this platform to provide news and updates to customers. It's also great for direct, one-to-one conversations with customers. See how Keyhole uses

social listening

to find relevant conversations on Twitter, and joins the conversation before competitors in a way that demonstrates their product's benefits.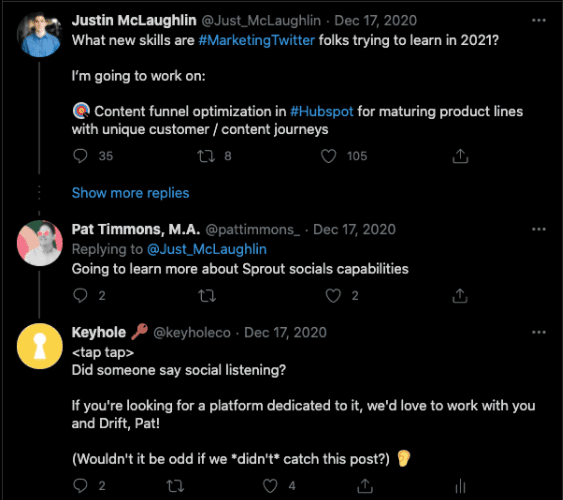 Understand the value each platform stands to bring to your business, plan the content to use for each platform, and stick to it.
Social Media content such as videos, stats, and product sneak peeks can educate and engage B2B buyers. Use social media monitoring tools to see which content is performing the best with your target market and use more of it. 
3. Competitor analysis
Performing a competitive analysis allows you to track and monitor competitor industry brands. By doing so, you can tell where you stand against your competitors. Since you certainly don't want to fall behind the competition, it is necessary to monitor what everyone else is doing. 
A competitor analysis offers you insight into the strengths of your product offering which your competition lacks. You can then take advantage of this and leverage those strengths to connect more with buyers. 
A competitive analysis goes far beyond helping your B2B company establish a clear unique selling point.
By staying up-to-date on what your competitors are doing, you can gain inspiration and direction for your long-term marketing approach. You also gain industry knowledge that lets you stay ahead of the curve. 
Use a brand monitoring tool such as Keyhole to help you find what content performs the best, what tactics are working, what industry leaders are doing right, and get ahead.
4. Case studies
Do you ever stop by food sample stalls in grocery stores? For supermarkets, it's a great marketing tactic, with the potential of boosting sales anywhere from 600 to 2000%. Aside from offering free samples, B2B eCommerce businesses can give customers a better understanding of their services using case studies. 
Case studies highlight your brand's positives and demonstrate how customers are benefitting from your services. 
In fact, around 73% of buyers use case studies to make B2B purchasing decisions. 
Case studies are measurable proof of what your company offers. Case studies position you as credible and trustworthy.
Just think about why you read Amazon reviews before making a purchase.
Well, probably because they give credibility to the purchase you are about to make—the same is true for B2B marketing. 
Case studies can help in the following ways:
Position your company as an industry leader

Move your prospects along the buying journey

Educate leads on the value and benefits of your product or service

Provide powerful social proof 
When creating case studies, look at how your customers use your products, where they can save time and money thanks to your product. Include stories and quotes from your customers and also use statistics if possible. 
There are several ways you can use case studies to educate your buyers:
Showcase case studies on your homepage
Case studies are also great in increasing the conversion rate and click-throughs on your website. Your homepage is normally the first page your site visitors see when they land on your site. Use this prime real estate to entice visitors to stay on your site longer with case studies. 
Here's a great example from Poynt of how to feature customer case studies on your homepage: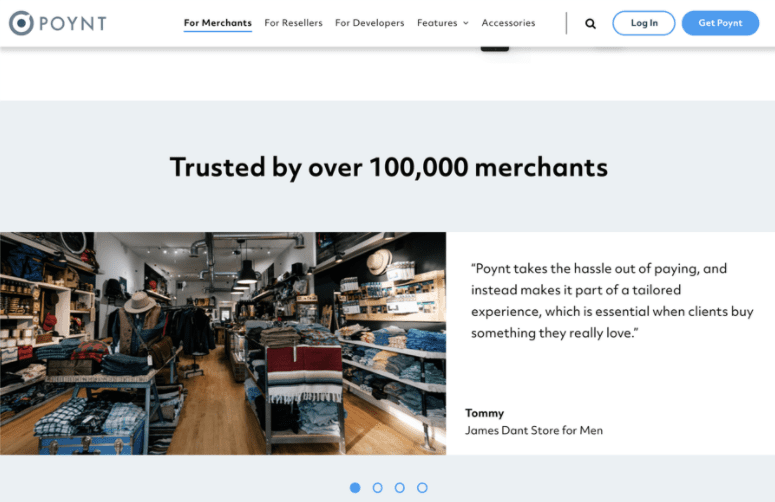 A designated place for your case studies on your website
Once you have a library of case studies, you want to showcase them in a meaningful way. Create a specific page on your website for your case studies.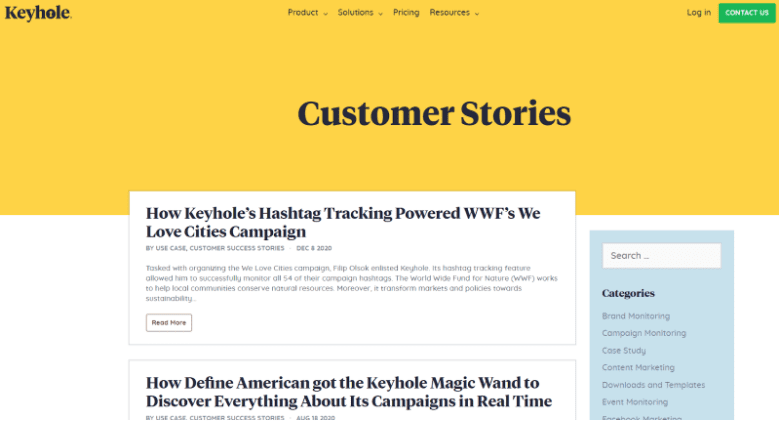 Add case studies to your blog content
Another great way to showcase your case studies is by repurposing your customer stories into blog posts. These will work quite well for inspiration and awareness for your top of the funnel leads.

Do not forget to include a call to action at the end of the blog post asking readers to download the full customer story, or request a demo to see how their business can get the same results..
Turn your case studies into video content
According to a report from HubSpot, more than 50% of consumers are interested in video content from brands over any other type of content. So, turn those case studies into videos.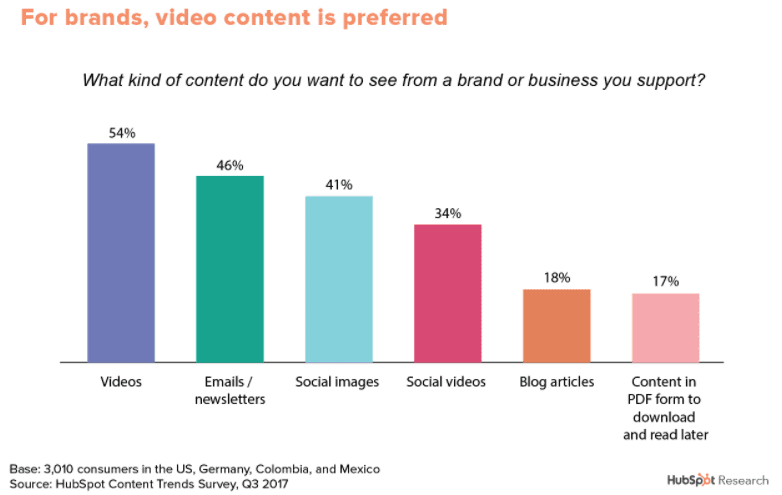 [Source]
Showcase your case studies across your social media channels
B2B businesses benefit from social media for its uncanny ability to reach and connect with your target audience. To get the best results, having a sound social media strategy is necessary, which involves goals, audience targeting, and, of course, content.
And what better content to share with audiences than your case studies. Imagine scrolling through social media and running into content that addresses and solves the exact problem(s) you are facing in your work. 
Make sure you share case studies on your social channels to hook and engage your audience. 
5. Customer Relationship Management (CRM)
Organize and connect with your leads using a CRM system. It is worth it to do your research and find a CRM system that really suits your needs. 
With a CRM, you will have a database with all the information you have collected about your leads. This will help you understand more about your prospect to build a trusting relationship. 
Also, it will map which stage of the buyer's journey each lead is at, and based on that the kind of content to share with them to facilitate a conversion. 
A CRM also allows you to segment your leads so that you can send targeted emails to increase your open and conversion rates. Most importantly, you can see which leads turn into customers and at what point they converted. 
You are also able to tell how many emails were opened, and the number of links in your newsletter clicked. 
Additionally, when you integrate your CRM with the eCommerce system, you will understand how your customers are interacting with your online portal. For instance, you can see how many times potential customers have visited your website, the kind of content they interacted with, and what they purchased. 
With such insights, you can figure out which of your customer acquisition efforts are working best so that you can put more effort and money into those. You also get to know what better strategic decisions. 
Summary
To remain competitive within your industry, your company must continuously educate your buyers in a strategic and effective manner.
Continue assessing your B2B marketing strategies and find ways to improve. This way, you can be sure to stay ahead of the pack!