This post has been contributed by Oro's solution partner, Americaneagle.com
Typically, when you hear the words "customer experience," (CX) you think of business to consumer (B2C) organizations. It makes sense, though, if you think of all of the experiences you've had while on the phone with your credit card company or bank, ate at a restaurant, or shopped at your favorite retail store. Humans have been experiencing B2C CX for a long time now. 
On the contrary, business to business (B2B) brands have really just begun leveraging CX for business gain. While a newer phenomenon, customers still fully expect that same level of personalization and effectiveness that B2C CX offers. According to a report by MarketsandMarkets, the CX industry is worth $9.5 billion. This statistic means ample opportunity for B2B brands to utilize strategies from their fellow business counterpart to create experiences that will exceed their customers' expectations. 
Here are six opportunities for B2B brands to improve their CX. 
1. Understand Your Customers' Needs and Wants 
Much like B2C, as a B2B organization, customers should be the focus of everything you do. It's vital to fully understand your customers' needs and wants in order to achieve core business goals. There's a number of strategies you can use to understand your customers – some more in depth than others. However, it's important to remember that the more in depth you go, the more comprehensive you're understanding will be. Industry experts recommend the following: syndicated research to gain a 360-degree view, asking fundamental questions to shed light on purchase situations, identify consumer segments, evaluate motivation, and conduct a competitive analysis. 
Get creative during your research and think outside of the box. When you do so, your chances of developing valuable customer propositions significantly increase. 
2. Consider the Customer Journey When Crafting Your Design
Once you've gone through the process of fully understanding your customers, it's crucial that your website reflects that understanding. Good design principles are universal – B2B brands that implement aspects of B2C design are more likely to resonate better with customers. It creates an engaging sense of familiarity to the user-friendly and aesthetic designs typically associated with B2C experiences.
That being said, there are notable differences between B2C and B2B experience design that should be reflected in your website design. This is mainly due to the difference in customer journeys. The B2C customer journey generally involves a single customer shopping for an item with a fixed price and little discovery. Alternatively, in the B2B customer journey, businesses are the buyers and involve multiple people. There's bulk purchasing, price negotiation, several different payment options, and the cycle is a lot longer. As a result, B2B web experiences should include a variety of marketing and educational materials with specific call to actions in order to guide customers in the right direction down the purchase path. 
3. Determine Which Tech Platforms Will Help Achieve Your Goals
Just as any other modern organization, B2B companies need to use a variety of digital channels and technology platforms to be successful. There's a multitude of platforms available to automate and streamline processes such as demand generation, marketing automation, commerce, customer relationship management, social media management, analytics, and so much more. While figuring out which platforms work for your business and its goals will involve a lot of trial and error, it's a key process for your success. 
4. Implement Features that Create A Seamless Buying Experience 
These days, B2B buyers only spend 17% of their time meeting with prospective suppliers, according to a report from Gartner. If anything, this statistic just emphasizes how important a seamless buying experience really is. After you've gained a complete understanding of your ideal customers as well as the tech platforms needed to achieve your goals, it's time to implement each feature. 
When B2B buyers visit your website, whether their customers, vendors, suppliers, or employees, they're expecting an experience that's not only seamless, but also convenient. To achieve both a seamless and convenient experience, consider implementing features such as simple navigation, quick order, flexible checkout, and live customer support. Delivering a more convenient buying experience results in increased website traffic, leads, conversion rates, referrals, and more. 
5. Optimize Your Strategy for Omnichannel
As technology and processes continue to advance, B2B buyers expect you to be able to meet them where they're at – your website, social media channels, and even your physical location. An omnichannel marketing strategy means that there is a seamless integration of all messaging and branding through online and offline touchpoints as buyers move through the purchase path. Its main goal is to create a better, more impactful customer experience. 
To optimize for omnichannel, consider connecting your in-store and online technology to create a more efficient buying experience across channels. For example, add inventory information to all product pages. This helps customers save time as well as avoids any irritation of going through the process of ordering items that are actually out of stock. Another way to improve the customer experience through omnichannel is with fulfillment. Buyers expect you to be able to deliver quickly and conveniently which means your backend operations will need to be coordinated across all channels. Providing multiple delivery options via single click, no matter where the purchase originated from, will almost always improve the customer experience. 
6. Facilitate Customer Feedback and Understand Your Data 
Facilitate customer feedback regarding your processes across the entire B2B journey on a continuous basis. Doing so guarantees that valuable customers aren't experiencing roadblocks or unwanted hurdles. It also guarantees that they're able to move through the customer journey seamlessly. There are a variety of ways you can facilitate customer feedback including surveys, focus groups, usability tests, social media, and more. It's a great opportunity to enhance processes to provide customers with an even better experience. 
In addition to gathering and utilizing customer feedback, it's vital to your business's success to leverage your site's analytics. It enables you to make informed decisions focused on your business goals, as well as enables you to identify your strengths, reduce possible risks, and improve operational efficiencies. There are countless analytics tools available depending on exactly what you'd like to know about your site – from Google Analytics to Adobe Analytics, Mixpanel, Matomo, HubSpot, and more. 
Conclusion
Improving the B2B customer experience is simpler than you may think. By understanding and implementing the above tips, your B2B customer experience strategy will exceed your customers' expectations.
It's important to remember that customer experience is not a one-size-fits-all process. It involves a lot of trial and error and figuring out exactly what works for your business and its goals. It's never too late to take a look at your current strategy and identify areas where you can improve your experience to differentiate yourself and stay ahead of the competition.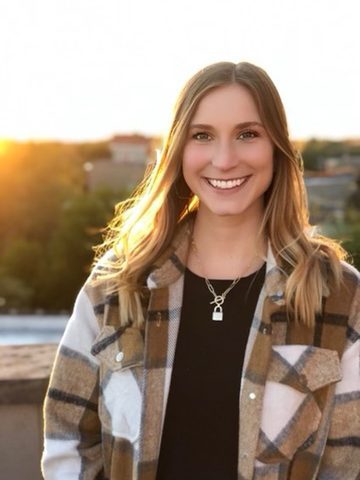 Taylor Karg is Americaneagle.com's Marketing Content Writer. She graduated from the University of Missouri with a bachelor's degree in Journalism. Over the years, she's gained experience writing for B2B brands across a variety of industries. Taylor prides herself on her ability to tell a story – and having fun while doing it. When not interviewing or writing, Taylor can be found eating tacos and watching the latest Netflix, Hulu or HBO series.