This post was contributed by Qhubekani Nyathi.
Instagram is for B2C brands, right?
Wrong.
If you've always dismissed Instagram as a fluffy emotion-driven social media channel not fit for serious B2B SaaS marketing initiatives, you are missing an immense chance to maximize your company's profit.
Smart B2B SaaS marketers have found innovative ways to use Instagram to generate awareness about their products, build trust with their audience, drive traffic to their sites, and more. In particular, Instagram is exceptional for generating awareness at the top of the funnel.
Let's explore nine ways brands can use Instagram for B2B marketing.
But first…
Why Instagram? Benefits Of Instagram For B2B Brands
Is Instagram worth it? 
Will you get any return on investment if you build your brand on Instagram?
Here are some eye-opening stats about the platform from Social Tradia:
500 million daily users.

90% of people follow at least one company on Instagram.

72% of users bought a product after seeing it on the application.

78% of influencers prefer Instagram to other social media platforms for collaborations with companies. 

68% of Instagram users have regular engagements with brands compared to a mere 32% on Facebook.
A study by Data Box confirmed these findings. It showed close to 20% B2B companies they polled say Instagram drives as much as 50% of their monthly traffic.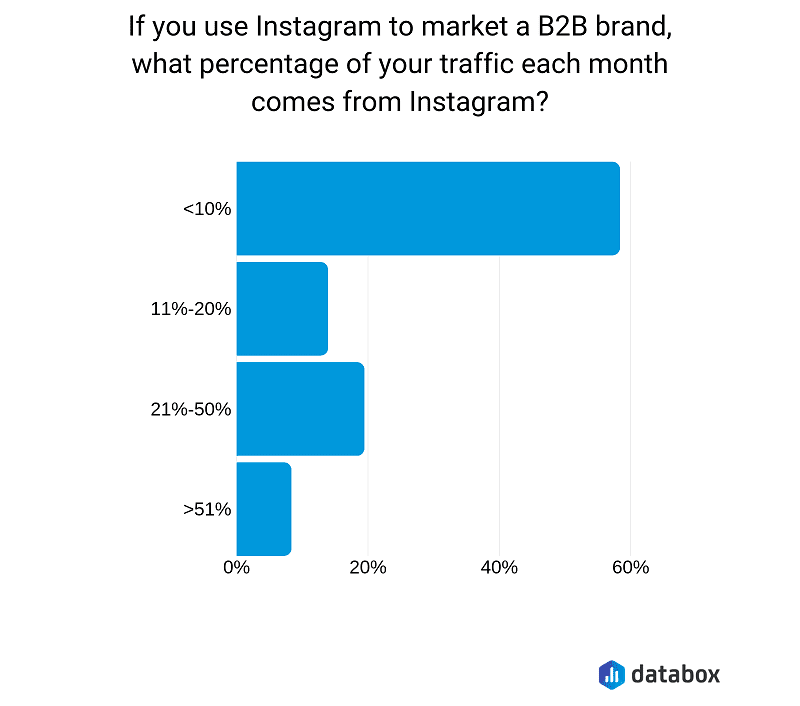 Now that you've seen Instagram is worth its weight in gold for B2B brands, let's get into the essence.
1. Create A Business Profile 
To kick-start your company's presence on Instagram, set up an Instagram business profile. This is an obvious but crucial step.
With a business profile, you have access to the social media platform's analytics. You can check your performance by looking at metrics like:
Get synchronous daily updates on your posts and stories performance so you adjust your tactics on the fly.

Get useful insights into how your followers engage with your posts and stories.

Get the privilege to add your business details like phone number, location, and operating hours, which makes it easy for customers to reach you.
So then, opt for a business account to understand your posts, stories, and followers better.
2. Humanize Your Brand
B2B brands often come across as being cold and impersonal.
This is simply because they're obsessed with product features, specs, and benefits and end up losing the human touch. Instagram, being a visual platform, affords brands a tremendous opportunity to remedy that.
You can show:
People behind the brand


Firstly, reveal the characters behind your brand. Let your customers meet the people that make the products they love both frontline staff and those behind the scenes. On seeing posts from your staff, people will feel they know them personally and have a feel of your corporate culture.

Posts from founder
Meeting members of the staff is wonderful, but seeing a top executive is even better. People feel privileged to hear from C-level executives like the Chief Executive Officer. They bond more with the brand because they now have a face to associate the company with. It's no longer faceless and distant.
Processes behind the brand


Secondly, take customers behind the scenes and show them fascinating aspects of your production process. Have a member of your team walkthrough part of the production. Bring out uncommon facts about your process e.g. we test every [product name] 4x in the quality control department so it performs perfectly for you.
For humanizing a brand, General Electric is superb.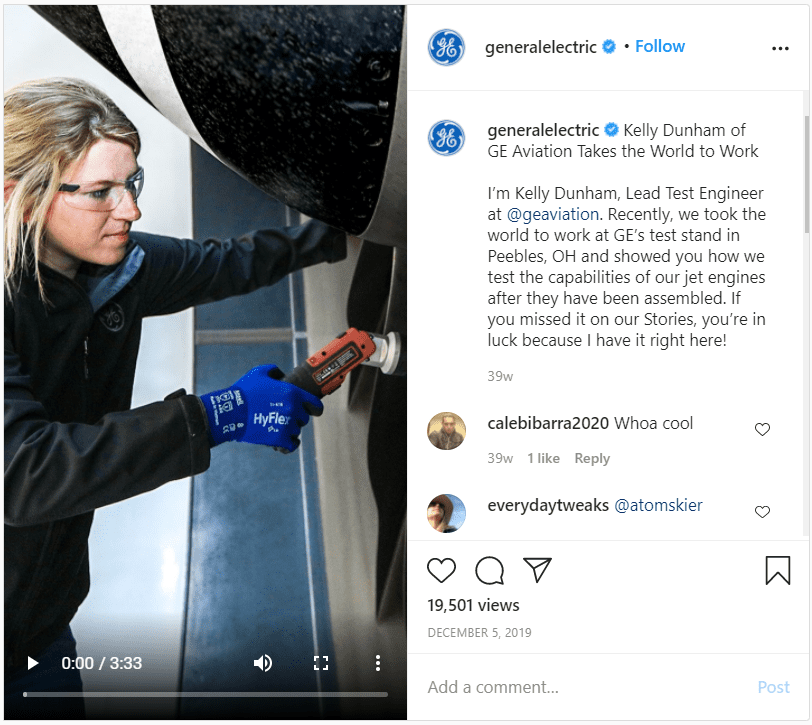 They use their IGTV presence to show actual people, complete with full names, working on their jet engines. Not only does this make the brand warm and personable, but they also used the opportunity to show how rigorous their testing process is.  
3. Leverage User-Generated Content
Another strategy to supercharge your Instagram marketing strategy is to take advantage of User-Generated Content (UGC).
As the name implies, UGC is content produced by the brand followers, not the company. It includes text, images, videos, and reviews. Research by Stackla revealed a whopping 79% of consumers say UGC highly affects their buying decisions.
Here are some benefits of User Generated Content:
Boosts engagement:

when you give your audience a voice, they are more likely to contribute more to other company stories.

Saves time:

creating content can be time-consuming. By allowing your audience to share content with fellow users, you let them do the heavy lifting while you focus on other things.

Resonates:

because UGC is content created by users for fellow users it's authentic and hits the mark straightaway, unlike company content that might be misaligned to audience needs. 

Community:

empowering your audience to share content builds a sense of community and loyalty. 
People love appearing on pics and TV. Instagram gives the chance to shine while also generating much-needed awareness for your brand.
Urge customers to post pics or videos of themselves using your products and:
Say why they enjoy it.

Explain how they benefit from it.

Share results they've got from it.
IBM knows how to get their customers involved in content production.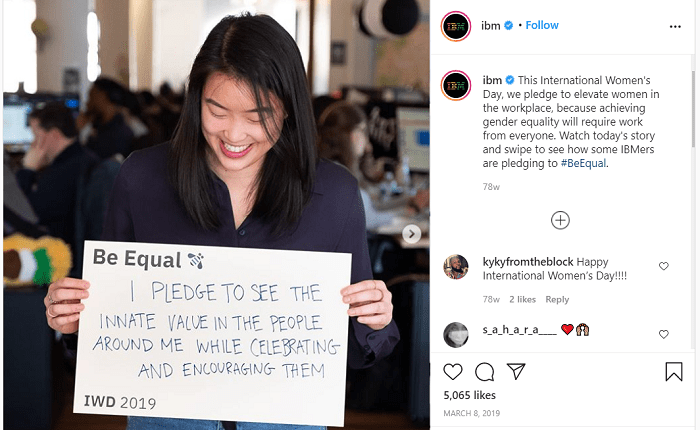 They allow their community affectionately called IBMers to share content on shared values like equality and celebrating one another. This makes customers feel they belong to a bigger family and higher cause.
4. Optimize For Instagram Search
With over one billion active monthly users sharing 95+ million photos and videos daily, getting your content found on Instagram can be tough.
That's where SEO tactics come in handy to save the day.
For your content to be found organically optimize your:
Profile:

include your target keyword in your bio, username, and display name to enhance your chances of appearing in search when users hunt for info related to your topic and products.

Bio:

use secondary keywords in your bio to get found by people using expressions and phrases related to your main keyword.

Images:

put in secondary keywords connected to your product in your image captions as well to push your images to the top of search results. Also, include specific descriptive alt text for your photos.

Content: each post must have unique hashtags that attract eyeballs to your content organically.  A simple winning formula in your hashtag strategy is to consider each hashtag a keyword.
For instance, here are the search results for 'book store'.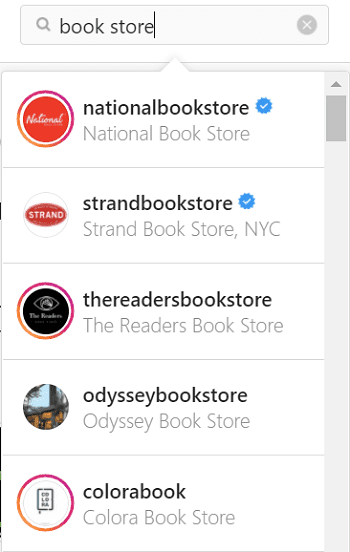 Notice how the top five results include the keyword in their usernames and/or display names? To get pushed higher up the results by the search engine, massage your main keyword into these two strategic places.
5. Use Hashtags Smartly
Hashtags are an integral part of social media platforms and Instagram is no different. By using hashtags wisely, your content gets found faster and you increase your reach.
Improve hashtag use in three ways:
Uniqueness:

each post or campaign must have its own set of tailor-made hashtags.

Specificity:

avoid generic hashtags everyone's using. Instead, deeper for specific hashtags that still draw sizable traffic. Use hashtag generators like

HashtagForLikes

or

Allhashtag

or to do this.

Branded:

Also, prompt your fans to join conversations you have started by using branded hashtags.
Havas is an excellent example of how to use hashtags intelligently.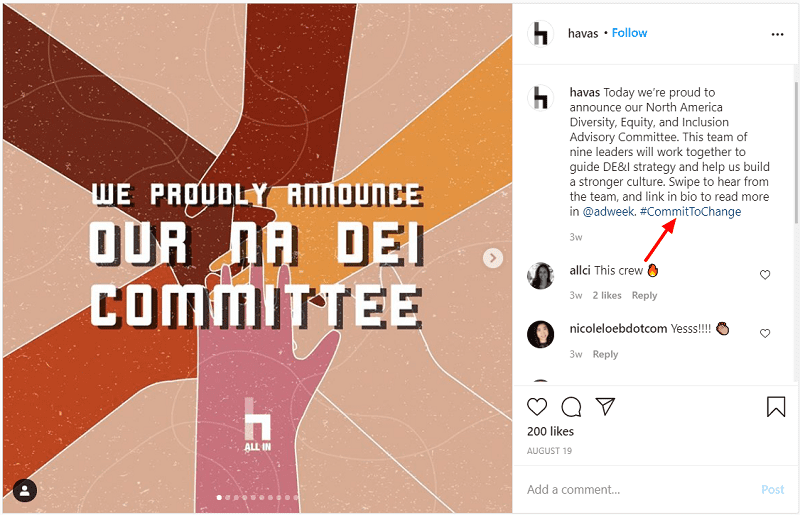 They latched onto a trendy topic Black Lives Matter by naming their campaign #CommitToChange to show how they are building an inclusive, diverse work culture. 
The result?
More eyeballs on their content. Plus, they take a stand on an important matter and endear themselves to their prospects.
6. Maximize Instagram Stories
Instagram stories are key because they occupy a prime territory at the top of your feed. So you better make them count.
While Instagram stories are ephemeral and disappear after 24 hours, you can still benefit immensely from them.
Here's a quick rundown of three strategies for impactful Instagram stories:
Create Thought Leadership Content


Because the stories vanish after a day, they are exclusive to your brand and give you a chance to share authoritative content that underlines your authority in your niche. You can share your company values, vision, and value proposition.

Craft Effective Serial Content


To get the most from your content go beyond once-off stories. Create suspense and excitement by turning them into episodes like a TV series. Series content is ideal for showing how your products work and simplifying intricate processes. Treat your series like a mini-funnel which culminates in conversion in the last episode.

Cause Marketing


You can also point out the good causes you are supporting to create goodwill and buzz around your brand. Studies show consumers are

4x more likely

to trust a brand that has a purpose than one without. So, let your audience know that you are a socially responsible brand by showcasing the outstanding work you are doing in the community.
A suitable case in point is Shell, who tell their audience about their COVID-19 relief efforts.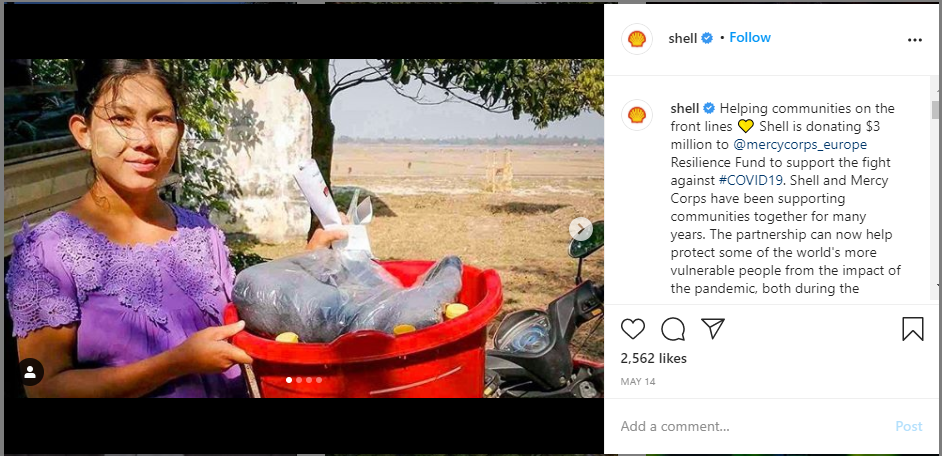 Who wouldn't support a brand that pours $3 million into a community project? It's an act that touches prospects' hearts. The 2,562 shares in the story prove it.
7. Star On Instagram TV        
Instagram TV (IGTV) allows users to share and view videos.
Unlike Instagram Stories that are brief and short-lived, IGTV content is long-form (up to 10  minutes or even 60 for verified accounts) and lives forever. When you consider the revelation by Cisco that by 2022, online video will account for over 82% of all consumer internet traffic, you don't want to miss this tremendous opportunity.
Better add IGTV into your marketing mix now or you'll lose ground to the early adopters.
For B2B brands, IGTV is magnificent for:
Workshop or office tours.

Interviews with experts or staff members.

In-depth tutorials about your product or service.

Customer success stories.
IGTV augurs well with influencer marketing. If you can rope in an influencer who's a darling of your audience, you'll reap the rewards of your investment. Partner with a star influencer to expand brand awareness and reach.
That's exactly what ZenDesk did. They featured Tony Award-Winning Actor & Musician, Leslie Odom Jr. on their IGTV channel.
They used a preview by a celebrity to market their upcoming event.
Previews build excitement and skyrocket engagement levels. New research by Social Media Examiner shows users who use the 60-second videos increase total views by a staggering 300%.
8. Respond, Socialize, and Have Fun
Don't forget that Instagram is a social media platform—therefore be sociable.
As you know, people do business with people they know, like, and trust. But how can they get to know you if you are aloof?
Social media is like a networking event where you:
Listen:

pay attention to conversations taking place not only to understand your audience better but also to make intelligent contributions.

Appreciate

: acknowledge and appreciate any brand mentions you get.

Respond:

set aside time to

answer comments so followers stay engaged with your B2B brand.

Relax:

relax

,

have fun, and enjoy engaging with your followers—

showing emotion

and personality in content is okay even for B2B brands.

Brand:

in your engagements stay consistent with your company's tone and style.

Serve:

it's always best to mostly serve, not

sell on social media

.
Be authentic and mingle to win people's hearts over as Boston Dynamics does.
How do 198,333 views sound? Not too bad for engagement.
All because they shared a cool video of a robot Atlas doing nifty somersault tricks. Pretty cool, hey? ? It's a masterstroke because not only do they have fun with their followers, but they also show their expertise. 
9. Clinch The Conversion With A CTA
As a B2B business, you are not on social media for fun and games, right?
You are there to feed your funnel. 
You want new blog readers and prospects. 
You want leads and customers.
You want sign-ups and free trials.
Thankfully, Instagram allows you to add links to your content. Those links are the bridge that takes visitors from Instagram to your site. Use enticing call-to-actions (CTAs) in your posts, stories, and videos to:
Offer users custom lead magnets.

Ask visitors to sign-up for your newsletter.

Present your free trial offers.
With Instagram Stories netting swipe-through rates of between 15 to 25%, double the Facebook rates, optimizing your CTA is worthwhile.
Dribble tempt users to click through to their site by inserting a link in their profile.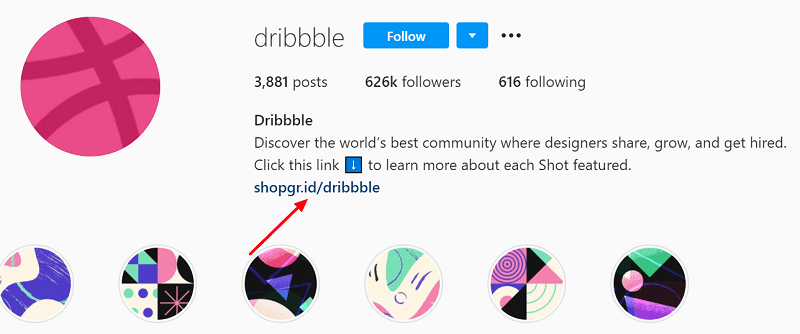 The link is pronounced and appears right at the end of their bio. Prospects can't miss it.
Unlock Your Brand's B2B Instagram Marketing Prowess
Instagram is here to stay and can only grow from strength to strength. 
Savvy B2B brands are reaping the benefits of the Instagram strategy. They use the channel to connect with prospects, engage with them, and drive traffic to their websites. Eventually, they turn the traffic into buying customers and enjoy the benefits of B2B eCommerce.
It's time to take Instagram marketing seriously.
Incorporate these tips into your B2B Instagram strategy to see results in your social media marketing efforts.
About the author
According to his cheeky wife, Qhubekani Nyathi aka The Click Guy is irresistibly handsome. He's an offbeat Digital Marketer certified SEO copywriter who writes zingy long-form content that ranks, drives massive traffic, and leads for B2B SaaS and marketing companies. He contributes to prestigious blogs like Search Engine Watch, Crazy Egg, Smart Blogger, Get Response, and more.