This post was contributed by Kas Szatylowicz, Content Marketing Manager at Digital Olympus 
Gone are the days when running a B2B eCommerce business had to be a daunting and slow process involving manually receiving, processing and delivering the orders. With rapidly developing technologies, more and more processes have become automated and the work previously done fully by humans is slowly replaced by smart technological solutions. The same is true for the B2B commerce sales process when the idea of sales automation has come to light and changed the way businesses operate for the years to come.
In this article we will give you a quick overview of what is sales eCommerce automation and how B2B commerce businesses can use it to their advantage.
What is Sales Automation
Sales automation is simply a process that enables businesses to generate traffic, convert leads, and bring repeat business back to the store in a way that doesn't require much of a human input. Automating processes in companies make a lot of sense as computing systems or robots are much better at:
Collecting and processing data

Keeping track of orders/interactions etc.

Being consistent in customer communication

Moving data between apps/systems

Monitoring customers' behaviour
For B2B сommerce companies, sales automation is what allows them to operate on a much bigger scale without having to hire more employees.
Benefits of Sales Automation
Implementing task automation for some of your sales processes can be a breaking point for your business's success. Perhaps you will discover that you can finally focus on things such as your B2B sales strategy instead of manually replying to your customer' emails all day. 
Here are some benefits of automating your sales process:
Saved time

Reduced business costs

Better process tracking

(Often) increased sales

Better customer experience
All in all, implementing sales automation is meant to replace humans (your sales team) in doing repetitive, simple tasks such as basic data collection and manual data entry so that they can focus on what actually matters – closing the deals.
6 Ways to Automate Your B2B eCommerce Sales
There are plenty of creative ways you can implement for automating repetitive sales-related tasks and maximize your efficiency. Below are a few ideas you can consider for your own eCommerce store, but before that…
Find  the right tools to help with sales automation
Before you embark on your journey to tinkering with sales automation, you have to equip yourself with the right set of tools. 
When choosing a suitable solution for setting up your online store, you should consider whether the given eCommerce platform is designed to facilitate the needs of your B2B business. 
This could be: managing corporate accounts, showcasing buyer-specific catalogs, supporting Configure-Price-Quote (CPQ) processes, or enabling 3rd-party apps integrations. Many of the sales automation solutions described below require you to use an additional tool (most can be found free) or plugins that can be integrated with your store. 
For example, OroCommerce is a popular choice for B2B eCommerce companies as it is specifically designed to fulfill the needs of this kind of businesses as opposed to Shopify, Magento or other popular platforms vastly focused on B2C vendors. 
Another thing to consider is the type of CRM you are going to be using. 
Some platforms, such as OroCommerce have in-built CRM which makes it easier and cheaper to manage your store. For running an eCommerce store, you should focus on the operational CRM software that helps you manage your contacts and communication with your customers. 
Your CRM is what will help you automate your sales process by monitoring the B2B sales funnel and processing data about the whole customer lifecycle. From the moment they land on your store's website to the moment they turn into repeat customers.
Outreach and email marketing tools
Lastly, you might need tools to help you automate your lead prospecting and nurturing. For doing an email outreach to start a relationship with your future prospects, you can consider tools such as Lemlist or Pitchbox.
For nurturing your leads with emails you might want to test out a bunch of email marketing solutions first, before you commit. Some of them allow free trials or have freemium plan options. Your tool for doing email marketing is a key component in ensuring that you can easily automate the lead nurturing process and do it efficiently. Personally, Hubspot is my favourite thanks to its intuitive dashboard and simple workflows creation.
Use chatbots for communication and lead generation
One of the easiest and cheapest ways to automate your customer communication (including prospecting and lead scoring), is using a chatbot on your store's website. For example, you can make a chatbot to automatically answer FAQs or segment your website's visitors based on their business type, behaviour or some kind of preference. 
For example, here's how a FAQ chatbot could look like: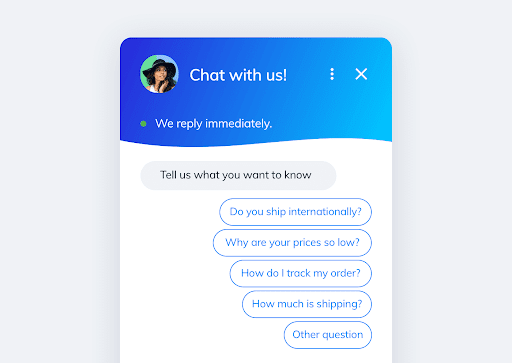 Chatbots can save tons of your time by automating your communication with your customers at pretty much each stage of the sales process. 
From segmenting store's visitors, lead generating, scoring and qualifying, to answering some queries in real-time, building trust, offering discounts and assisting your prospects in their buying journey, chatbots will cut down the work of your sales reps in half. 
Create an emails sequence for
abandoned carts
Another way to boost your sales is to maximize on the opportunity of converting your customers-to-be who have decided to abandon their carts. As you are selling to other businesses, losing a single sale can mean tons of cash left on the table. With the right cart abandonment strategy, this doesn't have to be the case anymore.
Setting up a sequence of emails encouraging your prospects to complete the transaction is what will replace your follow-up calls or individual emails trying to convince them to come back. Thanks to the previously performed audience segmentation, you can set up a few email workflows (for example using Hubspot) personalized to the recipients. 
For example, New Pig is a company selling workplace supplies for leaks and spills. Each of their emails in the cart abandonment series has a different subject line and message.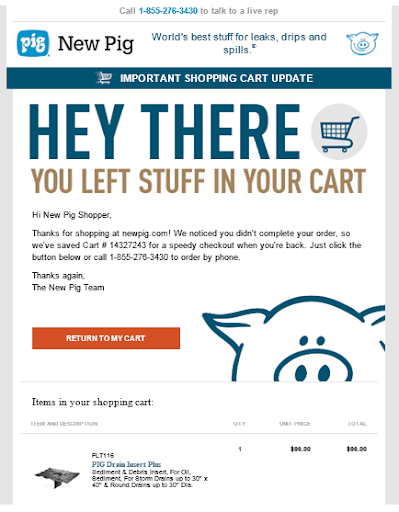 It's crucial that you come up with an appealing subject line and email body that will convince them to come back. Don't stop with just one email, make sure to send follow-ups, too, however keep in mind that you cannot come across as pushy or annoying. Perhaps add something extra, like free shipping, to give them a gentle push to reconsider their decision.
You will be surprised to see how many businesses will come back to your store if you simply ask them to.
Also, the success of the sales automation campaign – it's delivery to all recipients. Don't forget to check your email deliverability score before sending them to all recipients.
Offer discounts after the first purchase
Everyone likes getting something cheaper than it was expected. No matter if it's an individual customer or another business, discounts and promotions are great for attracting new clients and convincing the existing ones to come back.
To run this kind of sales campaign successfully and on the pilot, you should set up an email marketing workflow to automate it. 
For example, you can offer discounts for each returning company buying in bulk or free shipping for everyone who makes an order above a certain price point. It works especially well when you right away give discounts to companies that have made their first order with you – after the purchase. It adds up to their positive perception of your businesses leaving them wanting to come back for more in the future.
Then, of course, you have to set up the automatic discount system to be triggered when needed. Here's how to do it using OroCommerce.
Choose the discount type

Select its value

Schedule the activation date

Restrict the discount to be available only to the chosen customer group (customers who purchased your products once)
Check out this guide to learn all about best promotion and discount strategies for B2B eCommerce.
Retarget with advertising
Another way to take advantage of the technological advances and your collected data is to use retargeting. Gone are the days when tracking your customers' needs and wants (having sales reps do interviews) and then offering them personalized solutions was working like magic. 
Nowadays, your data analytics and advertising tools can do the job for you. Once you've collected some data about your store's visitors behaviour, you can retarget them with your Facebook, LinkedIn or Google ads. In this way, you keep reminding them about your presence and encourage them to come back to your store and make a transaction.
For B2B ads retargeting you need to remember that:
There isn't a single decision-making person

The buying process in B2B takes longer

Put emphasis on rational benefits, not emotion-driven points

The focus should be on accounts, not companies as a whole
This is where the idea of the account-based marketing comes in handy. With the ABM approach, you increase your chances of successfully retargeting the right people at the right time with the right offer. In your ads you can redirect them to your desired website where they are just a few clicks away from making a purchase.
To make this tactic even more effective, you can consider experimenting with building separate landing pages for your best offers. 
Recurring orders notification
Lastly, you can set up a system for recurring orders email notifications for your existing customers. In this way you are saving their time and increasing your chances of securing yourself future sales on the autopilot.
Here's an example of an email sent with regards to the recurring orders from their loyal customers.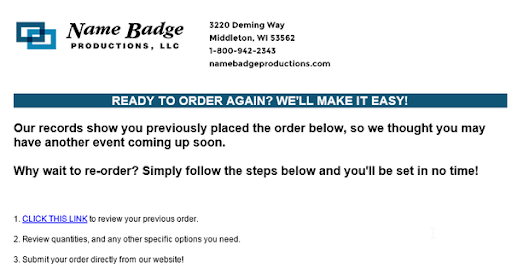 Doing all the work of looking for items and adding them to a cart can be done by you automatically, so that your customers only need to review and approve/edit their order before they head to the checkout. It's great as you show that you want your clients to have an excellent experience with your store and that their time is important for you. 
For B2B sales this is one of the most effective ways of showing that you are a customer-centric business worth making a deal with.
Wrapping Up…
These are some of the best solutions that you can use for automating your sales process. If implemented correctly, they will allow you to save tons of time and to increase the efficiency of your business.
Equip yourself with the right tools, think over your strategy, collect necessary data and start automating your sales to make money even when you sleep. Good luck!
About the Author
Kas Szatylowicz is a Content Marketing Manager at Digital Olympus. She loves writing about all things SEO, content marketing, and social media. Connect with her on LinkedIn or Twitter at @KasSzatylowicz.