A modern enterprise resource planning (ERP) solution is essential for any manufacturer moving into the new decade. As doing business of any sort gets more complex, you must have reliable technology to manage your business functions in one centralized system. That' where an ERP for manufacturing comes in.
Manufacturers were some of the earliest adopters of ERP technology. They needed a digital solution to manage supply chains, production schedules, and inventory while keeping people and assets connected. In fact manufacturers dominated the ERP solution market in 2018 and the global ERP market is estimated to be $41.69 billion this year. It's no surprise that the greatest growth is forecast to come from aerospace and defense. But where an ERP might have been a stand-alone solution in the past, today's modern ERP is a key part of the company's digital transformation.
You can't put the customer at the center of the company if you can't manage to successfully manufacture the product the customer wants. So, today's ERP solutions for manufacturers are very different from past iterations. Here's a look at the features you'll find in the best ERP for manufacturing. We'll also kick the tires on a few of the top-rated ERP solutions for manufacturing and summarize the benefits of each. 
The Right ERP for Manufacturing is Essential
Your ERP impacts your productivity, shipping, purchasing, human resources management and more. As a result, the ERP you use has an impact on your bottom line. Your ERP should streamline workflows, reduce inventory overages, improve production schedules, create reliable product delivery schedules, and assist with quality control through the ability to track parts to purchases all while improving your cash flow and helping you stay in compliance with laws, regulations, and PCI DSS eCommerce. It's a big job. According to Panorama Consulting, 64% of companies that adopt an ERP do so to improve performance while 57% are positioning themselves for growth. The good news is that 95% of those same businesses surveyed realized improvement in their processes after post-ERP implementation. 
So apart from features, what do manufacturers want in an ERP? The Aberdeen Group discovered ease of use at the top of the list and customization by industry on the bottom. Here's a look at the full range of what companies want: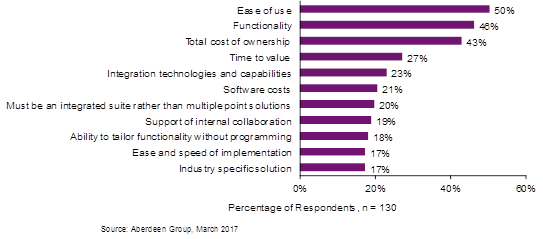 But despite the desire for an industry specific solution, it's clear that manufacturing companies need an eCommerce ERP integration that was built with manufacturing in mind. 
Best ERP for Manufacturing is Made for Manufacturing
And when it comes to ERP solutions for manufacturing, the best ERP for manufacturing is designed for the use of manufacturers. The needs of retail and wholesale companies differ from manufacturing. Their ERPs should be different as well. The best ERP system for manufacturing allows you to easily differentiate between make to stock and make to order processes and configures engineer to order and configure to order environments as well. But that's just the start. An ERP solution for manufacturing should facilitate:
Real-time equipment production and process monitoring

Rules based product configuration

Quality and compliance management

Product lifecycle management

Product data management

Advanced planning and scheduling activities

Cradle to grave serial number and lot number control

Supply chain management

Production equipment maintenance management
It should also capture data and facilitate data management and analysis. In addition, the best ERP systems for manufacturing make that data available to users on their desktop or their mobile device. Manufacturing never sleeps, so whether the ERP lives on site or in the cloud, it must be available worldwide 24/7.
It's a tall order. No wonder 60% of ERP projects fail and 80% of companies are unhappy with their ERP. If you can't define what it is you need, it's hard to recognize the proper solution when you see it. By starting with an RFP Template for ERPs and then customizing it with your company's unique requirements you'll be more likely to reap the full benefits of using an ERP system for manufacturing. And as this infographic shows, the benefits are many.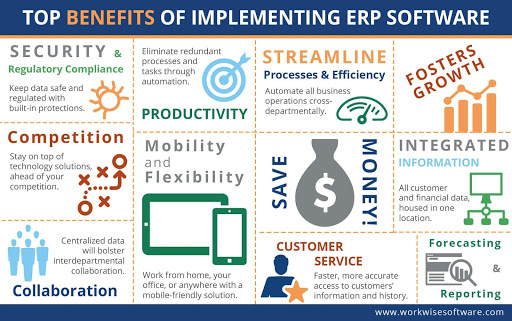 [Source]
Top Rated ERP Solutions for Manufacturers
When it comes to top rated ERP solutions for manufacturers, it's no surprise that some of the biggest names in software solutions are behind the leading contenders. 
Epicor
Epicor ERP's modular design is built on a services-oriented architecture that allows you to easily customize the elements you install. Financial management is a key element of any ERP and Epicor's offering includes the standard general ledger, receivables and payables, and cash management features you would expect with any accounting software. But manufacturers will appreciate the fixed asset management and financial planning and reporting modules. It also gets high marks for production management features like support for lean production initiatives that give you more flexibility with products and order sizes. Of the four products included in this review, Epicor gets the highest marks for B2B supply chain management. From purchasing to inventory and shipping to warehouse management, it will serve manufacturers of all sizes. It is available as a cloud-based B2B SaaS or on-premise product. Either way you have the option of single site or multisite and multinational configurations. It scores low as providing eCommerce support, but that's not really the job of your ERP. However, it does integrate well with B2B eCommerce platforms such as OroCommerce. And integration is key for a successful digital transformation. 
Oracle
Oracle's NetSuite offering is a cloud-based solution for manufacturers. It is designed for mid-sized and large enterprise manufacturers. Like Epicor, it gets high marks for accounting and financial management features. It falls short with manufacturing inventory management, which is a surprise for an ERP designed for manufacturers. But, it more than makes up for it with 3PL for eCommerce, barcode, RFID and other must-have warehouse management features. Because it lives on the cloud, it's mobile accessible making information and data easily accessible. It ranks high for eCommerce support integration which makes your digital transformation in manufacturing easier. 
Sage Business Cloud X3
Sage's ERP is known at Sage Business Cloud X3. As the name says, it is a cloud-based product. It's completely mobile-ready and browser agnostic. Sage's ERP solution for manufacturing is a fairly strong contender when it comes to accounting and financial management. That's not a big surprise when you consider this product comes from the company that gave us Sage Cloud Accounting and PeachTree Accounting. It allows for unlimited journals and multiple ledgers. It is also a strong contender when it comes to production management, order management, and project management. On the downside, if you want robust reporting and data analytics, you need to purchase an additional module. On the plus side, it supports multiple languages, sites, currencies, and regulations which make global operations easier to manage. It also can generate a bill of materials to enhance manufacturing accounting and materials maintenance. But it's a bust when it comes to eCommerce although they offer an additional eCommerce module that's an extension of the supply chain. Clunky to say the least and not the stuff of seamless integrations necessary that a successful digital transformation needs.
SAP Business One
SAP's entry into the ERP for manufacturing arena is its Business One product. While most ERP solutions for manufacturing target enterprise size business, SAP's B1 was designed with small and medium sized manufacturers in mind. SAP is known as a world leader in enterprise level solutions and this scaled down version of their ERP is easily scaled as your company grows.   It can be run on premise or in the cloud. It gets high marks for production management and allows users to run queries from multiple data sources at one time. That's great support for streamlining key processes. When it comes to financials, it offers an in-depth suite of functions from cash management to fixed asset management. On the production side, you can manage the entire transaction process from purchasing to order fulfillment and payment. Receipts, returns, and payments are all handled in one module to help you streamline processes and cut production costs. Business intelligence reports are easy to create and easy to customize. Real-time data is presented using powerful visualizations. It does not have a native eCommerce function, but it supports eCommerce integration through APIs and plugins.
ERP for Manufacturing and the Digital Transformation
The ERP you select has a tremendous impact on the success of your digital transformation. You want to select the best ERP for manufacturing, but you also need the best product to support your digital transformation. 
That means you need to also evaluate the ability of your ERP to integrate easily and seamlessly with your other business technology. You don't expect your washing machine to do the dishes and you can't expect your ERP to perform all digital functions in your company. What you do need is a 360° degree of your business and your customers. You'll only get this when your ERP is at the heart of an integrated architecture that includes the eCommerce platform, CRM, PIM eCommerce, and credit management integrations you need to do business. This is the type of integrated solution that provides the powerful data today's businesses need to stay competitive and to put the customer at the center of the company. From sales to shipping and marketing to manufacturing, floor data is at the heart of every business decision you make.  Integration is what allows data to flow.
As you evaluate the various ERP solutions and eCommerce solutions for manufacturers, be sure to asses their ability to integrate to further your digital transformation.