This post has been contributed by Online Business Systems 
According to Distribution Strategy Group, eCommerce adoption in B2B is increasing.  On average, the number of B2B companies with eCommerce has risen by 26%; the percent of companies with eCommerce revenue >10% of total revenue increased by 8%. Revenue from total sales was in the 10% – 20% range for companies that have adopted digital channels in the last five years. 
What do we expect the top-end eCommerce revenue to be? The final picture is unclear, but there are certainly examples where distributors like MSC Industry Supply reported that 50-60% of their overall revenue came from eCommerce and other digital tools. 
This post will discuss how to maximize your eCommerce revenue by focusing on two critical characteristics: 
Product assortments and logistics

The B2B customer journey 
Product Assortments & Logistics, Complex or Straightforward
The distributors' or manufacturer's adoption of eCommerce is related to the type of product assortments they sell and associated logistics.  For example, a B2B company with broad and straightforward product assortment and delivery will require standard eCommerce capabilities and can quickly adopt eCommerce. In contrast, a B2B company with a complex product assortment or logistics requires special attention to ensure its eCommerce features align with the companies' value proposition complexities.
Complex assortments require a more sophisticated site
Distributors and manufacturers that offer complex products or intricate logistics require eCommerce features and supporting processes different from those with simple products and typical small-pack fulfillment requirements. Given the complexity, such an eCommerce site would include access to focused information, easy customer dialogue, and access to special services along the entire customer journey, from researching and evaluating complex products, and planning the fulfillment, followed by helping to ensure a successful installation.
The following table lists examples of those eCommerce supporting features by product/logistic characteristic. 
Product/logistic characteristics
eCommerce Features 

Are highly technical to shop for

Detailed product specifications

Videos, rotating images 

Augmented reality descriptions

Can be altered or configured

Assemblies

Kitting

Product configurators

Require in-depth information to set up, use and support 

Technical specifications and guides 

Augmented reality instructions

Video calls 

Webchat

Require particular types of storage and transportation

Checkout and delivery options
Suppose the B2B companies with complex product assortment do not adopt the eCommerce features or value-added services appropriate for their customer's needs.  In that case, the experience their customers will have will be sub-optimal resulting in the inability to complete the product purchase,  negative impact to customer loyalty, and overall revenue from eCommerce will suffer.
Most of the capabilities on this list drive revenue through the shopping cart.  They add direct value to customers and play a vital role in customer loyalty.  Hence these features are critical for these companies to succeed in eCommerce and drive the most revenue.
Simple assortments? You may be vulnerable to severe competition from Marketplaces
Marketplaces work best for simple products and direct fulfilment because the B2B marketplace business model involves keeping the cost per new supplier and new customer to near zero.  Marketplaces seek scalability with no variable costs through minimal customer touchpoints, minimal digitized transactions, no inventory/fulfillment, and automated supplier onboarding.
A wholesale distribution business with low complexity products and simple logistics is the most vulnerable to marketplaces such as Home Depot Pro for Maintenance, Repair and Operations (MRO), Walmart for Business which includes Janitorial & Sanitation Supplies, and Amazon B2B for MRO & Industrial.  Besides the appeal of the marketplace's one-stop-shop, endless aisle business model, these marketplaces are a threat because they may limit their offerings to competing brands, control your customers' access, or white label their products.  
In contrast, manufacturers and wholesale distributors with complex products and logistics enjoy relatively broad moats around their customers, with features the marketplaces do not offer, making it difficult for marketplaces to encroach on their business.  
B2B companies with straightforward product assortments and logistics need to find other opportunities to compete with the marketplace, such as a heightened focus on customer journeys.
Add Value by Understanding Your Customer's Journey
eCommerce website: a digital hub of multi-channel services
The B2B customer journey crosses multiple channels from person-to-person, remote and digital.  Each channel contributes to the final purchase's success.  For example, the journey may start at the eCommerce website, but the final sale may occur via email, phone, branch, or procurement department/software. 
In addition, for the journey to be efficient, seamless and frictionless, the customer may require information, have questions, or need access to a relevant service – with the ability to seamlessly move between channels.
Distributors and manufacturers seeking success online need to start by acknowledging that shopping cart sales should not be the only mission of their eCommerce website.            
There is an opportunity to leverage the eCommerce website by extending its capabilities to become a digital hub of information and services supporting each step in the journey.  At each step of the customer journey, the website can be the go-to place for resources and knowledge to help complete that step, even though it may not be related directly to eCommerce.  This opportunity exists regardless of the company's product assortment is complex or straightforward. 
Providing the appropriate digital value-added services can make the customer's job easier and more efficient during the journey.  Examples include offering manuals or guides, options to change fulfillment requirements after products have been ordered, or scheduling maintenance or calibration services.  As a result, the eCommerce website becomes a self-service portal, focusing on supporting their entire journey. 
Typical value-added services that support the steps in the customer journey are listed below: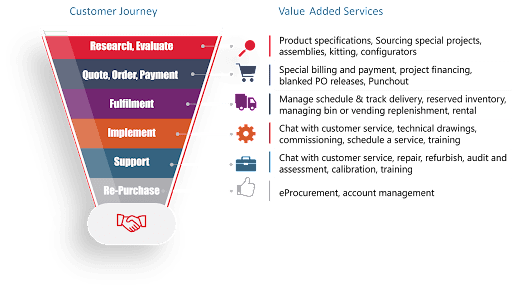 The capabilities on this list do not drive revenue directly through the shopping cart.  Still, they add value to customers and play a vital role in customer loyalty and defence against competitors and insurgents such as marketplaces.  These capabilities may not be in your first release, but they should be planned.
MSC Industrial Supply (MSC) is a leader in providing value-added services.  MSC has 50-60% of its overall revenue coming from digital tools. MSC is acutely focused on their eCommerce website and other digital tools to foster higher loyalty and retention levels.  Some of their digital value-added services include:
vendor managed inventory 

eProcurement

Inventory management mobile app 

Procurement cards

Safety assessment, training, and guidebook 
How can your organization find opportunities to solve unmet needs?
Understand your customers' unmet needs related to their research, purchase, implementation, and your support journey with your company and products.   To accomplish this, define the tasksthey are trying to achieve at each step, understand their experiences, desired outcomes and where they are unsatisfied with the results.  Then, look for opportunities to resolve the critical unmet needs with new features, information, or service your eCommerce site can host. 
Here is an example job map of activities tied to each step of the customer journey.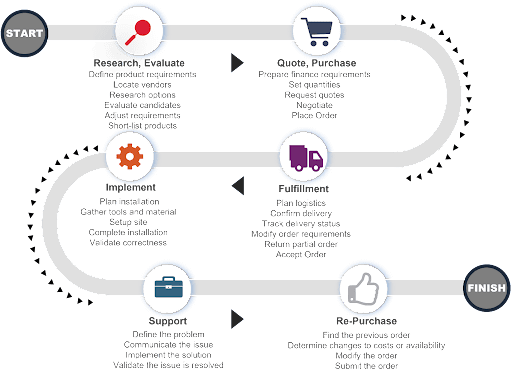 As we can see from the image above, unmet needs may vary by product type.  But where do you start?  You may want to begin with product assortments with the best ROI or most pressing needs.  Analyzing the critical unmet needs may identify an opportunity for a differentiating, unique innovation. 
Need help? Online Business Systems has the eCommerce, customer experience, strategy, and implementation experience to help your organization.  We can partner with you as your organization matures, and demands more sophisticated eCommerce capabilities.  Let us work together to maximize the value of your B2B eCommerce site.