Originally published June 16, 2020, updated June 29, 2022
Imagine a buyer looking for 1000 fasteners. Upon visiting a local distributor's website, they can barely find the right item. Just to make sure they found the right item (and to confirms specifications) the buyer calls the distributor. It's a good thing the order wasn't placed; the distributor only has 500 fasteners in stock.
For many B2Bs buyers, this situation is all too familiar.
Many distributor websites make a simple shopping experience difficult by failing to address the basics, such as accurate product information, current stock levels, clean interfaces and categories, and sometimes even site performance. A well-designed distributor website gets noticed, keeps customers around for longer, and through positive word-of-mouth and SEO, gains more customers that buy more product.
But distributors struggle with creating websites that facilitate building relationships with B2B buyers. Digital Commerce 360 asked a number of distributors about their biggest 2022 challenges. Creating a sophisticated website that meets the needs of buyers topped the list at 42% – a figure no doubt accelerated by the COVID-19 pandemic.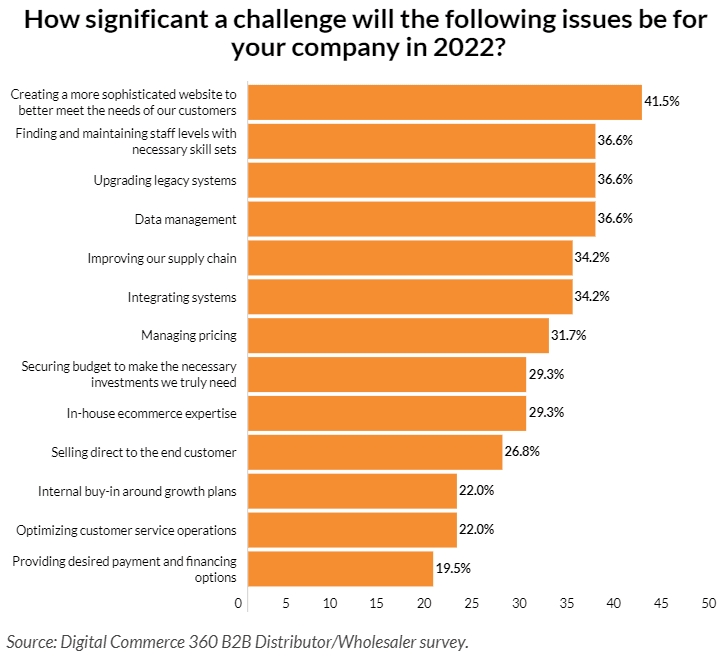 [Source]
Fast-changing customer expectations and buying dynamics mean that a website is now the main point of differentiation from the competition. A website for distributors and wholesalers is also the main branding and customer loyalty driver and presents the ability to influence end-customer behavior for increased sales.
Today a 2000s Website Won't Do
The distribution industry is one of the largest and most varied business sectors. It includes wholesalers, resellers, and B2B eCommerce sellers. Many smaller distributors, particularly in the niche or older industrial segments, still depend on faxes, phone calls, and in-person meetings. Never mind personalized catalogs, multiple payment options, or PCI DSS eCommerce compliance. Their websites are little more than downloadable manufacturer catalogs and specification sheets. As a result, many distributors weren't prepared when digitization swept the buying world.
Self-service: a crucial element for a website for distributors
Today's B2B buyers don't want to be sold to, and digitalization trends spurred by the pandemic only enhanced this preference. McKinsey's research demonstrates that 39% (an increase of 11% from last year) of B2B buyers want to be able to self-serve. What's more, over half of B2B buyers don't want a salesperson calling them by phone, and a similar number want to avoid in-person meetings. As Millennials move into decision-making positions, this market trend will continue, and B2B buyers will be more aware of their online experiences.
It's not a new phenomenon. More than five years ago, Accenture claimed that 71% of B2B buyers relied on online research instead of speaking with a salesperson. The share of digital channels only grew since then, with online chat and self-service portals slowly eclipsing the role of the phone: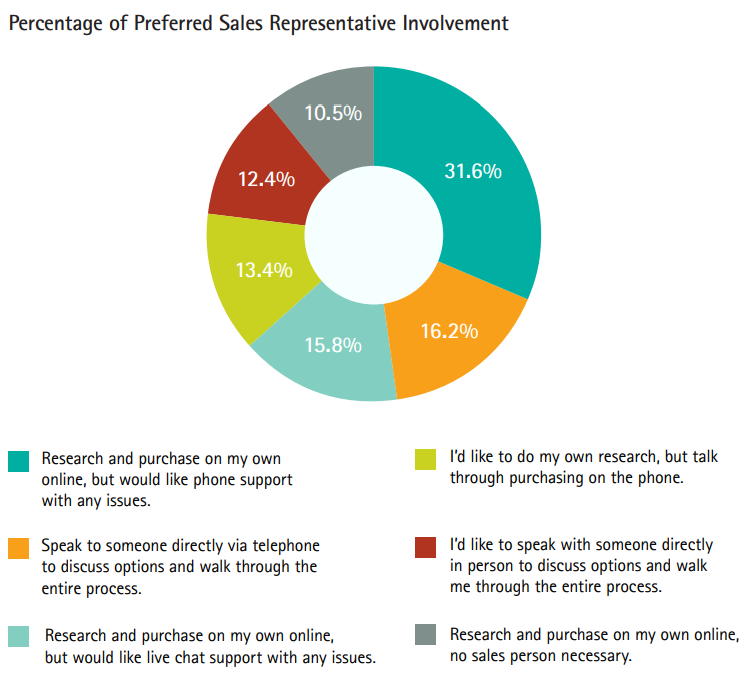 [Source]
All this adds up to a quite compelling case for prioritizing a better shopping experience on a distributor website, regardless of whether you're targeting prospects or customers.
Manufacturers and marketplaces: your competitors
According to data gathered by RealResultsMarketing, many customers of niche products prefer to shop on the manufacturer's website over that of a distributor. Other buyers automatically gravitate towards B2B marketplace websites such as Fastenal, Grainger, Uline, and Amazon. These destinations feature powerful search functionalities, extensive product libraries, and great resources to make product comparison easy. In short, marketplaces are convenient, easy to use, and offer lower prices.
It's not unusual for manufacturers to develop online applications and configurations to help buyers design custom-built solutions for their needs. That's why distributors are going beyond a pure-play B2B eCommerce presence. They are actively looking at platforms with ​online marketplace features to take on the big players.
After all, managing their own manufacturer website offers many benefits. First, this approach raises an element of trust: consumers trust that the information presented on the manufacturer's website will be accurate and elements presented will be compatible with each other. Distributors can stand apart by offering value-added services, intuitive experiences, richer product data, and comprehensive resources that create a more informed purchase and improved buying experience.
It's more than a shopping cart: it's a destination
A distributor website should be more than a product catalog with downloadable product specification sheets. It's more than just a shopping cart or an about us page. In order to drive customers to purchase, the goals of a website are to instill trust and confidence. Distribution houses need to tell brand stories and offer personalization.
Findings by Inviqa revealed that buyers don't always shop with specific intent: 1 in 10 Millennials, for example, say that the main reason they won't shop with Amazon is that they are not sure what they want and it's "hard to find inspiration on Amazon". Distributors can get and keep customer attention with resources such as a blog post, video content, product comparisons, or customer reviews, and more.
How do top midmarket distributors use technology?
Discover real-life case studies from leading distribution brands.
Benefits of a Modern Ecommerce Website for Distributors
An eCommerce distributor website design includes more than just a catalog of your products, specifications, and a button to contact you for more information. The average B2B customer doesn't want to place a call, email for more details, or flip through a PDF (worse yet, a physical paper catalog). An effective website for distributors is an immersive destination that makes the job of buying easy.
Branding
Branding is more than a logo or tagline. It uniquely identifies you and differentiates you from the competition. A distribution company must serve many audiences, both up-channel and down-channel partners, resellers, and customers. An eCommerce website essentially allows distributors to establish how they want to be known across industries, how they are different, and the unique value proposition they offer.
Marketing
Site visitors don't turn into customers overnight. They first have to research, evaluate, and compare different suppliers. And marketing is how you attract customers to your digital presence. With online marketing for distributors, industrial sellers of all types can attract leads, nurture them, and turn them into loyal repeat customers.
24/7 availability
The internet doesn't sleep and a distributor eCommerce website is always available to potential customers. By enabling customers with a place to visit, get information, and make a payment all hours of the day or night,  distributors can maximize their sales and profits. Provided they offer a website for distributors that is accessible and user-friendly.
Discoverability
The majority of your new customers are already online; they just might not know about you yet. Reach out by creating helpful content that answers potential customer questions. This can be done by optimizing your eCommerce site for SEO, adding a blog on your website, and publishing helpful posts or guides related to your product lines. Not only does this increase the discoverability of your company, but it establishes your brand as a trusted resource.
Data and metrics
Distributors are often nervous that investing in a new website will decrease their control over their sales process. To the contrary, eCommerce website interactions are extremely measurable and trackable with systems such as Google Analytics for eCommerce. This gives distributors never-before-seen insights into where web traffic comes from, how people found you, what they are doing once they get to your site, in addition to sales numbers, order quantities, cart totals, and abandonment rates.
Operational efficiency
More data means more better-informed decisions and improved efficiency. The right data offers distributors more flexibility and maneuverability to improve operations, perform marketing A/B testing, and implement improvements faster. Most importantly, it makes it easier to follow up with consumers long after they've left your website.
Growth opportunities
An eCommerce website for distributors allows distributors to uncover new opportunities for growth by entering new markets, forming a strategic partnership, and building stronger business relationships. Websites make it easy to offer an omnichannel and tailored experience to every business customer, from the emails they receive to the products they can see – something that has long been proven to drive sales.
Why distributors (and manufacturers) should move online
Why now's the time to adopt eCommerce and tart selling online.
How Do You Start a Distributors Website Project?
The first step in starting your website for distributors project involves performing research, analyzing trends, and perhaps most importantly, gathering real-life examples of eCommerce websites that fueled positive changes in other distribution businesses. Once that is done it's time to build a team and start planning:
Revamping an existing distributor website or creating a new site requires resources across the organization and a person to pull them all together. First, choose a team member to lead the project. It could be an IT professional or successful project manager. This person should be up-to-date on digital strategy, have experience with customers, and understand the peculiarities of your industry.

Build a team and collect information from your customer-facing staff such as marketing, sales, and customer service. Get input from finance and operations to help you in your project. And, don't discount

digital agencies

and eCommerce consultants. They can bring lots of experience to the table within your niche or industry.

Once you've assembled your team, it's time to start researching the eCommerce platform right for you. Identifying all the platforms and then comparing and contrasting features and specifications of the various platforms is time-intensive. It helps to create a 

request for proposal (RFP)

that lists your requirements and you can use your RFP to shortlist your vendors.
What Are the Essential Distributor Website Elements?
To grow your distribution business over the long-term, you need to create a website that incorporates the elements listed below. These include front-end features to address customer needs and a back-end that streamlines and automates back-office processes and operations.
Front-end features of a good website for distributors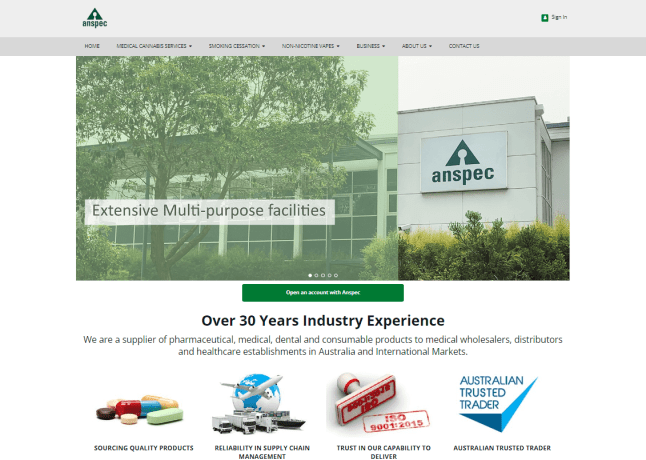 Clean, modern, and responsive design
Today's customers expect an intuitive website experience, no matter what device they use, even mobile devices. Look for a website that offers clean web designs that are fully responsive right out of the box.
Product information and search
Site visitors are not going to stick around on a site that only provides a  directory listing or content that's nothing more than information copied from the manufacturer. Look for a website that will allow you to provide a robust on-site search and extensive product catalog features able to provide multiple attributes for every product.
Customizable pricing engine
Many distributors maintain custom prices or allow price negotiation. Others require dynamic eCommerce pricing that takes into account predetermined pricing data and business logic. A website that will display the exact pricing to your customer is a great sales driver.
Configurable matrix products
Some distributors deal with complex and customizable products. They need product pages with matrix ordering capabilities, different descriptions, attributes, attachments, and media providing additional info, certifications, and other configurations.
Accounts with permission levels
Every customer buying from a distributor is likely to have a different hierarchical corporate structure involving various account holders, purchasing roles, and other approval authorities.  Look for a website that can accommodate customers with multiple businesses, offices, departments, and teams.
Checkout workflows
Distributors tend to have many types of customers: small, large, and everything in-between. As a result, they need a website that accommodates every customer's ordering and checkout preferences which include unique payment, shipping, and order approval configurations.
Back-end features of a good website for distributors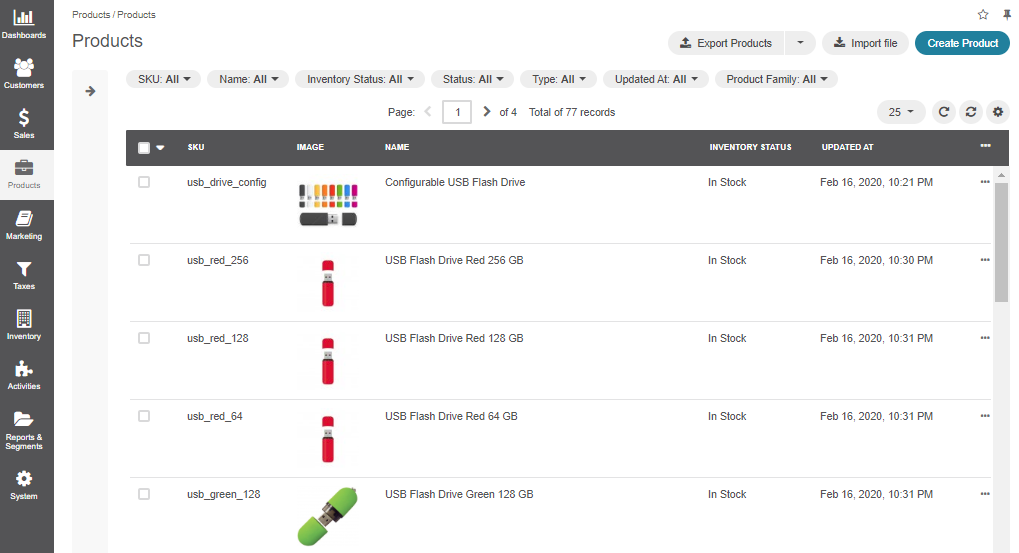 Integration with other systems
Every system in a distributor's tech stack provides an invaluable source of data. Look for integration capabilities with CRM, ERP, PIM, WHM, and accounting systems. Don't forget about marketing integrations such as Google Analytics eCommerce Tracking and CRM dashboards.
Marketing capabilities
An SEO-friendly site with the ability to quickly make a landing page, a promo banner, cross-sell, and upsell through product pages will enable your growth ambitions. Look for an eCommerce platform with  a sales promotion engine that allows you to build and execute targeted marketing promotions.
Automated ordering and workflows
By automating ordering within your distributor's website, administering contracts, request for quote (RFQ), configure price quote (CPQ) and quote to cash (QTC) is much easier. When you integrate these workflows within your website, you automate processes, reduce pricing errors, and serve customers better and faster.
Open, robust APIs
A robust back-end and front-end API is becoming increasingly important for distributors who have complex vendor or customer relationships. For example, APIs allow for the deployment of PWAs and headless commerce integrations.
Support multiple websites under one roof
Many distributors sell across various industries or run subsidiaries unrelated to one another. For them, multi-site, multi-organizational, multi-language, and multi-currency capabilities are essential for addressing various target markets in a personalized manner, for scalability, and for future growth.
PCI DSS compliant eCommerce platform
Distributors accepting credit or debit cards on their website must build in PCI DSS compliance into their website. Make sure your eCommerce vendor is PCI DSS compliant to appeal to a greater customer base worry-free.
Examples of Great Websites for Distributors
Distributor websites can include everything from industrial suppliers, medical equipment distributors, eCommerce for B2B electronics distributors, and many more. Let's take a look at some distribution and wholesale website examples.
Petra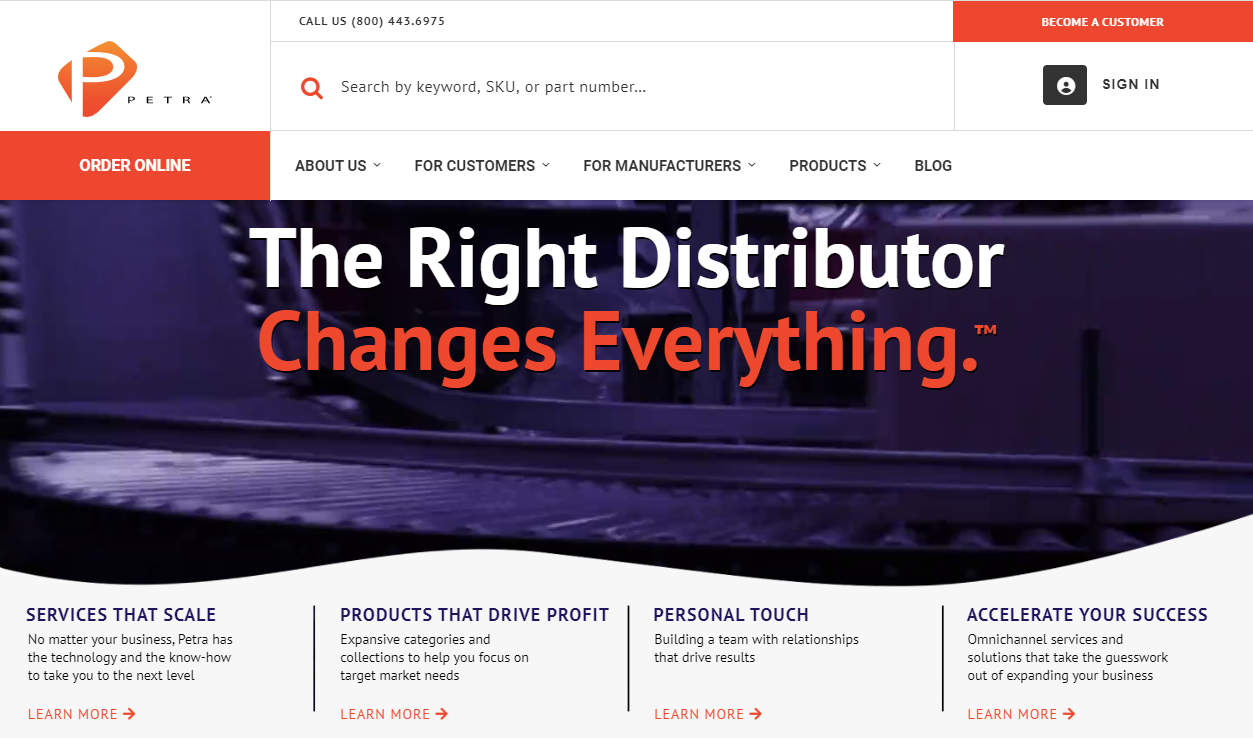 Petra is a leader in distribution of consumer electronics and technology products. They represent 60 classes of product and 800 brands. Sheer volume of product made an elastic search functionality and a full-page navigation menu essential to deliver the best-in-class user experience for which they are known. Items can be searched by name, description, part number or SKU, making them easily discoverable on the front-end and manageable on the back-end.
Petra used the OroCommerce B2B eCommerce platform and its suite of APIs to integrate with their MDS ERP and Akeneo PIM system so data flows freely throughout the installation.
Now, Petra's website is fully-responsive, which means it's accessible and usable on any device. Being fully optimized means fast loading times, even with a large product library, with lengthy descriptions, specification documentation, and ordering approval process based on each customer.

Gala Imports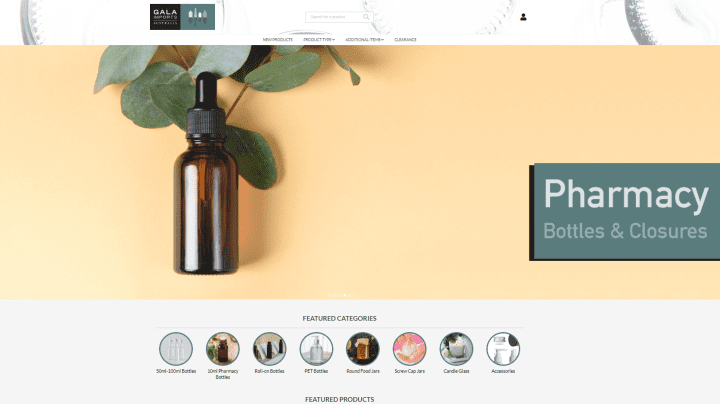 Gala Imports, a leading distributor of glass containers in the APAC region, serves more than 35,000 customers. To ensure its customer experience remains top-notch, Gala Imports opted for OroCommerce, an eCommerce solution that supports multiple storefronts and B2B-focused pricing and product management.
Thanks to these features, Gala Imports can provide personalized experiences for its customers. For example, large B2B clients are offered custom payment and fulfillment options, while smaller businesses get a more consumer-like experience. 
Another element driving the adoption of Gala Import's eCommerce site is the robust search functionality. Searchable product catalogs are optimized for search engines like Google, making Gala's products easy to discover on the Internet. 
The new eCommerce functionality significantly contributed to Gala Imports' growth. When the demand for medical containers soared during the pandemic, Gala had the digital infrastructure up and running to handle it. As a result, Gala saw a 25-30% increase in average order sizes, resulting in a 50% conversion rate increase at the end of 2020.
Animal Supply Co.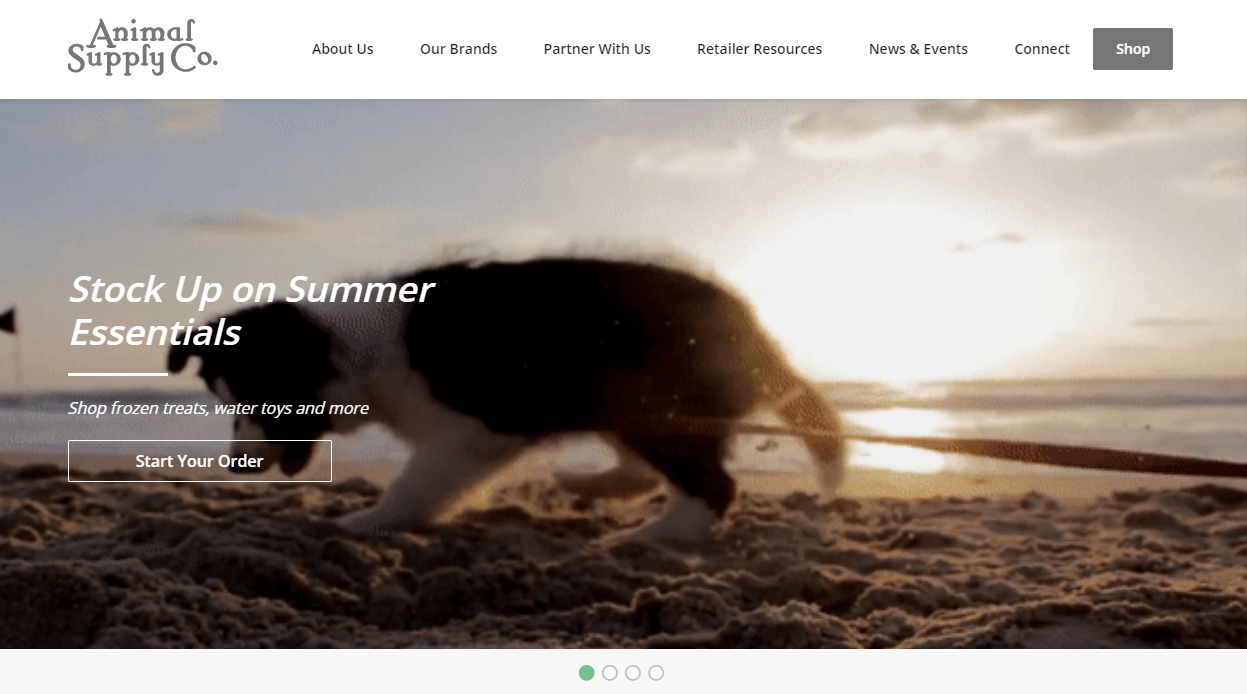 Animal Supply Company was founded in 1987 and operates through 23 distribution centers staffed by over 1,400 people. They serve 11,000 retailers that operate 15,000 retail outlets. Clearly, they needed more than a simple distribution website. 
Their B2B eCommerce platform needed to accommodate their supply chains, relationships between retailers, and integrate between multiple disconnected ERPs, websites, and other legacy systems.
Animal Supply brought everything together using OroCommerce as an order management system (OMS) that processes orders from external sources. The headless implementation allows them to separate back-end and front-end processes, offering their customers (resellers and retailers) more control over the front-end experience.
B2B eCommerce is the New Normal for Distributors
The COVID-19 pandemic highlighted the importance of a proper eCommerce website for distributors. And now you know the elements of an effective B2B website. 
When business shutdowns and state-wide shelter-in-place orders quickly put an end to in-person meetings, fast-thinking distributors pivoted to their websites as their number one sales channel and allocated resources accordingly.
Now, as 2022 rolls around, many distributors are still struggling with eCommerce, or are not achieving the results they could with online sales. A bad prior experience isn't an excuse to discard the viability of eCommerce. B2B eCommerce already accounts for more than half of B2B transactions. And now you know the most important elements to a successful site.
So, investing in a user-friendly, future-proof eCommerce website for your distribution business isn't just a new way to sell to your customer base. It is the way business does business now and an eCommerce website could be the very life preserver to save your business.
Gartner recognizes Oro for the B2B Digital Commerce Use Case
Discover what makes OroCommerce the preferred option for distributors.
Frequently Asked Questions
How to design a perfect distributor website?
A perfect distributor website should include the following elements: 
A self-service portal to enable buyers to research products and order without contacting a salesperson

Flexible on-site search across your whole catalog, e.g. search by synonyms, search boosting (controlling how search results are ranked), etc.

A pricing engine that allows you to maintain custom prices based on different factors, like customer groups, seasonality, or demand. 

Accounts with permission levels that support hierarchical corporate structure.
What steps should I take to start a distributor website project?
Here is a checklist for a distributor website project: 
Identify which features are more urgent than others 

Develop your overall site infrastructure and look based on those features

Start with the design of a homepage, followed by standard pages like the company/contact us page 

Craft product pages and decide how you want to organize them

Structure the buyer checkout and shopping cart pages