April 2020 was a difficult month. The first two weeks were characterized by an economic slump that began in March. We've seen declining consumer confidence, inventory challenges, and an unsettled business climate; all of which is putting pressure on suppliers. 
Meanwhile, customer expectations continue at an all-time high; with bsuyers expecting easy-to-use eCommerce channels, self-serve digital experiences, detailed product information, and timely customer service.  As the world faces this uncertain economic future, one thing is certain: B2B sellers are reassessing their eCommerce channel to see if it meets these expectations. 

In the April 2020 roundup, you'll find the latest news in marketing, customer experience, manufacturing, distribution, and supply chain management. Good news does exist! Get inspired by case studies of how more and more businesses are making lemonade out of pandemic lemons. 
April 2020 update: B2B eCommerce and Coronavirus
The effect on America's economy
At least 25 million Americans are already out of work, and that number is projected to rise. With large parts of the country still on lockdown, it's likely that things will get worse before they get better. At the same time, experts claim that this economic upset will fuel innovation and more and more entries into the eCommerce space.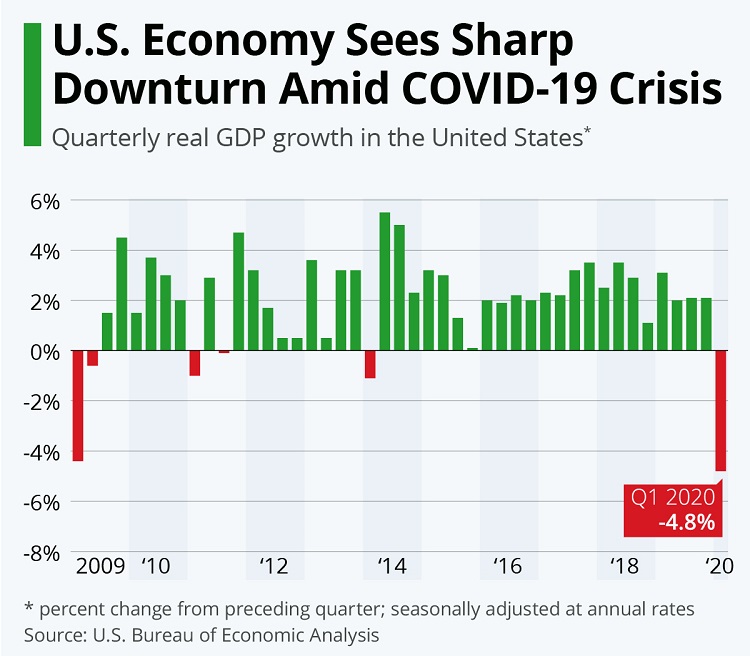 More Zooms lead to Zoom fatigue
As more and more employees are working remotely, manufacturers, distributors, and suppliers are videoconferencing like never before. But what's the physiological impact on this new method of working? National Geographic explores the phenomena of Zoom fatigue that has us feeling a "sense of being drained while having accomplished nothing".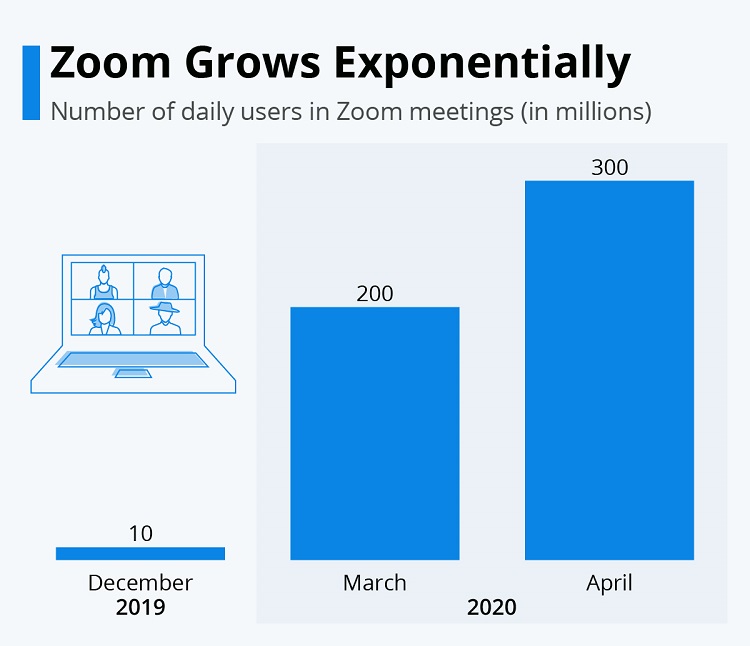 Damage control in B2B eCommerce
The pandemic is causing long-term disruptions for businesses, including those in the B2B sphere, with no end in sight. Our recent post explores how B2B eCommerce businesses cope and what trends we can expect to emerge as a result of the crisis.
Reimagining post-crisis business
McKinsey reports that companies with built-in operational resilience are better protected against wider and acute potential shocks. For B2B eCommerce leadership this means  recovering revenue, rebuilding operations, rethinking the organization, and accelerating the adoption of digital solutions
An irreversible trend towards digitization
Even before the pandemic, a B2B commerce transition to digital was underway. A demographic shift where younger corporate buyers expected consumer-like experiences was forcing sellers to look at how they did business. Post-pandemic modernization will likely accelerate as inertia is no longer an option.
B2B payments see a boost in APAC
B2B payments are popular in Asia-Pacific (APAC). The market is predicted to double in size, reaching $1,356.28 billion by 2025 from $671.32 billion in 2018. The popularity of e-Invoicing and a rise in fintech companies is fueling growth in this sector. 
Overall growth leader: B2B commerce
The larger B2B market continues to take cues from the smaller B2C market. Despite coronavirus, B2B eCommerce is keeping its place as a top growth sector due to the increasing number of payment options and a shift in the customer base.
B2B software market: mixed COVID impact
Coresight Research discusses the impact of the virus on B2B eCommerce platforms markets and sales of different product categories in their respective industries.
Marketing and Customer Experience in B2B eCommerce
30 days of B2B marketing: changing budget expectations
According to Webbiquity, the percentage of B2B marketers who expected their budgets to remain stable or increase plunged by 25% from March to April.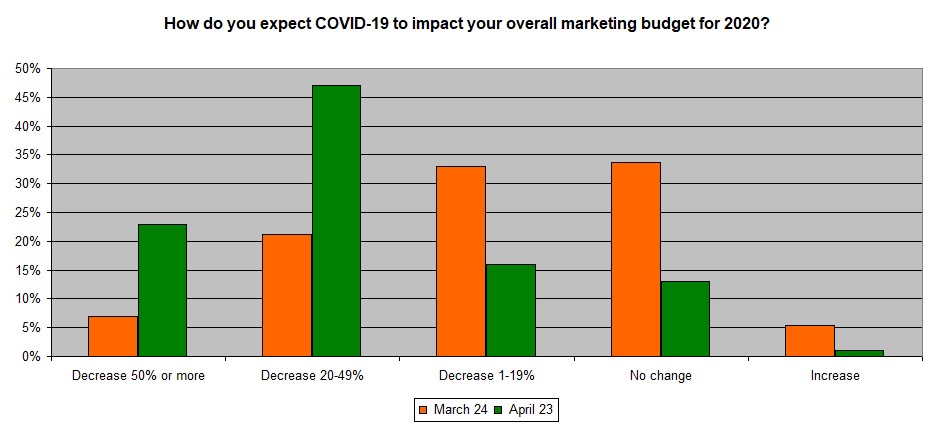 Digital marketing tips for B2B journeys in 2020
The rapid business changes present an ideal time to think about B2B marketing in broader terms. KOMarketing explains how to make the most of B2B digital marketing during these challenging times.
Reasons to optimize your B2B eCommerce experience
Explore these actionable tips by Four51 for adapting your business model for the COVID era. Optimizing your B2B eCommerce experience to reach customers digitally can be the key to increasing sales and profit.
Supply Chain News in B2B eCommerce
Irreversible changes to supply chains
Customer purchasing habits are changing in many ways, and these changes are the driving force in supply chains, according to Jake Rheude of Red Stag Fulfillment. Now is the time to explore new partners and prepare to handle the global supply chain crisis.
Diversification awaits 3PL warehouses
Today's changing landscape is giving rise to eCommerce for B2B 3PL (3rd party logistics) warehouses as an alternative to traditional B2B fulfillment workflows. Supply Chain Management's April 30 webinar explores ways of diversifying warehouse management with 3PL for eCommerce. 
Distribution News in B2B eCommerce
Shifting gears due to the pandemic
Capital Group and FoodServiceDirect are just a few of the many distributors forced to adjust their operations to maintain employee and customer safety. From changing shift operations to supplying new markets, distributors find themselves practicing crisis management in all areas of the company.
Accelerated changes in B2B distribution
The ground is shifting for distributors. Changes forced by the pandemic are highlighting the faults in legacy systems. But things are changing as leadership accelerates digital transformations. 
Manufacturing News in B2B eCommerce
Safety concerns during the "new normal"
Manufacturing has greatly benefited from digital technology. EHSToday explains why manufacturers must take safety and security considerations much more seriously.
Success Stories in B2B eCommerce
B2B eCommerce players eye B2C markets
An independent supplier of chilled foods to hospitality businesses, schools, and hospitals revamped its business in 14 days to meet customer demand during lockdown.
Salt manufacturer drives growth with eCommerce tools
The world's largest salt manufacturer, Saltworks was well-prepared to weather the storm by investing in industrial-strength B2B eCommerce tools.
Hope You Enjoyed This April 2020 Roundup!
We hope you found April 2020  roundup valuable and maybe even share-worthy. If you have a source or think we missed an important article or resource, let us know on Facebook and Twitter or in the comments below.
We'd love to hear your feedback about this new format. Let us know what you think below and keep checking the OroCommerce blog for more updates.