It's been more than two months since Russia's invasion of Ukraine. Disruption is already underway, and according to Statista and Deutsche Bank's estimates, we'll see a peak United States unemployment rate of 5 percent in the year ahead.
Incidentally, during the first two months of the COVID-19 pandemic, we've seen unemployment rise, too. While both of these may not necessarily be considered recessions, the connectivity of modern economies, and the immense impact of short-term downturns on global markets amplify their impact.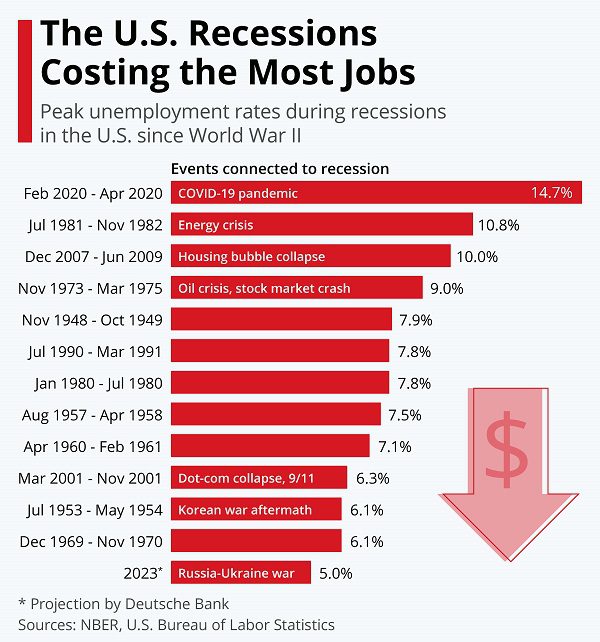 The 1981-1982 recession, for example, was also caused by global events (the Iranian Revolution), energy instability, and exacerbated by stricter monetary policies. That is tied with the subprime mortgage crisis which led to a worldwide financial crisis, scaled-back investments, and massive job losses.
In this April 2022 B2B eCommerce News Roundup, we'll cover the increasingly uncertain geopolitical and supply chain future. We'll also talk about key trends and predictions in digital commerce, manufacturing, and marketing. We'll also touch upon some success stories at the end.
B2B eCommerce News
10 years of Oro and 1 year of OroMarketplace!
This month marks an entire decade of Oro and the one-year anniversary of OroMarketeplace. We're taking the opportunity to celebrate the people behind our products, showcasing the stories of everyone who helped us throughout the year. We'll also host the 2022 OroVibe event this Fall in Paris.
Find out more about the anniversary celebrations here.
Headless and other trends driving B2B eCommerce
B2B eCommerce remains a fast-growing channel for manufacturers and distributors. As the digital commerce market evolves, navigating various strategies and the vendor market gets challenging. That's partly due to the move from traditional monolithic systems toward decoupled or headless systems.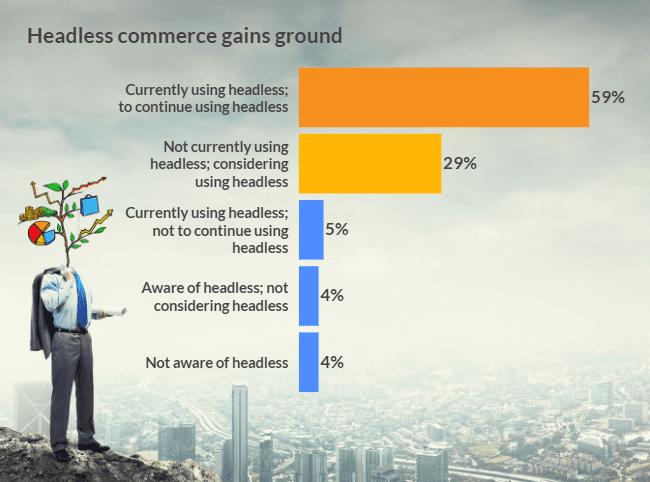 See the whole infographic from Digital Commerce 360 here.
Data standarzination and syndication in B2B commerce
B2B eCommerce has many moving parts – activities like product management, transportation, storage, and delivery. Then there's the back-office – inventory, order, and fulfillment management. That's a lot of data. In our second episode of the B2B Commerce UnCut Podcast, we take the wraps off product data standardization and why it matters.
Or, you can review the highlights in our recap here.
Supply Chain News
Diesel prices are skyrocketing and Americans should care
With an almost daily increase in gasoline prices, the rise in diesel prices is even more drastic – and should worry Americans more. According to data from FreightWaves, since February 1, national diesel prices have increased by $1.57 a gallon. That means the agricultural, industrial, construction, and various other sectors of the economy will be placed under significant pressure in the near future.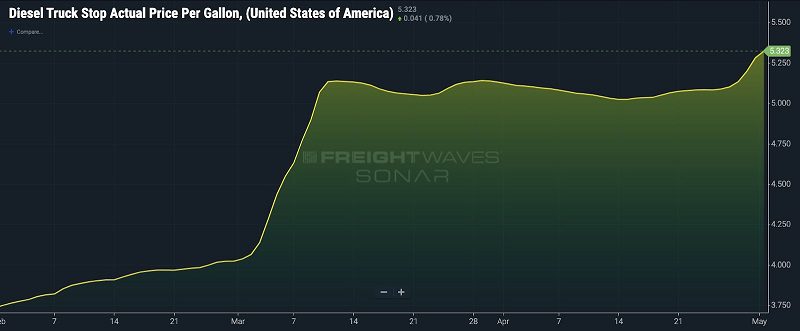 Learn more about the challenges faced by rising fuel prices.
The real reason why supply chains are disrupted
Many of us have a flawed understanding of what a "shorage" really is. Some people blame congestion – clogged ports. Others blame skyrocketing demand for raw materials or a shrinking labor pool. People blame a lack of drivers for perpetuating a shortage of trucks, which translates to things not getting where they need to be. Is there some truth to all of this?
Find out why supply chains are in a difficult position.
War in Ukraine is already causing a global food shortage
Both Ukraine and Russia are mass producers of wheat, grain, and seeds. Ukraine singlehandedly produces the vast majority of sunflower seeds and oil. Furthermore, Sub-Saharan Africa and the Middle East rely on 80% to 90% of imports from the countries at war. Furthermore, there's worldwide demand for fertilizer for farmers looking to protect their crops. What does it all mean for the global food supply?
Manufacturing News
How can manufacturers sell in an increasingly B2C world?
Today's B2B consumers no longer want to see poorly organized product catalogs and filter mountains of documentation. That's why leading sellers are creating digital experiences that keep customers coming back. And if you're not repeating these strategies, falling behind is only a matter of time.
Learn about the crucial factors of selling B2B products online.
Technology considerations for safety teams
It's good practice to reevaluate employee safety programs, regardless of your industry. Advances in technology lead to new ways manufacturers can protect their workers. When evaluating safety programs, companies should also determine whether the solutions they're implementing will be effective.
Marketing B2B eCommerce news
Localizing for RTL Languages: Right-to-left and eCommerce
There are volumes of studies on how people worldwide research, evaluate, and make purchase decisions. You must not only serve international customers in their language but also understand their culture. In this post on RTL (right to left) eCommerce, we discuss the specifics and various considerations of building an eCommerce presence for RTL languages.
Read more by following this link.
Deciphering the digital-first business buyer
It's not a question of if but when. In today's digital world, selecting the right digital commerce strategy is imperative to attain revenue growth. To get there, businesses should strive for an omnichannel, future-proof approach and a strategy that aligns with their long-term plans. This Forbes article sheds some more light on the subject.
B2B eCommerce Success Stories
Major HVAC distributor pumps 46 million into digital sales
Watsco Inc is a major distributor of heating, ventilation, and air conditioning equipment. It launched an eCommerce selling channel but did not disclose complete numbers for its comparison. Nevertheless, digital sales have now reached over $2 billion, with the average customer growth around 19% over the previous year.
Read more about this success story here.
The Folklore Group launches B2B eCommerce platform
Founded in 2018, Folklore Group, the fashion eCommerce startup shifted from the D2C model to a B2B model. The fashion retailer was able to secure funding to propel the growth of this new business. The new wholesale business model links luxury fashion brands in emerging markets to distributors across North America and also Europe.
Read more about this success story here.
Dunlop Protective Footwear wins Manufacturer Leadership Council Award
A manufacturer of protective footwear for extreme environments, Dunlop Protective Footwear, took home the "Collaborative Ecosystem Award" from the Manufacturer Leadership Council. The award is part of a series that shape the future of global manufacturing. Organizations get selected for their ability to achieve leadership and success in the manufacturing industry.