Nearly half a year has passed since the COVID-19 outbreak was declared a pandemic, and this month we've hit another grim milestone. According to John Hopkins University, the infected rate crossed the 25 million mark, and the reopening debate doesn't seem to let up.
In last month's roundup, we covered the rebound in manufacturing, which positively affects supply chains, distributors, and suppliers. This rebound isn't happening in all industries, however. The state of the tourism, hospitality, and event industries continues to be a serious concern for many B2Bs. Aside from the 120 million tourism employees still at risk of losing their jobs, a recent UN and UNWTO report revealed that globally, more than $1 trillion of international tourism spend will be lost, setting the tourism industry back 10 to 20 years.
Keep reading this August 2020 roundup for the latest developments in marketing, customer experience, AI in eCommerce, manufacturing, and distribution and what they mean for B2B eCommerce. There's also a new segment to our roundup: B2B marketplace trends. In it, we'll share how some B2B sellers are succeeding and the lessons we can learn from them.
August 2020: B2B eCommerce, Rebounding Economy, and Fall Predictions
75% of Americans changed brands during pandemic
While developing brand loyalty has always been key in retaining customers, the pandemic has turned this notion on its head. Supply chain disruptions and the inability to accommodate demand spikes forced customers to try out new brands. Customers gravitated to value and availability when evaluating competing brands.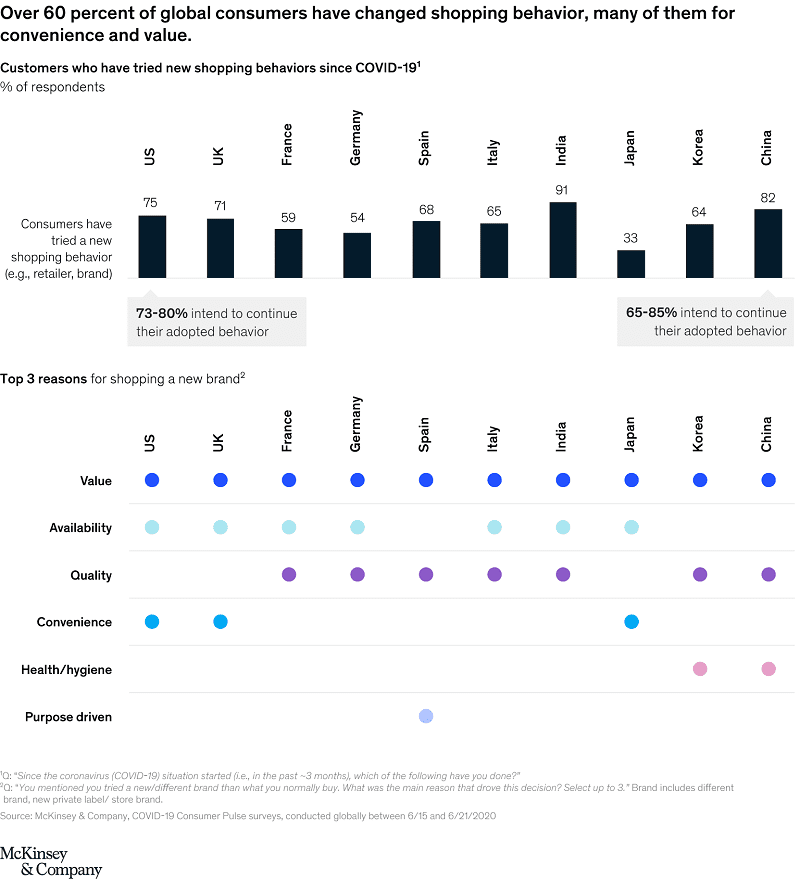 Tech giants are emerging as biggest post-COVID winners
The numbers are in: GAFAM (Google, Apple, Facebook, Amazon, and Microsoft) have posted double-digit revenue growth for April, May, and June, some the worst months of the pandemic. This spells great news for other technology companies and B2Bs that are looking to move online.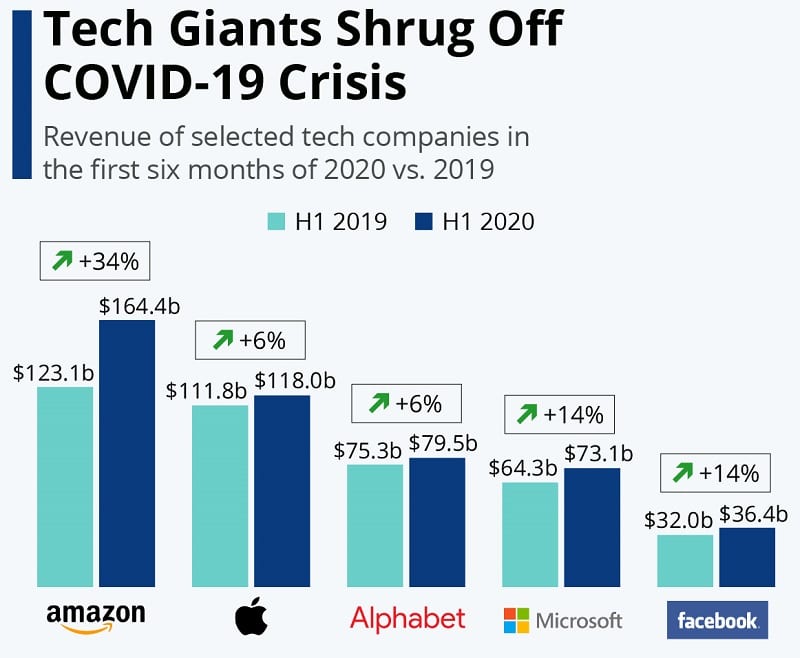 Back to school spending bests historical records
Uncertainty about the future is forcing families to gear up for home learning, as reflected by sales of electronic products, accessories, and communication devices. Total back to school spending will likely reach $33.9 billion, up from $26.2 billion last year, breaking the previous record of $30.3 billion in 2012.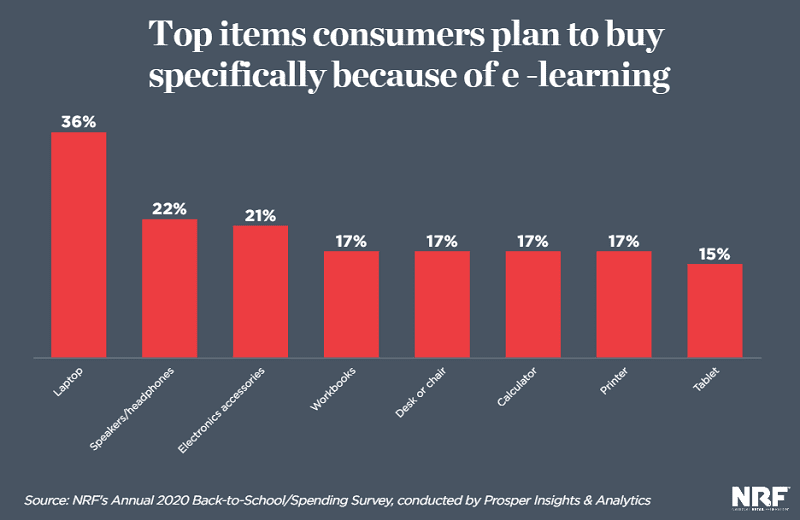 A different holiday season awaits distributors and retailers
While consumers will likely be cautious about spending their money during the holiday season, retailers who invest in eCommerce boost their chances of success considerably. Overall sales are expected to slump 10.5% this year, with brick-and-mortar sales dropping a further 14%. Ecommerce, on the other hand, is projected to grow by 18%.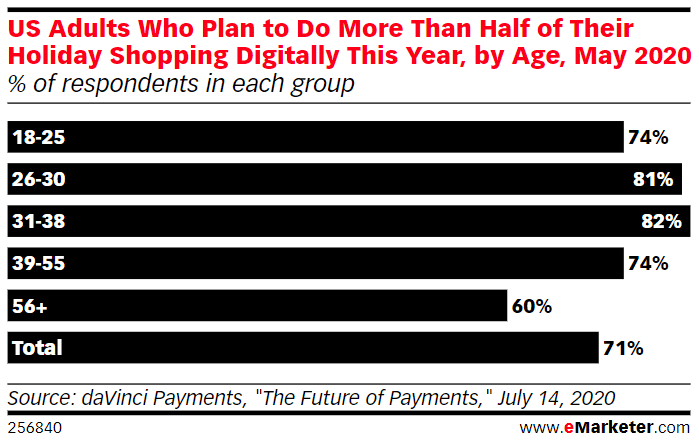 Social isolation helps spur B2B eCommerce growth
According to eMarketer, the global eCommerce market will reach the $ 6.5 trillion US mark by 2023. Giants like Amazon, eBay, and Alibaba are using the momentum to cement their B2B eCommerce market – which is six times the size of the B2C eCommerce market.
Dell cites eCommerce as crucial strategy
As Dell's sales dipped by 1% during the first half of its fiscal period, the electronics manufacturer credits their eCommerce arm for quickly meeting changing demands from customers. Dell highlighted their eCommerce channel as a tool for quickly and easily meeting the growing demands of work-from-home and learn-from-home environments.
Workplace challenges, mental health, and COVID
Workplace stress, anxiety, and depression continue to require HR leaders and managers to navigate difficult personnel situations. The longer the virus lingers, the more people are asked to deny themselves the things that matter to them (such as religious worship, volunteering, or support groups), the more impactful the consequences can get.
Marketing and Customer Experience in B2B eCommerce
Customer priorities are changing and brands should react
The pandemic has caused many customers to stop, think, and reassess what's important to them. Business leaders, brand ambassadors, and PR professionals must look hard to find their voice within the post-pandemic world. This article from MIT's Sloan Review sheds some light on how COVID-19 altered the emotional imperatives and drivers that affect customer brand choices.  
Worldwide social ad spend rose 26.2% from Q1 to Q2
COVID-19 forced companies to cut their spending, but marketing has mostly been spared the deepest of cuts. While the accommodation industry is one of the hardest hit by the pandemic, it saw a 151.3% increase in social ad spend since the end of March, as consumers warmed to the idea of local travel. Leading it was eCommerce, with a 76.3% increase in ad spend over the same period.
Supply Chain News in B2B eCommerce
Customer engagement priorities in supply chains
As COVID-19 wears on, being customer-centric is more important than ever. The disruption caused by the pandemic is forcing brands to rethink their supply chains, which puts additional strain on relationship management. Discover six strategies for improving your customer-centric approach.
Manufacturing News in B2B eCommerce
Which sectors are most likely to reshore?
Manufacturers who must comply with strict US laws such as intellectual property and customer safety standards are more likely to bring production back to US soil. Those that can leverage AI technology, robotics, and automated manufacturing techniques will follow suit. Manufacturers with low labor and high transportation costs will also consider reshoring as wages in China increase.
Change in wages in U.S. and China from 1980-2018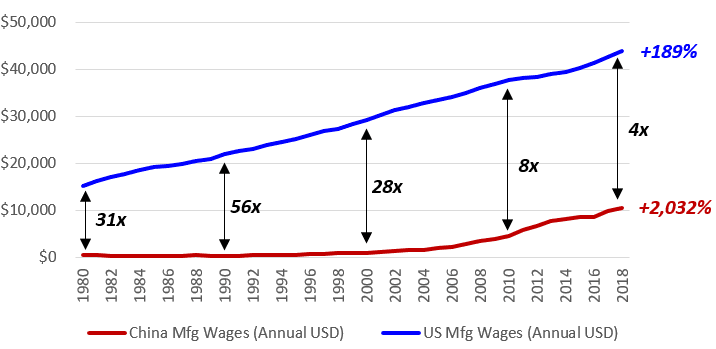 Last month saw 26,000 new US manufacturing jobs
While 26,000 manufacturing jobs were created last month, over 750,000 have disappeared over the previous six months. According to the Alliance for American Manufacturing, the bulk of the losses will be permanent rather than temporary. Economic uncertainty, investment in digital transformation, and the trade imbalance with China remain pressing issues for manufacturers.
B2B Marketplace News, Trends and Success Stories
Flipkart rolls out a wholesale B2B marketplace
India's largest marketplace Flipkart has launched a B2B marketplace. Just like Amazon Business and Alibaba, Flipkart Wholesale is a B2B version of its existing online marketplace that's tailored for the needs of small businesses and stores. Flipkart has already rolled out the service in three major Indian cities and plans on expanding to others.
Shell and IBM launch a mining B2B marketplace
Shell and IBM have a shared goal: to increase efficiency, convenience, and value for customers in the mining industry. Their new B2B marketplace is centered around Shell's products and services and also includes IBM's Maintenance, Repair, and Operations Inventory Optimization Services for managing spare parts.
Hope You Enjoyed This August 2020 Roundup!
We hope you found our August 2020 roundup informative and inspiring! If you think we've missed something or would like to submit a newsworthy article or statistic, let us know on Facebook and Twitter or in the comments below. Keep checking the OroCommerce blog for more updates!