In August, the number of COVID-19 cases officially crossed the 200 million mark, only half a year since the world passed 100 million cases. According to the World Health Organization, we can expect this trend to continue and pass 300 million cases early next year.
One of the main reasons for that is the highly contagious and fast-spreading Delta variant now makes the majority of COVID-19 infections. Despite a massive vaccination campaign, the Delta variant is now responsible for almost all new COVID-19 cases in the United States. Currently Florida, Tennessee, and Arizona have more cases per 1,000 of population than any of the other states. As has happened in the past, when temperatures rise in the southern states, people flock to indoor spaces where the virus is easier to transmit.  Meanwhile, states with higher vaccination rates have shown to be effective in curbing their case numbers.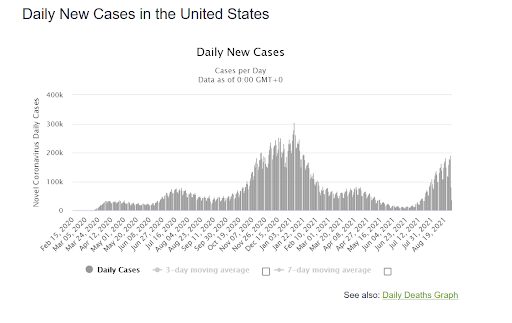 In this month's B2B eCommerce news roundup, we take a look back at August 2021, and explore the news around B2B sales, marketplaces, manufacturing, distribution, AI in eCommerce, and more. We'll touch upon various industry news, customer trends, and share some success stories…..
What Happened with B2B eCommerce In August 2021?
Industrial Pipe Giant, MRC Globals Expands Sales with eCommerce
Houston-based MRC Global, Inc., a global supplier of pipes, valves, and fittings, now does 40% of North American sales through eCommerce. Second quarter sales are up 14% with a net income of $4 million.
The company has been building its eCommerce channel for several years. In last year's annual report, President and CEO, Rob Saltiel, shared the company's commitment to digital with shareholders.  "We are selling in more ways and with greater efficiencies by moving more customers online through our ecommerce initiative." It's paying off. According to Saltiel, "We continue to enhance the functionality of our MRCGO ecommerce platform, and I've seen an increase in customer adoption." The move to eCommerce is attracting new customers and cutting operating costs. Read the entire 2nd quarter financial results report.
B2B eCommerce Continue to Grow in Europe
According to new research published by DigitalCommerce 360, European countries and companies are beginning to truly embrace eCommerce. About 20% of B2B sales were made electronically using a combination of electronic data exchange, websites, and apps. 
The survey included over 140,000 companies of varying sizes. European manufacturers in particular are pointing out changes in the B2B purchase process and restrictions put in place due to COVID-19 as the major impacts on B2B eCommerce.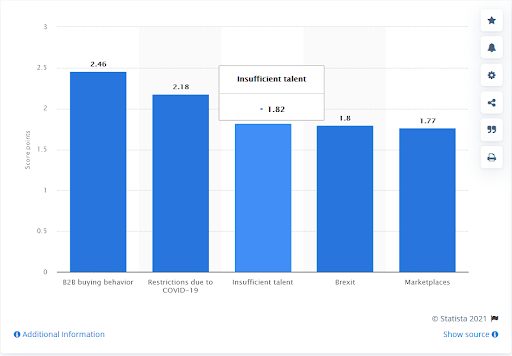 More Payment Options for B2B Transactions
FinTech EedenBull is teaming up with Mastercard's Track Business Payment Service. EedenBull banking partners will gain access to Mastercard's data exchange solution that streamlines transactions between buyers and sellers. Eedenbull currently offers a Commercial Payments-as-a-Service solution and this new partnership provides even more options for their customers. According to CEO and co-founder of EedenBull, Nicki Bisgaard, this step not only provides sellers more payment options but also benefits banks by enhancing their offerings "to not lose out on customer loyalty or the huge opportunity that lies ahead."
In Canada, Interac is collaborating with 13 financial institutions to enable real-time electronic payments for B2B sellers. Companies coming back from financial setbacks as a result of COVID-19 loss of business are looking for ways to get paid quickly to fund their recovery efforts. In Canada, as in much of the world, checks are still the most common form of payment for B2B transactions and lack of payment options often hinders B2B eCommerce. As more and more FinTech companies move to fill this void, digital payments will become as common as digital commerce.
CoreChain Technologies sees blockchain technology as the answer. According to Chris Aguas, founder, and CEO of CoreChain, "B2B payments in North America are notoriously difficult, inefficient and prone to fraud risk". CoreChain technology "allows companies to establish an automated payment process that's faster and more secure than what is used in today's linear environments." Investors agree. CoreChain recently made public their $1.25 million pre-seed funding round for the blockchain B2B payments network.
Even consumer peer-to-peer favorite Zelle is seeing an uptick in transactions involving small businesses. Zelle announced they experienced 157% growth in year-over-year small business transactions.
Mobile Commerce News
U.S. mobile commerce sales grew 41% in 2020. Annual sales over mobile are forecast to double between now and 2025. Even buyers that were previously reluctant to buy on mobile devices have made digital purchasing routine. 
New payment alternatives like Apple Pay and Google Pay and selling through social media channels reduces friction in the mobile experience.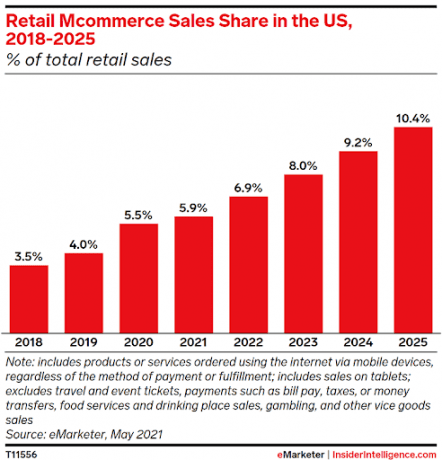 Manufacturing News in B2B eCommerce
2021 IW Best Plants Award Winners: Uncommon Excellence
Industry Week announced the Best Plants Awards Winners, noting that all winners exhibited uncommon excellence in operational operations, overcoming obstacles, and maintaining tight-knit relationships.
According to Travis Hessman, IndustryWeek editor in chief, "These plants are driven to achieve excellence in all they do—streamlining production, improving processes, eliminating defects, and empowering their workers to achieve the impossible."
Winners represented such diverse manufacturing fields as automotive parts supply, packing materials, and drug product development and manufacturing.
See the entire list of winners. 
How to Become a Top Manufacturer Supplier
Quick response times is one of the best ways to become the top supplier on your client's list of reliable vendors. The ThomasNet 2021 Industrial Buyer's Search Habit Survey found that over 40% of B2B buyers expect a response within 24 hours of contacting your company.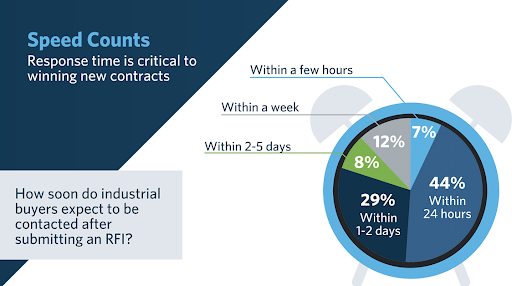 Buyers want suppliers that add insights and value. And they want a response quickly. If you haven't digitized and automated your RFP and RFQ processes, it's time to explore your options. An eCommerce platform with a robust pricing engine and flexible workflows may be just what you need for digital transformation in manufacturing. 
Discover more ways to become a top supplier, including digital marketing initiatives and leveraging technology and data.
PPG Moves to Strengthen Supply Chain for Beverage Manufacturers
B2C and B2B beverage manufacturers are under intense pressure to keep up with a greater demand for packaged products. Beverage can manufacturers are struggling to keep up, and their suppliers are scaling up to help. That's how the shift from sodas dispensed at a fountain to soda sold by the can has impacted the entire supply chain. 
PPG, a leading manufacturer of coatings for beverage cans, is increasing production and expanding their capacity at their Delaware, Ohio facility. According to Robyn McMillan, PPG global beverage segment manager, "With can makers scaling up, we're investing in our production capacity to ensure they have localized sources of the PPG coatings that they rely on."  As the pandemic continues, demand for packaged beverages will continue to be high. 
Manufacturers Increasingly Rely on Digital Marketing
Manufacturers are quick to embrace technology in processes but slower to adopt non-manufacturing related technology. Successful manufacturers are relying on a blend of traditional and digital marketing to penetrate new markets, maximize customer lifetime value, and reduce customer acquisition costs. 
Learn how you can begin with digital marketing, discover six digital marketing strategies for manufacturers, and hear directly from manufacturers that are engaged in digital marketing. All in this recent post at the Oro blog entitled Digital Marketing for Manufacturers.
Distribution News in B2B eCommerce
Robots Address eCommerce Packing Challenges
For any business that ships products, pulling, packing, and getting orders out the door accurately and quickly is a priority. Reduced labor pools and increased demand for quick shipping have some eCommerce businesses struggling to keep up. 
New robotic systems offer multi-pick technology that can hold up to 36 products at a time. This speeds time to packing and time out the door. Material Handling Systems can provide a throughput rate of 90,000 pieces picked and 42,000 orders fulfilled per day. 
Fanuc and Plus One are incorporating AI into their PickOne perception system that can identify, singulate, and sort conveyable items, without the need for traditional vision training. 
How Much are Safety Professionals Worth post-COVID-19?
Rising case numbers have distributors and manufacturers focusing on workplace safety in a new light. Whether a company mandates the wearing of masks or requires vaccination are serious decisions that safety professionals now face in addition to their regular duties.
A recent EHS survey of safety professionals found that safety and occupational health still remain the largest part of the job.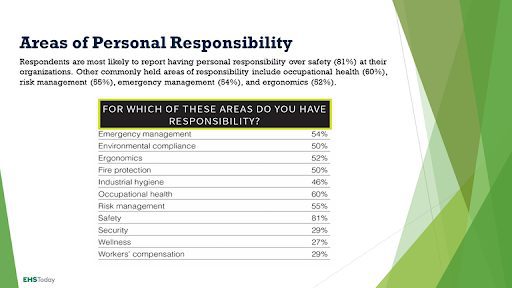 Most respondents were in the 45 to 64 age brackets and their salaries ranged from $90,776 to $99,069.
See responses to the entire survey. 
Alibaba's Guide to Dropshipping
Distributors looking to outsource warehousing and shipping activities can choose between dropshipping and third-party logistics to meet their needs. For those weighing these alternatives, Alibaba recently released a complete guide to dropshipping. It includes information on how to find the best and most reliable dropshippers in the U.S.
Dropshipping not only relieves you of warehousing and shipping, it doesn't require an investment in inventory. This strategy allows you to add new lines on an exploratory basis without purchasing the inventory upfront.
Read the entire guide and discover the U.S.-based drop shipping companies Alibaba recommends. 
Marketplace News in B2B eCommerce
The Amazon Marketplace Surpasses Walmart in Sales
In July, the Amazon marketplace replaced Walmart as the largest retailer in the United States according to a recent New York Times article. 
In the US, people now spend more with Amazon than with brick and mortar giant Walmart. Changes to shopping habits during the pandemic pushed Amazon sales to $610 billion compared to Walmart's $566 billion.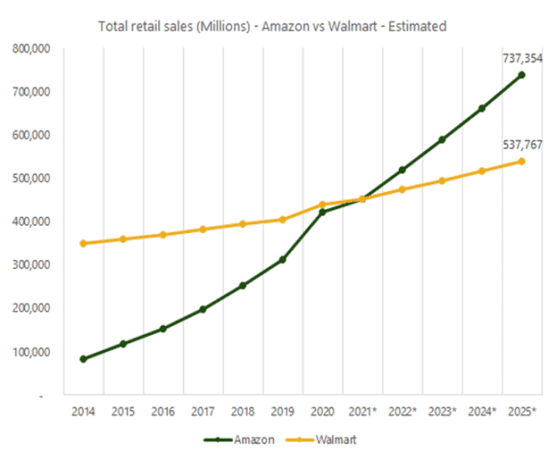 Amazon is expected to continue to outgrow Walmart over the next 5 years. 
Walmart surpassed Sears in the 1990s as the largest retailer. And Sears surpassed A&P in the 1960s. Hold onto your crown Amazon, history shows that remaining top dog is not sustainable indefinitely. And the world's largest retailer remains Alibaba.
Health Care Administrators Association (HCAA) Launches a B2B Marketplace
A new marketplace focused on meeting the needs of the self-funded healthcare insurance industry launched in August. 
The Health Care Administrators Association created a B2B marketplace to connect buyers and sellers across the self-funded industry. Self-funded plans are ones in which the employer assumes all risks under the plan, instead of transferring the risk to an insurer. Because the self-funded industry is built on collaboration, a marketplace provides the perfect venue for engagement. 
Finding Your Place in the B2B Marketplace Battle Zone
A well-defined approach to marketplaces and selecting the right marketplace technology are the underpinnings of any successful B2B marketplace.
It takes a clear understanding of:
How a marketplace fits into or changes your current business model

The unique needs of your customers

The strength of your network

Your product life cycle
DigitalCommerce360 breaks it all down in their latest article about finding your place in the B2B marketplace. 
Live Marketplace Demo Webinar
Thinking of finding your place in the marketplace? Register now to attend a live demonstration of the new OroMarketplace. 
Even before its official launch, Gartner recognized the power of Oro to manage marketplace selling. In this webinar, you'll see the OroMarketplace in action and discover how it easily handles any marketplace selling scenario.
With a strong features list for operators, sellers, and buyers it provides the tools to create marketplaces that reduce friction and serve as a hub for B2B sales and collaboration. 
Thanks for reading our roundup!