Post-pandemic uncertainty, coupled with tensions between China, Russia, and the United States, have exposed the fragile nature of global supply chains. This has spurred companies in the United States to reconsider their supply chain strategies – from scaling down existing networks to reimagining them altogether.
Buzzwords like "onshoring," "reshoring," and "nearshoring" seem to be setting in. They are thrown around a lot more often than during the pandemic, which initiated the rift between the United States and China.
Today, these tendencies are only increasing. A recent survey of C-suite executives by UBS recently revealed that over 90% are either in the process of moving production out of china, while 80% considered moving some production to the United States.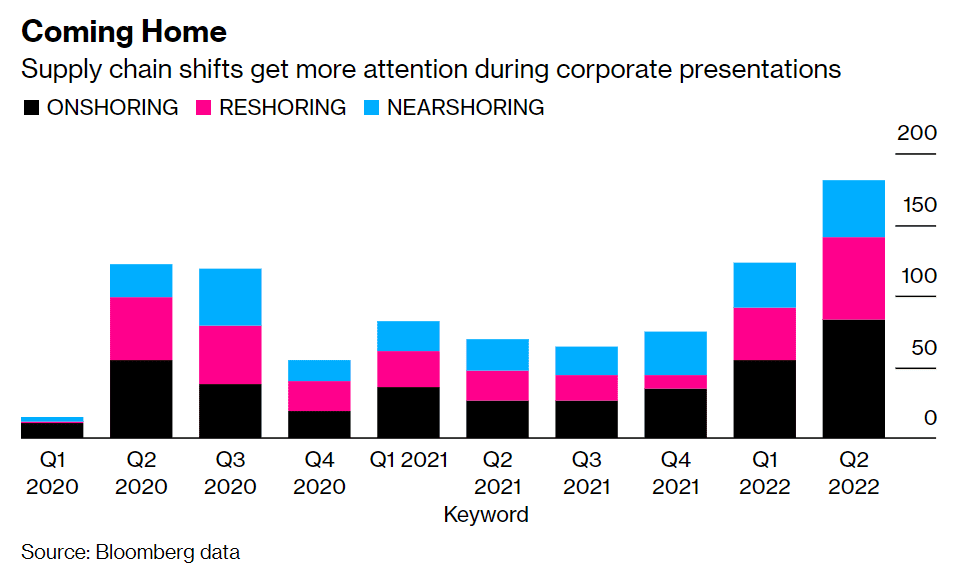 Read the Bloomberg article about CEOs withdrawing from China.
The Shanghai Covid lockdowns appeared to be a turning point for many executives, according to the report. On the other hand, the strong US dollar and high labor costs might disincentivize such moves, as would the added strain on domestic transportation and infrastructure networks.
In this August 2022 B2B eCommerce News Roundup, we'll talk about what's going on in the B2B eCommerce world, the economic outlook, and issues facing manufacturers, distributors, and other B2B merchants. We'll finish off with B2B marketplace trends and some B2B success stories.
B2B eCommerce News
Here's how accelerated B2B Commerce will impact you
B2B companies have historically been slower to adopt technology solutions than their B2C counterparts. But the need for manual transactions is steadily declining, as it's seen as inconvenient, slower, and prone to more errors. The article warns that
"Suppliers lacking an integrated eCommerce platform are less likely to make the vendor selection shortlist in an environment in which buyers must quickly connect with new suppliers."
Find out how B2B eCommerce growth impacts your business.
Salesforce's B2B eCommerce trends: Brands are taking online seriously
The results are in: buyers say they prefer using digital commerce to address complex problems – from research to ordering to operational issues. According to Gartner's survey of more than 700 B2B buyers, 75% reported completing a recent significant purchase by ordering and paying online. According to Forrester, roughly the same number of B2B buyers research most of their products before buying.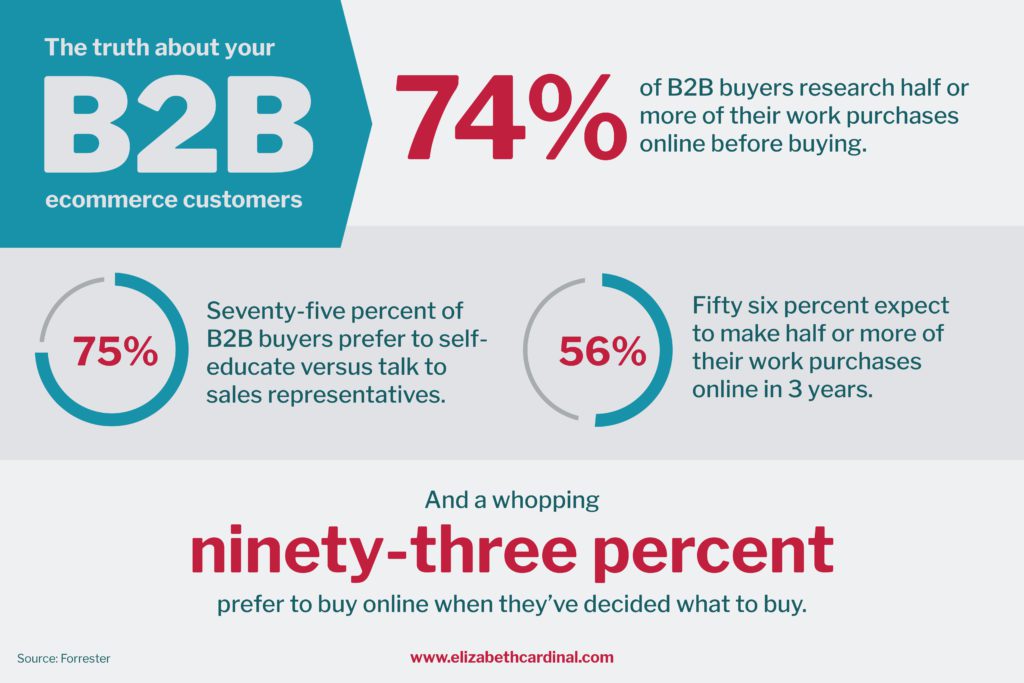 Here are some more B2B eCommerce trends.
What do businesses want? Supply chain transparency, digital payments.
When it comes to digital transformation, merchants are primarily looking for streamlined operations. This includes more digital payment options to streamline transactions, and more ways to stabilize and add transparency to supply chains.
The Freidgthwaves piece discusses how these are related.
B2B eCommerce and Marketing News
OTT marketing: hidden opportunity for B2B marketers
The over-the-top (OTT) market encompasses direct-to-consumer broadcast services. These include services provided by Netflix, Amazon, Youtube, and Spotify for a subscription service. The post explains why marketers can't miss this opportunity for their B2B businesses.
Read the article from MarTechSeries here.
How to avoid CX strategy failure
If your CX strategy is not unified, many potential points of failure arise. A fragmented approach will not deliver the desired results to investors, employees, or customers. In this article, CMSWire explains some of the ways customer experience strategies can fail.
Learn more about the ways CX strategies can fail.
Why email is (and will be) critical to B2B eCommerce
In a world of fast digital change, email remains a customer-centric communication channel. When coupled with marketing eCommerce automation technology, sales reps can learn about customers, engage with them, and personalize their customer experience.
Find out why personalized email matters in marketing
B2B eCommerce and Manufacturing News
Manufacturers are struggling with B2C-like experiences
Logic.io and Sinclair commissioned a survey of 250 manufacturer sites, which revealed that over 80% of respondents and buyers believe it's not easy to make purchases. The number proves that, overall, manufacturers are behind in providing ideal purchase experiences.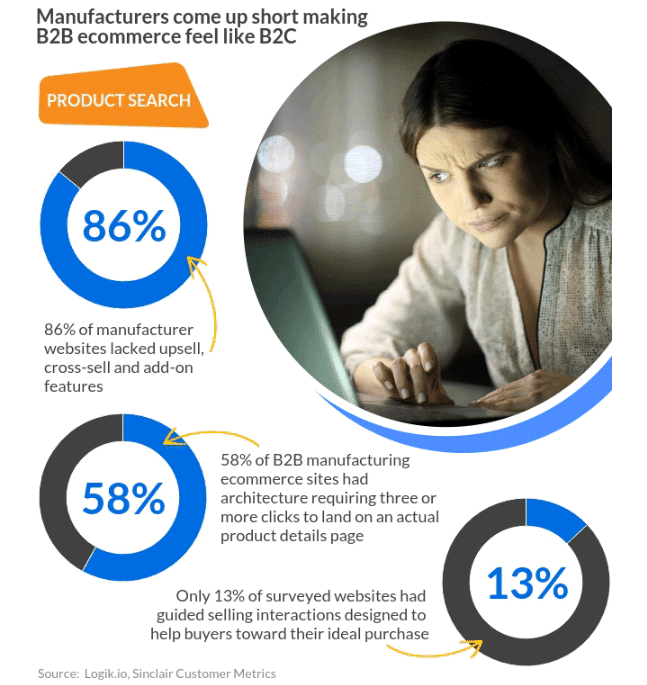 View the whole infographic on Digital Commerce 360.
Announcing IndustryWeek Best Plant Awards winners
The IndustryWeek Best Plants Awards recognize North American manufacturing plants and facilities that lead the pack. IndustryWeek evaluates manufacturers on many criteria, whether it's leadership, competitiveness, customer satisfaction, or creating excellent places to work.
Read the post about this year's award winners.
Protecting data: manufacturing's new frontier
Manufacturing is a complex set of operations, and the biggest challenge is facilitating the free flow of information. With it comes protecting the rights to and securing valuable data, including intellectual property, particularly AI-related data.
Read how digital technologies help protect data.
Distribution B2B eCommerce News
The Flexible Packaging Association released the 2022 State of the Flexible Packaging Industry Report which provides industry players, including suppliers, investors, and analysts, with the latest insights on US flexible packaging.
Read the 2022 state of Flexible Packaging Report findings.
B2B Marketplace News
United States has more B2B marketplaces than Europe
According to Digital Commerce 360, the US now has more B2B-focused marketplaces than Europe. The recent B2B Marketplace 400 research revealed that there are over 400 marketplaces in the US and more on the way. This number surpasses European figures considerably.
Find out more about this research and findings here.
Why the marketplace is such a popular monetization strategy
The push to marketplaces is underpinned by the overall business desire to transform business relationships from transactional to beneficial over the long term. According to the Angus Ward of Beyond Now, this relationship encourages not only acquisition and renewals, but also engagement and collaboration. This adds value to the relationship, and helps buyers make purchase decisions.
Read the Forbes article for more information.
B2B Marketplace and eCommerce Success Stories
GigaCloud Marketplace the fastest growing B2B marketplace
GigaCloud performs last-mile delivery in the United States, with 20 warehouses across the globe. Its marketplace connects global suppliers and resellers of large goods. In less than two years, it's been the fastest-growing large-parcel B2B marketplace. Over that time, the marketplace saw some impressive transaction numbers, as seen below.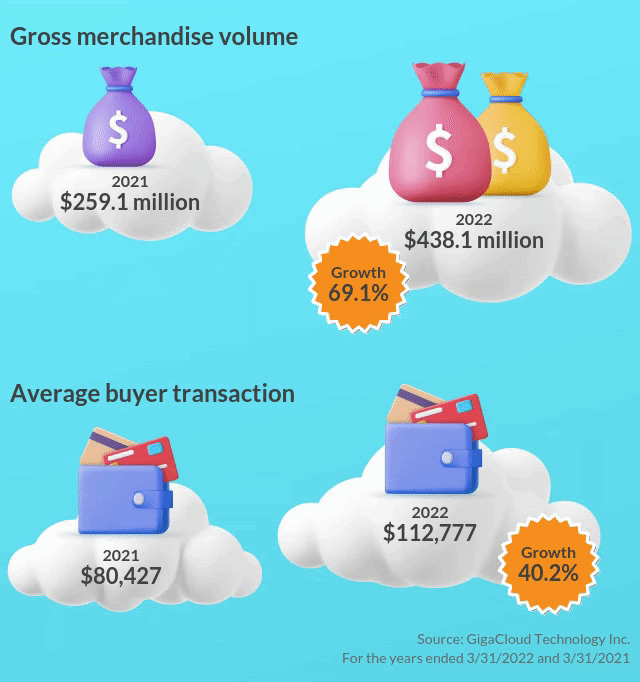 Read the success story about GigaCloud here.
Caterpillar Sees Record B2B eCommerce growth
It takes more than one season for eCommerce investments to bear fruit. But for Caterpillar, which made significant investments into digital commerce over the last few years, it paid off after the pandemic. The result was a strong showing for the period, with the US market growing 20% year over year.