By Scott Merical and Kathleen Leigh Lewarchick of Xngage LLC
Creating a Foundation for Exceptional B2B Digital Commerce Experiences
We all make things. And they are often made better with superior materials. Like a good meal, the ingredients matter. If you want more than a once-in-a-lifetime experience or a consistent and repeatable outcome, it is essential to create standards of excellence. Like a farm-to-table operation, where each step of the process is viewed against standards, product data need the same consistency. The goal of data unification and standardization is a single source of truth across various operating systems and sources. There is a direct and powerful relationship between the quality and consistency of your data and your website's ongoing performance. 
As a digital services firm that focuses on strategic execution and delivery of content & commerce solutions for leading manufacturers, distributors, and wholesalers, Xngage can offer practical guidance in this article for how to tackle these challenges. In our experience, good data unification and standardization of product data and content will lead to superior financial outcomes.
Many organizations are uncertain about how to carry out this journey. Turning to technology is necessary, but not sufficient, to succeed with this process. Organizational aspects and readiness to build the necessary supporting infrastructure comprised of people, process, and platforms is required to cope with this vast scope. This article provides recommendations on mastering critical aspects of a rich, complete, and well-optimized body of product data, optimized for B2B digital commerce. We will also share insights on how this optimized product information and content can be leveraged into purchasing experiences.
Getting Started
Whether you are a manufacturer or distributor, product data is your penultimate currency supporting all digital and offline sales. In digital sales, it is paramount to have rich and "web-ready" product content that is created, curated, sourced, and aggregated. Sometimes raw product data is obtained directly from manufacturers. However, increasingly, third-party aggregators are collecting and sharing this information throughout the value chain, providing a key link between manufacturing and distribution partners. Here is how you can get started:  
1. Decide who will lead the management of your data. The data needs an effective owner, and it is critical to have the necessary skills and resources assigned to the effort. This can be supported by Product Information Management (PIM) platforms and systems, which not only can facilitate storing the company-wide golden records, but more so to help operationalize, streamline, and automate critical workflows and collaborative processes. This leads to product information which truly becomes a competitive asset for your organization. Many of our clients who successfully master their product data have leveraged strong internal and external partners to guide this priority.  Onboarding them prior to an important e-commerce initiative is a prerequisite for successful digital commerce initiatives.  The timing really matters!
2. Decide if your data will be "created" or "sourced." Will your data be provided by individual contributors that you then aggregate, or from third-party providers who systematically collect, standardize, manage (and sometimes syndicate) aggregated data on your behalf? 
If data is created, determine how is it managed:

Are there systems in place at the source that account for cleansing, deduping, or adding new features and benefits? How is data stored and secured?

If the data is sourced, determine how it is managed and leveraged for collaboration. What is the system that supports it? A PIM for eCommerce can house your single source of truth, but it also helps to streamline and automate.
3. Create a Digital Data Architecture. Build a visual that shows how all your data connects and flows. Consider how created or sourced data flow through systems such as data connectors, middleware, enterprise data warehouses, visualization, and analytics systems, as well as any other add-on integrations like machine learning applications. This visualization of data flow will help each person and technology partner understand the big picture of your data process. 
If you are unsure of where to start when looking at operational needs or PIM data platform choices, Xngage can assist in finding the right platform and guide the operational transformation that is required to ensure appropriate resources are in place to handle the product information challenge from a people-and-process perspective.
Benefiting From and Implementing High-Quality Product Information
Let's turn to how organizations can benefit from investing in the prioritization, process and structure described thus far. As stated, going through the effort of creating high-quality product information is a prerequisite for building superior experiences.  Sellers can achieve greater levels of differentiation in the customer experience with this data. Presenting a digital product catalog has long become table stakes: organizations must push beyond manual product exploration (e.g., functionality such as category drill-down or brand-based product browsing) and give their customers visual, intelligent, personalized, and predictive experiences.  The first step is arming yourself with high-quality data:
Create a web-friendly product catalog. From accurate and descriptive product titles to relevant and precise product descriptions, to high-quality images and video, to product content, it is important to make each piece of data as relevant and accurate as it can be. This also helps search engines find you first.
Support customers in finding the right product for the job and making "fit-decisions." Offering products that are standardized by measure of unit, language, and values will ease the day-to-day struggles of buyers.  Harmonize data to include common substitutions (for example "in" or just the " symbol for "inches").  Consistency across the product data is important.  This not only helps your buyer, but it also helps search engines to cut through complexity.  For extra credit with buyers, consider adding visual icons for User Experience cuing that helps them quickly scan the search results. 
Allow customers to create customer-specific catalogs.

Good data in the form of consistent, customer part numbers become foundational for this experience. E-commerce platforms need to be able to support these B2B-specific use cases and tie back into your Enterprise Resource Platform (ERP) to ensure the data is accurate for buyers.  

Consider "visual commerce".

Sometimes it isn't just enough to utilize text to explore your product or provide information to a buyer. Below is an example of an exploded parts diagram in B2B commerce. This assembly-based display provides both an ordering ability and assembly information that can better enable the buyer to find the specific product they need. It saves time and money both for buyers AND internal teams.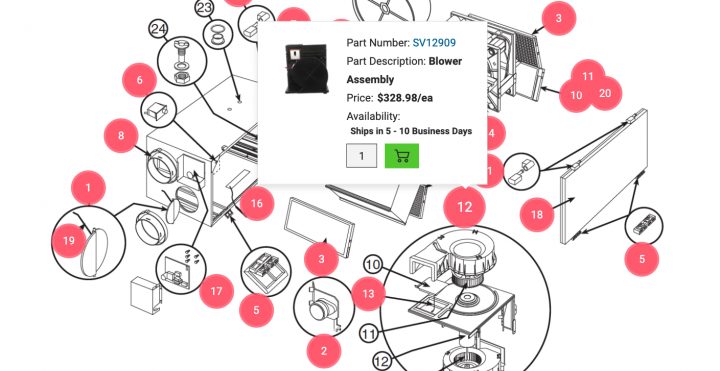 All these recommendations will assist in creating high-quality product information – which is a prerequisite for building superior experiences and implementing advanced technologies, like AI powered eCommerce.
Using High-Quality Product Information in Digital Experiences
The most relevant digital customer experiences are intelligent, personalized, and predictive.  Let's unpack what that means in the context of B2B commerce.
1. Intelligent experiences

Allowing customers to find the information they care about more quickly is possible because of technology that can correlate and blend data on the fly. This can be achieved with search technology that goes beyond basic retrieval of information using scoring models. This may include product boosts (e.g., products a customer has frequently purchased,) search results that rank based on real-time user behaviors, and search results which understand intent.
Intelligent search can yield product results, content results, and deep-indexed assets (e.g., documents) results. B2B buyers who are looking for specific information, e.g., data contained in product spec sheets or product manuals, warranty certificates, or other unstructured content) are increasingly seeing more targeted search results powered by technology. 
Intelligent experiences are based on a learning system which can, over time, understand purchaser intent and product association and relationships. B2B customers often look for technical details such as product specifications to meet job requirements, etc.  The system becomes smarter and more advanced helping your customers to target results and procure more efficiently. 
2. Personalized Experiences
Personalization in B2B is all about the buyer's procurement journey, and his or her terms & conditions for navigating experiences on the website. Think of it as a menu tailored to each customer. In the context of the product catalog, this means not all products are viewable or orderable and only subsets of the product assortment are made available to him or her. This includes search experiences.
Personalized B2B search results correlate to product availability (inventory) and payment methods. This is equally true for a single global inventory or even multiple local (branch-level) inventories. Customers in B2B need to understand which product they can procure from where and when and what they are authorized to buy. This allows "roles-based" rules to effectively tie into contracts, too. 
3. Predictive Experiences
A significant opportunity in B2B commerce exists in broadening share of wallet by educating existing customers of the full breath of product assortment, adjacent product lines, and up-sell/cross-sell opportunities. Similarly, driving geographic reach and awareness with net-new customers by deploying SEO-optimized product catalogs online can help increase overall sales in the digital channel. Increasingly, technology assists with what has traditionally been manual merchandizing and curation of product assortments.
AI-powered product recommendations can find and promote relevant products based on product detail page data, cart contents, purchase history, click-through path, or some combination of all of it. Some platforms even allow the seller to choose the recommendation model by leveraging algorithms based on interest, frequently viewed, purchased together, popular items, and more. A unified index allowing the technology to derive its "smarts" based on information contained across different sources and systems will serve up the right recommendation at the right moment.
Like all great restaurant visits, customers need to feel satisfied and pleased with each experience.  Intelligent, personalized, and predictive online experiences will be the most relevant and engaging to your buyers. By standardizing and unifying product data, B2B companies can lead with great digital experiences that create a competitive advantage for their organizations. The ones that understand this and leverage it will set the pace for what all superior B2B experiences look like, gaining sales and loyalty as a result.
More B2B data management best practices in Ep.2 of B2B Commerce Uncut: Data Syndication and Standardization. Sign up here