Customer experience (CX) is more important than ever for B2B companies. Manufacturers and distributors need a way to differentiate their products, and buyers consider customer experience a key differentiator. When creating and managing buyer experiences, it helps to have a visual representation of your sales process. A B2B customer journey map provides just that visualization tool.
This guide to understanding B2B customer journey mapping will show you how to create a B2B customer journey map, explain why it's important to map the B2B digital customer journey, explore the pitfalls of B2B journey mapping, and even examine how customer journey touchpoints in B2B don't look the same as their B2C counterparts.
What is the B2B Customer Journey Map?
The B2B customer experience journey begins when the potential buyer first becomes aware of the brand and doesn't end until the last thank-you for your order follow-up email is sent. 
In between, clients will go through many stages and steps. Not all follow the same journey.
Just as a flowchart shows the steps in a computer program or a workflow chart shows how a task is performed, a journey map captures all the B2B customer journey touchpoints. Think of it as the blueprint that captures the B2B customer journey stages. 
It may look something like this:
Just as the contractor uses a blueprint to understand how building systems come together to create a home or office building, sales, marketing, and digital teams use the customer journey blueprint to understand touchpoints in B2B sales and marketing. 
In addition to touchpoints, it is important to identify pain points where the buyer might encounter friction or an obstacle or idea that would cause them to abandon the journey. This includes touchpoints after the sale and when the business decides to end the relationship.
By visualizing points where friction, obstacles, and negative ideas occur, you can refine and improve the experience to reduce friction, remove obstacles, and improve B2B customer retention rates.
Why is the B2B Customer Journey Map Important?
Traditionally, B2B brands are organized by departments centered around a business function. Marketing creates leads, sales converts leads to customers, customer service helps after the sale, and accounting, warehousing, and merchandising just try to keep up with the other departments. 
Each department has an impact on the CX and may focus on the needs of the customer. But rarely is the brand so customer-centric that departments work together to improve the CX. 
That's why mapping the customer journey in B2B marketing, sales, and support is so important. The entire company gets a cohesive view of the journey. This includes the digital customer journey in B2B eCommerce and the off-line customer journey. 
The entire experience is captured and then can be improved upon. The goal of mapping the customer journey in B2B is to:
Create seamless, frictionless experiences 

Better understand the thoughts and needs of buyers

Tailor existing products and create new products that better meet the needs of clients. 
The customer journey map takes the focus off the function of the department and onto the experience of the customer. 
A recent report on the expectations of B2B buyers finds that buyers across very different verticals experience many of the same pain points. From lack of personalization (39%) to lack of self-service options (24%) buyers expect a smooth CX and many companies fail to deliver.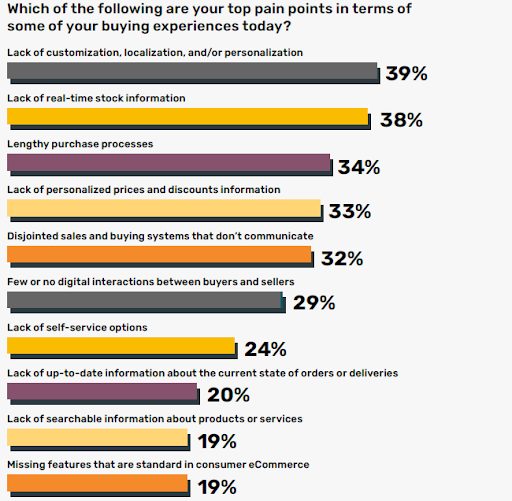 Mapping the customer journey in B2B makes these pain points obvious to company departments. They raise awareness so all areas of the company come together to set goals to improve the CX at every stage.
By looking at the buying process through the eyes of your potential buyer, you improve the buying journey and the client's satisfaction with the process.
5 Types of B2B Customer Journey Maps
There are five different types of B2B customer journey maps. The map you create depends on your goals for improving your customer-focused approach. 
Current state
This is the most common type of B2B journey mapping. This B2B customer journey map captures what your customers do and think about your business today. They are an excellent tool for incrementally improving your CX. 
Day in the life
This captures the present day like a current state map, but it reaches much further. This map looks at everything the customer is doing (within the focus area) to uncover pain points that are actually opportunities for filling unmet needs. 
Future state
Instead of focusing on the current state, the future state B2B journey map captures what customers will do, think, and feel in the future. These are helpful in planning for new products and new digital experiences. 
Blueprint
This customer journey map starts with one of the maps above and then adds the people, processes, and technology necessary to deliver the experience mapped. As this blueprint shows, blueprints capture the complexity of the experience.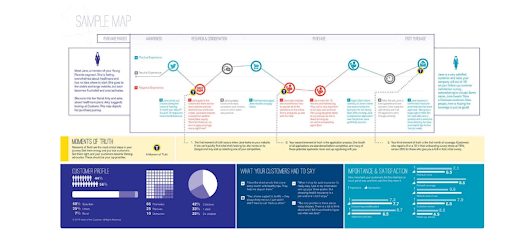 Tactical
Where the first four examples of B2B customer journey mapping cover the entire experience, tactical mapping focuses on one touchpoint or a group of touchpoints. This is a particularly helpful tool when you know there is a painful touchpoint, and you are looking to make improvements. 
For example, research shows that 70% of B2B buyers make over half of their purchases online in the last 12 months.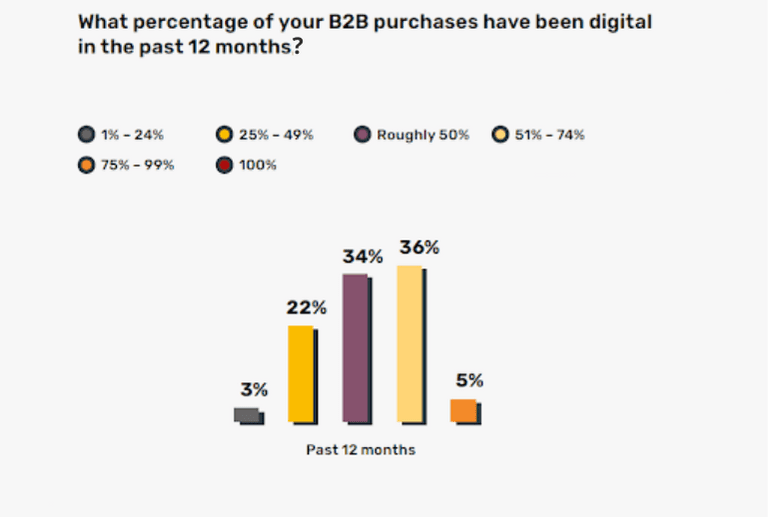 If you know that mobile touchpoints are weak, a tactical B2B digital journey map will help you improve.
Checklist for Key Elements of a B2B Customer Journey Map
A customer journey map should include the information your company needs to understand the CX you provide. Use this checklist to make sure you capture the information you need to understand your customer's journey.
A diagram, infographic, or flowchart to provide a graphical representation of the customer journey. 

The touchpoints between the customer and the company/brand, including on and offline interactions.

Friction, obstacles, and pain points that cause the customer difficulties or negative emotions.

Key moments of truth where there is the possibility to make or break the relationship.

The department, people, and technology responsible for the customer experience at each touchpoint. 

Customer emotions desired at each touchpoint.

Ranking of importance for each touchpoint. 

Risk associated with failure at each touchpoint.

How the company performs at each touchpoint.
Benefits of B2B Customer Journey Mapping for Customers
Customers benefit from journey mapping as it leads to improved customer experiences. For example, the IBWR/Oro, Inc joint study on B2B buyer expectations finds that 30% of buyers think that over half of their buying experiences require too much manual work.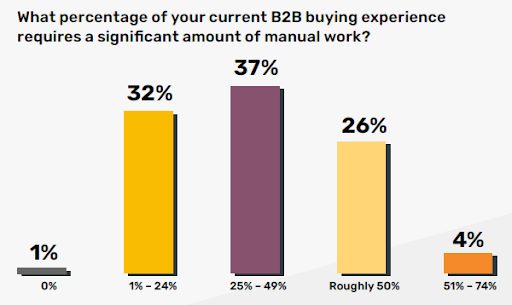 Mapping the B2B customer experience journey will uncover where your brand is creating work for buyers and where technology can help you digitize purchasing processes for your customers. 
Customers that receive a better CX reward sellers with more business. In 2022, customer experience is the key differentiator. 
Benefits of B2B Customer Journey Mapping for Sellers
Conversely, customer journey mapping helps sellers deliver the experience buyers want. It smooths processes, reduces friction, and increases conversions. 
It helps uncover unmet needs and can contribute to creating new products, new services, and new customer experiences. 
The journey mapping process brings together all departments in a truly customer-centric manner.
Possible Pitfalls of B2B Customer Journey Mapping
Rewards come with risks. Ignore these pitfalls and the map you create will prove to be an exercise in frustration instead of a powerful tool for improving the CX. Make sure you have the support of management, data to do the job, and a dedicated focus on improving the CX to avoid the most common pitfalls. 
C-Suite Buy-In
Is senior management committed to improving customer experience? If not, you'll have a hard time getting the financial and personnel resources necessary to map your customer journey with success. When a commitment to growth through customer success and improved customer experiences starts at the top, setting goals for improvement and getting the necessary resources to create the map is much easier. 
Lack of data
You can't rely on what you think you know. Instead, seek to find what you don't know that you don't know.
In other words, do your research carefully and gather a wealth of data from your customers directly. Do the work to mine the data through interviews, focus groups, and surveys. Make sure to include data from your Google Analytics dashboard to help you better understand touchpoints. For example, are more visitors using mobile devices than laptops? If so, web interactions could be potential pain points if your B2B eCommerce website is not fully responsive. 
Commitment to customer-centric tactics
It's far too easy to fall into the trap of looking at products and services from the company point of view. Just as gathering sufficient customer input is necessary to start the B2B customer journey map, maintaining a focus on the client throughout the project is crucial. When pulling in departments responsible for various stages and touchpoints, make sure to reiterate that the map represents the customer's true journey, not what they perceive the journey to be. 
How to Create a B2B Customer Journey Map
You may think it is easy to map the B2B digital customer journey. After all, can't you just map the workflow through the eCommerce platform?
That's an example of company-centric thinking and it will not provide an accurate map. Effective customer experience management depends on an accurate map of the B2B customer journey. 
Instead, effective B2B journey mapping starts with an outside-in perspective. You need to gain data that accurately reflects the thoughts of your client base, busts any myths the company may have about what customers think, and highlights what is important to the actual B2B buyer.
That's a customer journey map that reflects the reality of your customers, not what you think your customers think. So, to avoid that trap, follow these steps to create a B2B customer journey map.
Create client profiles
Creating a profile of your ideal buyer lets you not only identify your perfect target, but it also lets you see how well existing customers match up to your profile. Discovering that you might not be selling to the customers you want to sell to is an important business revelation in itself. This profile should include data about your ideal buyer including:
Company size

Industry

Number of employees

Number of customers

Budget

Buying process

Competitors
Develop data-driven personnas
Now that you know your ideal customer, it's time to look at the actual players and decision-makers in the company. Unlike B2C customers, B2B customers include buyers that might never use the product and users that might not have the authority to make the purchase. 
For each personna, identify the person's job title, their department,  what motivates them, what frustrates them, and their goals. You should also include their role in the buying process. For example, personnas for a company selling software might look like this: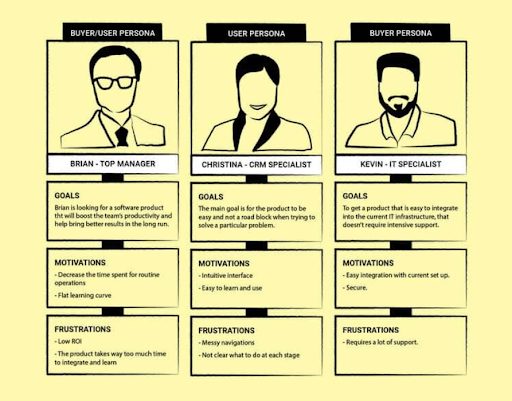 Notice that Brian and Kevin, who are both involved in buying have very different motivations and frustrations. 
Where do you get the information to create personas? You talk to your customers! You can conduct interviews with your clients, send out surveys, ask for feedback, read customer support emails, and talk to your customer success teams.
Define the stages in the process
Now you know who is moving through the process it is time to look at how they interact with your company. The simplest approach is to follow the standard B2B customer journey stages. This includes:
Awareness

Consideration and decision

Purchase and product delivery 

Use and after-the-sale relationship
It's no coincidence that these stages align with the B2B sales funnel in your organization. 
Awareness begins when the customer decides they have a problem. Or they could run across your social media or other online content and discover that your product meets a need they didn't know they had. You may think you know when awareness begins, but only by listening to your customers will you find out the truth. This is why customer interviews, surveys, and feedback responses are so important when improving your customer-focused approach to marketing and sales. 
During the consideration and decision stages, the potential buyer is consuming your on-line content, may engage in on-line chats, or exchange emails and phone calls with a sales representative. Of course, they may spend time in the consideration and decision stages without contacting the company directly at all. 
A 2020 study by McKinsey & Company found that 99% of B2B buyers are comfortable making a purchase online and most of them are comfortable spending $50,000 or more via digital self-service. 
Another study by Insights Worldwide Business Research and Oro, Inc. confirmed buyers' preference for digital self-serve and discovered that 3% expect to do all purchasing via digital channels in the next 12 months.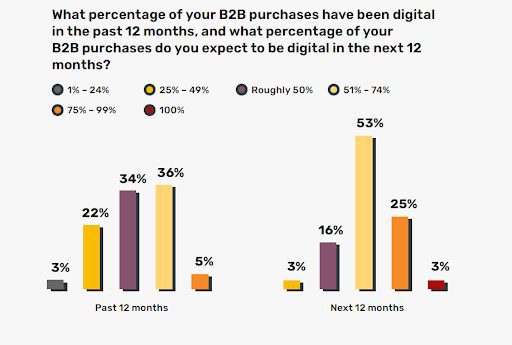 Plot main touchpoints
Once you have the journey plotted, it is time to overlay the main touchpoints. A touchpoint is anytime your customer comes in contact with your brand and has the opportunity to create a positive or negative perception of your company and products. The touchpoint can be anything from your Twitter feed, paid advertising, a 404 error on your website, a guest article on a blog they follow, Google reviews, or even a piece of direct mail. 
Fill in perceptions and opportunities
Every touchpoint is an opportunity to make a positive or negative impression. In the B2B marketing customer journey, you need to pay attention to the emotion the buyer experiences. While B2B sales are considered to be fact-driven and not emotional, the truth is these transactions are made by humans and humans have feelings. 
So, if you find a spot in the map where emotions and feelings are negative, this represents a pain point. That's an opportunity for you to improve your customer experience. If you discover certain paid ads aren't performing as expected, this is an opportunity to redirect the budget to better-performing touchpoints.
Difference Between B2B and B2C Customer Journey Maps
Like everything associated with the B2B business, the B2B customer journey map is more complex than its B2C counterpart.
In a B2C customer journey map, most times the end user is the buyer. A B2B customer journey map needs to capture the journey of the various users and buyers, which are rarely the same people.  For, example, if you sell a product used in the manufacture of another product, you have users at the production line level and their supervisors, production planners and controllers, production directors, and purchasing professionals all involved in the process. In a B2B customer journey, each user has their own flow and touchpoints. In a B2B customer journey map, you will have one user and one set of touchpoints.
How Oro Helps Companies Create Better B2B Customer Journeys
Oro offers an ecosystem where B2B companies create customer journeys that meet buyer needs for a better CX.
OroCommerce and OroMarketplace B2B eCommerce platforms provide the tools to smooth the buying experience. Empower your customers to manage their journey with user-defined roles and permissions that follow their internal hierarchies and buying processes. Remove friction with a digitized RFQ and QTC process. Smooth account management processes with self-serve customer portals. The B2B selling functionality you need to create exceptional customer experiences comes right out of the box. 
OroCRM enables sales and marketing teams to deliver the right message depending on where the customer is on their purchasing path. Every employee gets a 360 view of customers, interactions, and experiences to enhance one-on-one communication. Segmentation and personalization tools help you tailor the experience to the customer. 
OroPlatform is the rapid application development platform to easily deploy the web apps and utilities you need to smooth customer experiences. Spend less time coding and more time enhancing your digital customer journey. 
Every Oro product is open-source, supported by an active and innovative network of partners, developers, integrators, and users. We help B2B sellers thrive with digital tools to enhance customer experiences, improve back-office operations, and integrate with the existing architecture.
Conclusion
Manufacturers, wholesalers, and distributors must offer a smooth digital CX if they hope to remain competitive in the constantly evolving world of B2B sales. A B2B customer journey map is an important tool to visualize the buyer journey, identify touchpoints, and recognize the places where CX can be improved. In creating the map, every department becomes more customer-centric and this renewed focus on the customer benefits the company and the client.
FAQ
What is a B2B customer journey map?
A B2B customer journey map is a graphic visualization of the stages and steps a customer goes through in the process of making a purchase. It includes all interactions the customer makes with the company's human and digital assets.
What is the B2B buying process?
The B2B buying process includes the steps and processes a company uses to buy goods and services to support its business. The process may include integrations with vendors through eProcurement systems, punch-out catalogs, eCommerce websites, and manual processes as well. In the B2B buying process, the end-user and the buyer are rarely the same people, and multiple departments and people may be involved in the decision-making process.
How do you create a realistic customer journey map?
A realistic customer journey map requires gathering customer data, creating personas, identifying the stages in the buying process, and overlaying the touchpoints, people, and technology that participate in the process.
What are some of the basic steps to creating a customer journey map?
Get management buy-in and commitment of resources before you begin. Define the goal of the map and then begin the mapping process. Identify your target customer, develop personas, identify the purchasing stages, and detect touchpoints and the associated emotions and attitudes.
Is customer journey mapping a design tool?
Customer journey mapping can be an important tool when design problems are causing friction or negative emotions. The map will identify areas of concern and they may be corrected with changes in design.
What are touchpoints in customer journey mapping?
Touchpoints are when customers interact with digital assets (like reading content, searching on the website, reading a Tweet, or looking at a LinkedIn article) or human assets (such as a phone call, product demo, or in-face meeting). Touchpoints can also include interaction with the product itself.