Originally published August 23, 2017, updated May 5, 2022
Just as Amazon is known to most Americans as an eCommerce giant, China's eCommerce market is dominated by Alibaba. Started in 1999 as a way to connect Chinese manufacturers with buyers overseas, Alibaba Group has since grown to be one of the most prosperous companies in the world. As of 2022, its market cap had grown to $275 billion. 
Clearly, founder Jack Ma is doing something right. What can you learn from the Alibaba business model, and how can you apply it to your eCommerce business?
Alibaba and B2B eCommerce: Open Sesame
Alibaba was founded to open the door for small to medium-sized companies to connect with a global marketplace. The name was taken from the kind, smart businessman in One Thousand and One Nights and was meant to represent the opening of a magical portal. 
Magical it was. The Alibaba B2B eCommerce model has since grown to include business-to-consumer and consumer-to-consumer sales much like the Amazon marketplace.
What You Need to Know About Alibaba B2B Business Model
What type of company is Alibaba? 
Alibaba today is not just an eCommerce company. It is what you get if you take all functions associated with retail&wholesale and coordinate them online into a data-driven network of sellers, marketers, service providers, logistics companies, and manufacturers.
Alibaba's B2B online marketplace has 150+ million registered members, over 150,000 sellers, and 10+ million active buyers, with one-third of them coming from the US.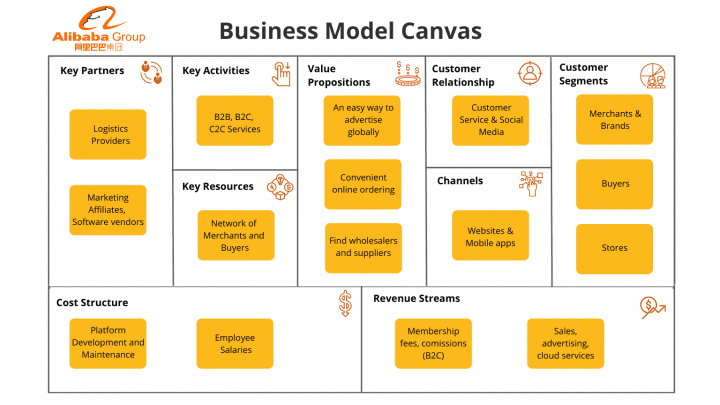 Alibaba's business model canvas showcasing channels, revenue streams, cost structure, and value propositions
Alibaba eCommerce business model
Alibaba marketplace model enables businesses to sell and purchase bulk products through Alibaba. Unlike the traditional business-to-business-to-consumer approach, Alibaba lets suppliers distribute wholesale products to small and medium-sized businesses worldwide. 
In addition to a marketplace, the company also operates the China-focused B2B wholesale site, 1688.com. Although predominantly used by Chinese B2B buyers and sellers, 1688.com has been expanding its cross-border wholesale business in recent years, welcoming foreign suppliers onto the online platform.
Is Alibaba B2B or B2C?
Alibaba is both B2B and B2C. While Alibaba's core business comes from its B2C marketplaces Tmall.com and Taobao.com, the B2B eCommerce channel has grown important for Alibaba Group. 
For example, in 2017, Alibaba launched IMALL, short for "Industrial Mall," a dedicated marketplace for major industrial brands and their official distributors. Today IMALL counts up to 3,000 brands, including international manufacturers like BASF, ABB, Mobil, 3M, Bosch, Henkel, Honeywell, and more.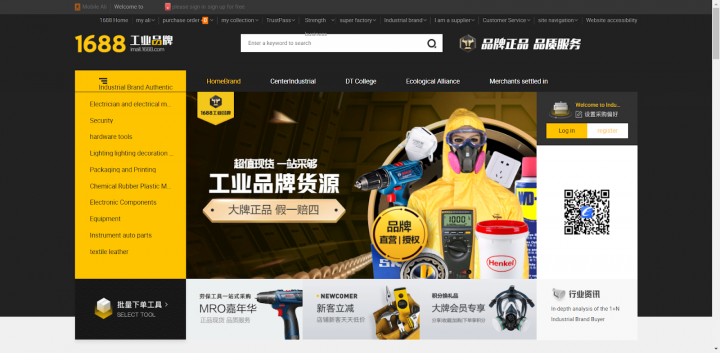 How does Alibaba make money?
Alibaba revenue sources include: 
An annual membership fee allows sellers to host premium storefronts with access to upgraded management tools.

Customer management

Premium services, such as premium data analytics and online marketing services.

Alibaba also offers domestic and international logistics services and supply chain management solutions. Intelligent route algorithms and multiple freight carriers are available to ensure end-to-end transparency and real-time tracking. 
What is Alibaba cost structure?
Alibaba's most significant cost driver is the cost of revenue, a variable expense that includes employees, maintenance, and traffic acquisition costs. To minimize expenses, Alibaba relies on significant automation, Innovation initiatives, and low-price value propositions.
What is Alibaba Cloud? 
Alibaba Cloud started as a private cloud to serve the internal demands of Alibaba's eCommerce businesses. It's grown into a global cloud computing company that provides various cloud computing services: elastic computing, relational database, big data analytics, artificial intelligence and machine-learning technologies.
What is Alibaba distribution channel? 
Alibaba Group uses the Internet as its intermediary channel and websites as its distribution channels. The Internet has a geographically dispersed market, therefore, niche products will have a wider reach.
How does Alibaba advertise?
Alibaba.com allows companies to set up customized storefronts and provides useful advertising management tools, including: 
Ad management:

you can run pay-per-click ads on the Alibaba.com platforms to rank products in searches for relevant keywords. Alibaba also targets ads based on location and click history.

Request for Quotation (RFQ) feed:

it allows manufacturers to target offers directly to one single prospect at a time

Data analytics:

Alibaba.com provides powerful analytics tools to give you insights into your target market and the performance of your online store.
5 Learnings from Alibaba B2B Business
Alibaba is poised to be the only eCommerce ecosystem that could take on Amazon. Here's why.
1. Successes and Innovations
From the beginning, Alibaba was an innovator. At the time of the 1999 launch, the Internet was not widely known or available in China. So, Alibaba focused on B2B eCommerce. By bringing together manufacturers in China with a global marketplace, Alibaba built an ecosystem that automatically scaled with success. 
As more buyers came to Alibaba, more manufacturers arrived. More manufacturers offered a wider variety of products that attracted more buyers. The closed-loop system fed on its own success. Alibaba didn't make money on the transaction, it made money on advertising. More traffic meant more advertising and more revenue.
Alibaba not only served global market, but it also attracted the attention of China with consumers. Alibaba then served as a customer acquisition tool for Taobao, the second portal to be opened. A key decision in Alibaba history was to block search engines from crawling Taobao. This move trained the buyer to go directly to Taobao to perform a search. When Taobao generated sufficient traffic, it served as the launchpad for Tmall, the first member of the group with a pay-to-play model.
Founder Jack Ma attributes Alibaba's success to a continual focus on the customer. "These days, many companies' models are not "B2B" – they are "B-whatever-the-analysts-want-you-2-B." If you stay focused on members then you will succeed in the long run." Click to Tweet.
2. Different Products for Different Markets
One way the Alibaba Group stays focused on members is by providing three distinct portals. Alibaba is for B2B sales, Taobao is for small business-to-consumer and consumer-to-consumer sales (think eBay), and Tmall is for B2C sales. Alibaba understands that one size does not fit all and when you try to please everyone you please no one. Each portal is essentially providing the exact same product, but the product has been tailored to the needs of the specific market.
Taobao is for small companies. It doesn't make money on transactions, it makes money on advertising. Taobao doesn't collect a fee per transaction like eBay or Amazon. Sellers on Taobao buy ads to make their products more visible on the portal. And there are many sellers on Taobao because it attracts a high volume of buyers. Taobao blocks Baidu (China's leading search engine) so shoppers must go directly to the site to search for items.
Tmall is for large brands like Nike or Ray-Ban. The entry fee is $25,000 and a per-transaction fee is collected. The entry fee may seem large, but the profits to be made are huge. Consumers here are guaranteed to get authentic branded items and not bootleg imitations. This is very important to Chinese consumers.
Three markets; essentially one product (software) tailored to the needs of the customer. What B2B eCommerce should take away from this example is that small tweaks in how a product is delivered can be all that is necessary to tailor the same product for a different market. 
You can make slight changes to your products or offer your products through different portals and deliver exactly what the buyer wants. For example, a bedding manufacturer could produce white linens for the hospitality market and dye those same linens for the retail market. The linens could be offered through two different sites powered by the same B2B eCommerce platform backend such as OroCommerce.
3. My Customer is Not My Competitor
Another reason Alibaba has been so successful is that it does not compete with its customers. All throughout Alibaba's history, it has never deviated from this philosophy. Alibaba is laser-focused on providing the best possible experience for its customers, not challenging them for the same business. This philosophy should have Amazon shaking in its boots.
Alibaba is perfectly poised to gather a wealth of data from the flood of transactions processed each day. This data could be used to determine which products are best sellers and Alibaba could use this intelligence to enter the market selling this product. This is exactly what Amazon does, but it is not consistent with the Alibaba B2B business model. Instead, Alibaba feeds data to Alimama. Alimama is part of the Alibaba family and it happens to be the largest open marketing platform in China. 
Amazon's model can alienate its business customers and requires investments in warehousing and logistics. It may produce more revenue but not more profit. Alibaba's model supports its business customers and because it is software-driven it requires no warehousing or logistics. Not only does the Alibaba model generate more revenue also it generates considerably more profit.
4. A marketplace for simple, high-frequency services
In addition to the products marketplace, Alibaba has also branched into the fintech industry with its affiliate company, Ant Group. The idea behind Ant Group is to become a one-stop-shop for digital payment and digital financial services, including credit, investment, and insurance, through its AliPay app. 
One interesting use case of AliPay is that consumers use it to connect with local businesses for food takeout, hotel bookings, and movie tickets, among other services. Aside from AliPay, Ant Group also offers a blockchain platform for cross-border trade by small- and medium-sized businesses to accelerate order processing. 
From a B2B perspective, both apps are examples of strategic use of resources to branch out and sustain competitive advantage.
5. Expanding to new markets
As your B2B marketplace grows, there comes the point when you plan to expand to other counties. While Alibaba was highly successful in China, it didn't want to lose the opportunity to grab the US market share. In 2019, the company launched a US B2B platform with a particular US seller program. 
Alibaba invited Office Depot and Robinson Fresh on its platform as "anchor sellers" with this program. Here's how John Caplan, Head of North American B2B, Alibaba Group, explains their strategy:
The role of anchor sellers, such as Office Depot and Robinson Fresh, are analogous to an "anchor tenant" in a shopping mall. They are a draw on their own, but they also generate tremendous foot traffic for the other, smaller tenants. This helps their business and also creates opportunities for everyone in the ecosystem. Anchor sellers are leading North American wholesalers in select categories that expand U.S.-based supply with a rich inventory of branded finished goods. Each anchor seller is the first large distributor in their category.
John Caplan, Head of North American B2B
Alibaba Group
It's a common yet effective strategy for cross-border growth: partner with big brands and smaller ones will follow. 
Key Takeaways
The Alibaba B2B eCommerce model has been successful for several reasons:
It scales automatically with success.

It focuses on customer needs at all times.

It provides essentially the same product tailored to different markets.

It succeeds when the customer succeeds.

It never competes with the customer.

It invests resources smartly to strengthen and expand its ecosystem of offerings.
These are valuable lessons for any B2B eCommerce business.
Frequently Asked Questions
What is Alibaba business type?
Alibaba business plan is based on the eCommerce and marketplace platform that connects B2B sellers and buyers and facilitates online trade. Here's how Alibaba makes money: the company doesn't take a commission on transactions on its B2B eCommerce platform. Instead, it profits from annual membership fees, marketing, and customer management services. 
Is Alibaba a B2B business?
Yes, Alibaba is a B2B wholesale business for manufacturers, distributors, and wholesalers worldwide. 
Is Alibaba bigger than Amazon?
Alibaba is smaller than Amazon. Amazon is bigger by market capitalization and revenues.
How does Alibaba wholesale work?
Alibaba's wholesale marketplace allows buyers to negotiate directly with manufacturers, request quotes from various sellers to find the best price, and place orders online. 
How does Alibaba innovate its customer experience?
On Alibaba's B2B marketplace, buyers can not only source a factory or supplier, but also do virtual reality (VR) tours of the factory floors, negotiate with manufacturers payments, loans and even logistics, using real-time translation chat.