This article was originally published on August 15, 2019, updated September 23, 2022
Introduction: Building a B2B eCommerce Strategy
Like every business on the Internet, your B2B eCommerce initiative cannot function without an online marketing strategy. Given that as much as 57% of B2B buyers, according to Statista, are willing to access product information and make a purchase online, marketing now plays a primary role in driving up B2B eCommerce conversion numbers.
But before exploring a boundless pool of tips and tricks for converting your website visitors into actual buyers, it is important to get your backbone B2B digital marketing strategy for eCommerce done right. Putting your core eCommerce marketing activities into order first will let you speedily expand them to include more advanced tools and methods.
Here we prepared a shortlist of 12 essential B2B eCommerce strategies and tactics and how they can be used to steadily drive up conversion for your B2B eCommerce website.
1. Account-Based Marketing
Account Based Marketing (ABM) is a cornerstone of a B2B long-term strategy that brings together a number of marketing and optimization activities to seek more opportunities with your key accounts.
Specifically, in the context of B2B eCommerce, ABM makes you focus on personalized buying experience, continuous feedback analysis, and, ultimately, customer conversion and retention.
It's highly documented that obtaining new customers may cost from 5 to 16 times more than keeping an existing client. Fostering repeat customers should be your #1 goal in B2B.
Below, you'll find essential ABM marketing strategies to enable conversion rate optimization (CRO) for your eCommerce store:
Personalization – Starts with B2B catalog management capabilities that allow sellers to customize product catalogs to specific corporations, divisions, business units, and even individual buyers or customers. Personalization also includes distributing unique content and product recommendations via email marketing and social media channels, offering extended loyalty program privileges, etc.
Continuous customer feedback analysis – A crucial part of ABM and overall B2B online marketing strategy for eCommerce. The goal is to put your main effort into enhancements requested by your existing clients and eliminate any bottlenecks and pain points in their online buying process. Collecting customer feedback may be orchestrated via email marketing, pop-up surveys on landing pages, or other means.
Customer retention – Making your visitors buy the second time takes an ingenious combination of proactive marketing activities, a smooth buyer's journey, and continuous optimization of your B2B eCommerce web store.
2. Content and Inbound Marketing
In B2B eCommerce, content marketing starts as early as producing high-quality product descriptions and overviews. This helps your website rank by a variety of related keywords in a search engine like Google as well as allows your potential buyers to make informed purchasing decisions. Detailed content is estimated to be extremely important for up to 90% of shoppers and even more so for B2B buyers.
Orchestrating content/product information management and search engine optimization activities is a critical capability of a true B2B eCommerce platform, and it should be the first thing to help bolster your content marketing metrics.
Other key inbound marketing activities for your B2B eCommerce marketing strategy:
Blog – A great way to boost your website rankings in Google and increase your brand awareness with your target audience. Blogging helps you generate leads, improve your website's visibility, run effective email marketing campaigns, and, according to numerous research data, drive one of the best ROI among other marketing techniques.
PPC – Paid ads are a flexible tool to utilize alongside your content activities and improve the effectiveness of your inbound efforts. It is widely utilized by all other businesses selling online, so should be a good choice for your B2B marketing mix.
Premium content – Whitepapers, webinars, podcasts, presentations, etc. available for subscribed customers. It is considered to be a powerful tool in inbound marketing and also has a strong impact on promoting your brand, running ABM activities, and building customer loyalty. Consider also that in some cases, search engine optimization content may give better results through the sheer volume of new traffic, in which case premium content may be repurposed for SEO pillar pages and high-ranking long-reads.
Content upgrades – A low-hanging fruit tactic for boosting SEO. Reviving your old blog posts and landing pages takes much less effort but can be just enough to secure your spot on the first page in a search engine by the target keyword.
3. Marketing Collateral: Product Sheets, Brochures, and Downloadables
In B2B, buyers need to know that the product they are purchasing is exactly the right product. Otherwise, the purchase can be a less-than-ideal fit. This means they often need more information to move down the conversion funnel, whether it's a product spec sheet, brochures, or installation guides.
Supplying potential customers with this marketing collateral while they experience your online store or through your sales team can be critical in making a buyer feel safe about their purchase.
To learn more about how you could implement downloadable content in your B2B eCommerce website, read our Product Information Attachments feature post.
4. Reviews and Testimonials
The impact of reviews and testimonials on modern buyers' purchasing decisions should not be overlooked. Potential customers are more likely to buy from a vendor with a positive reputation. And since in most cases it is impossible to check the product when shopping online, it is natural to rely on the experience of real-life product users. Some studies even state that stores that incentivize online reviews increase their conversion rates up to 10 times!
In B2B eCommerce, buyers are even more concerned about the vendor's reviews and testimonials because of typically larger orders. They are looking for reliable suppliers who can ensure product quality, timely shipping, quick reordering, and great after-sale service.
As a B2B eCommerce seller, it is your job to encourage people to share their positive experiences buying from your business. Even negative reviews are of great help as they help you optimize your services and product line, as well as eliminate website UX pain points.
Here's a quick checklist of what to do:
Optimize your website UX to allow visitors to easily see and write reviews on specific products.
Offer loyalty bonuses to encourage customer reviews as well as repeat purchases.
Employ a customer-focused approach and be proactive in resolving potential customer issues.
Collect customer testimonials and publish them on your website's landing pages.
Reach out to industry influencers to include your business in their reviews on social media posts and blogs.
5. Email Marketing
Email marketing is nearly as versatile as content marketing and, therefore, an essential part of your B2B eCommerce marketing strategy. Research shows that email marketing stands above any other digital marketing strategy in terms of ROI. This is the best way to offer your target audience their personal product offerings, suggest recommendations, and run loyalty campaigns.
In connection with your B2B eCommerce website, email marketing strategies can be used to automate communication with your buyers at every touchpoint – send welcome emails, reach out to people on their special days, remind customers about abandoned carts or products they were viewing on your website, etc. Integrating your B2B eCommerce platform with an email marketing tool can give you these and other capabilities out-of-the-box.
6. Tackling Shopping Cart Abandonment
Despite your best efforts to create a great customer journey on your website, a high cart abandonment rate may eat into your final conversion numbers.
There are many reasons why cart abandonment happens, most of which boil down to price and timing considerations. Customers may not be ready to spend extra on shipping or taxes, not be pressed for time to buy right now and willing to compare your prices with competitors, or have other specific concerns.
One versatile strategy to address this problem is by using ads and email re-targeting. By no means should you abandon those commerce business buyers who haven't completed their purchases. On the contrary, follow up with them via email or search ads to encourage them to return to your webstore. Emphasize a personalized value proposition, such as free shipping or loyalty program membership, to help them make up their minds.
Another exclusive solution offered by OroCommerce to address the cart abandonment problem is our custom feature called Buyer Assistance. Whenever your customer has trouble finding an item or making an order, your sales team member can click a button and go through the whole buying process and make a purchase on behalf of the customer.
They can also offer a unique value proposition to meet and exceed the customer's expectations. By our estimates, there may be up to a 50% higher chance of successful checkout for customers using the buyer assistance capability on your website.
7. Loyalty Programs
Customer loyalty programs are another important element of B2B eCommerce marketing strategy to drive conversion. B2B buyers on commerce business websites are naturally looking for long-term partnerships and that makes for a good start for all types of loyalty programs. Due to B2B customers' typically ordering larger volumes compared to B2C customers, B2B loyalty programs have great lifetime value.
However, B2B loyalty programs also require a carefully planned strategy in and of itself. The B2B segment uses more personalized customer engagement strategies and unique value propositions depending on each individual client's needs.
Therefore, before approaching commerce business customers with a loyalty program, it is necessary to assess each of your buyer's incentives to engage in one. Some good loyalty and marketing strategies may include:
Tier incentives – Reward your repeat clients as they increase their purchasing volumes and encourage them to climb up to higher tiers.
Partnering with third parties and resellers – Create loyalty programs for your resellers to build a strong distribution network, increasing brand awareness, and attracting more customers.
Referral programs – Give bonuses to customers that bring new opportunities for your business.
8. B2B Mobile Commerce
According to Google and Boston Consulting Group, mobile drives, or influences, an average of more than 40% of revenue in leading B2B organizations. There are substantial benefits that mobile apps offer to buyers and sellers, which makes them indispensable for modern B2B eCommerce.
To stay relevant within the mobile transformation mainstream, it is important to start with mobile-friendly eCommerce technology. Test the speed of your mobile version to see if your website is up to par with the competition and plan your further mobile eCommerce transformation, whether it's a mobile-friendly UX on your existing website, a native mobile app, or a PWA.
9. Split Testing
Also known as A/B testing, split testing is a great B2B conversion rate optimization tactic for your web and landing pages. While inbound marketing helps you pull more organic traffic, split testing gives you an insight into what type of landing page sells better.
Many online sellers, such as Netflix or booking.com, are famous for running excessive split testing to understand what types of UI layouts, pictures, call-to-actions, and general information better captures their customers' attention and leads to desirable actions.
In B2B eCommerce, split testing can be applied to qualify different product page layouts, website navigation flows, search and filtering mechanisms, checkout steps, and others. It is relatively easy to set up and gives measurable benefits to your bottom line.
10. B2B Brand Building
Brand reputation has always played a role in shaping a buyer's preference, and that's more prevalent in the B2B segment, where customers seek reliability and longevity as much as a compelling price.
In their report on brands, McKinsey provides evidence that B2B customers consider the brand a central element of a supplier's proposition. By their estimate, a company's brand may constitute as much as a 20% influence on purchasing decision-makers, which is on par with sales efforts. A more recent study from Lippincott uses the example of a tablet to illustrate that a business decision to purchase may be driven up by as much as 40% due to branding.
In much the same way, building a brand is vital to attracting and retaining customers on digital channels. The power of your company's brand rests on the effectiveness of all of the other marketing strategies, including offline marketing, building strong partnerships, attending events, and raising your presence in the industry's media and influencer publications.
When starting a B2B marketplace or eCommerce store, branding helps in the following ways:
Differentiates your website and social media from the competition
Gives room for higher margins
Helps convert occasional customers into repeat buyers
Gives more media coverage, PR, and SEO at less effort and cost
Check out this example of brand-building marketing in the chemical industry.
11. B2B Marketplaces
B2B marketplaces present great opportunities for sellers to expand their customer base, build up their omnichannel presence, and gauge demand for new products. For manufacturers, selling on B2B marketplaces can be a low-risk starting point before investing in a full-scale B2B eCommerce solution. However, you may need to do your research on top online B2B marketplace website features before selecting the one that fits your business goals.
For companies already invested in B2B eCommerce, launching their own B2B marketplace can be the next logical step. This is how eCommerce companies scale up to provide their customers with greater product variety, which makes a B2B marketplace so convenient for corporate buyers.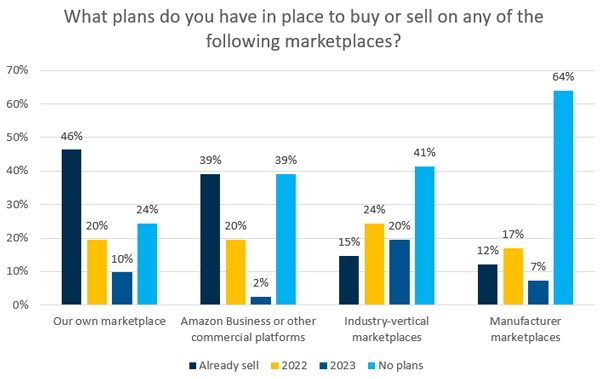 Running a B2B marketplace also opens up a variety of new revenue-generating marketing strategies and business development opportunities, such as:
Expanding product assortment at marginal effort and cost
Utilizing drop shipping to further reduce operational costs
Analyzing customer data to optimize merchandising and buying experience
Building brand
Cooperating with other vendors to drive more partnership opportunities
12. CRM and B2B eCommerce Integration
Finally, a successful B2B marketing strategy should clearly address the continuous optimization of customer experience. In the dynamic eCommerce environment, it means automating what you can as much as you can. Moreover, B2B customers require highly personalized marketing and sales approaches, which should also be kept in sync at all times.
This is where CRM and B2B eCommerce integration plays a key role in B2B marketing. CRM for eCommerce, such our integrated OroCRM solution for OroCommerce, enables you to have 360-degree visibility into your customer data and create targeted marketing campaigns depending on each customer's unique needs and buying habits.
What's Next: B2B eCommerce Strategies to Drive Adoption
As you can see, B2B eCommerce adoption is not only about technology – harnessing B2B digital marketing for manufacturing is one of the key drivers of your flourishing online business. But it doesn't stop there as well. Make sure you've got the big picture for more streamlined B2B eCommerce.
Questions and Answers
What are B2B eCommerce marketing strategies?
B2B eCommerce marketing strategies help bring different audience segments to your website landing page, build awareness, and increase conversions (CRO). Some of the key strategies include:
Search engine and keyword optimization
Account-based marketing
Content optimization for dark social
Inbound marketing
What is the B2B model in eCommerce?
The B2B model in eCommerce serves business customers who order and purchase goods on behalf of their organization.