According to Forrester Research, B2B eCommerce sales are forecast to reach $1.2 trillion by 2021. Online transactions will account for more than 13% of all B2B sales in the US. Reluctance to begin processing payments in the eCommerce environment is one reason sellers frequently cite for not embracing the move to online sales.  Don't let worries about collecting payments for online orders keep you from embracing eCommerce for your B2B business. Today, handling B2B eCommerce payments is as easy as processing the order. In fact, getting paid for B2B transactions is becoming easier and safer than B2C transactions.  
How B2C and B2B eCommerce Payment Methods Differ
In B2C retail, processing the payment is fairly straightforward. Customers don't expect terms and are accustomed to paying when they check out. In addition to credit cards, payment gateway services allow eTailers to accept Paypal, Apple Pay, Amazon Pay, and a range of other methods. Some forward thinking sellers are even taking advantage of blockchain technology and accepting cryptocurrency. The risk of fraud is very real. Juniper Research estimates that B2C online retailers will lose $130 billion from card-not-present transactions between 2018 and 2023.
On the other hand, B2B buyers are accustomed to paying with terms that may be negotiated along with prices. It's not uncommon for net 30 and net 60 options with discounts for early payment to be offered. B2B customers are looking to build long term relationships and aren't surprised when a credit check is part of the early process of establishing that relationship. While fraud is still a real concern when processing B2B eCommerce payments, it isn't as prevalent as B2C fraud. Experian pegs the number at $50 billion annually. While not a drop in the bucket, it is still a small portion of the total volume of sales. 
Traditional B2B Payment Options
B2B payment options must take into account a number of factors. For example, for their own convenience, buyers may want to pay for multiple invoices at one time. In the healthcare industry, HIPPA compliance concerns must be considered. In all industries, prices and payment terms may be negotiated on a per customer or per contract basis. So, payment options must be flexible. Here's a look at the most common traditional payment options.
Paper check.  According to a survey of financial professionals, 51% of B2B payments are still made by check. The buyer issues a purchase order and the seller issues an invoice. This takes time. The average lifecycle of a B2B payment in the US is 34 days. But even this old fashioned process is prone to error. According to Comdata, the error rate for B2B payments is 18%. And there is a cost associated with these paper checks; anywhere from $4 to $20 per check.  Even if you sell online, a B2B eCommerce platform with a flexible workflow engine will allow you to continue with traditional billing and allow your customers to pay by paper check.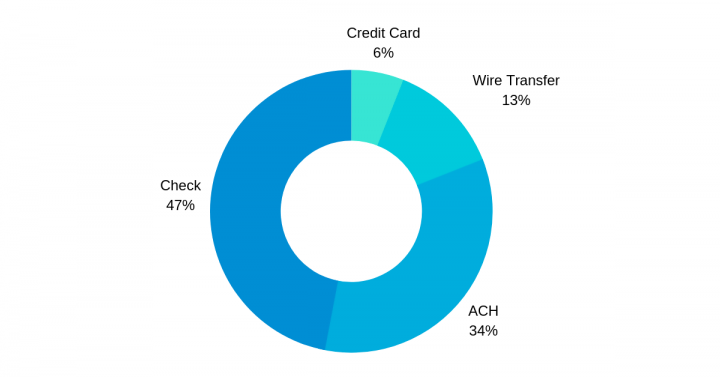 ACH. Kissing cousin to the paper check is the ACH transaction. It's like a check, but in digital form, and it has its advantages. In 2018, 34% of B2B payments were made through the automated clearing house (ACH) and 83% of businesses used this method for some of their payments. Buyers like ACH because it is convenient. Sellers like ACH because they gain faster access to funds (often in just a day) than with paper checks and the bank processing is cheaper than with a paper check. Transactions can be initiated by the buyer or seller. 
Wire Transfer. Like ACH, a wire transfer moves money from one company's bank account to another company's bank account. It is as secure as delivering cash in person but much more practical. While ACH transactions are processed in batches, wire transfers are processed individually. Wire transfers are generally used for large transactions and incur greater bank charges than paper checks or ACH.
Credit/Debit Card. Millennial buyers are already accustomed to making personal payments with a credit card for internet purchases, so they are less resistant to doing so for business purposes than their Boomer counterparts. The higher the value of the average invoice, the less likely it will be settled by credit card. However, some buyers like plastic as it gives them the flexibility to pay on their terms. And speaking of terms, invoice financing and lines of credit have gone digital.
Nontraditional B2B eCommerce Payment Methods
In addition to the traditional payment methods, B2B eCommerce payment trends indicate that nontraditional payment options are gaining in popularity. Many of these payment methods got their start in the B2C space eCommerce and have successfully crossed over to B2B.
PayPal.  If you sell to retailers, your customers may want the option of paying with PayPal. That's because most retailers are already accepting PayPal payments from their customers and are familiar with this payment method.  PayPal offers exceptional fraud protection. When you comply with PayPal's rules for shipping, your payment is guaranteed. 
AmazonPay.  AmazonPay allows Amazon customers to pay on third-party sites with their pre-established Amazon payment method. For companies that do significant volume on Amazon, AmazonPay simplifies their payables processing. Instead of keeping up with a credit card or other payment credentials, employees are assigned AmazonPay access and use their familiar Amazon login to make payment. It's becoming a popular method for internal control.
Cryptocurrency. Bitcoin, Ethereum, and LiteCoin are the most common forms of digital currency referred to collectively as cryptocurrency. These digital forms of payment aren't backed by a government or a bank. While more secure than traditional currency transfers they do carry risk.
Online Payment Processing Improves Conversions
Are you scaring potential customers away? Today's B2B buyer expects to have the option to complete a transaction using a payment method of their choice when they start a cart. If you don't offer online payment options, you may be scaring potential customers off and losing sales to competitors that understand the buyers' desire for a self-serve model. When you offer a variety of payment options (while upholding eCommerce PCI compliance requirements) you remove barriers to completing the sale. Successful B2B eCommerce sellers understand that increasing customer experience is all about removing barriers to a successful transaction. 
Consider you are a buyer and need a new widget supplier. You jump on your tablet or laptop and start researching potential vendors. Company A has a website with beautiful photos, complete product descriptions, an online chat to help you decide the right widget for your use. Prices are competitive too.  Company B also has a great website with comparable products and pricing. You go back to Company A window and start your cart. When you get to checkout you get instructions on how to contact the company to complete your order by phone, email or fax. A little frustrated you switch back to Company B, complete a cart, checkout and are greeted with a variety of payment options. Which company will you buy from?  The more payment options you provide online, the higher your conversions. 
Processing B2B eCommerce Payments to Improve Cash Flow
In addition to improving the customer journey, when you process payments online you can actually improve your cash flow and decrease your collection efforts. That's because traditional billing and payment methods often result in late payments. According to the Export-Import Bank, 60% of invoices are paid late. These late payments impact your cash flow, making it hard to pay your own bills and employees. Digital processing partners like Apruve and Fundbox offer invoice financing and invoice factoring to improve your cash flow. They can also assist with real-time credit risk processing. When you manually check credit risk you are open to human error and frequently end up with highly subjective decisions that are often untraceable and made by a member of the sales or finance team. Digital processing relies on objective risk assessment by the algorithm and can be adjusted as your adversity to risk ebbs and flows. It's done in real-time, so new customers complete their transaction, get the terms they need, and you start a new relationship off on the right foot.