Did you miss our latest B2B eCommerce webinar, 'How B2B eCommerce Systems Can Help Maximize Your Sales Team Efficiency' webinar that was held on 14th of December by Jary Carter, our Co-founder and Chief Revenue Officer? No worries! In this blog, we're recapping the essentials of this session.
Oro's Portfolio and Background Intro
Jary started the presentation by introducing Oro Inc. and the company's background and experience in B2B eCommerce. Originally from Magento, the founders of Oro Inc. saw enormous potential in the B2B eCommerce space, which is eclipsing the B2C eCommerce market. The digital B2B market was evolving with no particular business applications to satisfy its needs. Oro's Team has built an entire suite of products (OroCRM, OroCommerce, and OroPlatform) as disruptive and innovative solutions for customer management to specifically serve businesses selling to other businesses.
The rise of the B2B eCommerce
Jary then shifted into what the B2B eCommerce space looks like today and what current trends we see today. The market currently shows a tidal wave in the the digital B2B market growth: Compared to 2012, the global B2B online gross sales volume is expected to double by 2020.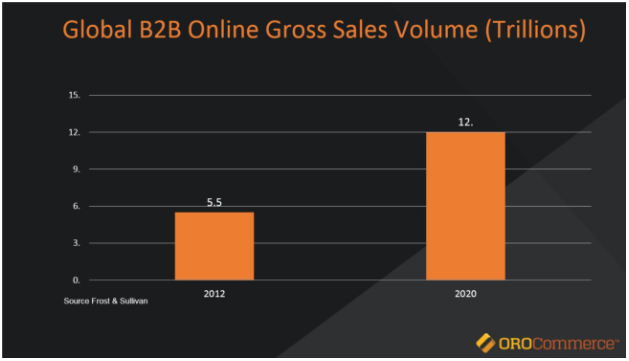 The B2B eCommerce market growth is driven by its customer. More and more buyers within organizations want to recreate the simplicity of the online B2C purchase experience and move to an online store. Since 94% of enterprise clients first research online before making any purchases (as per Acquity Group), ignoring this trend may backfire. As a B2B vendor, you'll have to create a strategy for your customers that are going online and stay responsive to their demands before your competitors take the lead.
How do eCommerce systems benefit businesses and supplement sales teams?
As Jary mentioned, eCommerce systems enable B2B sellers to increase their sphere of potential customers, improve customer experience, and obtain a 360-degree view of the customer base.
An eCommerce product incorporates a specific array of tools that allow you to automatically collect all customer-related data and help capture a single view of your clients. Generally, you'll get better visibility into the sales funnel. Your salespeople can take advantage of extra sales opportunities by targeting and retargeting customers based on their site visits history, products of interest, previous interactions, or purchase history.
Creating a great customer experience is more than knowing your business clients well. It's also about facilitating the type of interaction customers prefer making their purchase and customer experience effortless and frictionless. Some customers may stick to the self serve model where they can make a quick order or request a quote while others find the buyer-seller interaction more efficient. An eCommerce application should support all of these options.
With the eCommerce system in place, you can armor your sales teams with unique tools for better interactions with customers. Within B2B eCommerce specific applications, your sales organization can set up corporate accounts, create personalized product catalogues relevant to certain customer groups, and multiple price lists.   
Additionally, using an eCommerce application enables you to personalize your customers' and visitors' experience enabling you to market to them more efficiently. You can segment your customer base and come up with best strategies to approach each group.
All in all, B2B eCommerce products are invaluable tools for the companies migrating online as they deliver an exclusive and data-rich buyer and vendor environment both B2B buyers and sellers benefit from.
Are you still hungry for more details? You can watch the entire webinar recording at this link or download the slides here.