Almost every business relies on digital marketing to connect with customers. The healthcare industry is no exception. As societies age and people prioritize healthy living, interest in healthcare services increases. According to Deloitte, healthcare spending accounts for $320 million today and will likely reach $1 trillion by 2040.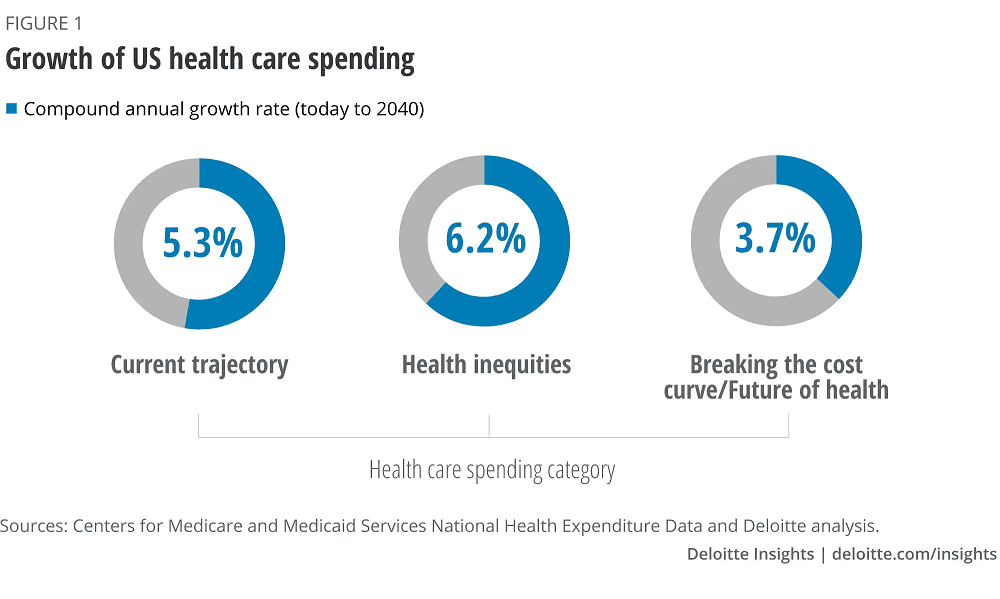 The health industry is overdue for a digital transformation. Healthcare will soon transition from treating illness to promoting health and well-being. Science and technology, as well as trust-building with the help of digital marketing are essential to the new mission.
In this post, you'll learn about digital marketing in B2B and how it can benefit healthcare brands. Discover the steps you should take to execute a well-thought-out strategy and the challenges you may face. See how healthcare companies redefined their brand with digital marketing in a traditionally offline industry.
How Digital Marketing Changed the Healthcare Industry
Historically, outbound and in-person sales used to dominate in B2B healthcare. Sales reps reached out to buyers, answering their questions and guiding them during complex purchase journeys.
However, even before the pandemic, buyers decreased their reliance on sales reps. In a pre-pandemic survey of over 750 B2B purchase managers responsible for complex purchase decisions, only 17% reported spending time with supplier sales teams. In other words, if three suppliers compete for the same customer, each can only hope to capture 5.6% of customer time.
By now, many healthcare businesses understand that customers don't want to interact with sales representatives as they did in the pre-digital era. Buyers now find the information they need online, and interacting with sales reps is optional. As digitally-savvy younger buyers make their way into purchasing positions, B2B sellers without a digital marketing strategy and a way to meet the expectations of digital buyers are left out.
As with every business, not every healthcare customer is created equal. Healthcare marketers must understand their customer goals and work to help them succeed. 
Here is a look at digital marketing usage throughout various healthcare sectors:
Medical products manufacturing
Healthcare manufacturers are historically early adopters of technology to improve their manufacturing processes. While manufacturers actively pursue technologies such as robotics, automation, accelerated prototyping, and 3D printing, digital marketing technologies are overlooked.
With closer customer engagement and feedback collection, healthcare manufacturers can better align their products with customer needs. Digital marketing helps manufacturers expand their market share, create new B2B and D2C relationships, and build ecosystems around their brands.
Healthcare products distribution
When doctors, hospitals, and retailers want to buy healthcare-related products, they start their research online. To make their products discoverable, improve the customer experience, and grow sales, medical supplies distributors must invest in digital marketing.
Healthcare organizations can use various digital marketing strategies to promote their products. For example, they may focus on SEO, optimize website design and functionality, or educate customers using email or content marketing.
Laboratory service providers
To stand out in the competitive laboratory industry, marketers must position their brands as thought leaders and innovators. Their digital marketing efforts should use content to educate customers and focus on optimizing the customer experience. 
Customers prefer to lean on self-service portals to engage with laboratories, submit materials, or request samples. Laboratories that focus on offering value through educational content and ease of use should market these highly-desirable selling points.
How do top midmarket brands use technology?
Forrester shares real-life case studies from leading business sellers.
Five Obstacles Facing Healthcare Digital Marketers
Digital marketing includes more than creating an attractive digital website. An effective digital marketing strategy raises brand awareness, effectively targets the right customers, and helps build a trustworthy brand that attracts more customers.
The healthcare industry is large, diverse, and complex, with numerous barriers to digital marketing innovation. Here are just a few:
1. Reaching customers
Both consumers and business buyers gravitate to online research to discover new suppliers and research products. Businesses that have already invested in search engine optimization hold the top rankings in the Google search results and will be difficult to dislodge from those coveted spots. Marketers should invest in pay-per-click advertising and actively participate in forums and local medical practitioner networks to get noticed.
Secondly, there's a rising interest in self-help and home remedies. Where allowed by law, healthcare marketers can target the general public rather than B2B customers. 
2. Complex sales process
Unlike B2C transactions, B2B sales can be quite complex. Purchasing organizations may rely on committees, medical professionals, IT advisors, and industry consultants to make purchasing decisions. A single purchase can take months. 
The extended sales cycle presents challenges for setting sales budgets, monitoring spending activities, and evaluating the effectiveness of digital marketing efforts.
3. Regulations
Healthcare marketing professionals must navigate in a highly regulated industry. For example, healthcare businesses and their subcontractors must comply with the Health Insurance Portability and Accountability Act (HIPAA) which safeguards patient data.
Many healthcare marketing professionals fear violating regulations and thus limit their digital marketing activities. 
4. Status quo mentality
The healthcare industry can be quite conservative when it comes to marketing changes. Every marketing decision is likely to be scrutinized and measured based on the effectiveness of improving health and saving lives.
Decision makers are busy doctors, practitioners, and healthcare executives. Championing organizational change takes time and effort they may not feel they have. As a result, there is a bias to maintaining the status quo. 
5. Lack of resources
Many healthcare businesses and healthcare-affiliated consulting companies lack an understanding of how digital technology can improve the customer experience. They lack in-house IT and business development expertise to accelerate, execute, and sustain change.
Lastly, a lack of monetary resources, along with insufficient human resources and unwilling leadership can prevent many digital marketing initiatives from getting off the ground.
Four Considerations for Digital Marketing in Healthcare
There is still a place for attending trade shows, meeting doctors in person, and distributing physical brochures. But digital marketing is a more effective way to promote your products. Once you realize the power of digital marketing to help you meet business goals, it's time to put together a digital marketing strategy.
1. Product considerations
Whether you sell medical equipment, supplies, technology products, or laboratory services, start by identifying the products well-suited for digital marketing. The following factors may influence the products you include in your initial efforts:
Regulatory requirements
Many healthcare products are regulated by the Department of Health, the Food and Drug Administration (FDA), or the Center for Disease Control and Prevention (CDC). For example, medical devices fall under FDA compliance requirements for registration, device listing, and labeling, and more. Regulations may also control to whom and how you can market your products as well as the information that must be provided. 
Product volume
High-volume products and smaller, lighter healthcare products may be in higher demand. These products are also generally easier to ship and offer better margins. Business buyers are quite comfortable with spending large amounts online, so don't let order value be the sole determining factor. 
Customization levels
If you're marketing customizable products that vary in size, weight, and chemical composition, you may want to narrow down your audience or create additional material to educate customers. If you sell customizable medical equipment, you may use digital marketing materials to support moving qualified leads through your funnel.
2. Market considerations
Once you've identified the products, it's time to see what your competitors are doing. Involve internal employees, suppliers, and industry players in helping you ask the following questions:
What is the market condition? Is it overcrowded or sparsely populated?

Who are the main players in the market and what makes them attractive?

How do competitors market products, and what customer experience do they offer?

Do competitors enjoy positive feedback from customers on social media and review sites? Is there a way to improve on their tactics?
3. Customer considerations
Effective marketing requires a deep understanding of the customer. Whether you're selling vials, dental equipment, or insulin pumps, your marketing approach will be tailored to customer needs. For example, insulin pumps may be sold to hospitals, private practitioners, pharmacies, or directly to customers. To get you started, consider the following:
To whom do you currently sell?

What are their pain points and needs?

How often do they purchase?

What is their buying journey?

How can you improve their purchasing experience?
You can direct these questions to different personas based on unique characteristics. These can include unique motivators, challenges, demographics, responsibilities, and behavioral patterns. When you focus on specific segments of your audience, you maximize the returns on your marketing efforts. 
4. Buying journey considerations
Every customer interaction is a chance to build trust, and the work of marketing is to maximize every interaction.
Research phase
Establishing trust online isn't easy, and it's even more challenging in the healthcare industry. Medical practitioners and healthcare institutions may not have time to browse testimonials on review sites. Instead, they place importance on industry publications, professional directories, or manufacturer literature.
Initial contact
Customers use numerous channels to engage with prospective vendors online. They can use websites, email, and even social media. Customers using digital channels have high expectations for response and won't wait days to hear from you. They expect a response in hours!
Decision-making
In this stage, the buyer begins the decision-making process. In this phase, you may want to focus on educating about the pros and cons of your solution. If there are multiple decision-makers, your efforts may target multiple segments. At this stage, you may offer a discount, a free sample, or other perks to convert them.
Retention and loyalty
After your customer makes the purchase, your work isn't finished. You can collect more information about the customer experience you offered, or gather ideas about improving your efforts. If customers are happy with your service, ask for a referral or a testimonial.
Remember that your buyer journey stages may vary and have more or fewer steps. It's worth keeping it in mind when putting together your marketing strategy.
Examples of Successful Healthcare Marketing
There are many ways customers can discover you online. And when they come across your brand, they'll consider multiple factors in deciding if you make the shortlist. In many cases, they may already be familiar with the company and want to learn more about how your products can help them. Here are a few successful healthcare marketing strategy stories. 
SEO
SEO or search engine optimization gets content noticed by search engines. Search engines push relevant websites to the top of the listings. So, you must match site keywords to the search terms your target audience uses.
You must understand user intent, word choice, and proclivity to search using long phrases. Numerous SEO tools can help you – Ahrefs, Semrush, and KWfinder are just a few.
Select target keywords based on:
The overall popularity of the keyword. That is, the keyword's search volume, or how many people search using this keyword.

The competitiveness of the keyword. For example, it may be difficult to rank for keywords for popular products.

Phrases and long-tail keywords. These are longer, more specific keywords and phrases that are not searched often, but they can indicate a strong intent to purchase.
When focusing on SEO, don't forget destination sites where you can publish in industry directories. Many medical professionals are strapped for time and start their research on directory sites. These serve as a  go-to resource and offer medical professionals everything they need for their practice.
Qmed is the world's only directory of pre-qualified suppliers to the medical device and in vitro diagnostics industry. It attracts suppliers as well as customers looking to purchase a wide range of products.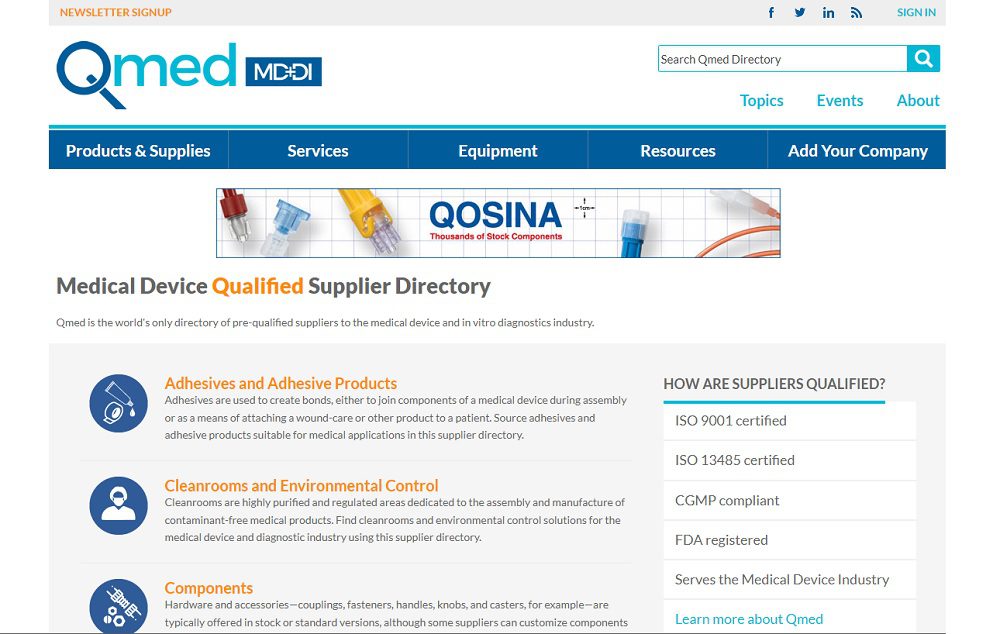 Another aspect of SEO is website optimization. This means ensuring your pages have the correct SEO HTML tags, H1 headings, and internal tags and links between product pages. For your eCommerce category pages, make sure you include accurate descriptions, relevant keywords, or FAQs that cover the most common questions about your products.
Igual is a healthcare equipment and product wholesaler based in France. Through its eCommerce website, it offers users technical characteristics, downloadable documentation, and related products.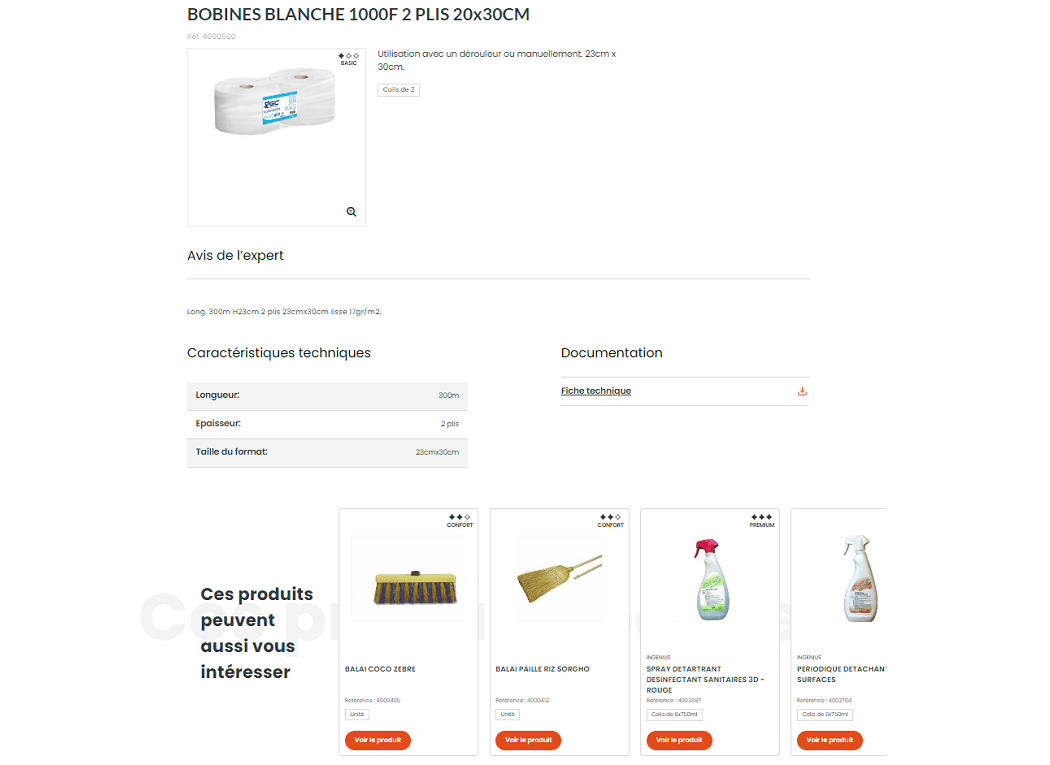 Website experience
Aside from making your website appealing to search engines, it must also be appealing to visitors. If you don't offer customers needed information, they'll move on to competitors.
Midwest Dental supplies midwestern US dental practices with the latest technologies and supplies. The distributor published ordering tutorial videos to ease the learning curve for its customers.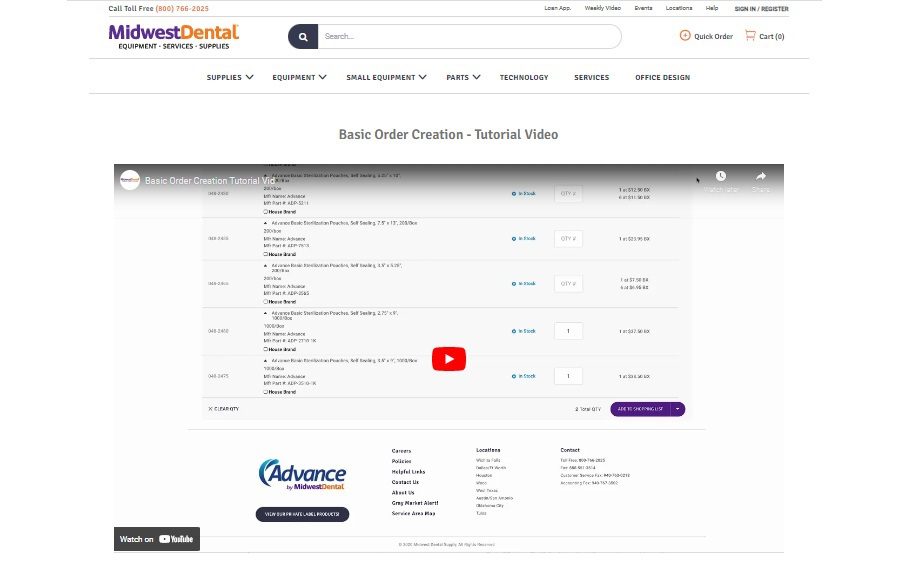 Email
Email is effective because it can be personalized. Effective, persuasive messaging and strong calls to action direct the reader to the desired action. There are many email marketing tools, from MailChimp to Hubspot that allow you to target messages, run multiple campaigns, and perform A/B tests to generate the most ROI.
FullScript is a
B2B marketplace
and distributor of vitamins and supplements. Their promotional emails invite readers to a particular article showcasing the health benefits of their products. Best of all - there's a call to action to keep reading after a few sentences.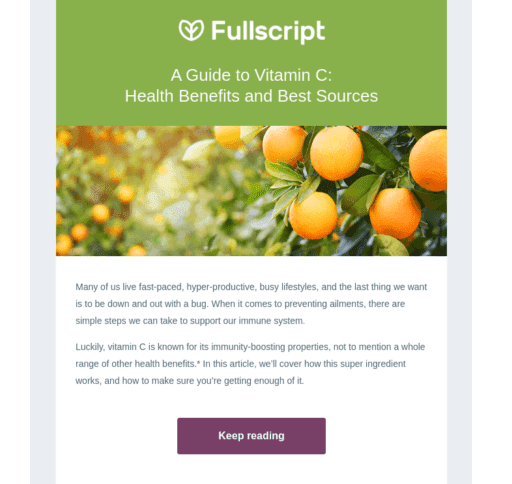 Content marketing
Quality content reigns supreme when it comes to engagement and is an effective way to bring potential customers to your site. Stand out by offering your audience multiple content types such as infographics, articles, guides, videos, interviews, pod casts, and product comparison sites. Provide new and educational information about the topic. Content marketing can include:
A resource library of whitepapers, instructions, tutorials, and user guides.

A blog of informational and comparison articles about different products.

Articles of interest to target personas in the medical industry.
Midway Dental Supply is an independent dental supply company that services Indiana, Michigan, and northeastern Illinois. Their Midway Educational Center serves as a learning portal to educate dental professionals about the latest developments in the industry.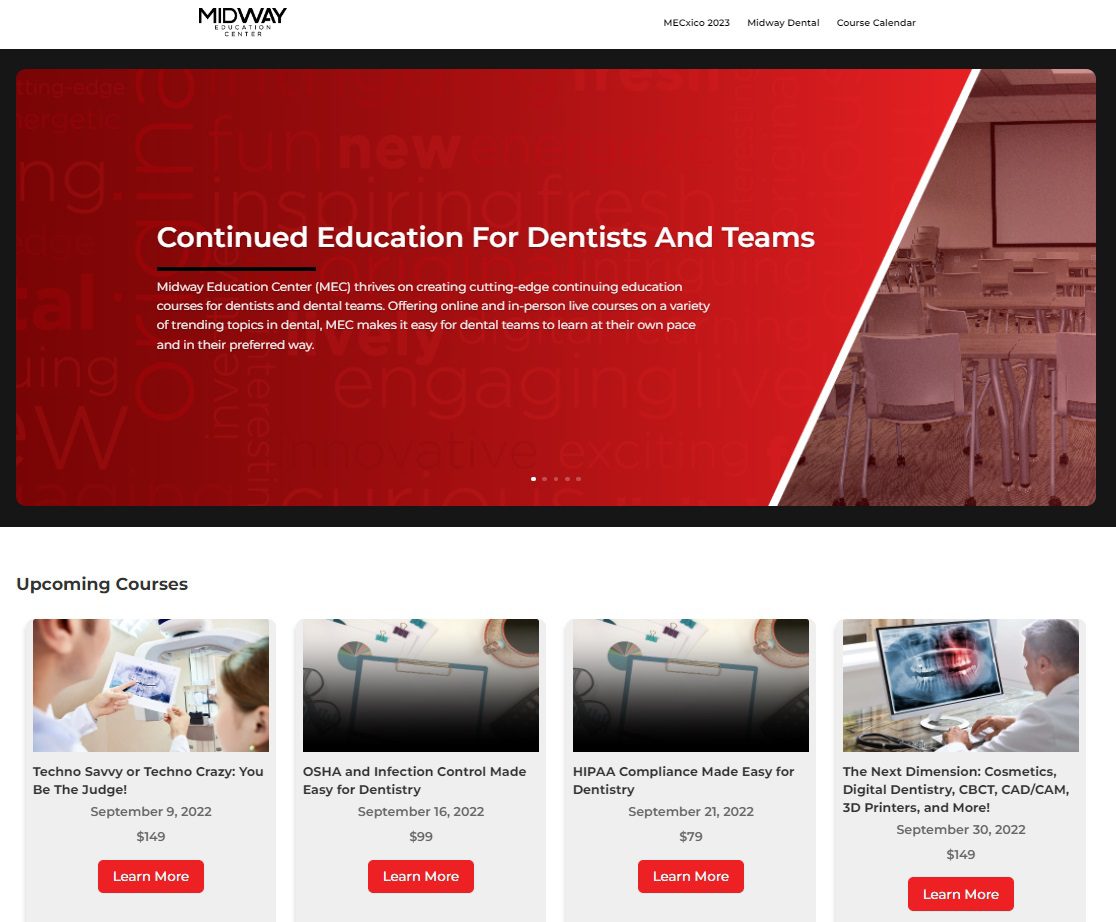 Creating a Digital Healthcare Marketing Strategy
Now that you understand healthcare digital marketing basics, put what you've learned into action.
1. Stay updated in your industry
The healthcare industry changes every day. Keep up with developments in your industry. Customers rely upon your knowledge and expertise. Leverage this in the content creation process. Lastly, don't forget about your competitors. Learn from what they do right and improve where they fall short. 
2. Involve internal teams early on
To get the most out of your teams, you need early buy-in. Your employees provide a valuable resource to identify customer needs and pain points. They'll also offer you industry knowledge and input on engaging with customers during various stages of the purchasing process.
3. Set objectives and an action plan
Set your objectives – it could be to improve your SEO, boost your content strategy, or increase email opens. Use these goals to identify the tasks necessary. Think of adjacent activities that need attention – building up eCommerce capacity, beefing up IT resources, and allocating resources in the budget.
4. Review progress and analyze results
Aside from analytics and reports, you may want to host regular in-person meetings to discuss progress. From time to time, you may want to readjust goals or fine tune metrics for tracking progress. These can include milestones such as completing specific tasks or quantifiable metrics such as traffic data, open email rates, and conversion rates.
To help B2B businesses make the most of their marketing efforts, we created a guide to help manufacturers and distributors navigate the B2B marketing landscape. It's a beginner's guide to help offline B2B businesses new to digital marketing or those who have been so far dissatisfied with their progress.
Digital Marketing for Manufacturers and Distributors
Assess your business, develop a strategy, identify tools, and avoid pitfalls.
Questions and Answers
What is healthcare B2B marketing?
Healthcare B2B marketing involves increasing awareness of your healthcare products and getting customers to purchase them. It involves performing research on your customers, the market, and the purchase journey to create a marketing strategy. Then, you'll have to build a website, optimize SEO, and create content to build traffic to your website.
Why should healthcare brands use digital marketing?
Early internet traffic was minuscule, and websites were built for aesthetics. Over the years, healthcare customer expectations have become more demanding, and websites more complex. Today, a small-scale distributor can compete with national suppliers. In today's digital landscape, Digital marketing becomes the most effective to attract customers and grow your business.
What is a good B2B healthcare marketing strategy?
To market their products online, healthcare brands should start with a high-quality digital presence. This means a well-functioning, SEO-friendly website that will work on any device. As they grow their presence, brands should focus on creating content around their niche and educating customers about their industry, products, and services.