Originally published November 21, 2021, updated May 18, 2022
Back in 1999, a startup called Salesforce created a customer relationship management (CRM) software product aimed squarely at the B2B market and sold via a revolutionary new method. They envisioned software that could be delivered 24/7 over the internet. They called their delivery method SaaS, or software as a service, and offered their software to other businesses on a subscription basis.
Since then, hundreds of software vendors have embraced this model. But are SaaS products right for B2B eCommerce sellers such as manufacturers and distributors? This article will explain the role of SaaS in B2B and look at some of the most popular B2B SaaS software solution options. We'll also talk about some benefits and drawbacks of SaaS-based B2B software and explore what SaaS approaches are most effective for B2B sellers.
What is a B2B SaaS Company?
B2B SaaS refers to both a software deployment and a licensing model. With the B2B SaaS model, the provider develops, manages, and sells a software application to customers over the internet. Think of SaaS as the opposite of on-premise systems, where customers pay one-time licensing fees and install software on their premises.
Just like with other products, there's a difference between B2C SaaS and B2B SaaS. B2C SaaS vendors sell products for personal use, such as entertainment, personal finance, or productivity. B2B SaaS products facilitate various business activities like project management, customer support, CRM, enterprise resource planning (ERP), eCommerce, product information management (PIM), accounting, communication, and inbound marketing.
Because SaaS products help businesses achieve their goals, B2B SaaS companies are greatly invested in customer success. In other words, they help customers achieve business goals using their software so as to reduce their own churn and increase customer loyalty. And loyal customers are more likely to spread the good word about their software solutions.
But how popular are B2B SaaS products and a SaaS business model? Consider the following:
In 2021,

Gartner predicted

that worldwide software-as-a-service revenue will grow by 23%, exceeding the $270 billion mark from the year before. By the end of 2022, the growth rate is expected to increase even more.

While enterprises expect to

spend more on IT than SMBs

, they allocate a significantly greater proportion of tech budgets on managed services (21%) compared to SMBs (14%).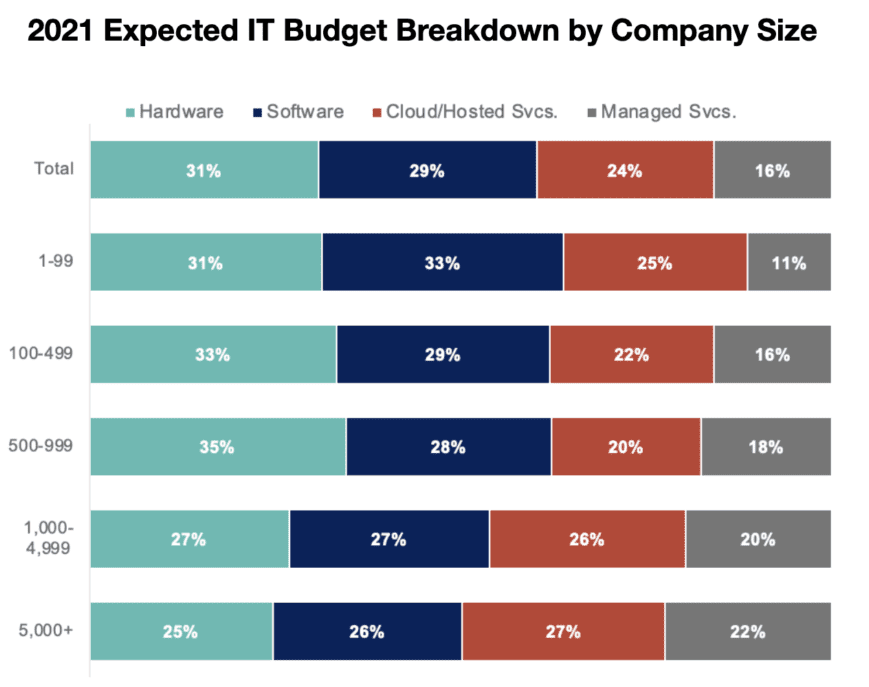 The industries leading in

public cloud spending

include manufacturing ($19.7 billion), professional services ($18.1 billion), and banking ($16.7 billion). This suggests that industries dealing with the most data are also the most active B2B SaaS industry investors.

According to Flexera,

92% of surveyed enterprises

responded with having a multi-cloud strategy, selecting different cloud based vendors for different needs. This approach allows businesses to keep highly available applications with one B2B SaaS company and sensitive data with another.
What are the common B2B SaaS solution categories?
There are many types of software-as-a-service applications. Most, however, fall under one of the three SaaS categories:
1. Packaged SaaS are products that help manage a specific process in an organization – improving customer service, or enhancing marketing efficiency, for example. Zendesk, and Hubspot are some examples of this type of software products.
2. Collaborative SaaS software helps improve how teams work together. From messaging and video conferencing to tasks and document management, these platforms support collaborative work. Asana, Zoom, and Paper, are some examples.
3. Technical SaaS applications offer tools to manage or improve software development or technical processes. OroPlatform is an example of technical SaaS, as it's an open-source rapid application development platform.
What are the Benefits of SaaS for B2B?
SaaS B2B solutions are easily accessible, typically easy to set up, and offer a cost-effective option for businesses compared to other licensing and deployment models. B2B companies look to SaaS applications for the following benefits:
Cost-effectiveness
Initial setup fees are low, and monthly fees will typically be less than investing in hardware and paying a team of IT employees. It also frees up IT resources needed to support these systems, applying fixes and upgrades.
Flexible payments
Instead of large up-front payments, SaaS customers can subscribe to monthly or yearly licenses. They can quickly stop services to save on expenses. This helps businesses set predictable budgets and better control costs.
Easy accessibility
B2B SaaS environment is accessible through the internet browser, which means you can use a B2B SaaS product with any operating system at any place. With the proliferation of internet services in urban areas, this is a benefit to businesses large or small.
Automatic updates
A B2B SaaS platform will get updated automatically by the application vendor. These updates cause minimal disruption to businesses and eliminate the need for IT teams to ensure compatibility and schedule downtime.
How To Pick The Right B2B SaaS Provider?
When evaluating your B2B SaaS platform options, focus on the products that meet your exacting business needs as well as regulatory and security requirements. 
Familiarize yourself with the vendor's data storage policies and how they handle sensitive SaaS company data and customer information. Explore their software partners, their level of compliance, and their flexibility to integrate and grow with your business. 
Here are some considerations to keep in mind when evaluating  SaaS based B2B software:
1. It meets compliance requirements
Whether due to Edward Snowden's leaks or data privacy practices by companies like Facebook, data privacy is a key issue to regulators. The European Union's GDPR, the United States' HIPAA regulations for healthcare and medical businesses, PCI DSS eCommerce credit card security requirements, and SOC 2 audits place additional compliance requirements on SaaS providers and their customers.
2. It maintains data safety and security
B2B businesses are seeing increased security attacks targeting their operations, supply chains, and customer information. As companies expand their use of SaaS products, especially on multi-tenant architecture, the risk of data compromise increases. There is less isolation between databases in a multi-tenant setup, giving attackers more opportunity to exploit vulnerabilities.
3. It offers extensive integration capabilities
Today's B2B organizations depend on hundreds of integrations, and they expect SaaS products to integrate with their existing systems quickly and efficiently. That places pressure on software vendors to meet a diverse set of customer needs and pain points. Look for SaaS companies with a robust API offering that can integrate with other systems as your needs change.
4. It ensures flexibility and portability
Businesses are increasingly adopting both on-premise and cloud-based elements. SaaS providers, too, are transitioning to a Kubernetes and cloud-native architecture to support hybrid cloud requirements of B2B businesses. This approach helps companies balance greater control and security with the scalability and cost-effectiveness of storing some data in the cloud.
Top SaaS Products for B2B Companies
Software-as-a-service vendors build reliable, scalable, secure, and time-tested systems used by many businesses worldwide. These vendors make some of the best B2B SaaS products are considered leaders in their industries. Here are B2B SaaS examples of products geared to B2B businesses:
SaaS ERP Products
SAP Business One
SAP Business One is a cloud ERP for distributors, manufacturers, and many other sectors. It offers an integrated suite of business software applications running on MS SQL or SAP's HANA platform, giving companies visibility into operations and standardizing various business processes.
Marello
Marello is an open-source ERP and digital operations platform (DOP) and collaboration software. Its open-source flexibility means it can be customized to streamline many back-office functions related to operations management, including customer management, business intelligence, and more.
SaaS CRM Solutions
Salesforce
Salesforce is one of the world's most popular CRM software platforms. Designed for enterprises in various industries, Salesforce allows brands to manage every aspect of their relationships with customers and potential customers.
Microsoft Dynamics CRM
Microsoft Dynamics CRM is Microsoft's cloud solution for managing customer relationships, sales leads, B2B SaaS marketing, and pipeline data. It is part of the Microsoft Dynamics 365 family of enterprise solutions.
OroCRM
OroCRM is part of the Oro family of products. It is available as a standalone CRM and natively integrated with OroCommerce and OroMarketplace. It provides a 360-degree view of each customer and interaction and offers the flexibility to conform to business processes.
SaaS PIM products
Akeneo
Akeneo is an open-source PIM for eCommerce software with a centralized place to collect and manage product information, grow your product catalogs, and distribute product data to every B2B SaaS sales channel.
Read our guide for more products and tips for optimizing your B2B sales funnel.
SaaS marketing automation software
Hubspot
Hubspot makes inbound marketing products and services that include CRM, content management, social media marketing, and other functionality. Called HubSpot's marketing hub, it's a collection of SaaS products for outreach, marketing eCommerce automation, lead management, and retention management.
Mailchimp
MailChimp offers email marketing software that enables businesses to automate and manage email campaigns. It includes tools to send newsletters, mailing lists, and promotional emails to customers.
SaaS communication products
Slack
Slack's main product is a collaboration and chat tool for internal messaging and video meetings. It is one of the most popular B2B SaaS companies offering integrations with file-sharing services and project management software.
Skype
Skype is the Microsoft chat and video communication tool. Skype for Business was replaced by Microsoft Teams which integrates with the Office suite of solutions.
SaaS hosting products
Google
Google offers hosting and infrastructure through their Google Cloud Platform (GCP) service. Google Cloud boasts high flexibility, customization options, and has powerful analytics capabilities.
AWS
Amazon Web Services (AWS) has been on the B2B SaaS market longer than Google and also offers flexible, reliable, scalable, and cost-effective solutions for B2B businesses.
SaaS B2B eCommerce solutions
OroCommerce
OroCommerce is the only eCommerce platform built from the ground up for the B2B market. It combines the benefits of an online portal, a B2B order management system, and a multi-vendor platform. Its open-source nature allows customization to support any business model and pricing strategy.
This flexibility even extends to how the solution is deployed. Unlike other SaaS products, Oro's eCommerce and B2B marketplace software can be deployed on-premise and then moved to the Cloud or vice versa. It can be hosted in any public cloud, private cloud, or on OroCloud, which is a managed hosted GCP solution built and optimized specifically for Oro applications. This helps you future-proof your business as you gain maximum flexibility without tying up resources for installing updates, maintaining security, handling traffic spikes, and hosting infrastructure needs.
OroCloud provides:
Security with a cloud network that is segmented, isolated, and protected with firewalls and DDoS protection tools.

High availability with speed and stability regardless of the amount of traffic and bandwidth usage.

Monitoring software and a 24/7 team that is notified of suspicious activity and reacts appropriately.

Onboarding resources, maintenance, timely updates, and round-the-clock technical support.

Compliance with GDPR and PCI DSS requirements.
OroCommerce recently took the #1 spot for B2B eCommerce use case in Gartner's 2021 Critical Capabilities for Digital Commerce report #4 for combined B2B/B2C use cases.
Considering SaaS as Part of Your B2B Digital Strategy?
Now that you know about the advantages, limitations, and some of the top SaaS B2B companies and their offerings, you may seriously consider SaaS for your B2B business. If your digital strategy includes SaaS products, keep the following in mind.
Assess the risks
SaaS providers manage a tremendous amount of data about your company, which introduces significant risks. So before you sign a contract with your vendor, you should be aware of all the potential dangers it presents. Consult your security officer and legal department for questions to ask such as:
Have you experienced prior security incidents? Find out if there was a prior ransomware attack or data breach that could impact compliance and your business operations.

Do you have third-party audits of your privacy or security controls? Without an independent audit, there's no way of knowing whether or not a vendor is in compliance.

Do you subcontract your services to different providers? Get appropriate guarantees from contractors and sub-contractors.

How is data managed? Do you provide assistance when switching vendors?  Will the data be discarded when the contract terminates?
Choose what to outsource
Businesses can retain control over their software, networks, and data while outsourcing the physical management of infrastructure. A popular deployment model is IaaS or Infrastructure as a Service. Cloud providers like Amazon, Microsoft, and Google make it easy for businesses in many regulated industries to comply with requirements while offering assurances and uptime promised by other SaaS vendors.
Consider hybrid deployment
Look for vendors that support a hybrid deployment of multiple cloud solutions and deployment options. This way, you can balance control with the ability to scale as your needs change. Aside from being cost-efficient, it can also lower risks and offer you greater options.
Don't dismiss on-premise
Many businesses operate in and sell to highly regulated industries, whether it's banking, healthcare, or certain industrial sectors. If you have complex corporate hierarchies, selling channels, and business processes, keeping data in-house may just be easier and more efficient.
Make Your B2B SaaS Decision Wisely
More than 20 years since the launch of Salesforce, B2Bs large and small depend on SaaS products as indispensable tools that add value to their operations.
Today, manufacturers, distributors, and B2B eCommerce businesses that sell machinery, spare parts, or supplies will find SaaS products provide the business solutions they need. For companies with relatively straightforward sales processes, outsourcing software, infrastructure, and support get them to market as fast as possible. 
While SaaS products are a go-to for businesses looking to automate processes and boost efficiency, others need more control and are concerned about cybersecurity and compliance. 
Businesses exploring SaaS software must do their due diligence, ask probing questions to prospective vendors, and keep up with various security and compliance requirements to make an informed decision.
Questions and Answers
SaaS stands for software as a service. This method for selling and licensing software uses the internet for delivery. SaaS products play a big role in the B2B world by helping businesses serve other businesses more effectively. With SaaS, customers sign contracts or subscribe to services and make ongoing payments for the use of the product.
What are the advantages of B2B SaaS?
SaaS B2B products are often more cost-effective than other deployment models. SaaS products are easy to set up, easy to access, and have a high degree of reliability. Also, there's no need to maintain and update solutions. It's a great approach for B2B businesses that do not have complex regulatory compliance, corporate structures, workflow requirements, or integration needs.
What are the security risks of B2B SaaS?
Most risks in B2B are associated with cybersecurity, data privacy, compliance, and business continuity. A SaaS vendor can have less-than-ideal access controls and expose vulnerability towards your brand. To a lesser extent, you can face incompatibilities during upgrades and service interruptions. Lastly, vendors may also use your data to their advantage, such as introducing competing services, and so on.