Originally published October 22, 2019, updated March 25, 2021
Surely but steadily, B2B eCommerce continues to grow. It is projected to make up at least 12% of all B2B revenue next year. With 80% of executives doing product or service research in the evenings on their tablet, it's no wonder that according to Accenture, B2B buyers are 57% of the way through the buying process before they first meet with a representative.
So, if the internet has changed the B2B purchase process, then sales and marketing must change how they pursue this new breed of buyer.
Building a website and waiting for traffic won't work. Understanding your B2B sales funnel ensures that your marketing doesn't just attract leads into one silo, and your sales don't just pitch their leads into another silo while the business owner or senior executives are left pondering the mystery of poor digital channel performance. 
Visualizing your B2B sales funnel is a baseline, a starting point that saves your business from numerous costly mistakes moving forward.
Five Classic B2B Sales Funnel Stages
The classic B2B sales funnel concept was developed in 1898. Leads pour into the top where they become aware of your brand, product or services. 
However, things have changed a lot since then. The chance to catch their attention here is fleeting. The average person spends 37 seconds looking at an article. Let's take a look at every stage of a B2B sales funnel model one by one.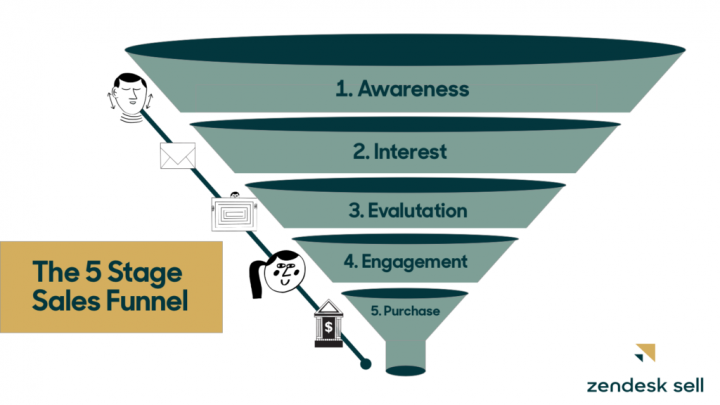 Stage 1: The Awareness stage of the sales funnel
In the Awareness stage of the funnel, a B2B customer is looking for answers. They need the resources, education, data, opinions, and insight necessary to solve their problem. The problem may be as simple as a new supplier for their manufacturing concerns or as complex as software that integrates their front-end and back-end operations. At this stage, the value of the lead is low because there is no guarantee they are going to pursue a solution from your company. But, if you provide them enough high-level information and content, they may become interested in your products and services. At the top of the funnel, a persona is vital to understanding how your buyers think, what problems they are trying to solve, and the path they take to the solution.
Stage 2: The Interest stage of the sales funnel
As they move to the Interest stage, they begin to research your products to gain more information about them. This is the first stage in the buying process where trust is formed. At this point, nurturing the lead is focused on raising the opinion of your company in the buyer's eyes.
Stage 3: The Evaluation stage of the sales funnel
During the Evaluation stage, you've solidly captured the buyer's attention. Now it's time to focus on showing how your solution is optimal for their needs. To further solidify trust, this is the time to let leads know if your solution isn't in their best interest. A display of honesty and integrity at this stage may pay off in the future, even if your product or service doesn't meet the buyer's needs at this time.
Stage 4: The Engagement stage of the sales funnel
Once your lead is in the Engagement stage they'll be interacting with your sales force. This may include product demonstrations, sales pitches and clear communication that you understand the buyer's pain points and want to help them reach a solution. The degree of relationship and trust you create at this level is a key factor in the lead moving to the last stage.
Stage 5: The Purchase stage of the sales funnel
In a traditional funnel, the Purchase stage is the end. The Purchase Order is written or the commitment to the purchase is approved. But just because money and product change hands doesn't mean that you've reached the end of the B2B sales funnel.
Post-purchase engagement not only keeps the customer happy; it further feeds the funnel and is key to building a B2B sales pipeline. That's because the majority – or 84% of B2B sales begin with a referral by a friend or colleague, and these referral leads convert 30% better.
While this traditional sales and B2B marketing funnel is still the most widely used model,  account-based marketing advancements are changing the traditional role of the funnel. Stay tuned for a future article on this new way of aligning sales and marketing. 
Marketing Tactics for the Different Funnel Stages
As buyers move through the marketing funnel, their needs change. That means your marketing tactics and strategies must evolve too. What works in the Awareness stage is ineffectual in the Purchase stage. Offers that are appropriate for the Purchase stage get lost in the Awareness stage. So, mapping your marketing strategy and tactics is as important as mapping the buyer's journey.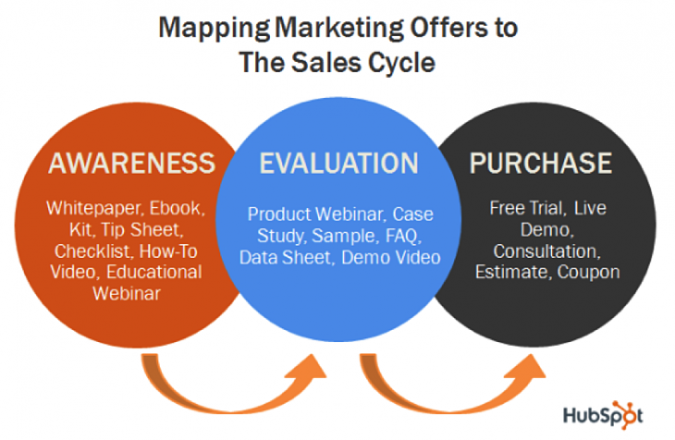 In the Awareness stage and Interest stages, potential buyers may not know you exist. And to make things worse, they may not even really know what they want or need, either.
They first begin to research a solution to their problem. Understanding your persona during this stage is more critical than ever. Your SEO tactics, lead generation, and content marketing must all be laser-focused on your persona. Whitepapers that address common pain points, eBooks with detailed information, and instructional videos help buyers identify possible solutions to their problem and raise awareness of your company at the same time. Pay-per-click ad campaigns may be appropriate for lead generation. Social media tools such as Facebook Chatbot Messenger Ads are proving highly effective in engaging leads.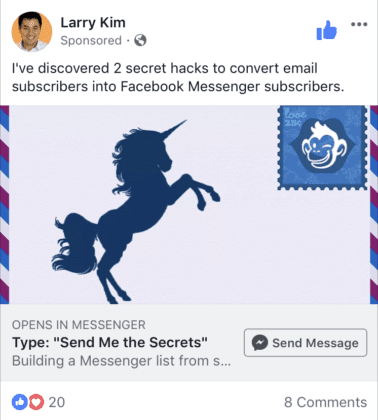 Ironically, people are drawn to their initial anonymity because they aren't required to give up their email addresses. However, once your lead has opted in, you have access to Facebook data about the lead you wouldn't otherwise have – and that's important for personalization. The key to effective Chatbot Messenger marketing is to end each interaction with a prompt for further action. 
Once you've captured their attention, it's time to make the case for why your solution is the best. Now you can truly educate your lead. That's your focus in the Evaluation and Engagement stages. It's time to share case studies showing how you've helped others in similar situations. Personalized drip email marketing campaigns are easy to automate. In fact, 75% of companies report that they currently use automated marketing tools. Here's a look at what a drip campaign with conditions might look like in this stage: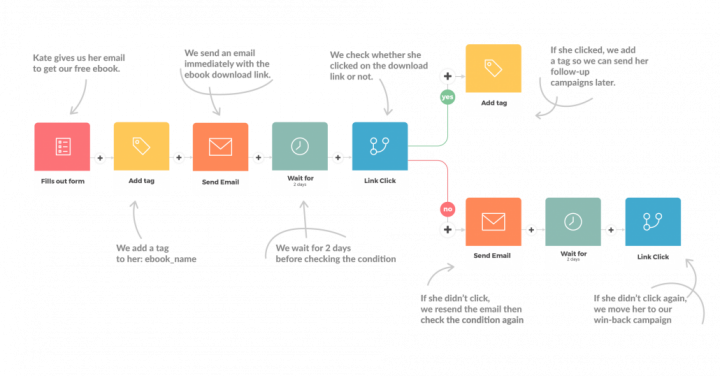 Webinars with time set aside for Q & A may be another effective way to engage leads at this stage in the process.
Once your lead has landed on the Purchase stage, it's time to draw the deal to a close. Marketing and sales must work together to navigate the lead to conversion. This is the time marketing must arm sales reps with case studies, provide product demos, and offer incentives. Too often, marketers offer incentives, case studies, and product demos too early in the funnel when leads aren't yet committed to a purchase. Your offers will be more relevant once you introduce them at the end when your lead is prime to purchase.
To ensure you're on the right track, you'll have to measure your performance. Familiarizing yourself with various customer conversion and B2B customer retention metrics is a good place to start. For more complex B2B SaaS eCommerce scenarios, you'll have to track additional metrics. If you're planning or building a B2B marketplace, you'll have to determine which B2B marketplace KPI will work for you and go from there.
The B2B Commerce Sales Pipeline Isn't the B2B Sales Funnel
Often the terms sales funnel and sales pipeline are confused. Let's bring clarity to the issue once and for all.
A sales funnel for B2B represents how your leads are being captured and moved through the different stages of interaction until they make a purchase or leave the funnel. The sales pipeline focuses on the actions taken by your salespeople during the sales process and the potential for revenue in any given point in time. Think of it this way, the funnel is concerned with the buyer's perspective, and the pipeline focuses on the seller's need to meet sales and revenue goals.
The B2B sales pipeline stages are not the same as the B2B sales funnel stages. To visualize the difference, let's take a look at a sample pipeline stage report.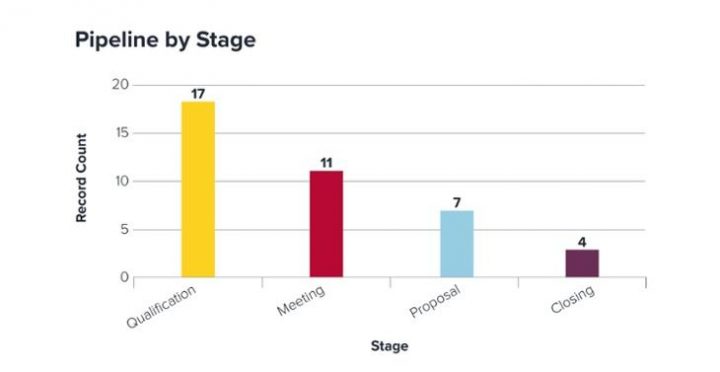 As you can see, the B2B sales pipeline stages are different. In the Qualification stage, the marketing net is cast to find the people that are interested in your products. The goal here is to determine if these are potential customers and if so, get the information you need to request a meeting.
During the Meeting stage, you are persuading your prospect that they are on the right path and need to continue their buyer's journey. While sales reps are on the phone, the marketing department is busy delivering relevant content.
The Proposal stage is where things can get complicated. The average B2B transaction now requires over five people to sign off on the purchase. At this stage, you've got to know that you're negotiating and meeting with the right people to close the deal. And speaking of closing, during the Closing stage you will either classify the deal as lost or won. If the deal is won, you need to take the necessary steps to follow through on every promise and don't be afraid to ask for referrals. For lost deals, it's time to dissect what went wrong and what could be changed in the future. 
You've got to keep the B2B sales funnel full to keep potential buyers moving through the B2B sales pipeline. Just like you need marketing tactics and strategies to keep the funnel full, you need best practices for building a B2B sales pipeline. 
How to Create a B2B Sales Funnel
A well-structured sales funnel model will help you generate quality leads, refine the sales process, and optimize B2B customer journey mapping. A sales funnel is an inseparable part of the operational process, something that helps you build a sustainable strategy for new and existing customers. Let's consider how to build a sales funnel, step by step.
1. Understand what your customers want
In our digital age, customers are bombarded with information, having limitless options to choose from. First, realize you won't just market to anybody, but only to those who are the best fit for what you're selling.
In fact, a 2021 study demonstrated that unlike in B2C, nearly 75% of B2Bs have difficulty producing marketing tactics for long-term growth. When users see irrelevant information – such as ads, promotions, and articles, they get turned away. Ineffective targeting causes damage far beyond a dissatisfied user. Businesses waste budgets, push away customers, and expose themselves to reputational damage.
What to do:
Before you go any further, start performing some research about your audience. Determine what site visitors do on your site, where they click, what they look at, and how much time they spend on a page. In conjunction with site monitoring and analytics tools, you'll be able to identify various demographics you can target.
Aside from site metrics, you may want to focus on request for proposals (RFPs), analyze your conversion rate, mailing lists, and other ways customers interact with your business. By understanding when users take action, you're in a better place to market to them.
2. Capture your audience's attention
Combined with more choice and general distrust, it's now more difficult to capture customer attention than ever. What works is personalized messaging that actually matters, delivered at the right time. This might be a hard sell for some marketing managers, as the return on investment isn't always apparent.
Website visitors don't convert on the first purchase. In many industries, it takes multiple visits for a prospect to feel comfortable about your brand and product. It can also take several months to move your lead from the awareness stage to the consideration stage.
What to do:
Once you've identified individuals interested in your product, it's time to direct them into the wide end of your funnel. This will take time, as actions rarely happen on first encounter. There's an old adage in marketing that messages must be repeated up to seven times to be effective – that is still relevant in B2B.
Digital tools such as eCommerce in conjunction with the CRM can help you track leads throughout the evaluation and buying process, and help you pinpoint the ideal time to reach out and make a great first impression.
3. Nurture relationships
After a successful first contact, many businesses struggle with maintaining momentum. When you engage with leads too early or too late, you risk either scaring them away or have them lose interest.
As digital natives take center stage, buyers of all types become increasingly comfortable making decisions without interacting with others. According to Forrester, the average B2B buyers will look at five or more pieces of content before purchasing. In other words, prospects probably won't want (or expect) a call or email from you.
What to do:
A drip campaign can help move these cold leads through the funnel with accuracy. Doing so regularly and with helpful content, particularly one that addresses objectives and pain points, "warms them up" and gets you the sale.
And since you can customize drip campaigns according to your requirements, you can fine-tune them for every persona. Here, you must demonstrate a keen understanding of their needs and make your solution and offer feel like the right one for them.
4. Prepare for the meeting
As mentioned before, first impressions will rarely make the deal – your prospect will likely need more convincing to become a paying customer. However, first impressions count – and in many cases, will indicate how likely your prospect will reach the end of the sales funnel.
This is where you must have all the necessary information ready. Combine your research data, relevant content, RFP information, website and communication activity, and any customer data in the CRM system. These will help you address your customers' pain points during first contact and make a better impression.
What to do:
Sales professionals require flexibility and creativity to engage with their prospects, from the first contact to close. That's why standardizing the sales process can greatly boost your sales funnel, pipeline, and productivity. Standardization isn't a script or a sales playbook – it's a guideline that you can tweak and adjust so that you can head in a set direction.
Some of these steps will be repeatable – you can automate them and allow sales reps to focus on building relationships and growing sales. For example, you can use behavioral data to help identify the customer's pain points. Then, you can then tailor the product to them in a way that addresses these concerns.
5. Follow up regularly
According to HubSpot, over 80% of sales require 5 follow-up calls, whereas 44% of salespeople give up after confronting the first "no". That's because, traditionally, most sales reps focused on the top of the funnel and getting the sale.
By following up, you avoid potentially valuable prospects from slipping through your fingers. Aside from educating your sales reps to follow up regularly, you can set notifications or calendar reminders in your email software to keep on top of follow-ups.
What to do:
The follow-up process helps optimize your sales funnel, too. You can remove prospects that have gone silent after repeated calls, responded with an out-of-office reply, or asked to connect at a later time. For those leads that move forward, you'll understand where they sit within the funnel and how close they are to closing the deal.
Don't forget to follow up with existing customers, too. You can learn about their experience, what they like about your product, uncover opportunities for testimonials, or encourage them to share positive word-of-mouth in their social circles.
6. Close the deal
Your goal is to get customers to purchase, and this is the stage where it either happens or doesn't. At the same time, almost 50% of large B2B purchases are made by leads that receive support all the way to the close, so your lead nurturing efforts also play an important role. 
Listen carefully to your customer to understand what might be holding them back. According to David Jacoby, the best way to gain commitment from buyers and to minimize issues during closing is to use the ASK process:
Align your priorities. Refer to previous communication with your customers – from calls to meetings to correspondence – and confirm certain statements. This will assure the buyer you understand their pain points and remember their needs. By asking for reassurance, you build rapport and confirm you are on the same page.

Secure commitment. Reinforce the key benefits of doing business with you and reiterate how your solution addresses their biggest challenges. At this point, you can identify possible issues and their solutions down the road, or ask the customer if they have any other concerns.

Keep the relationship going. Even once you get commitment, your work isn't done yet. Determine if other decision-makers are involved or contractual questions to resolve before they sign on the dotted line.
With any large purchase decision, it's natural to get doubts (or buyer's remorse), so remain available to reassure the customer if they have any questions after the deal is done. By keeping communication lines open, you can maintain a positive relationship that lasts well into the future.
7. Optimize your funnel
Whether you're an electronics distributor or selling eCommerce medical supplies, you need to reach your audience. Within every stage of your sales funnel is a living, breathing customer looking for answers. To better address their needs at every stage, your funnel must offer them a diverse set of solutions.
In the beginning, the customer will be exposed to a large variety of content: from landing pages, blog posts, social media, video clips, and infographics. While all this material may seem unrelated, it's important that it's targeted to a specific persona in the funnel.
For example, in FMCG eCommerce, you'll want to target a specific retailer selling a specific product, brand, version, or item category. It's also a great place to perform A/B tests and alternate between content types. For example, if one type of CTA or tagline doesn't work, tweak it to see what will work better.
As the funnel narrows, your lead need more specific information to better understand your product. They'll look at whitepapers, guides, webinars, and case studies. Regardless where they are in your funnel, your leads must remain engaged, interested, and make their way down, toward a deal close.
Digitizing the Sales Funnel and Sales Pipeline
Marketing and sales should work together in creating a long-term sales funnel for B2B duty. Sometimes, that is much easier said than done. However, technology provides the tools to break down barriers between marketing and sales, eliminate information silos, improve communication, and make everyone job's easier. More importantly, it allows brands to offer customers the frictionless purchasing experience they want.
1. CRM. A good Customer Relationship Management software package (CRM) allows you to effectively manage leads, opportunities, and customers. After all, customers are your company's most asset. It only makes sense to leverage the technology available to build and strengthen customer relationships. A CRM helps both marketing and sales team get off on the right foot at the very beginning of the relationship.
Once you initially capture a lead, it can be segmented and qualified. Leads can be automatically assigned to a sales rep and then every interaction tracked. You can even keep up with when emails are opened. With a CRM, technological change management, sales operations, and every member of the sales team will know where leads are in the funnel and in the pipeline. And once the deal is closed, your customer service reps will have a 360° view of the client to build post-sale relationships.
2. eCommerce Platform. The right B2B eCommerce platform helps your sales team engage more accounts and close more deals. Since B2B transactions are often the same order placed at regular intervals, an eCommerce website with quick re-order forms gives existing customers the self-serve model they want. In fact, Gartner's research finds that B2B buyers increasingly spend more time acting independently and less time (only 17%) meeting with potential suppliers.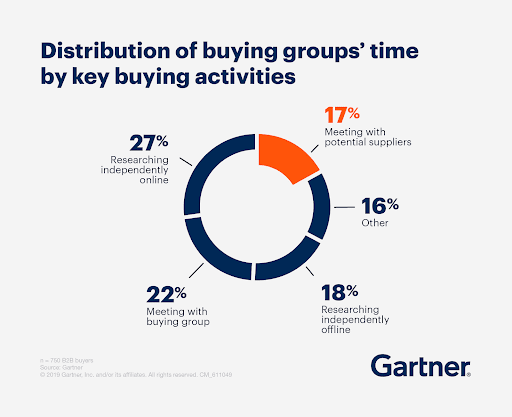 When your eCommerce site has the content your B2B customers need, they connect on their terms. This 24/7 virtual sales force frees your human sales force to focus on closing more deals with new customers and strengthening relationships with existing customers. 
3. Marketing Automation. One of the greatest digital tools for building a B2B sales pipeline and filling the B2B sales funnel is automated marketing.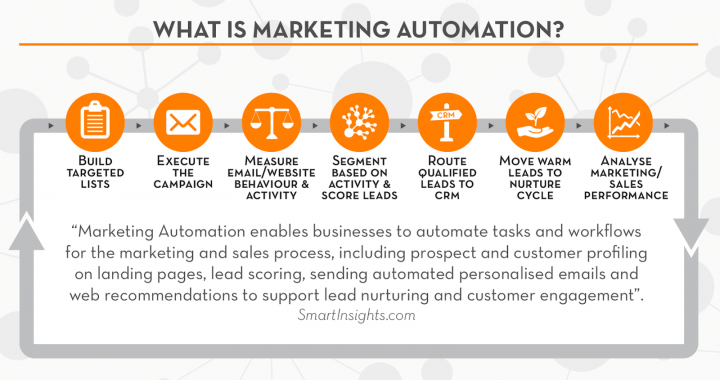 With automation you can build a relationship over time at the buyer's pace. From trigger-based delivery of marketing materials to a ChatBot, automation is making it easier to personalize the marketing experience. And according to Epsilon Marketing research, personalization leads to 80% more conversions for B2C and B2B companies alike.
Future Proof Your B2B Sales Funnel and Pipeline
Are you looking for tactics, effective B2B sales strategies, and solutions to fuel growth today and in the future? The Oro suite of products – from the most flexible CRM platform to digital commerce and marketplace management systems will help you overcome the many challenges of digitizing your pipeline.
Empower your B2B customers with the help of technology
Discover real-life case studies from leading distribution brands.