Originally published June 27, 2019, updated March 25, 2022
Sales have always been the lifeblood of any business and a difficult thing to get right. With eCommerce sweeping across all major industries today, B2B sales strategies have to adapt to new realities. Sales teams will have to reinvent their roles by focusing on relationship-building activities while letting technology like self-service supplement offline sales strategies.
What is B2B Sales Strategy?
A typical sales strategy for B2B business outlines the detailed steps companies take to position and sell products or services to targeted customers. While every B2B purchase process is different, some sales strategies can be universally applied to any sales scenario. Effective B2B sales strategies communicate how a product or service delivers better value to the customer than those offered by their competitors.
Why Do You Need to Implement a Sales Strategy for Your B2B Business?
B2B buyers continue to rely on many traditional sales strategies, which are slow to change. But their preferences, behaviors, and expectations are changing rapidly. 
One transformative change is in the way customers discover the best product and the best seller. One popular study suggests that the typical B2B buyer is already 57% through the purchase process before reaching out to sales. 
B2B buyers are getting increasingly accustomed to researching products and vendors online before contacting their top picks for more information. Our recent B2B Buyer Survey supports this claim, with 64% of respondents saying they prefer digital purchasing channels over traditional ones.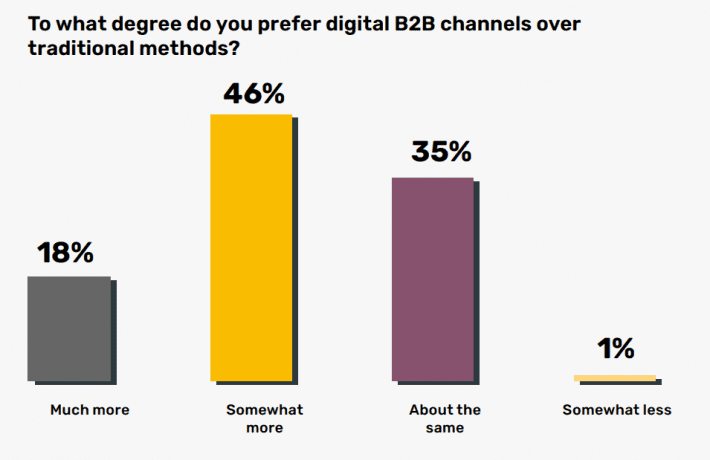 Changes in B2B buying habits and expectations have resulted in them valuing experiences over products and solutions. Today's B2B customers seek experiences that deliver:
Personalization

: Corporate buyers expect companies to understand them, anticipate their needs, and make relevant suggestions. They want to be presented with information and pitches that incorporate feedback and iterate as their needs change. 

Speed:

Business buyers navigate complex policies, various stakeholders, and budgeting and procurement processes. They expect sales managers to remove friction by enabling their self-education journeys through relevant and easy-to-access online content. They want simpler B2B transactions and faster ordering through eCommerce with a single point of contact when they need human interaction.

Outcomes

: Buyers want to feel secure about their buying decision and see the value the solution creates each step of the way. As a result, sellers must help their buyers create and deliver end-user experiences that drive adoption and value. This means assisting in change management and staying engaged with customers well beyond the sale.
Most B2B organizations are not positioned today to compete on experience. They need to embrace experience-based B2B sales strategies and tactics to increase sales and secure their market share. 
7 B2B Sales Strategies You Should Try
The following B2B sales tips and tactics will complement your B2B sales strategy framework. They will help your company successfully target a modern B2B buyer at different touchpoints and build a consistent experience modern buyers expect.
1. Teaching First, Then Selling
Creating the right content for the buyer's research phase is one of the most effective B2B sales strategies in the age of online sales. In one B2B survey, when asked why buyers selected the winning vendor over others, 75% of buyers said the winning vendor's content had a significant impact on their buying decision.
Obviously, content development usually falls onto marketing's plate but here's where alignment between marketing and sales is crucial. The sales team is generally well aware of the most burning problems clients face and the answers they seek. Usually, by having a greater reach and higher visibility on social networks, salespeople can utilize their social channels to distribute their own content and conduct webinars prepared together with the marketing team.
As a result, the new business strategy for online customer engagement is actually not selling but teaching and helping companies do well with or without your products and services. Make your sales representatives not only your brand's spokespeople – elevate them to industry thought leaders and reputable business trainers on social networks.
2. Your Brand's Omniсhannel Presence 
Marketing is the new sales when it comes to influencing online decision-makers and promoting your eCommerce webstore. While preparing the right content should be strategy #1, businesses should also take a look into getting that content in front of the right audience at different touchpoints. Another B2B content preferences study indicates that 47% of buyers viewed three to five pieces of content before engaging with sales managers.
In practice, this means that your customer's educational journey starts somewhere with a Google search where they land on some article on your website and then consume premium content like whitepapers, blog posts, landing pages, etc. Your potential customer may also check out your product options and social media channels or attend a webinar to see if your product can solve their problem at hand or bring desired ROI.
B2B deals may take some time to complete after your initial contact, so you need to be attuned to B2B buyer journeys and engage with customers at the right touchpoints. The best way to do this is to offer valuable content with actionable, practical guidelines on how they can improve their business performance whether that's through email newsletters, social media updates, webinars, whitepapers, video tutorials, etc. This also includes showcasing your own company's growth and your client's success stories.
3. Key Account Management
Customer retention rate is the ultimate health check for any B2B company. Research data shows that increasing customer retention rates by 5% increases profits by 25% to 95% and these numbers are much larger for key strategic accounts. The 20% of your customers who account for 80% of sales should be the focus of your sales activities to maximize the effectiveness and potential of your sales force.
As one of the best B2B sales strategies, key account management works well with account-based marketing. When used in tandem, they can improve and expand relationships with your key accounts. 
To get started with key account management, try offering loyalty programs and running mutual marketing campaigns. This strategy is the most appropriate when there is a high degree of trust between the two parties, so establishing transparency and proactive support are a must.
As a part of this strategy, you can also utilize strategic selling where you look for any opportunities to take up even low-margin projects with your key account to show a sign of good faith.
Key account management may be challenging to implement because it involves so many aspects of customer relationships management. Having an advanced CRM system can alleviate many issues and dramatically improve visibility into your company's key accounts for the management board.
4. Personalized Customer Experience
To stand out in the age of digital commerce, your best bet is to offer a personalized customer experience, both online and offline. When you provide purpose-built content that speaks about your customer's unique problems, you are winning their attention and getting a chance to explain your vision for their success. This genuine customer-focused attitude is what B2B customers are looking for in their long-term partners.
In much the same way, personalized customer experience refers to offering flexible prices, unique loyalty programs, individual customizations, and willingness to go the extra mile for your customer's success. This is where strategies and practices borrowed from omnichannel retailing can be particularly handy.
When it comes to B2B eCommerce technology, delivering this personalized buying experience online translates into better engagement with your platform and less work for your support team.
5. Self-Service B2B eCommerce
It is time to enable your B2B customers to make purchases online via a self-service B2B portal that corresponds with the needs of modern-day buyers. We regularly shop online and, naturally, we'd like to have a similar experience as purchasing managers. According to Statista, the global B2B eCommerce market is over 5 times that of the B2C market. This is no man's land where any company can break fresh ground and outpace the competition.
However, successful B2B eCommerce businesses go further than merely getting their products and services online. Sales teams must focus on adoption and sell the online buying experience as a part of your value proposition.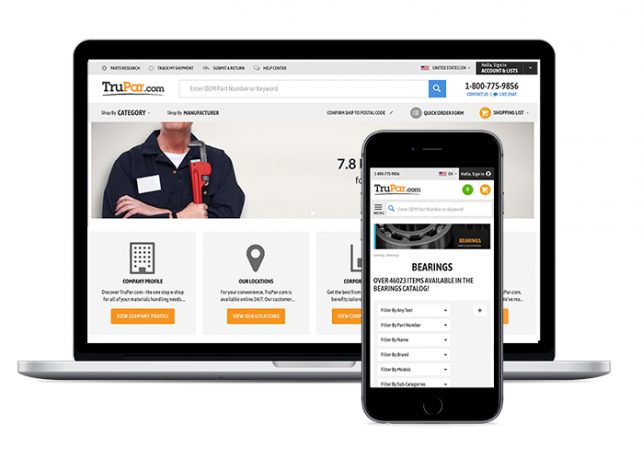 An example of a B2B self-service customer portal 
A self-service B2B eCommerce portal provides numerous advantages to buyers, such as shopping at their own time and pace, automating reordering, submitting RFQs/RFPs online, managing buying roles within their organizations, and many more. Offering these advantages and educating your customers on how to best use the B2B eCommerce features will be a major selling point in the age of eCommerce.
6. Improving the Seller Experience
Delivering better customer experiences is crucial, but it's only one part of the equation. Another part is improving the human experience for sellers in addition to buyers. 
B2B sales are plagued with disparate tools, unintegrated data sets, and unintuitive user experiences. 
Companies should make it easier for sales reps to navigate complicated buying processes and enable them to sell more effectively. To do so, they need to reduce the administrative burden and optimize various bottlenecks in the selling process. 
Sales automation can be one solution. By automating manual back-office tasks such as preparing quotes and collecting data, your team will have more time to win more customers. 
For example, at Dunlop, a manufacturer of protective footwear, two full-time employees were manually assisting with customer orders, answering questions about order statuses and the availability of products. 
After adopting an eCommerce solution, Dunlop was able to automate order placement and tracking. The impact was powerful: automation allowed Dunlop to repurpose the employees, creating more time to build stronger customer relationships. 
Digitizing manual processes also makes it easier to integrate data across digital sales tools, creating the foundation for quality customer and sales analytics. This brings us to the next important strategy to consider. 
7. Customer and Sales Analytics
Data and insights are critical for better decision-making and dynamic engagement with customers. Customers are more informed than ever before and expect sales reps to be on the same page and personalize offerings for them. One in five consumers will pay a 20 percent premium for personalized services, and this trend is gaining traction in B2B.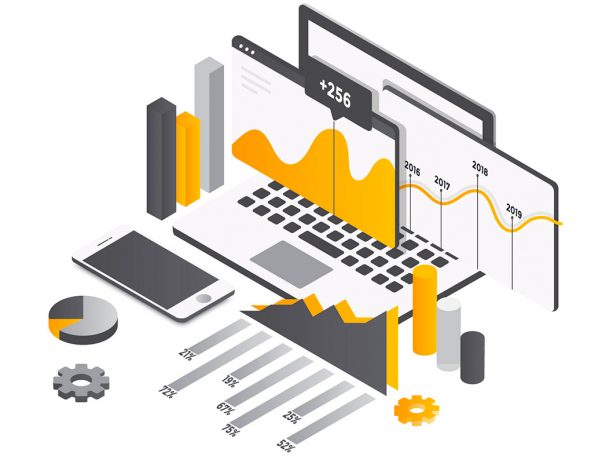 What types of customer data can be helpful in the sales process? Website analytics is a good starting point. With a CRM system integrated with your website, the sales team can identify when someone engages with your company. AI powered eCommerce can be another source of customer data that your team can use when engaging with customers.
Having this visibility provides insights into the customer's preferences as well as potentially where the customer is in the sales funnel. If a customer is visiting your pricing page, it's a strong signal of intent to buy, so you may rank this lead higher than, for example, someone who just visited a blog page. Being armed with the data like that gives you more context to get off on the right foot with the customer. 
How OroCommerce Supports a B2B Sales Strategy
Successful sales strategies help the sales team create valuable customer experiences. To do so efficiently, companies need a strong technology stack supporting the online sales evolution. 
OroCommerce, the B2B-first eCommerce platform, has been designed to help sales teams create superior customer journeys while effectively managing their own sales operations. With OroCommerce you can: 
Let your website do the selling with self-serve portals while your sales team does the closing. 

Better engage with your customers using insights from a fully integrated B2B CRM system. 

Digitize the routine, including RFQs and order management, enabling your team to focus on value-add tasks.

Make use of key account management by offering personalized discounts and promotions. 
A Personal Touch to Your B2B Sales Strategies
As a bottom line, modern B2B sales strategies are all about mastering a personalized approach to your potential buyers, both offline and online. 
Make the customer-focused approach your new mentality to win their attention. Don't pitch your services until you've helped them make sense of that marketing and technology noise they are struggling with. Educate them on how they can get things done effectively – even if you have to leave your products and services out! And if they finally decide to select you, make it a remarkable and personalized experience that's built to last.
Frequently Asked Questions
What is the best B2B sales strategy?
There is no one-size-fits-all business-to-business sales strategy. B2B companies must deploy a combination of tactics and techniques to build relationships and boost the sales pipeline. A strong focus should be on: 
educating potential customers, not pitching; 

personalizing interactions and offers;

shortening sales cycles by providing easy purchasing e.g., through a self-service portal.
What are some B2B sales strategy examples?
The consultative selling approach is a great example of a sales strategy for B2B sales. With consultative selling, you give your prospects confidence in your expertise on the problem they're looking to solve.
Here are three tips on positioning yourself as an expert:
Collect evidence:

Show prospects how you've solved their problem in the past using a customer case study, or third-party stats and data.

Create content:

Become a content creator on LinkedIn, participate in webinars, and post on your company blog to address the common challenges of your customer base.

Deal with criticism head-on: Instead of hiding from criticism, tackle it head-on – on social, podcasts, or in blog comments.
How do you approach a B2B customer?
Business sales differ from consumer sales. Before you approach a B2B customer, you need to do thorough research. First, check their website to determine whether they fall within your customer segment and buyer personas. Investigate the company's pain points and goals. 
Website and Google search can even provide you with a rough idea of your prospect's budget. This will help you prepare a plan for how you can display your product in a way that solves your customers' needs. But before committing to a presentation, make sure you're dealing with a person authorized to make buying decisions.
After thorough research, it's time to engage with your sales target. In B2B sales, prioritize a consultative approach to selling. Listen for opportunities to understand, teach and support the buyer. By building consultative, personal relationships you'll turn more of your sales opportunities into closed deals.