The construction and building industry is facing strong headwinds as we look past 2022 and into 2023. Everyone is more price-conscious than ever; supply chains continue to be tight, and productivity gains are minuscule or non-existent.
Overall input costs for construction increased by 4.9%. Companies are increasingly turning to construction equipment rentals over purchases to make the most of their budgets. Grand View Research estimates 2022-2023 CAGR growth at 3.1%.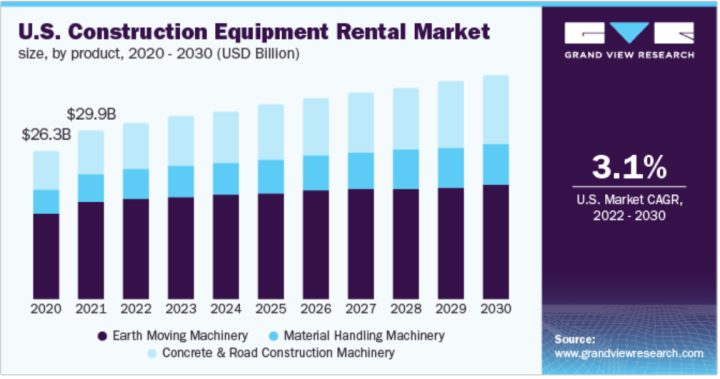 Construction managers, architects, and B2B construction industry buyers are all looking for ways to increase their efficiency.
Whether you are in the construction industry or sell to construction businesses and manufacturers, B2B eCommerce with the right construction B2B eCommerce software future-proofs your business, automates workflows, and can even be a marketing engine to increase your sales revenue and market presence.
But not all construction B2B eCommerce platforms are created equal. Many are nothing more than repurposed B2C solutions, and you'll want to steer clear of those. This article will show you how eCommerce can help companies in the construction and construction-adjacent spaces and how to pick the solution right for your business. You'll even see real-life examples of how companies are using eCommerce every day in the construction business.
How Can eCommerce Fuel Growth in a Construction Business?
If you support construction companies with building materials or equipment or are engaged in construction, eCommerce provides a way to connect with B2B buyers, strengthen customer relationships, add new sales channels, and improve operations. It's a critical part of any digital transformation.
eCommerce for Building Materials
Construction companies increasingly rely on technology to hold down costs. Technology can be found in everything from building design to project scheduling, and materials purchasing too. It permeates every project.
Armed with a flexible building materials B2B eCommerce solution, building suppliers speed the ordering process for their customers, provide B2B supply chain insights, and even simplify project management.
Construction material eCommerce should be more than just adding a Click to Buy button to your website. Your eCommerce store should be a tool for your customers. Provide a way for buyers to find your products based on vertical, building type, or specific product requirements.
This flexibility allows a contractor to shop in different ways depending on their project needs. The easier you make it to navigate your website and find the needed products, the more likely buyers will complete their purchase. Multiple shopping list functionality allows buyers to manage purchases for more than one project at a time.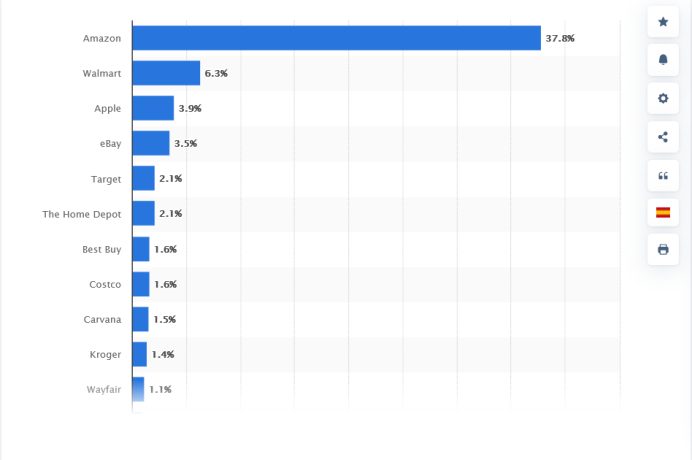 Don't think your customers want to buy online? Think again. Home Depot launched its online channel in 2000. In 2021, their global sales topped $151 billion, and they tied Target as the nation's 5th largest online seller.
In 2017, privately held 84 Lumber began a major digitization project that automated purchasing for customers and improved inventory management. In 2020, the company set a record for sales – $4 billion. Today, builders and can log into their accounts, make purchases, get statements and invoices, and even make payments.
eCommerce for Construction Equipment Sales & Rental
According to Brad Coverdale, VP of Fleet and Product Support for Sunbelt Rentals, "Contractors, construction managers, and others are increasingly turning to equipment rental for an ever-improving and reliable alternative to ownership." According to EquipmentWorld magazine, rising interest rates exert positive pressure on equipment rentals. In addition, as construction equipment becomes more advanced, it also becomes more expensive. It's all good news for companies that offer equipment rentals to the construction industry.
Like B2B buyers in other industries, project managers and foremen turn to the internet to start their search for products and services. Make sure they find your website.
A construction B2B eCommerce platform allows prospective renters to learn about the equipment you offer, equipment availability, and prices on a daily or weekly basis. If, like most heavy equipment rental companies, you operate multiple locations, your eCommerce solution must give consumers insight into what is available at each location. This requires a B2B eCommerce solution for the construction industry with multi-warehouse capabilities.
While many companies may list equipment online, few allow you to reserve and pay for your equipment. By offering full online functionality, your company will stand out head and shoulders above the competitors.
Must-Have Features in a Construction B2B eCommerce Platform
Each construction company has unique needs that must be filled by the construction B2B eCommerce platform chosen. That being said, there are certain feature sets that any B2B eCommerce platform for the construction industry must offer.
To begin with, the platform should be built specifically with the unique needs of B2B businesses in mind. It should not be a B2C platform modified or repurposed in an attempt to make it a B2B platform.
This means it includes features such as customer corporate hierarchy management so customers can set their own approval levels and define their own user controls and access. B2B transactions often depend on multiple decision-makers and customer accounts that incorporate the user's hierarchy make the approval process easier.
Because B2B prices are often negotiated, the eCommerce platform must have the ability to handle price lists as granularly as possible. Even down to customized price lists for each customer. It should incorporate customizable price calculations based on predefined conditions to automate the RFQ process and personalize prices on the fly.
The best building materials and equipment rentals B2B ecommerce platforms easily accommodate multiple warehouses and locations. And the ability to localize language, currency, pricing, delivery, and other variables is essential.
Digitization in construction is all about gaining productivity where possible. Your construction B2B eCommerce software should give you the freedom to create an unlimited number of customizable workflows on the buyer and seller side. From onboarding processes to checkout workflows, you need the ability to change the workflow to suit your business and not change your business to conform to the software.
Download the free RFP template
Know what questions to ask your shortlisted vendors.
Comparing B2B eCommerce Platforms for the Construction Industry
Gartner classifies B2B eCommerce platform companies using their Magic Quadrant and Critical Capabilities reports.
Companies like Oro are classified as visionaries for their ability to innovate, recognize where a market is headed, and bring a fresh perspective to an established market. Leaders like Salesforce have established companies that execute well against their current vision for today.
When comparing B2B eCommerce or B2B marketplace platforms for the construction industry, you must consider more than just the core features. You should consider your eCommerce in relationship to your other business solutions, how much customization is necessary, how many deployment options you have, the support offered, and whether the code is open or proprietary.
Integration
Consider how easily your eCommerce platform will integrate with your ERP, WMS, and other business solutions. Look for an open API that allows you to seamlessly connect your eCommerce to other third-party software.
Flexibility
The ideal solution comes out of the box with at least 80% of the features you need to execute your eCommerce MVP. This allows you to validate and iterate quickly and get to market without extensive investment in development.
Along with a comprehensive set of features that will support any business model you can imagine; you want ease of customization.
Deployment Options
Many software providers offer Cloud-only solutions. In this instance, you'll never own your webstore or have full control over your data. If your company prefers to self-host on-premises or use a private Cloud, make sure you have the ability to deploy when and where you want. Ideally, a solution should move from on-premises to Cloud-based and back again with ease.
Support
Some companies charge for support. Find out what level of support is available during development and once your website is live. Also, compare costs for support.
Approach to Code
Like other business software, B2B eCommerce platforms for the construction industry can be built on open-source or proprietary code.
With open-source code, there are no secrets. In addition to vendor support, there's a community of users and developers that constantly improve the product. You can tap into the community for problem-solving, add-ons, extensions, and advice.
Proprietary code is held in private and not disclosed. Only the vendor has access. This can make integrations difficult and may pose security problems. If there is a bug, you are reliant on the vendor for a fix.
B2B eCommerce Functionality Comparison Table
When you compare OroCommerce to other B2B eCommerce solutions available, you'll find a rich feature set, open-source code, a large ecosystem, and the flexibility you need to create the B2B eCommerce experience you want to offer.
The best B2B eCommerce platforms comparison table
See how the top platforms stack up.
Oro In Action: Construction B2B eCommerce Platform Case Studies
What do a building materials company, a supplier of commercial HVAC equipment, and a heavy equipment rental company have in common?
They've all deployed OroCommerce as their B2B eCommerce platform to grow their construction-industry businesses.
Improving the Customer Experience with eCommerce
BME Group is a leading distributor of building materials in 7 countries. BME France needed a way to bring their Raboni and Busca building materials subsidiaries online. They needed to improve their sales process as well as improve the customer experience by offering product availability, prices, and requests for quotes online.
After industry research, BME France opted for OroCommerce as the best building materials B2B eCommerce platform, offering a wide range of native B2B features and the ability to customize the solution.
Now customers can see personalized price lists online, find out what materials are in stock, keep up with multiple projects through individual shopping lists, and gain access to in-depth and reliable product information.
Busca and Raboni have two very different and unique websites to serve their markets, but they are both managed from a single backend.
Read the entire success story.
Upgrading Digital Performance
France Air is a major distributor of air conditioning, ventilation, heating, and hot water systems for commercial and residential properties. They had an online presence. But their Magento-based website was out-of-date and buggy. They needed a mobile-friendly solution that could support their plans for growth.
France Air carefully considered its options and selected OroCommerce to be its modern B2B eCommerce solution. OroCommerce offers a mobile-first experience and could easily scale with the company in the future.
Customers now enjoy a frictionless shopping experience where they view custom catalogs and price lists, take advantage of quick order forms, and can pick from multiple delivery options 24 hours a day. France Air is no longer shackled by outdated technology and continues to be a leader in its industry.
Read the entire success story.
Real-Time Equipment Rentals Goes On-Line
HKL Baumaschinen is a Hamburg-based heavy construction equipment and machinery rental company. With 150 branches, keeping up with equipment inventory and rentals at each location wasn't easy. The closes to digitalization the company had achieved was an online customer inquiry form that would be followed up with a call by a sales rep. They needed a digital transformation.
OroCommerce provided the flexibility to meet their needs for a B2B rental eCommerce platform as well as meeting their B2C needs too.
With eCommerce as a tool, rental planners now act as customer advisors. Inquiries are processed more efficiently, and customers have access to product manuals. Searching the site for the right equipment is easier and mandatory and optional accessories populate where appropriate.
Future-Proofing Your Business with the Best Construction B2B eCommerce Platform
The right construction B2B eCommerce platform will enable your company to grow, scale, and enter new markets and verticals.
When you work with Oro, we are with you every step of the way. From the initial consultation, where you share your goals, to scoping the project, selecting partners, developing, and implementing the solution; Oro is more than a vendor. We are a partner invested in your success.
See first hand how we can help you improve your business
Test out the features that matter to you in an interactive demo.