Today, we're excited to announce the Microsoft 365 extension, which brings Outlook emails, Calendar events, and tasks right into Oro's suite of products. This means it's accessible in OroCRM, OroCommere, and OroMarketplace.
For Community users, the Outlook integration comes included with Oro, which means no installation is required. Enterprise Edition users get a more advanced Microsoft 365 extension that synchronizes Outlook data with Oro applications. You can find it in the Oro extension store.
What Is the Microsoft 365 Extension?
Sales professionals around the world use Microsoft Outlook's email, calendar, and task management applications with their CRM systems.
Yet, many businesses still use their CRM and Outlook as disconnected tools, switching applications, double-checking emails, coordinating calendar events, or logging tasks. Sales staff lose tons of precious time and effort on these manual activities when they could be building relationships with their contacts.
For OroCommerce and OroMarketplace customers using the OroCRM bundle, the Microsoft 365 extension takes your Outlook data and brings it into OroCRM. You can see your customers' communication, interact with them, and much more without leaving your CRM interface.
How Does the Microsoft 365 Extension Work?
The extension enables a customizable, one-way, or two-way sync of your Microsoft 365 contacts, their company, role, emails, and communication history. 
Your calendar events, including meetings, appointments, as well as tasks, are also synced, allowing you to stay up-to-date, leaving you with more time to focus on your customers.
Plus, the extension works on your desktop and your mobile devices. 
Why Get the Microsoft 365 Extension for OroCRM?
Most sales professionals live out of Outlook. They are overwhelmed with switching applications, the countless emails and the never-ending follow-ups they have to do.
With your Outlook emails, events, and tasks in one place, you can deliver a better experience to your contacts. You'll be more informed when connecting with your prospects and existing customers, be able to interact with them on a genuine level, and grow relationships with them.
You can engage with your OroCRM contacts without leaving your Outlook inbox, as all your email data and messages will be synced with OroCRM automatically.

You can communicate with contacts in OroCRM without the need to switch between OroCRM and Outlook or juggle different devices.

You can easily extract important information from emails, including business and social media data, and use them in OroCRM to enrich communication.

You can schedule meetings more confidently, as your Outlook calendar information remains in one place. Less back-and-forth means fewer missed appointments and rescheduling to make up lost time.

You have a central view of your Outlook tasks through the OroCRM dashboard, so you can stay up to date, work more effectively, and boost productivity.
Email Sync
By turning on Email sync in OroCRM, you can get to your Outlook emails by going to My Emails in OroCRM. The email sync will automatically match your emails with the right lead, account, or contact, depending on who it's tied to. That enables you to email clients from within OroCRM and view emails threads in customer profiles.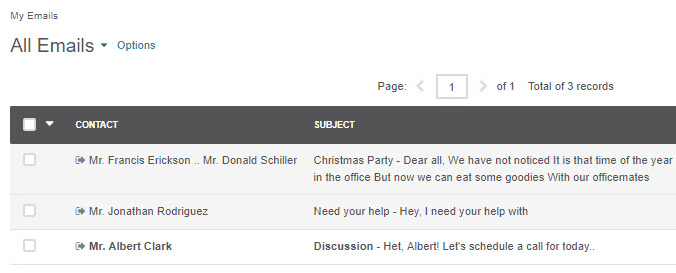 Calendar Sync
In order to stay productive, you must know how to manage your time well. Calendar sync gets your Outlook calendar events, including meetings, appointments, and tasks right into OroCRM. With two-way sync, changing an event in one place changes it everywhere.

Tasks Sync
Being on top of your tasks is essential in sales. That's why with Tasks sync, your Outlook tasks, along with your calendar, show up in your dashboard and customer profiles under Activities.

How to Get Started with Oro Microsoft 365 Integration
Now that you are familiar with what the Microsoft 365 extension can do for you, there's one question left to answer. How will you use your newfound saved time?
Features like single-sign-on (SSO), Azure Active Directory support, and more come included with the extension for Enterprise Edition.
You can download the Microsoft 365 extension in the Oro extension store.