As we grew Oro's product offerings and capabilities, we learned that success is built on relationships. We also learned that people are a major competitive advantage of any business, so we focus on solutions that empower people to build valuable, long-term relationships.
We take the same approach to building great B2B software. We are proud of every product and solution coming out of our partner ecosystem and even more proud of everyone who makes it possible.
Oro's solution partners are the driving force behind our products. They build powerful, tailored solutions that exceed our clients' expectations. We lean on their guidance for innovation, expertise, and best-in-class solutions to challenging problems.
That is why we are announcing the Oro Brilliance Awards series, designed to celebrate our solution partners' accomplishments. We want to recognize great companies and teams that do exceptional work, and give credit to those who have demonstrated standout leadership and growth in their line of business.
The Oro Brilliance Awards Are Here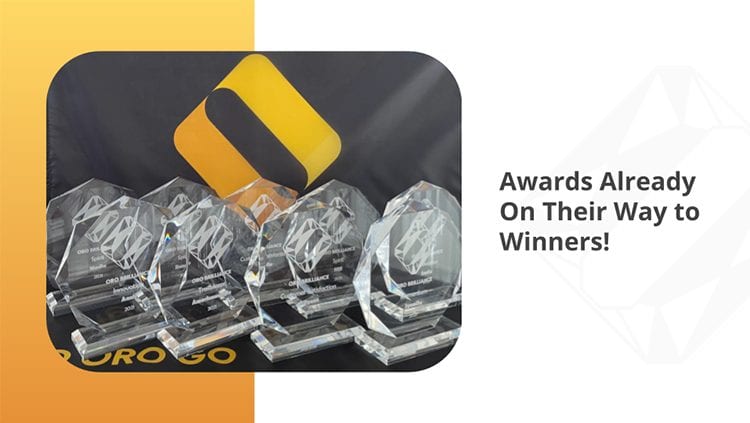 As much as we'd love to meet and grant our partners their awards in person, we can't do that this year. However, that won't stop us from recognizing and celebrating their excellent work. 
In our virtual ceremony yesterday, we went over all the award categories and announced this year's winners.
Please join us in congratulating the winners in the following categories:
Innovation
Congratulations to Aaxis and Smile for winning this year's Innovation award.
The Innovation award is given to partners with some of the most ambitious implementations. We recognize developers who provide innovative, elaborate integrations to challenging customer requirements.
Aaxis successfully delivered a complex project for SupplyCore, a distributor for the US military, governments, and civilians. Aaxis creatively accommodated SupplyCore's numerous processes around requesting, sourcing, approvals, routing, and much more.
Smile demonstrated outstanding leadership and technical ability when working with Azelis, a global chemicals distributor. They implemented solutions that support various roles, complex integrations, centralized ordering, and more.
Momentum
Congratulations to Synolia for taking home the Momentum award.
The Momentum award is presented to partners who drive the biggest number of opportunities to Oro products. We recognize those who distinguish themselves in selling the benefits of our solutions within their networks.
Synolia has been with Oro from its early days, showing consistent momentum in growing engagement and customer conversions. We thank them for their dedication and hard work in building and sustaining their customer relationships. 
Spirit
Congratulations to Niji, Madia, and Razoyo for winning the Spirit award.
The Spirit award recognizes partners active in spreading the word about Oro and collaborating with us in their markets and geographic locales. It recognizes those who significantly contributed to growing Oro's community.
Niji contributed significantly to Oro's new business. They helped facilitate customer opportunities and relationships that lead to community growth, satisfaction, and greater investment in Oro products.
Madia consistently embraced Oro's approach with an unparalleled dedication to community improvement. They launched many successful projects and have even more planned in their target market.
Razoyo went out of their way to promote Oro's vision, products, and services. We thank them for their relentless efforts to build customer relationships and grow our community. 
Customer Satisfaction
Congratulations to Synolia and Aligent Consulting for the Customer Satisfaction award.
The Customer Satisfaction award recognizes partners who go above and beyond to delight customers, from overseeing a smooth implementation process to offering exceptional customer service to satisfying their clients' stated and implied needs.
Synolia goes the extra mile for the customer, ensuring that they get the most out of their Oro investments. Synolia shows high levels of customer focus and commitment to customer excellence.
Aligent Consulting truly understands the B2B customer. They place customer satisfaction at the heart of everything they do, and distinguish themselves with a high level of customer service.
Trailblazer
Congratulations to Americaneagle.com for being this year's Trailblazer.
The Trailblazer award acknowledges new partners who demonstrate rapid growth in their regions. These partners quickly move up the ranks and show consistent improvement across all areas, from the number of opportunities, projects, to quality of implementation.
Americaneagle.com is this year's fast-rising star. They were instrumental in growing Oro's presence in their business areas and regions. A big thanks from us for setting yourselves apart in the competitive eCommerce space!
Thank You to the Winners of 2021 Oro Brilliance Awards!
Another huge round of applause to our winners!
We thank all our partners for rising against the many difficulties of 2020, and congratulate our winners for truly exceptional work this year. We hope to introduce even more winners and meet all of you in person for next year's Oro Brilliance Awards.