For many years, chemical manufacturers and distributors enjoyed a relatively stable industry and only limited disruptions. Today, they face post-COVID-19 economic challenges, increased competition, and an industry-wide push for sustainability and digitalization
According to the German Chemical Industry Association (VCI), the industry is gradually changing from a supplier of materials to a provider of solutions and services. A recent survey by EY suggests that digitalization and marketing automation in chemicals is accelerating. They find over 90% of executives in the chemicals industry expect digitalization to result in evolutionary, revolutionary, or disruptive change.
As leaders in the chemical industry digitalize business processes, marketing operations, customer relationship management, and commerce, they see digital transformation and B2B chemical marketing as more than a means to improve efficiency or customer experience. They see digitalization as a catalyst for innovation and value creation.
Azelis, a leading distributor in specialty chemicals and food ingredients, focused its digital marketing efforts on building ecosystems that strengthen relationships between customers, technical sales, labs, and suppliers.
Digitalization and chemical industrial marketing empowers Azelis to better understand market trends, ensuring its product portfolio and solutions focus remain customer-centric. Through the use of technology, they are enhancing their demand forecasting and optimizing complex supply chains.
Keep reading to discover how a well-executed digital strategy and chemical industry marketing can benefit all areas of the business ecosystem, including partners and customers.
Challenges Facing the Chemical Industry
The chemicals industry is highly diverse, with companies that vary in size, geographic reach, business model, and customer type. These businesses weren't as impacted by the global pandemic or the shift in product demands and customer behavior created by COVID-19.
However, chemical enterprises do feel pressure from greater competition, rising commodity prices, changing regulatory requirements, and the push for sustainability. These trends are driving the greater adoption of digital marketing strategies and eCommerce solutions and will continue to be a key investment driver in the years ahead.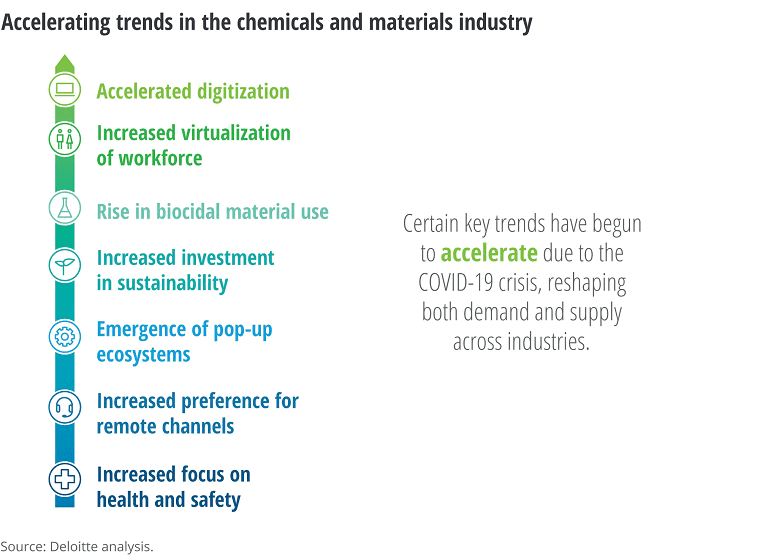 [Source]
Greater industry competition
A new, more competitive environment is taking shape in the chemical industry. The Asian chemical industry is expected to own two-thirds of the chemical sales market by 2030, driven by surges in automotive, construction, and pulp production.
The relative health and diversity of the US chemicals market mean that the industry will continue growing through the 2020s. Despite B2C and B2B supply chain shortages and higher commodity prices, high-demand markets in the food, healthcare, and electronics industries will also grow local demand for chemicals.
Rising costs and shortages
Raw material pricing fluctuations and material shortages disrupt entire sectors of the economy. According to a survey of 84 members of the National Association of Chemical Distributors, nearly 85% of distributors report at least one imported item as out-of-stock.
A sustained surge in natural gas or oil prices can trigger a supply-demand imbalance. Rising costs for semiconductors, plastics, and wood products threaten the revenue generation of manufacturers and distributors in the chemical industry.
Changing regulations and policies
Policy changes often create market turbulence and can also shift long-term customer preferences and demand. The Middle East and China are passing new petrochemicals legislation with the potential to disrupt supply chains. Continued US-China trade conflict can have unforeseen impacts on the US chemical sector, sales, exports, and overall industry profitability.
Demand for sustainability
Customers and company leaders share a heightened awareness of their roles in preserving the planet. According to the 2020 KPMG Eversheds Sutherland survey, there's an increased C-suite focus on climate change, with 75% already developing decarbonization and climate-related reporting strategies.
As customers become more outspoken and demand enterprises adopt sustainable practices and technologies, chemical leaders will increasingly be measured by their focus and contributions to environmental, social, and corporate governance initiatives.
Reduce risk and save costs with an MVP approach
Digital Innovation and Marketing in the Chemical Industry Address These Challenges
Chemical companies can address their challenges by digitalizing and analyzing data with tools like marketing automation solutions and eCommerce software for the chemical industry. These tools help achieve precise control over inventory, product, and customer data; they centralize data allowing for eCommerce automation of back-office processes; and digitalize data and processes, leading to better projections and quicker reactions to changes in market trends.
According to Deloitte, high-performing chemical companies that derive the most value out of innovation typically utilize digital technologies and chemical supplier marketing to create a better customer experience. Like most B2B buyers, chemical customers feel comfortable researching, comparing, and even purchasing products worth $50,000 or more entirely via digital platforms.
Digital marketing in the chemical industry
Another opportunity for chemical companies is to develop a marketing plan for their chemical business that supports modern B2B buyers.
A marketing strategy for the chemical industry should factor in:
Diversification of selling channels: try advertising and selling on a B2B marketplace or launching a self-service portal.
SEO: When it comes to performing research and obtaining solutions, Google is still the largest, most significant, and most competitive marketplace. Optimizing for Google search should be one of the priorities for chemical leaders who want to build brand authority and boost visibility of their website, products, and services.
Social media: create and maintain a regular presence on social with content that educates and engages your target audience (e.g., infographics, videos, posts that invite discussion)
Azelis: An Innovative Leader In the Chemicals Industry
Azelis is a specialty chemical and food ingredients distributor operating in 56 countries and serving over 45,000 business customers with annual sales of $2.62 billion.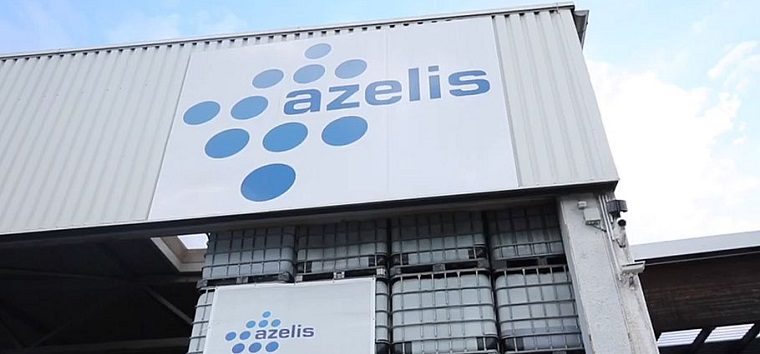 The company has an international reach and maintains a strong customer focus. Its goal of becoming a leader and go-to name in the chemicals industry was achieved through a customer-oriented digital strategy and tactics. This strategy creates unique business opportunities for suppliers and exceptional service to customers.
The Azelis growth efforts were focused on sustainability, innovation, digital marketing, and eCommerce.
Sustainability
Azelis has long been a pioneer in sustainability, including health and safety, the environment, and diversification. Azelis maintains an extensive corporate social responsibility program that shapes innovation, product offerings, procurement, and supply chains. Among its many initiatives, its Action 2025 sustainable strategy provides a roadmap to become the world-leading distributor of sustainable solutions and services.
Innovation
Azelis aims to enhance collaboration between suppliers, technical teams, and customers. This macro-ecosystem approach drives innovation, as it provides Azelis multiple data points to monitor markets, forecast demand, and react to trends.
Azelis doesn't just look to the future, they examine their current internal operations. The company seizes on opportunities to rethink operations, supply chains, and partner and customer relationships. This approach helped Azelis win more than 24 innovation awards in the past six years
Digitalization
Digitalization was a priority for Azelis well before the coronavirus outbreak. It's precisely what contributed to a smooth switch to remote operations and at-home working situations that didn't disrupt the quality of service to their partners and customers. Today, the focus on digital is only stronger.
Azelis focuses its digital efforts on growing relationships within its ecosystem and optimizing complex supply chains. This allows the company to better understand various market trends, keeping the product portfolio and solution focus customer-centric. In addition to that, the B2B-focused digital marketing strategy allows the chemical company to appeal to modern B2B clients.
Digitalization and marketing efforts also increase overall efficiency, says Heli Kilpala, Group Strategy and Digitalization Director at Azelis. "We see a twofold efficiency gain" with digital tools, both for employees and customers.
Kilpala credits digital tools like the ERP, CRM, MDM, and PIM eCommerce for enabling data centralization. Centralizing information around data governance and processes eliminates many duplicated efforts. The result is added freedom from routine tasks, more time for value-added activities, better focus on customers, and the agility to react to trends quickly.
Digital Marketing for Manufacturers and Distributors
Surviving a Pandemic With a Digital-First Marketing Strategy
Long before the pandemic, the chemical industry was inching towards online ordering at a glacial pace to supplement offline channels.
The impact of COVID-19 accelerated the development and adoption of digital marketing technologies. As lockdowns took hold, Azelis focused on strengthening relationships with principals and partners while maintaining a high level of communication with customers.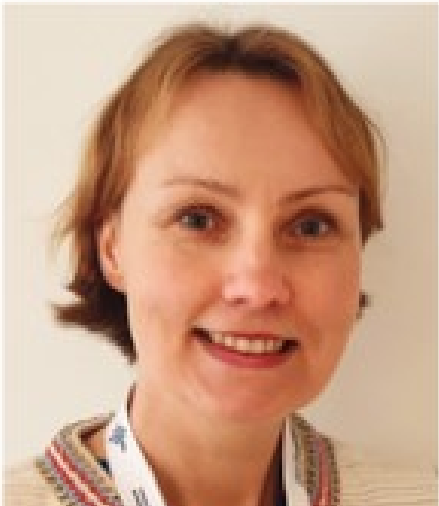 As we've all noticed over the last year, the digital and physical world is becoming more intertwined, with technology increasingly enabling and encouraging a greater level of communication with customers.
Heli Kilpala, Group Strategy and Digitalization Director at
Azelis
A digital-first approach meant that Azelis was well-equipped to pick up market activity, react to new customer needs, and plan production accordingly.
Azelis also took the opportunity to accelerate the deployment of digital platforms such as its e-Lab, a virtual collaboration center to optimize formulations, and a customer portal with both eCommerce capabilities, technical and informational insights.
Azelis e-Lab
If you want to better understand customer needs, make it easier for customers to communicate them. This is the idea behind the Azelis e-Lab.
The e-Lab digital formulation platform gives customers easier access to the vast array of innovative services offered by Azelis. The platform is location-specific and offers recommendations by the Azelis network of technical experts.
The portal also connects leading principals and partners in the industry, which use their collective resources and know-how to deliver the best solutions for customers. It's also a place where Azelis team members can engage with customers to solve and enhance formulation issues.
To ensure the successful development and to scale the rollout of e-Lab worldwide, Azelis looked to its Americas e-Lab implementation, which was the first digital formulation platform of its type.
Recently, the company launched its e-Lab for personal care, food, and health markets for customers around the world. Participating countries include the UK, Ireland, Indonesia, India, France, Austria, Germany, Switzerland, and Italy. The company is in the process of speeding up the implementation process and expects the platform to operate in more territories and market sectors.
Our digital transformation efforts allow our teams to provide instant recommendations starting from formulation to end products, resulting in more complete customer requests.
Understanding & Adapting to Modern B2B Buyer Expectations
We asked B2B buyers if their needs are being met. Here's what they said.
While the e-Lab enriches product capabilities and boosts innovation, it's the customer portal that delivers the core customer experience. The portal offers customers a central place to manage samples, formulations, purchases, and other content.
Azelis customer portal
Traditionally, chemical sales are an in-person activity. Azelis realized that moving some aspects online could improve the journey and experience for suppliers and customers. The process, however, wasn't easy.
Regulatory and compliance requirements vary between locations and chemical products. Chemical customers must do extensive research and collect documentation about their products, so the discovery process can be long.
Azelis utilized OroCommerce, a B2B eCommerce platform with implementation partner Smile, to develop and implement a robust customer portal. Azelis, Oro, and Smile worked together to craft the ideal sales experience and then turn it into reality.
Today, the customer portal is the central depository where customers can find high-quality technical information, products, formulation, and samples. The customer portal benefits allow Azelis to improve time to market by offering customers the most up-to-date information for their projects.
According to Kilpala, customers "understand the wider product catalog and services Azelis offers" and familiarize themselves with product technical data, requests samples, and quotes from a single platform.
Through self-service, customers research and self-educate from location-specific catalogs, complete with supplementary and regulatory information. After ordering, they can review recent purchases, track shipments, and reach out to live support when needed.
The result is an entirely new, enhanced commerce experience.
We are already seeing the benefits of this marketing and commerce initiative to both Azelis and our customers, including an improved sales process.
The first portal launched in July 2020 and experienced rapid internal and external adoption. Since then, Azelis has been accelerating new rollouts every month, with 38 portals currently in operation. The portals are proving their value as a trusted resource for customers  – whether they're looking for the latest market trends, researching product information, or checking their orders, they can do it all without leaving the customer portal.
Maximize Growth with the Marketing Strategy for the Chemical Industry
The chemical industry needs tools to face its market challenges. An innovative, digital-first strategy with a customer-centric marketing focus, enables chemical-sector companies like Azelis to dominate the specialty chemicals and food ingredients industry. Other companies are discovering digital commerce and marketing tools are key to resilience, customer success, and innovation.
Here are just a few broad benefits that chemical distributors experience with digitalization.
Improved agility
The pandemic shattered global supply chains, leading many manufacturers and distributors to think more locally. Companies in the chemical sector need the agility necessary to pivot to new, adjacent markets as they are identified. Sales & marketing, customer, and operations data inform insights into processes and production lines to identify where and when retooling future-proofs the company.
Increase efficiency
Today, everyone from startups to tech giants leverages digital tools to enhance decision-making, introduce new products, and reduce data silos. As competition increases, brands will be pushed to increase efficiencies wherever possible, reduce costs, and preserve value. Digital marketing tools automate processes, centralize data, and allow everyone to work more efficiently.
Enhanced customer experiences
In today's digitally connected world, chemical companies are no longer measured by their ability to launch new products. Instead, experience leaders enhance customer journeys not only by meeting the bare minimum regulatory requirements – like PCI DSS compliance. They enable greater transparency, shorter buyer cycles, logistics services, and other value-added products.
Before starting the conversation with your digital commerce vendor, understand how your digitalization strategy fits your organization and ecosystem and identify how improved processes will benefit your partners and customers. If you'd like to learn more about the B2B eCommerce software market, download Gartner's Critical Capabilities for B2B eCommerce 2022 report today.
How do top midmarket brands use technology?
Forrester shares real-life case studies from leading business sellers.
Questions and Answers about B2B Marketing in the Chemical Industry
What is marketing in the chemical industry?
Chemical industry marketing helps chemical brands position their products or services on the market and drive demand for them. Marketing, together with public relations, provides the startegies for growing brand awareness and brand loyalty.
How do you market in the chemical industry?
Marketing in the chemical industry follows much of the same strategies used in other sectors:
Doing customer research and creating the ideal customer profile (ICP)
Developing a website that supports the ICP's research and buying journey
Offering modern buying experiences, e.g. eCommerce
Investing in marketing content creation to continuously communicate and educate both potential and current clients
How can the chemical industry increase sales?
One way to increase sales is by trying new marketing strategies and business models, for example, participating in a marketplace.
Leading chemical producers, such as BASF, Wacker, Covestro, and others, have opened up flagship stores on Alibaba's 1688.com to generate additional business in China. Smaller marketplaces are rapidly expanding their portfolios, too, so it can be a great marketing opportunity for your business to explore.