Originally posted in German by Unit-M.
With nearly 1.4 billion residents, China is a very lucrative market. According to the Federal Statistical Office, China became Germany's largest trading partner for the second time in a row in 2017, having produced trade volume of over €186,6 billion. -. China is not only an importer, it's becoming a highly valuable buyer of German-manufactured goods. As Statista's graph shows, China is Germany's third most important exporter. However, in comparison to the USA or France, business relations with China are still not that common, especially with small and medium-sized businesses (SMEs). This post will provide you with information about the Chinese market, its eCommerce environment, and tips to operate a website successfully in this lucrative market.
Presenting China as a Market
56% of all Chinese are already internet users. The majority of the population speaks either Mandarin or Cantonese. The age distribution of the population is as follows: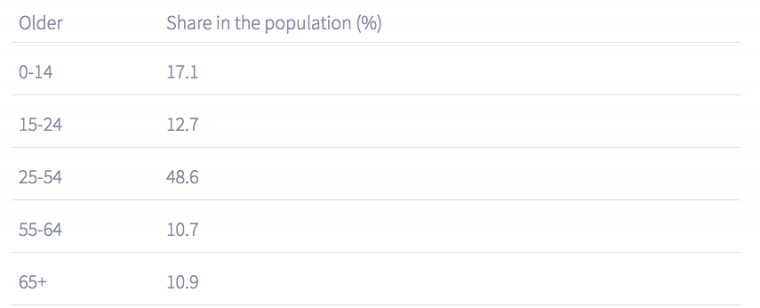 The ratio of women to men in terms of age distribution is practically even. The percentage of men is only slightly higher than that of women among 0-24-year-olds. The percentage of 25-54-year-olds is high, and this is the demographic of the typical eCommerce target audience.
Between 2012-2016, the official unemployment rate in China was around 4.6%.

The inflation rate was 2.0% in 2016. The Consumer Confidence Index has constantly grown since April 2016 and reached 99.81 in December 2016.

In 2017 the growth rate of online buyers was slightly higher than 10%. More than 500 million Chinese already use eCommerce.

The Chinese eCommerce market is expected to increase by 15% in the future.
(The most popular product categories sold online in China are:
Cosmetics (45.7%)

Baby products (39.3%)

Food supplements (38.6%)

Clothing and shoes (38%)

Digital products (30.6%)

Bags and suitcases (26.1%)

Sports and outdoor items (26%)

Electronic household appliances (24.4%)

Toys and gifts (23.1%)
In 2016, mobile payments were $790 billion. This is 11 times the volume in the US. This trend is on target to continue in 2018.
There are a total of 3 million individuals employed in China's eCommerce industry.
At the same time, the cross-border trade share keeps increasing. While the share was only 3.1% in 2015, it grew to 5.5% in 2017 and is anticipated to reach 7.0% this year. Guangdong, Shanghai, and Beijing are the most active regions.

The Chinese particularly like to buy online on special shopping days like Black Friday and Cyber Monday. They prefer overseas shopping to domestic due to the quality and brands available.
The major obstacles in the way of cross-border eCommerce trade are:
Branding

Fragmented channels
China's eCommerce Environment
For most Chinese, the main reason for shopping online is convenience (50%), followed by online payment security (38%).
Most Chinese eCommerce shoppers have a higher income than their local brick and mortar shopping neighbors. More than 22% earn over 8000 yuan, the equal of approximately €1000 at the end of 2017.
The most popular eCommerce product categories are lifestyle (66%) and fashion (61%), while premium products have less demand (only 14%).
Compared to the US, the Chinese market maintains a remarkably professional attitude.
In 2016, Alibaba Payment processed 120,000 transactions per second in China, while the leading US payment providers only completed 38,000 transactions per second. If you do business in China, you must be prepared for volume.
Discover what you can learn from the success of the Alibaba marketplace model.
Technical Tips for Online Sales in China
If you're looking to operate online in China, you'll need to be prepared to face  the following challenges:
Localization
Of course, you need to localize your site to accommodate the different languages and currencies but you need to make changes for culture as well. To Western eyes, Chinese websites look crowded, busy, and almost overwhelming.  They are heavy on information displayed. That's a key difference that requires close attention. The minimalist design concept that prevails in the West is not really tailored to the eCommerce audience in China. Chinese site visitors want extensive product information to form their opinion about your goods, while Western buyers are looking for unique selling propositions.
You'll also want to localize promotions. It pays to be aware of major holidays such as:
January: Chinese Lunar New Year

February: Chinese Lantern Festival

March 8: Chinese Qingming Festival

May 1: Labor Day

June: Chinese Dragon Boat Festival

August: Chinese Valentine's Day

September: Mid-Autumn festival

November: Single's Day

December 12: 'Double Twelve' sale
The Great Firewall
The Chinese government regularly monitors hundreds of thousands of domains to "protect" their citizens from "dodgy" content. Websites that fail the inspection may be blocked. Candidates for blocking are generally:
Pornographic

Gambling-related

Providers of religious, political and anti-government content

News sites and blogs
Even companies that do not fall into these categories should be cautious about commenting on Twitter or Facebook, as these social media channels are banned in China. Be sure your site is free of "ambiguous, misleading content" as these are exactly the significant cultural differences that can affect the way symbolic and figurative language are perceived.
Load Time
Everyone knows how important it is to load pages quickly. Ensuring fast loading times in China may require you to bypass the Great Firewall discussed above. There are infrastructure problems in the Chinese network as well. Many businesses attempt to resolve these issues by using host servers in Hong Kong. Although Hong Kong is technically part of China, it has special status and is located outside the Great Firewall. Unfortunately, hosting in mainland China only partially solves the load time issues as infrastructure problems continue to cause high lag times.
SEO and SEM
Search engines are as important in China as they are in the West. However, 70% of the Chinese population use inland search engine Baidu and not Google. When it comes to relevance assessment, Baidu works similar to Google, with a few remarkable differences. For example, Googlebots know exactly what is important information and where to find it. With Baidu, it's namely positioning that determines whether data will be indexed at all. That's why it's crucial to place all important information and keywords as high as possible on the website.
Content is still king in China. However, Chinese websites are much more multimedia content-intensive than these in the West, which complicates the matter. Chinese search engines still evaluate pages based on load time, so slow loading impacts site page indexation.

Mobile is a Must
Over 90% of all internet users in China go online from mobile devices. The move to mobile is happening even faster in Asia than in the West. While Western websites should be responsive and render well on a variety of devices, in China responsive design is not optional.
The mobile platform is the base in China. That's why the majority of Chinese websites are optimized specifically for mobile devices.
Chat is Another Must for B2B in China
While online chat features are not common in the German market, they are a must for the Chinese market, even B2B websites. That's because Chinese buyers are accustomed to negotiating while ordering, using a feature such as WeChat.
Consider regional differences
If you consider penetrating the Chinese market, think about how you'll deal with the country's different regions. Unlike the European Union, China does not have a common national market. Instead, it has a variety of interlocked, large regional markets.
License Requirements
A business may need up to four licenses to launch a site with commercial content in China. Let's take a closer look at each.
ICP license
The Internet Content Provider (ICP) license is obligatory for all commercial websites that accept payments. All websites that meet the criteria must display a license number in the bottom section. ICP licenses are issued and monitored by the Ministry of Industry and Information Technology (MIIT).

ICP Beian
This license is also issued by the MIIT. An ICP Beian license is required for all websites that distribute content through local Chinese IP addresses. Companies that fall into this category, should register their domain. Although ICP and ICP Beian are two completely different licenses, they are often confused because of similarity in the names. The ICP Beian number must also be provided at the bottom of the website.

PSP Beian
The PSP Beian is a document confirming the registration by the Public Security Bureau. This license is obligatory for all websites in China.
Industry-specific licenses
In addition, there are mandatory licenses for specific industries including:
Press and media

Education

Medicine

Pharmaceutical industry

Cultural sector
Sites without the proper licenses or those infringing on existing licenses will be censored. As a result, the domain is blocked and blacklisted. It is extremely difficult to unblock domains and remove them from the blacklist. So, it is highly recommended that companies quickly have all relevant licenses in place. Regulations are subject to change at any time and vary from province to province. It's important to constantly monitor the regulatory landscape to avoid penalties. Establishing a good relationship with the local authorities is essential.
The Bottomline
The Chinese market is very lucrative today and is likely to remain so in the future. The 13th five-year plan places great emphasis on the internet and eCommerce.  During that time, high-speed connections for fixed lines will reach 70% and 85% for mobile lines. The traditional openness of the Chinese to innovations will continue to result in fast adoption and establishment of new technologies.

The companies that will succeed at eCommerce in China, will successfully tap into the country's market potential while allowing for cultural differences.