OroCommerce is built from the ground up as an application tailored specifically for the needs and demands of B2B eCommerce. It accommodates a vast collection of features for streamlining business processes and workflows that are user-friendly for both the buyer and vendor. With the launch of OroCommerce coming soon, we're informing our community of the new capabilities implemented in the major product release. Following our post on the enhanced search functionality, in today's blog we'll highlight configurable products, one of the most important features that allows business owners to deliver their clients a better B2B eCommerce customer experience.
What are Configurable Products?
In the front-end, a configurable product appears as a product with multiple custom variations (e.g. size, color, material, and any other qualifier relating to the product). Business users choose from the options provided to 'configure' a product according to their needs.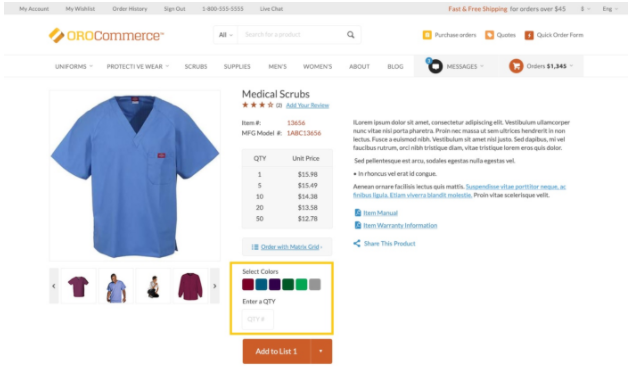 However, in the admin backend, configurable products are more sophisticated. A configurable product is known as a single parent product uniting multiple product variants. These product variants are assigned unique SKUs for easy inventory tracking, have their own inventory and price settings, and are generally treated as separate products in PIM eCommerce UIs.
Instead of presenting every single product variation as a separate product with its own page, you can use a configurable product. For example, if you're selling decoration items that come in 50 colors, 10 patterns, and 10 designs where every combination is actually a separate product, you don't have to display or create 5,000 different products. Instead, you create one configurable product to contain 3 respective product variations such as colours, patterns and designs, then associate your 50 color variations, 10 patterns, and 10 designs with the simple products that you have available. So in the front-end, your customers will only see one product which they can easily configure with all the variations the system automatically creates combining your back-end settings.
With OroCommerce, business customers can quickly and easily order a batch of goods that come in multiple variations straight from the Matrix Grid form without having to switch between different product indicators. The Matrix Grid that provides great visibility into product offerings not only saves time during the navigation process but also allows complex bulk orders to be created in just a few clicks.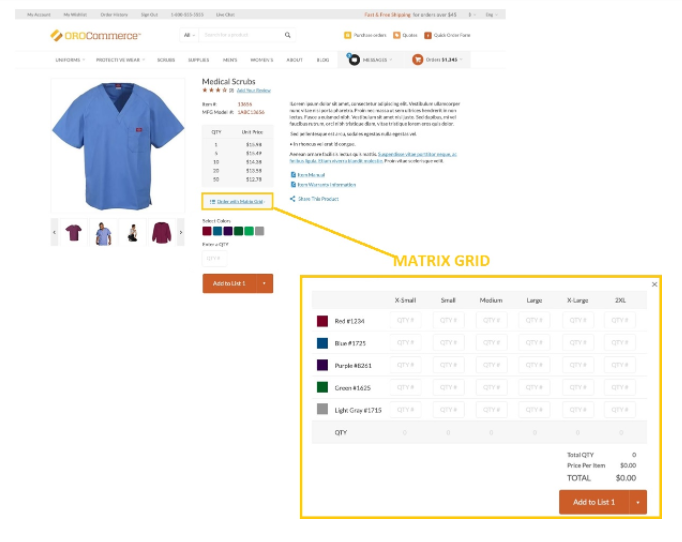 Giving your customers the ability to quickly select the right product variations ensures a rich customer experience for any buyer.
Benefits of Having Configurable Products in Your B2B Webshop
Despite the fact that configurable products require more SKUs and may initially be more time-consuming to set up, they provide long-term benefits for both B2B business owners and customers.
Here are some of the main benefits of using OroCommerce configurable products:
It's possible to quickly and easily create and process B2B orders in bulk.

It enables intuitive tiered pricing implementation and display.

It's possible to track the stock of goods for different item combinations in a configurable product, so if the B2B eCommerce store is running out of, let's say a "

traditional wood screws with head-bore size 11/32'',

that item variant will automatically be unavailable for buyers.

The product pages look neat and you don't have to clone them to place each simple product on the new page.

Business customers have all the possible product-related data right in front of them. This keeps them better engaged with your site and on the product they want to purchase.

Because configurable products naturally consist of separate simple products, each of these having a unique SKU assigned, these simple products can be indexed by search engines if a prospect looks for a particular product variation on the Web.

The back-end is better organized for your Catalog administrators.
OroCommerce configurable products, advanced search functionality and workflow management options are cornerstones of the OroCommerce solution designed for B2B eCommerce businesses. These features are included in the upcoming major release or OroCommerce we will announce soon. Stay tuned for more updates, as we are just getting started! OroCommerce still has dozens of invaluable features that will revolutionize the B2B eCommerce space.