Originally published March 24, 2020, updated June 3, 2020
Governmental authorities and policymakers are scrambling to contain the COVID-19 pandemic. With so much uncertainty about the spread of the disease, it's hard to predict the effects of COVID-19 on B2B commerce. Here's a look at the current state of the crisis and the measures to take in the short term as well as a look at how various industries are facing the challenge.
This post is a part of our COVID-19 series that includes:
June 11 updates:

Business Implications of COVID-19 Coronavirus
No one knows exactly how long the pandemic will last or how many lives will be lost. The SARS outbreak of 2003 was much smaller and it cost the global economy a whopping $40 billion and China several months of economic contraction. Since then, China's economic output has multiplied eightfold, from $1.7 trillion to nearly $14 trillion – and is tightly intertwined with the global economy. Here is the situation so far:
June 3 updates:
May 27 updates:
May 20 updates:
May 12 updates:
April 28 updates:
April 21 updates:
April 14 updates:
April 7 updates:
March 30 updates:
Bookmark this page and keep checking back for updates to this list.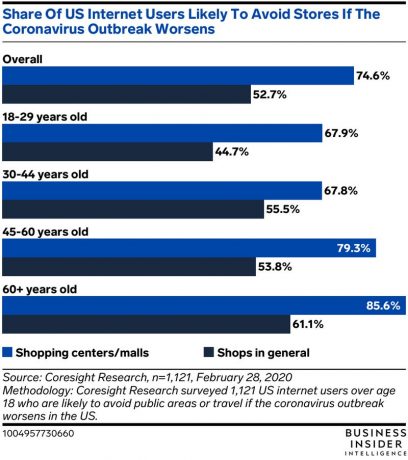 In response to social distancing, many businesses will make their eCommerce operations a key priority.
7 Ways to Respond to COVID-19 Effects on B2B Commerce
Virtually every company involved in global trade feels the impact. Businesses around the world are impacted by reductions in output, labor, and production disruptions. As B2B businesses are preparing for long-term effects of the crisis, they have many unanswered questions. Here is what you can do right now to mitigate the impact of coronavirus on your eCommerce business:
How Businesses Manage COVID-19 and B2B Commerce
While the coronavirus is affecting every business, manufacturer, distributor and retailer is responding differently. Regardless of their industry, B2B merchants are doing all they can to minimize losses during this difficult time. Here is how COVID-19 effects B2B commerce and how B2B web merchants are dealing with it.
Distributor anticipates slower sales
Customers of warehouse equipment retailer Warehouse1 are feeling the effects of the coronavirus on their business. Warehouse1's customers are manufacturers using lean principles associated with reduced waste and just-in-time (JIT) inventory. "When the global supply chain slows or shuts down for a period of time, they can't get the parts they need when they need them," says Gary Selvera, president. "So, they must also slow or shut down their operations."
Daren Froeschle, marketing manager agrees. "The impact will continue to hit U.S. manufacturers that depend on foreign parts that are incorporated into US finished products", he explains. In response, Warehouse1 diversified suppliers to increase stock to meet customer needs in the coming months.
Manufacturer grapples with uncertainty
English Blinds, a major shutters and blinds manufacturer, is experiencing difficulties in virtually all areas of operations. Public and policy responses to coronavirus also contribute to mounting worries surrounding logistics. Moss fears that as new cases are diagnosed, people will get taken out of the workforce – either due to being afflicted or as a preemptive measure. "We currently have a shipment from China in transit that may potentially arrive as planned…yet just as likely…it will be turned away or quarantined," says John Moss, CEO. "If we knew the shipment won't reach us," he continues, "we could be making plans with alternate suppliers right now; but we cannot hold double the quantities…due to lack of warehouse real estate."
"We are quite literally waiting for our ship to come in, or not come in, as the case may be!"
Other industries see record sales
It's not all doom and gloom for every business. Some industries have seen an increase in sales. As a reseller of electrolyte products, Powder Mix Direct has seen February's year over year sales up considerably, and March is off to a great start as well. "Typically, the bulk of our revenues come during summer from businesses that need to counter the effects of heat stress", explains Tom Matun, President. This time he's sure it's the pandemic. "We believe it's businesses and customers preparing for a coronavirus outbreak."
Most importantly, don't wait to act
Large organizations are rarely agile. Managers may resist changes, and this leads to inaction throughout the organization. "If anyone thinks they can wait on their eCommerce strategy, the coronavirus situation should spell out otherwise", says Yoav Kutner, CEO of OroCommerce. The B2B eCommerce environment is unpredictable and businesses cannot afford to miss out on increased sales wherever they can find them.
"One of our B2B OroCommerce customers had $1 million in online sales in 1 day – that's double their record, triple their average numbers."
Even if distribution centers are able to cope with strong demand, if inventory isn't digitized and synced with online customer portals, a business may oversell or miss a sales opportunity. "Right now, B2B needs all the help they can get," continues Yoav. "When demand is strong, customers count on B2B eCommerce platforms such as OroCommerce for accurate product data."
How will you manage the effects of COVID-19 on B2B commerce?
As everyone pulls through this difficult time, it's important to remember this is all temporary. The Oro team hopes you stay safe and healthy.
This post will be updated with more information as soon as it becomes available.