The core purpose of most business software is to help companies reach their goals, increase productivity, and improve the products and experiences they offer customers. In B2B selling, the processes can be complex, data-intensive, and error-prone. 
Today many companies still manage these processes with a combination of people and spreadsheets. As deal quantity and complexity increase, businesses miss their opportunities, underprice their offerings, and close deals slower.
Initially, configure, price, quote (CPQ) software was developed to aid in these processes. Now, B2B eCommerce platforms cover over 90% of CPQ functionality, blurring the lines between the two solutions. 
Are CPQ solutions necessary? In this post, we'll look at the digital CPQ process and its similarities with B2B eCommerce. We'll look at the approaches to digitizing CPQ processes and the functionalities you'll find in CPQ and B2B eCommerce solutions. Finally, we'll look at digital technology that includes the CPQ and B2B eCommerce functionality you need to maximize success in your selling environment.
The Challenging World of B2B Selling
In the early digital days, sales reps used product catalogs, pricing manuals, and spreadsheets to create their proposal for the sale of a million-dollar piece of machinery or 5,000 custom gaskets.  
B2B sales often require configuring multiple components, juggling dynamic prices, and getting approvals before releasing the quote. And with today's supply chain pressures and rapidly changing prices, it's not an ideal process for the seller or the buyer.
CPQ software promised to smooth the product configuration and quote generation processes and make automatic quoting more efficient.
What is CPQ, and How Does It Work?
CPQ for B2B eCommerce aimed to streamline the product configuration, pricing, and quoting processes. Configure price quote software helps brands effectively manage:
The product configuration and price negotiations processes.

Quote creation ensuring quotes meet customer-specific criteria.

The approvals and contract management process with streamlined and automated workflows.
Originally, CPQ applications were designed primarily for manufacturers and sellers of complex products that wanted to automate and streamline the capture and creation of complex orders. Today, these systems serve businesses in financial services, sciences, hospitality, telecom, and other sectors.
It's easy to confuse CPQ with the order management process or dynamic pricing optimization. Instead, the CPQ process optimizes the back-office process to speed up quote generation and order creation. As a rule of thumb, effective CPQ implementation involves integration with other systems such as ERP, CRM, and eCommerce in order to optimize sales, finance, and customer experience.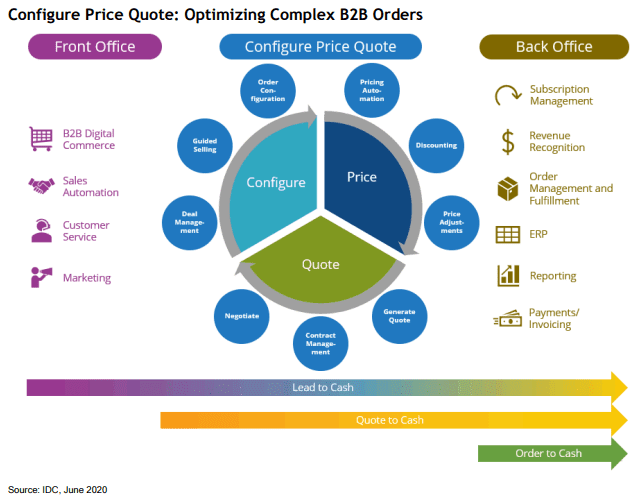 In other words, CPQ is just one component of the overall B2B eCommerce lead to cash process.
A CPQ system's primary goal is to help sales staff by reducing administrative tasks associated with managing complex B2B deals and offering a personalized customer experience. CPQ systems typically include the following capabilities:
A pricing engine, quoting system, and proposal generation

Contract approval and authorization workflows

Recommendation engine for upsells, cross-sells, and bundles

Intelligence for guided selling and analytics
With improved sales guidance, pricing accuracy, and proposal quality, CPQ software promises to improve sales opportunities, boost deal sizes, and increase the number of successful deals.
Modern purpose-built CPQ solutions include Zilliant, PriceFX, Salesforce, and Oracle. As more and more B2B buyers expect an end-to-end digital experience, the CPQ market increasingly expects capabilities that address digital commerce needs.
CPQ and B2B eCommerce: What They Have in Common
B2B sellers looking to increase sales and future-proof their businesses increasingly invest in digital technology. The past decade saw exponential growth in everything from order management systems, CPQ solutions, pricing optimization management solutions, and B2B eCommerce systems.
Initially, CPQ solutions were developed for manufacturers, distributors, institutions, and government markets because purpose-built B2B eCommerce platforms weren't available.  Industrial sellers used CPQ solutions to effectively manage customer orders and start to digitize a portion of the customer experience.  This approach allowed industrial sellers to improve the sales cycle and partially digitize the customer journey, but often involved complex integrations and workarounds.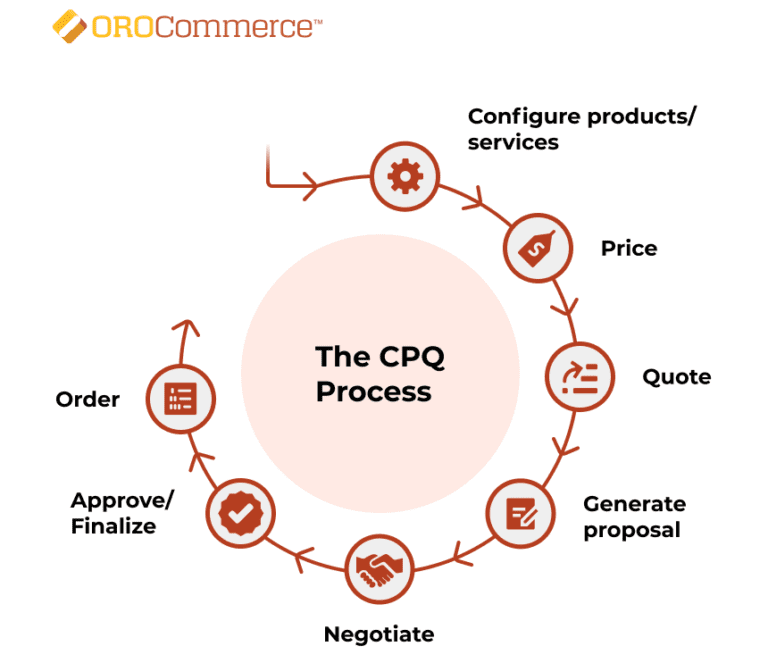 As more companies embraced digitization and customers demanded a completely digital experience, vendors stepped in with B2B eCommerce to meet their needs. These days, the lines between CPQ and B2B eCommerce technology are blurred.  CPQ and B2B eCommerce both offer configure, price, quote capabilities. Both technologies address these core functions, but B2B eCommerce offers additional functionality. 
Quote generation
Many CPQ systems promise automated quoting, leading to faster checkouts. However, quoting functionality, including quote approvals and revisions, are also must-have B2B eCommerce features. After being presented with a quote, customers can respond and resubmit quotes, which greatly reduces abandoned checkouts and purchases.
Contract management
For an easy contract negotiation experience, you must provide customers with timely information. Whether it's product information, prices, or documents, the process should be accurate, without errors, with ample flexibility for customers to respond to your requests. A purpose-built B2B eCommerce solution performs much of the same functions as CPQ systems by replacing outdated, manual processes with more efficient ones.
Complex products
Many B2B vendors sell complex products that are difficult to configure and customize for a diverse customer base. Sellers must offer a personalized ordering experience regardless of product complexity or risk losing customers to competitors. And, since B2B eCommerce platforms are focused on personalizing the customer experience, they have capabilities that support complex product configuration and matrix ordering.
Pricing tools
CPQ tools promise pricing management solutions to calculate value-based, cost-based, and other forms of pricing. Some of these systems can also manage promotions, upsell and cross-sell capabilities via algorithms. On the other hand, a B2B eCommerce platform will offer much of the same functionality, allowing B2B sellers to set their own pricing workflows, run promotions, and adjust their strategy based on projections and market changes.
Personalization
B2B customers vastly differ from their B2C counterparts, with unique pricing, approval, and ordering needs. Personalization is the name of the game, and both CPQ and B2B eCommerce solutions aim to address the needs of B2B customers. Both technologies allow sellers to segment customers and target them with unique catalogs, prices, and buying experiences.
Omnichannel
Some CPQ solutions promise an omnichannel pricing experience with customer-specific recommendations. However, B2B commerce solutions also operate as a single source of truth, consolidating data from separate channels. Both allow back-office staff to work from anywhere and customers to access the storefront and request, view, and respond to quotes from any device.
Integration
Both CPQ and B2B eCommerce solutions integrate with enterprise resource planning (ERP), product information management (PIM), and customer relationship management (CRM) systems. Integrated data provides information required to improve the customer experience, boost back-office productivity, and shorten the sales cycle.
Comparing the Features and Capabilities of CPQ and B2B eCommerce
Now that you understand the main functions of CPQ and eCommerce, let's take a look at some of their additional capabilities. Both CPQ and B2B eCommerce are heavily focused on eliminating manual work and increasing accuracy during product configuration, pricing, and quotation to accelerate sales.
| | | |
| --- | --- | --- |
| Feature | CPQ | B2B eCommerce |
| Product marketing | No | Yes |
| Deal management | Yes | Yes |
| Order configuration | Yes | Yes |
| Pricing configuration | Yes | Yes |
| Discounting and promotions | Yes | Yes |
| Quotation generation | Yes | Yes |
| Contract management | Yes | Yes |
| Order placement | No | Yes |
| Order fulfillment | No | Yes |
| Revenue collection | No | Yes |
As the table above demonstrates, CPQ tools cover only the beginning of the buying journey, while B2B eCommerce platforms cover the entire process from start to finish. Remember, not all CPQ and B2B eCommerce software are the same. The best solution is one that provides at least 80% of the functionality you need right out of the box.
Three Approaches to Digitizing CPQ Processes
For B2B sellers looking to digitize their processes, there are three avenues to explore: CPQ solutions, pricing and order optimization solutions, and comprehensive B2B eCommerce solutions. Here is a look at each approach. 
CPQ solutions
Some B2B brands consider CPQ solutions to streamline the sales process, eliminate quoting errors, optimize pricing, and maximize deal size. They may want deep cost and profitability insights and automated revenue processes. In this case, a purpose-built enterprise-grade CPQ system may fit the bill. 
Indeed, a CPQ solution is a good idea for large-scale enterprises looking to digitize quote management and pricing as well as their sales enablement tools. Modern CPQ solutions guide sales representatives to boost win rates and attain quota success for complex, one-off deals. 
Some CPQ solutions rely upon AI and ML pricing forecasts to generate quotes that maximize deal size and deal profitability.
Pricing and order optimization solutions
The idea behind price and order optimization tools is to deliver the most accurate and most precise prices to the customer while optimizing revenue on the deal. To do this, pricing solutions use AI and ML-based optimization, real-time technology, and cross-functional pricing visibility to generate prices along a wide spectrum of price points.
These tools solely focus on pricing, sales intelligence, analysis, and cross-sell/upsell recommendations. Due to technology overlap, pricing technology vendors may offer CPQ capabilities.
B2B eCommerce platforms
Successful large-scale businesses place the customer experience at the center of any digital transformation. To deliver, they must manage extensive and diverse product lists, operations that span multiple countries, and personalize to meet each customer's needs.
Sales representatives require accurate information during the sales cycle to eliminate quoting errors. To maximize their productivity, they need digital tools to manage prices, discounts, and contracts effectively.
Since B2B eCommerce software is designed to streamline not only the storefront but the back-office experience too, CPQ functionality may be included. Only a purpose-built B2B eCommerce solution will offer the necessary CPQ functionality including:
Centralized product and pricing information

Customer segmentation for personalization

Guided selling tools for sales representatives

Powerful pricing and contract automation engine

Automatic quote generation and approvals

Contracts and approvals management
Standalone CPQ and pricing solutions present several drawbacks. Investing in single-function software is costly, time-consuming, and risky. Since CPQ projects are narrowly focused and rely on external data, they are often expensive to implement and integrate with a typical B2B technology stack. While SaaS options address these challenges, they require multi-year commitments, vendor lock-in, and extended time to ROI. 
The Holy Grail: A B2B eCommerce Platform with CPQ Functionality
For manufacturers and distributors with complex products, services, pricing, and ordering processes, CPQ capabilities are essential. Most CPQ vendors promise to make complex product configuration, pricing, and quoting more manageable and predictable, leading to greater efficiency and sales.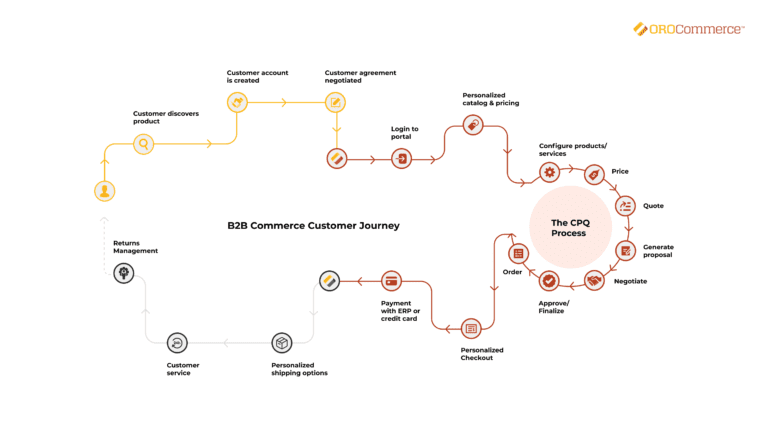 But a powerful B2B eCommerce solution will provide this functionality and much more. A B2B eCommerce solution that provides CPQ functionalities eliminates the need for a separate CPQ solution.
Sales representatives and partners work more efficiently and productively, reducing sales cycles, increasing order values, and encouraging repeat purchases. Since customers get personalized information, respond to quotes, and approve orders from their chosen channel, they experience more satisfaction.
A purpose-built B2B eCommerce platform with robust CPQ capabilities like OroCommerce manages the quoting process, connects business functions, and delivers customers a frictionless buying experience. OroCommerce handles more than the CPQ process while still delivering functionality similar to the leading CPQ solutions available.
Configuration management
The OroCommerce built-in matrix form accommodates multiple versions of one product, and buyers can configure multiple product variables before placing an order. Customers self-serve as they add desired products to a personalized shopping list that they can submit.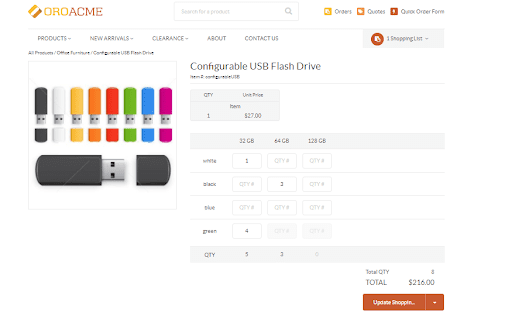 Pricing management
OroCommerce allows you to tailor pricing strategy to the needs of individual customers, customer groups, or business units. Personalize product catalogs, price lists, discounts, rebates, and incentives. An advanced pricing engine ensures customers get the right prices every time.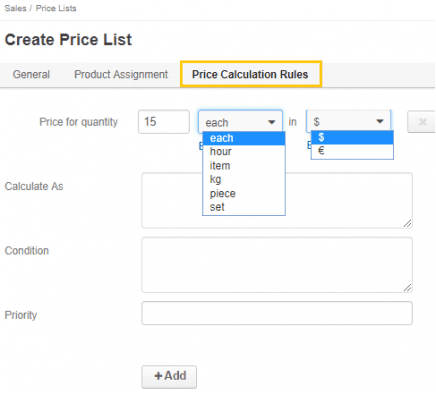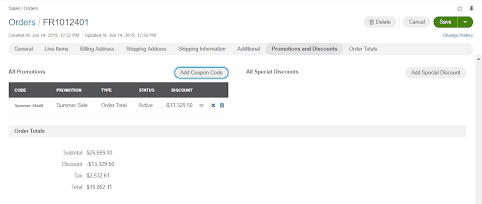 Quote management
OroCommerce makes submitting quotes, performing negotiations, exchanging documents, and coordinating the approval process easy. Powerful workflows eliminate manual processes and errors that lead you to inconsistent and erroneously-priced quotes.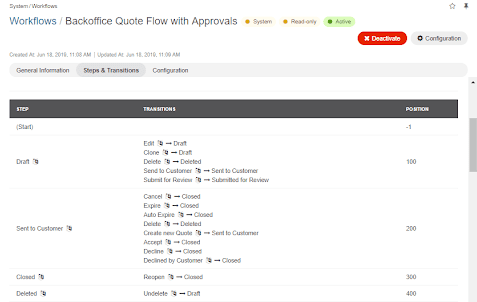 Make the Right CPQ Decision for Your B2B Business
When evaluating CPQ options, look past the software feature list. A  purpose-built B2B eCommerce solution should include the CPQ capabilities you need. And if you require a standalone CPQ solution, make sure your B2B eCommerce platform offers easy integration as well as the flexibility to meet all your eCommerce needs. 
OroCommerce was built from the ground up for B2B businesses. It includes extensive CPQ capabilities and supports the larger quote-to-cash process right out of the box. The enterprise-grade open-source architecture makes Oro solutions the ideal foundation for growing and established brands. 
Questions and Answers
CPQ or Configure Price Quote is the process of managing highly configurable products, preparing prices, and managing quotes. Most CPQ software promises to shorten the sales cycle and provide customers with accurate prices and quotes according to their needs. Today's advanced B2B eCommerce solutions can offer many CPQ capabilities previously reserved for standalone CPQ software.
How can CPQ help in eCommerce?
CPQ capabilities reduce the time it takes to generate orders, leading to increased sales, greater order values, and repeat purchases. For manufacturers, distributors, and B2B retailers with complex products and sales processes, CPQ capabilities are crucial for offering customer-centric experiences and standing out from competitors.
Can B2B eCommerce platforms improve the CPQ process?
When shopping around for B2B eCommerce platforms with CPQ capabilities, here are some things to keep in mind:
Seamless integration. Your platform must integrate with the CRM, ERP, and accounting systems. With more customer data sources to draw from, you can boost productivity and increase customer satisfaction.

Flexibility. Your platform should be flexible enough to scale with your business and give you ample control of the internal workings of the software.

Strong workflow capabilities. Look for a platform that can adapt as processes change, including how products get configured, priced, and quoted.

Omnichannel support. Both back-office staff and customers utilize CPQ on the go, so selecting a portable system with mobile support is key.