Congratulations! You've decided to smooth your configure, price, and quote processes to get everyone working more efficiently. Like with all big changes in an organization, there are bound to be a few hiccups along the way. Implementing configure, price, and quote (CPQ) software is no different. It helps to identify challenges and possible problems in advance and have a game plan for solving them.
Because the configure, price, and quote processes are only part of the sales cycle – implementing CPQ solutions creates some unique challenges.
We've put together the most common CPQ challenges, and some ideas for solving them. Keep reading to learn more. In addition, you'll find insights from those who have already successfully faced CPQ issues.
How Can CPQ Solutions Help Your Sales to Grow
If you sell complex products, configuring and pricing proposals is time-consuming. There's a limit to how many quotes sales reps can complete in a day. Even basic digitizing with spreadsheets doesn't add much efficiency. Sure, it's better than nothing, but not by much.
Without a boost from technology, a manual CPQ process hinders your sales staff and limits how many deals they can handle. It's certainly not the ecosystem for scaling your sales.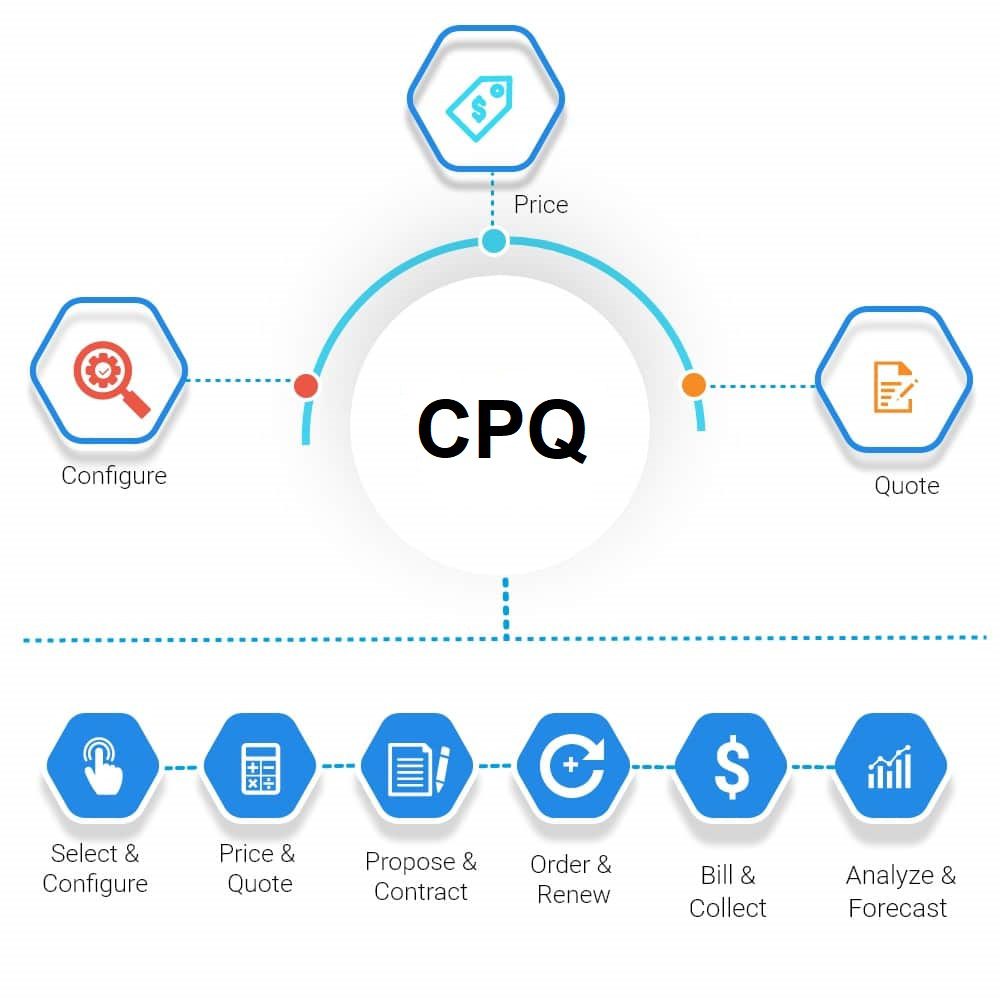 Successful CPQ implementation offers tools for more efficient configuring and pricing and ensures that your proposals are accurate. It eliminates human error and allows teams from all departments to collaborate to get approvals and create drawings and documents.
Maximize opportunities
CPQ software can help you increase average order value to get the most from every opportunity. By automating the cross-sell and upsell functions, your sales reps don't need to memorize additional products, features, or accessories.
Reduce errors
When it comes to configuring and bundling complex products, human errors happen. But with advanced logic and a robust pricing engine, each product is configured properly to meet customer needs and priced properly to meet sales and profit targets. Dynamic pricing ensures proper raw material costs are used and pricing algorithms ensure every component is priced based on the most current price list.
Automate workflows
If preparing a quote requires input from engineering, production, legal, and finance in addition to sales manager approval, keeping quotes on track is a challenge in itself. By automating workflows, each quote moves through the process to get every input and approval before the documents are created. And when it comes time to submit an approved quote, the CPQ solution can take care of that for you too.
Offer self-serve opportunities
Modern B2B buyers want a self-serve experience, even when buying complex items. By digitizing the guided selling process, prospects can begin selecting and configuring their products before being handed off to sales for finalizing the quote. This reduces friction and increases the customer experience.
5 Typical CPQ Implementation Challenges Waiting for You
The CPQ implementation process isn't without its own set of challenges. It requires careful testing to make sure even the most complex products are configured and priced accordingly. As the implementation progresses, end users train and usually discover bugs.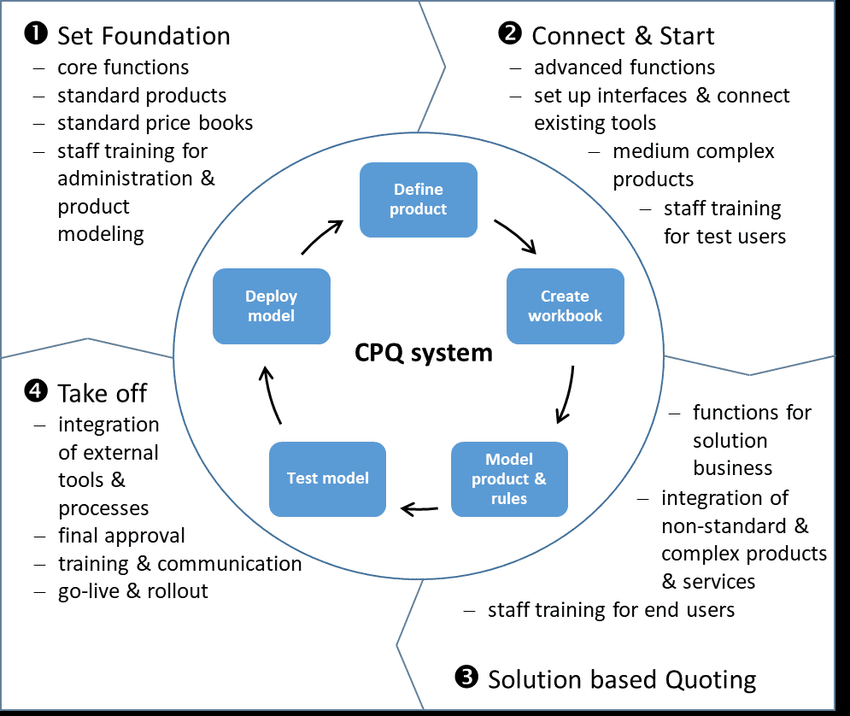 CPQ is a complex process with a distinguished set of challenges
The most common CPQ implementation problems involve data and people.
Inaccurate data
Price lists may be old, or data isn't updating automatically. The product configuration options and prices must be kept up-to-date at all times if quotes are to be accurate. And quote accuracy is a selling point of digitized CPQ processes. If product and price data reside in the ERP, it must flow to the CPQ application. Make eliminating data silos a goal.
Problems with integration
To keep data accurate, applications must integrate. Challenges with integration can present a major roadblock to your CPQ implementation success. CPQ applications must integrate with the CRM and ERP are they aren't very effective tools. You may also need CAD and 3PL integration for drawings and freight prices.
As part of the CPQ product selection, make the ability of the solution to integrate with your applications a priority. You may find that open-source code will present the fewest integration challenges.
Failing to manage change
Failure to plan and execute a change management strategy can sabotage any technology project. Poor planning and lack of commitment are challenges you may face. Roll out your CPQ implementation incrementally and get sales and other teams ready for the roll-out. Internal cheerleaders for the project must be identified and cultivated. As you roll out in multiple releases, iterate and correct bugs before adding more functionality.
Download the Essential Guide to Technology Change Management
Ignoring the whole product
The products you sell are likely much more than simply the product components. Every quote may include elements such as service or parts commitments or prices or even financing arrangements. Remember to include these product elements when designing your CPQ implementation product. If engineering and production must sign off on product configuration and price, make sure they are included in the automated workflows upfront and not as an afterthought.
Failing to trust the software
Too many sales teams are suspicious of automated CPQ. They cling to their price lists and spreadsheets, determined to double-check the work of the CPQ application. This destroys the efficiency potential created by the CPQ. Once you validate the product implementation if you aren't willing to let the application automate 80% of your CPQ process and approve your deals you are wasting time and financial resources.
How to Solve CPQ Implementation Challenges With OroCommerce: Our Advice
Over the last 10 years, Oro has assisted many companies to incorporate CPQ functionality into their tech stack using the power of OroCommerce. Here is what we've learned along the way.
Use the MVP approach
Taking an MVP approach not only assists with change management challenges but also allows you to validate the viability of the new functionality with the minimum commitment of resources. You may identify one sector or client segment or one product or product group for your CPQ MVP. Once you have feedback and iterate, you can roll out to more segments or products. Not only do you reduce the resistance to change, but you also get feedback from internal stakeholders and potential customers.
Avoid stand-alone solutions
Solutions like PandaDoc help manage creating the documents and tracking the approval signatures, and Conga CPQ handles the configuring and pricing but needs to rely on Salesforce or another CRM for customer information. These are examples of stand-alone solutions. They only handle a portion of the process and can result in scalability challenges in the long term.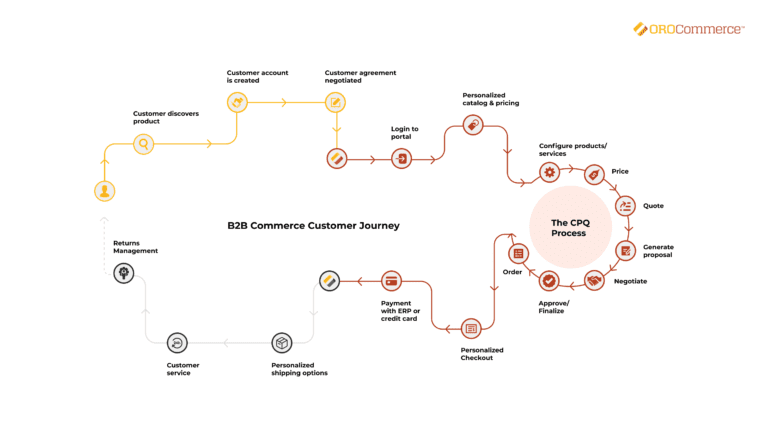 The CPQ functionality as a part of the holistic B2B eCommerce solution by OroCommerce
Stand-alone solutions are expensive for the time they take to implement and integrate. A better approach is to digitize the CPQ process with an application that also provides other functionality you need. For a frictionless customer experience, consider an eCommerce platform that offers CPQ functionality. To get an idea of what is available, check out the best B2B eCommerce platforms overview.
Integrate everywhere!
Whether data synchronizes in real-time or in batches, data must synchronize across all your systems. The CRM, ERP, CPQ, and eCommerce must seamlessly integrate to eliminate data silos and keep all data up-to-date and secure. If your product quotations include drawings, make sure your CPQ solution integrates with your CAD software to attach drawings to the final quote.
Select a solution with out-of-the-box functionality
No solution is ever 100% perfect because every company uses unique processes and workflows. To avoid customization and scalability challenges, look for the solution that offers the most functionality you need right out of the box and is easily customizable.
Solve CPQ Challenges with the Right Approach
Sales teams need support creating profitable and accurate quotes to open the negotiation process. Manual workflows for configuring, pricing, and quoting complex products is a time-consuming task that is prone to errors.
Digitizing the CPQ process using CPQ technology reduces the amount of time required to prepare a quote and improves the accuracy of pricing.
You don't need to buy a stand-alone CPQ solution if your B2B eCommerce platform is like OroCommerce, and offers this CPQ functionality out of the box.
Talk to OroCommerce About
Your CPQ Needs Today
FAQ: CPQ Technologies and CPQ Issues
CPQ stands for Configure, Price, Quote referring to the process of configuring products, pricing them appropriately, and providing a quote for sale. Preparing a quotation for the sale of complex products is time-consuming. B2B sellers increasingly rely on CPQ software to speed the process and reduce the number of errors made.
What are the key challenges while selecting a CPQ platform?
Your CPQ platform must be more than a one-trick pony. So, look for software solutions that will solve several of your quoting and sales challenges, not just preparing quotes. For example, OroCommerce B2B eCommerce platform offers CPQ functionality, quote-to-cash functionality, CRM, and full eCommerce capabilities in one product.
Since data must be pulled from several places during the CPQ process, your CPQ platform must integrate with existing systems as well.
What is CPQ implementation?
CPQ implementation refers to the process of automating and digitizing your CPQ processes with software. Implementation begins with scoping the project, identifying the MVP, researching vendors, selecting a CPQ product, modifying the software to integrate with your existing system, testing, and then using the software in real-time.