This post has been contributed by OBS Global
How we treat customers has a significant impact on their perception of us.  85% of business buyers say that their experience with a company matters as much as its products or services.  37% of B2B buyers have reported errors with online orders at least weekly, compared with just 28% experiencing weekly mistakes the year previously. 
Leveraging digital technology to build customer relationships isn't optional anymore.  To foster long-term customer loyalty and generate a competitive advantage, B2B companies must take a fresh look at customer engagement and leverage technology and business processes to improve the experience. 
How do customers interact with your company today?  How do they want to interact in the future?  Focusing on these two points, B2B businesses can sketch out how to get to an even more customer-centric company and give a boost to B2B customer retention.
This post discusses how to develop a business strategy focused on adopting Customer Experience (CX) and what that strategy might include for your B2B company.
What is a CX Vision?
For the purposes of this post, we will define strategy as a series of steps to achieve a future vision. 
A vision is what the business intends to accomplish in the future.
Goals are the milestones that you track toward achieving that vision.
A roadmap outlines and prioritizes the specific initiatives the business should execute to achieve its future vision and capture realized value.
Companies use their vision statement to drive related goals and initiatives required to achieve this future state.
Similarly, a CX Vision captures a customer-centric approach's impact on a company.  It brings together culture, capabilities, and agility that generates customer, business, and stakeholder value once the vision is achieved.  The diagram below describes a potential future state that a customer-centric B2B strategy could create: 
Customer's wellbeing is #1; employee empowerment is inseparably related 

Customer experiences are aligned across all the departments

Customer experience progressively takes hold as a permanent part of the culture 

Realization of achievement heightens business, customer, and stakeholder value 
The specific items may look different for each organization, but their essence will remain similar.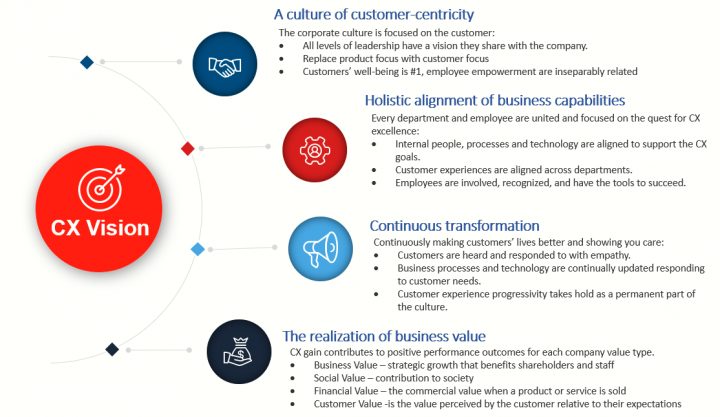 Proceeding without a CX vision is like going on a trip and not knowing what the destination is.  Time, effort, and cost will be spent, and you may end up at an undesirable destination.
Learn more about customer experience in manufacturing in our guide
What are the Goals of a B2B CX Strategy?
Visibility into your progress towards achieving your vision is crucial.  Goals are the milestones that allow you to track progress and validate that the vision has become a reality.  For example, here is a sample of CX goals a B2B company could establish for themselves in the following diagram.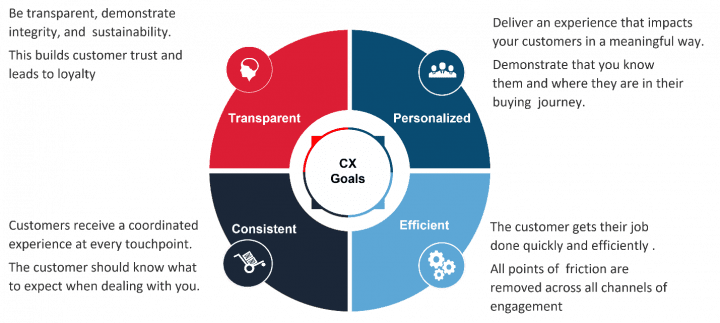 The achievement of CX goals is reflected back to the customer during their interactions with your company; in other words, your customer often doesn't know your goals, but they experience them as they interact with you.  For example, a B2B company might aim to be efficient in their interactions with the customer by streamlining business processes through technology.  For example, the customer will experience efficiency when the wholesale distributor automates the customer's eCommerce quote approval workflow by converting it to an order in one seamless, easy step.  
Set motivating goals 
The goals important to your organization need to have value in achieving them.  Therefore, ensure the goals align with the vision statements and the initiatives to achieve them.  Seeing progress will demonstrate success and motivate the company to continue the CX improvements.
Measurable outcomes
Goals must be tied to measurable outcomes to track your progress.  Outcomes are specific, measurable statements that tell you when you have reached your goals.  In addition, outcome statements measure the changes in your company you expect to occur because of executing your strategy.
Measurable outcomes help separate reality from rhetoric.
Create clear goals and associated outcomes 
For goals and their outcomes to be powerful, they should be designed to be SMART, which is a commonly used guide to help with goal setting:
Specific –

clear and well defined

Measurable –

include precise amounts, dates, and so so you can measure your degree of success

Attainable – m

ake sure that it's possible to achieve the goals you set

Relevant –

should be relevant to the direction you want your company to take

Time Bound – achieving

your goals must have a deadline
You may already have a plethora of data in your various enterprise systems, such as an ERP, eCommerce, CRM, surveys and focus group results.  One option is to consolidate your data into a central repository (data warehouse, data lake), create analytics that tracks goal outcomes and displays them on dashboards, or create reports to track how your customer's behavior and experience improve.
Initiatives to Deliver a B2B Customer Experience
 Now that you have the B2B CX Strategy started with a definition of the vision, goals, and measures, you have the groundwork for defining the initiatives that create a customer experience that will generate competitive advantage and foster long-term customer loyalty.
Below we outline five candidate CX initiatives that are blueprints from which multiple detailed projects can be defined.
Strategy without tactics is the slowest route to victory. Tactics without strategy is the noise before defeat
Sun Tzu
The projects deliver the solutions that fill the gaps between your current people, process and technology capabilities and your desired future state.  The projects are prioritized, road mapped into phased releases that iteratively and progressively deliver exceptional customer, stakeholder, and business value. 
Initiative 1: Improve the customer journey
Developing a customer-centric culture means considering the customer during every business decision.
Companies can waste money altering unexceptional analog interactions into equally poor digital experiences.  To determine where to change, you must first understand the customer's current experience as they engage the company and then identify the sources of customer friction and delays to be resolved.  For example, friction such as: 
Not knowing the identity of the customer you are dealing with, not just their name

Not knowing the products in the eCommerce cart that they require help with

Not knowing who their account manager is

Call-center touchpoints are about call-center KPIs and not customer KPI's
We start by mapping out the customers' experience based on a journey like the one shown below.  Customer journey mapping provides an overview of the customer's touchpoints with your company and identifies areas of success and opportunities for improvement.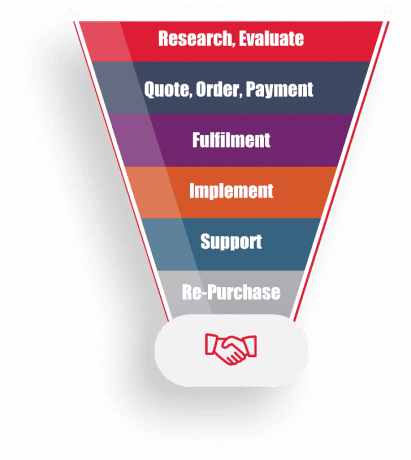 At a high level, a typical customer journey mapping exercise would include:
Identify the B2B customer persona(s) to address in the journey map.  B2B often has many different roles involved in the journey.

Map the customers' journey from start to end. 

Review the CX vision against the persona's current touchpoints with your company and identify the nature of their experience (good, bad, indifferent).

Analyze the customer touchpoints against your company's current business capabilities: people, processes, and technology. 

Determine the context and causes of customer dissatisfaction and identify recommendations to improve.

Translate the recommendations into solutions and a roadmap of prioritized initiatives.
Initiative 2: Deliver a personalized and frictionless B2B Experience across all channels
The results of this initiative can be viewed as a subset of the outcomes from "Initiative 1: Improve the customer journey", but it is worth calling out separately as it is not an easy lift.
Delivering personalized services to B2B customers means giving them efficient, seamless, tailored experiences that translate into wanting to interact more closely or more often with your company.  Getting to know your customers better enables you to tailor offers, services and present them according to their preferences at every touchpoint, including eCommerce.  
With the B2B multichannel eCommerce getting more and more popular, successful personalization must bridge each channel. 
Delivering a personalized customer experience across the company requires sharing information through conversations and technology.  Personalization and experience improvements can be progressively delivered, starting in low-risk areas that may provide significant impact, building to a more comprehensive overall set of solutions.
When we think about personalization, consider the:
Sequence:

Provide your customers with a personalized series of activities.  For example, one customer might be a buyer at a branch location and get approval from a corporate-level buyer.  Another customer might need a quote that must flow through the sales rep who manages the account.

Channels:

Deliver a personalized, consistent experience across all channels, including digital and analog touchpoints 

Digitize:

Digitally enable customer touchpoints wherever customer value can be achieved.

Integration: Provide employees and systems (e.g., call center software, eCommerce, Sales) with customer data to personalize the experience and empower them to serve customers better.
Initiative 3: Develop Customer Insights 
Developing valuable customer insight underpins the delivery of a great customer experience. First, you want to increase the effectiveness and profitability of your product or service by understanding your customer behavior.  Then you want to continually mine that data to anticipate and respond to changes in behavior.
Additionally, predictive analytics help to anticipate customer needs and predict the customers' next steps, allowing you to improve experiences as their journey unfolds.  For example, you can use these predictions to understand the factors such as customer defection, identify high-risk customers, and anticipate the next most likely purchase. 
Data for customer insights can be extracted from your enterprise systems and managed in a central location such as an analytics warehouse, data lake or dedicated customer experience platform.  From here, analytics and dashboards can be created, including gaining customer insights and measuring the progress towards your goals. 
Initiative 4: Customer-Centric Culture 
The most significant barrier to customer-centricity is the lack of it reflected in the company culture.  Most B2B company cultures are product and sales-driven.  As a result, customer-centricity is considered a priority only for specific functions such as marketing.  To successfully implement a customer-centric strategy, a company must have a culture that aligns with customers across the organization.  Everyone's role impacts the customer.  A customer-centric culture requires leaders who intentionally cultivate this mindset in their employees. 
To cultivate a customer-centric culture, business leaders should consider the following actions:
Operationalize customer empathy

Hire employees within that are emotionally intelligent 

Democratize customer insights

Develop customer-focused leadership

Facilitate direct interaction with customers

Link employee culture to customer outcomes

Tie compensation to the customer experience

Leaders must hold themselves accountable to these same standards.
Many of these actions are people and process changes that will require a well-defined and executed change management plan.
Initiative 5: Derive Continuous Feedback 
Once you have achieved progress, it is essential to facilitate continuous customer feedback throughout their B2B customer journey to remain a customer-centric company.  Constant feedback ensures that customers are not encountering unwanted hurdles or roadblocks.  It also assures that employees are keeping the customer top-of-mind.  In addition, feedback needs to be constant because your company constantly changes, including new products and services. 
Collecting feedback highlights what's working and what isn't.  Collecting this feedback is to act upon it swiftly and appropriately, as it underpins the importance of business agility in customer-centricity.  Example approaches to gathering feedback include: 
Analyzing customer data collected by enterprise systems 

Issue feedback requests or surveys via email, social media, or SMS, including offering incentives

Website, eCommerce, or mobile app feedback links

Monitor social media conversations

Analyze recorded sales calls

Conduct customer interviews or focus groups

Create an online community
CX Roadmap
Once you have identified the initiatives, next, you need to place those initiatives onto a CX Roadmap. The CX Roadmap defines the tactical path forward to incrementally achieving the vision of customer-centricity. Technology and business initiatives are plotted onto the roadmap, enabling benefits realization, and taking advantage of quick wins when deciding what items to place on a CX roadmap. It would be best to consider the company's culture, risk tolerance, agility, and technical landscape.
Note: Breaking the initiatives into smaller changes and creating small, tight releases, especially initially, will reduce risk, get positive visibility and momentum in the company sooner and blaze the way for incremental improvements.
The steps to creating the roadmap from the list of initiatives include:
Solutions: Define people, processes, and technology changes to fill the CX gaps in your current capability.
Projects: Translate the solutions into tactics, understanding cost, scope, duration, and resource requirements.
Roadmap: Prioritize the projects, create phases/streams, understand dependencies and constraints, and plot onto a roadmap.
One of the challenges with creating a roadmap is capturing the suitable project duration, effort, and cost to ensure accurate budgeting and planning. Therefore, we propose an evergreen approach to clarify the work, particularly for upcoming releases and projects. The results may require that the priorities and release plan be revisited frequently.
Wrap-Up
Delivering the CX, as outlined in this blog post, is no easy task; some of the complex technologies, such as applying AI/machine learning to personalization.  In addition, some projects require considerable organization change management, and some solutions need foundational technologies such as data warehouses and advanced analytics as a foundation before capturing insights.
Need help along the journey to customer-centricity? Online Business Systems has the customer experience, data, analytics, strategy, road mapping and implementation experience.  As you mature along with the CX capabilities, we at Online Business Systems would be happy to be your partner.