For eCommerce professionals, reports are a fact of life. Data is necessary to drive decisions. Yet accessing and visualizing reports is often an unwieldy process that requires switching between numerous platforms and browser tabs. Google Data Studio makes reporting easy by combining data from various platforms into clean, powerful, customizable, and interactive reports. You can also pull in data from your own sources, making it a must-have tool for any digital commerce business.
Coming Soon: OroCommerce Data Studio Dashboard
The upcoming OroCommerce Data Studio Dashboard will allow you to take your meticulously prepared Google Data Studio reports and add them to your OroCommerce dashboard. When embedded, you'll be able to share reports with your team members, giving them the ability to modify or interact with them right in OroCommerce.
What Is Google Data Studio? What Are Templates?
Google Data Studio is a data visualization tool that allows you to compile reports from different sources in one place. In October 2018, Google introduced a free version of Data Studio, which significantly boosted its popularity.
From filter types, colors, and calculations to the layout itself, there are many ways to make these reports your own. However, if all that sounds too complicated, you can get started with ready-made templates by Google and other service providers. We hand-picked some Google Data Studio reports that B2B eCommerce businesses might fight useful to inspire you:
Organic Search Performance Reports
If you want to know who you're selling to, you must keep a close watch on your landings pages, how users find them, and how they behave afterwards. Organic reports may help you discover traffic-growth opportunities among pages that get many impressions, but few clicks.
1. Google Search Console
This Google-designed dashboard allows you to monitor organic search KPIs such as your most popular landing pages, page impressions, and segment pages based on geography.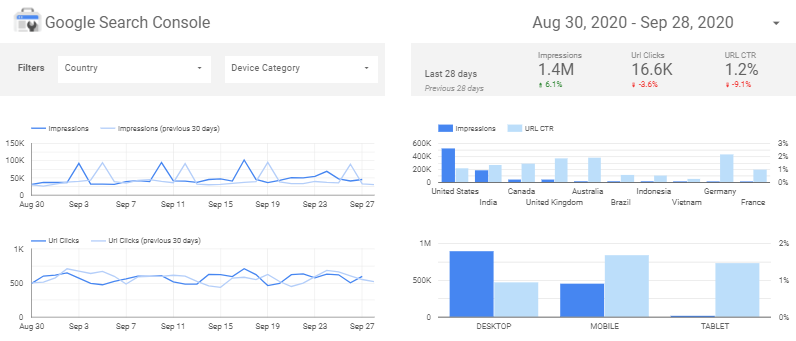 2. All-in-one Search Console
This dashboard allows you to explore your Google Search Console data in-depth and monitor KPIs over a specific time period. You can also use it to find opportunities by SERP and analyze keyword performance.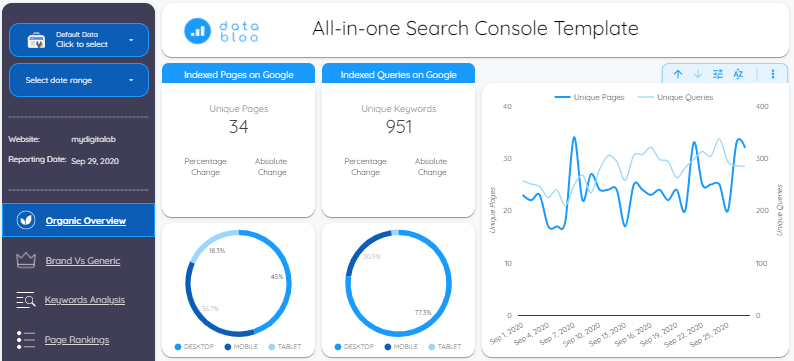 3. MOZ Url Metrics Overview
This dashboard allows you to see how your domain stacks up against competitors based on metrics such as Moz Rank, Page Authority, and Domain Authority.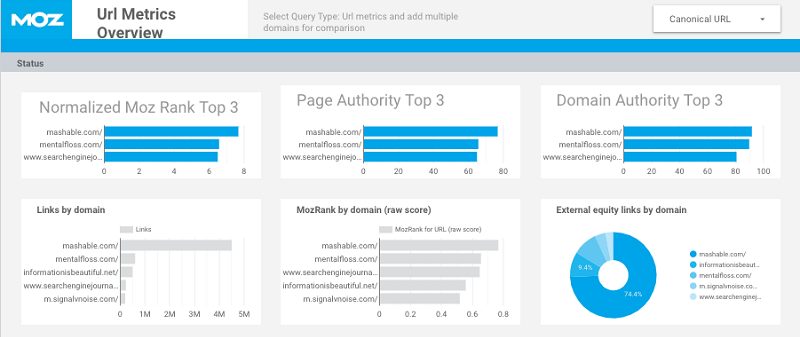 4. SEMrush Domain Overview
This dashboard is useful for multichannel eCommerce brands that are SEMRush users. You can monitor metrics like traffic, customers, referring domains, authority scores, and backlinks.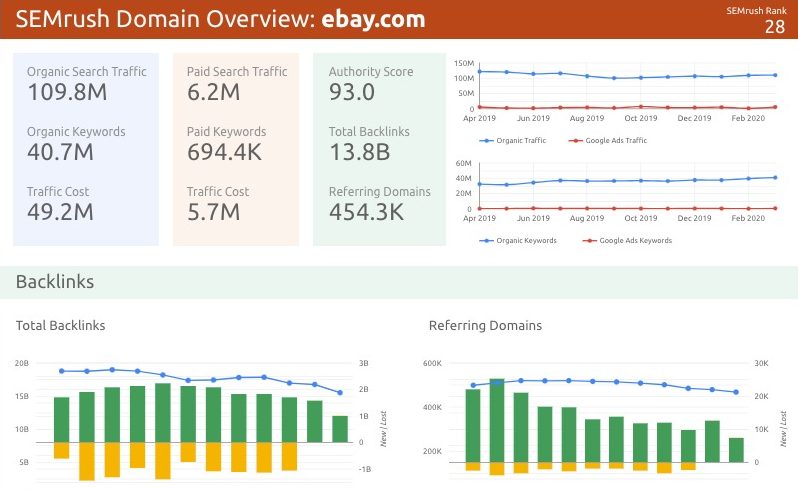 Speed Reports
A slow eCommerce site means fewer conversions leading to lost revenue. Site performance reports help you visualize the relationship between site performance and your bottom line, enabling you to make decisions that optimize the website experience.
5.
Canonicalized Dashboard
This is a simple and easy-to-read dashboard that helps you quickly understand your eCommerce site's load times across date ranges, pages, devices, and geographic locations.

6. Site Speed Performance
This dashboard allows you to drill down on numerous dimensions such as devices, browsers, operating systems, locations, visit types, and date. You can also focus on pages that are either high or low performing.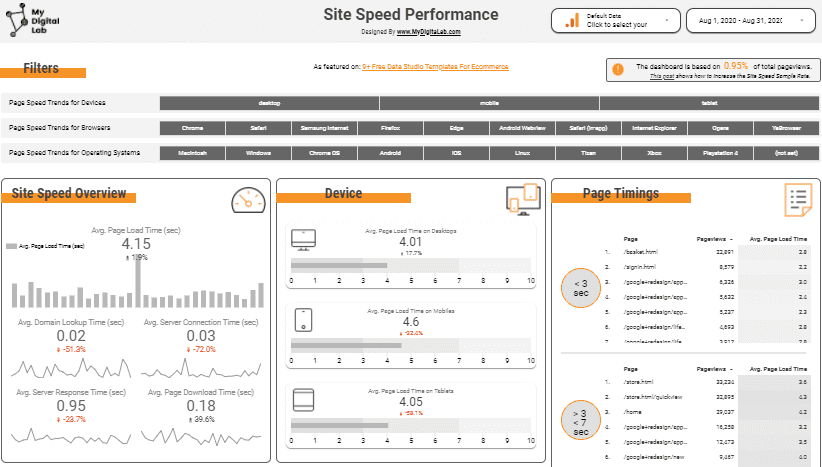 eCommerce Reports
The right eCommerce insights help you identify your best customers, how to best reach them, and what products to sell to them. With the correct data at your fingertips, you can make better marketing, sales, and product decisions. 
7. Google Merchandise Store
This dashboard is developed by Google and relies on data from Google Analytics. It helps you track sessions, products, cart additions, and more specific metrics such as cart-to-detail. It is useful for both top-level and granular reporting.

8. Website Performance Report
This dashboard is ideal for eCommerce businesses looking to visualize their store's overall performance, where visitors come from, how they behave, and what they buy. Managers can filter and dissect data easily to focus on what matters most to them.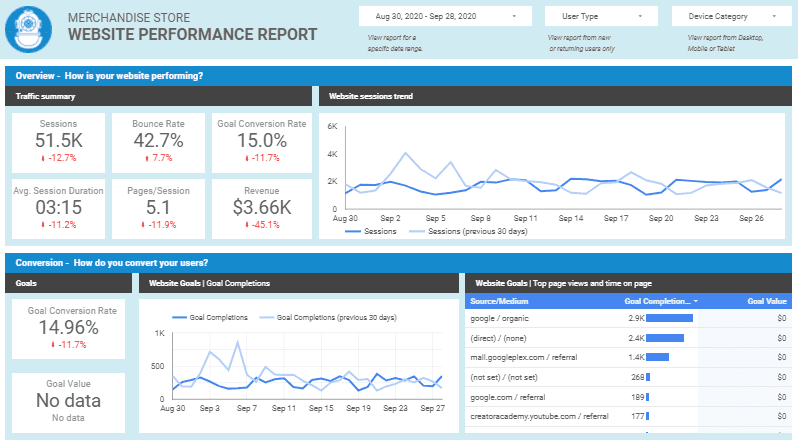 9. eCommerce Sales and Behavior
This dashboard combines sales and user experience trends, which can include product views, transactions, and revenue. You can segment items by channel, device, geography, users, and identify what products are popular.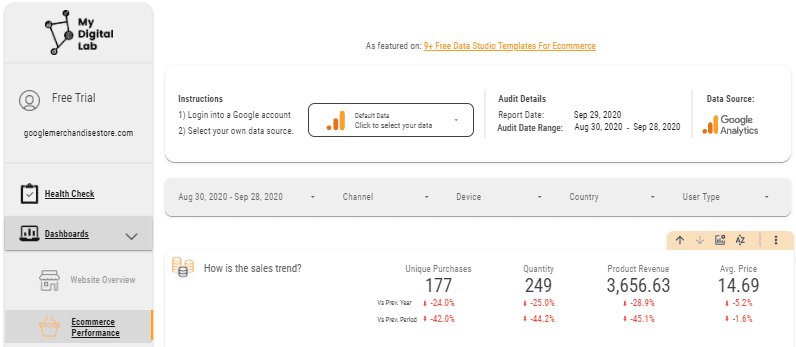 10. eCommerce Revenue Template
This dashboard allows you to view your store's revenue, including sales trends and revenue breakdown. You also visualize your most popular products, segments, brands, and conversions.

Ad Reports
When you run many different ad campaigns, it's easy to lose track of how much you're spending – particularly as you modify and optimize campaigns or shift money from underperforming ads to successful ones.
11. Multi Channel Attribution Dashboard
This dashboard combines your paid channels such as Google Ads, Facebook Ads, Linkedin Ads, and Bing Ads in one place and compares them against each other. Get a better picture of your spending, CPA, and how closely performance is tracking to goals.

12. Google Ads
This is a powerful and easy-to-read dashboard that lets you focus on ad performance according to keyword, group, geography, or competitor. You can also explore eCommerce metrics such as average order value (AOV) and revenue from orders.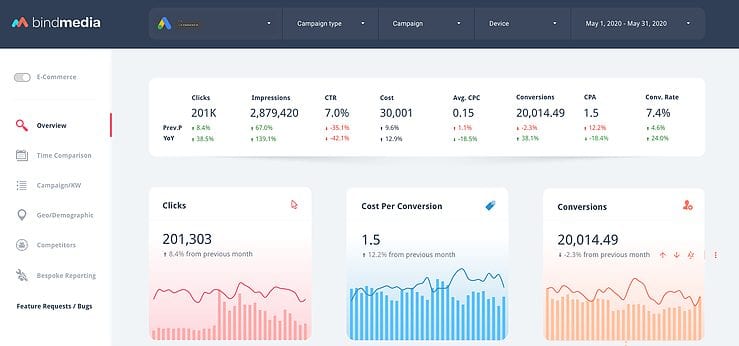 13. Facebook Ads
If you're using Facebook as an acquisition channel, this simple Facebook Ads dashboard will help you keep track of your campaigns and share performance data with your team members and clients.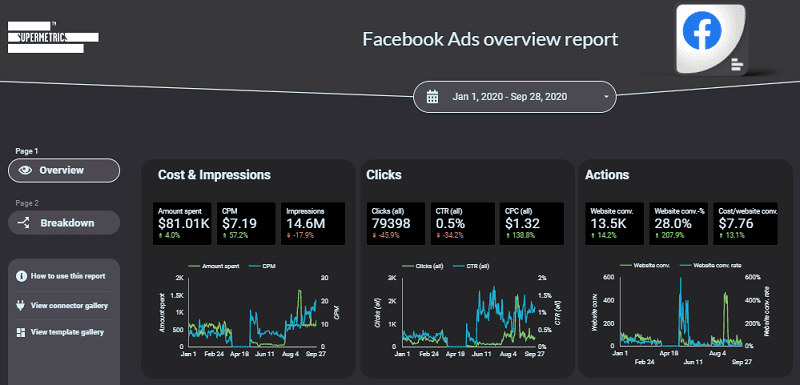 Campaign Reports
Campaign dashboards help eCommerce marketers better visualize the effectiveness of their campaigns. Data Studio supports the top email marketing applications such as Mailchimp, HubSpot, CampaignMonitor, Drip, GetResponse, and others.
14. MailChimp Overview
This Mailchimp dashboard helps you monitor email conversions, click, and bounce rates. Even if you don't use Mailchimp, this dashboard is full of important email metrics worth tracking.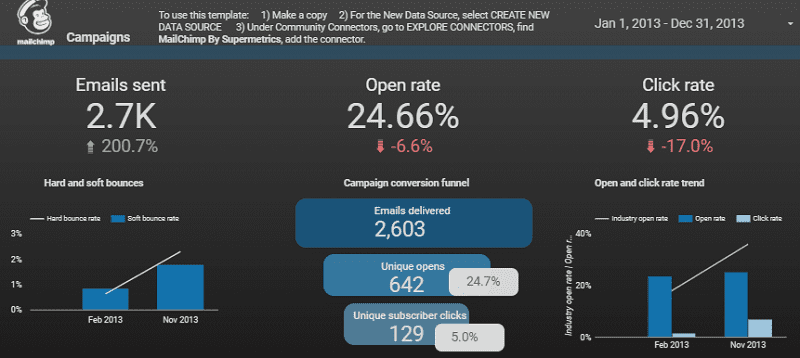 15. Content Performance
If your marketing strategy relies heavily on content, you can track how well your content performs according to category and audience. You can manage your funnel, page views, conversion rates, and see what type of content does best over a specific period.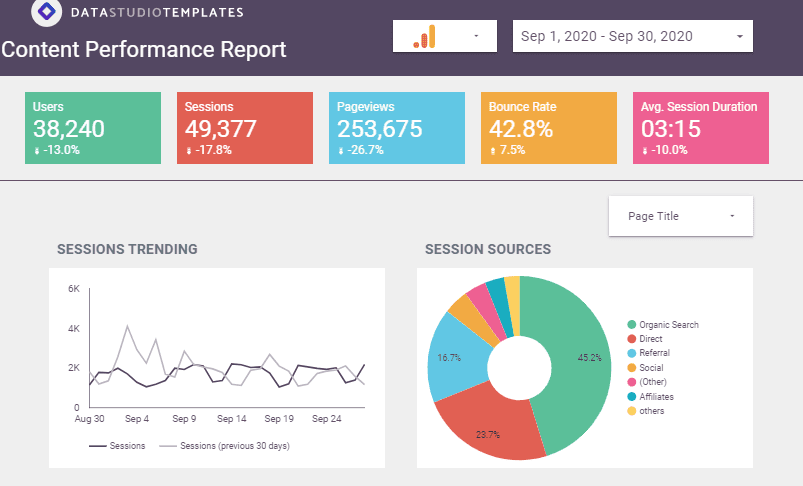 Google Analytics Enhanced Ecommerce Reports
Google Analytics' Enhanced Ecommerce allows eCommerce managers to measure how their users interact within their stores. Sellers can track impressions, promotion clicks, product visits, shopping cart activity, checkout steps, and transactions such as purchases and refunds.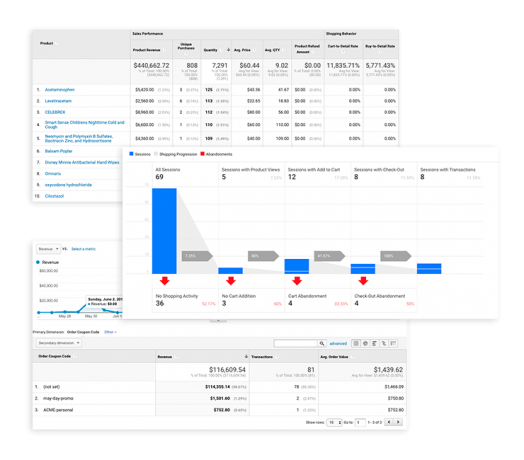 Shopping Behavior
Specific shopping behavior can uncover many insights on how to increase your conversions. For example, if customers view products without adding anything to cart, they may need more reassurance with detailed product description or customer reviews. If users are abandoning their cart, they may have doubts about shipping or want to discuss pricing.
Checkout Behavior
B2B buyers shop differently than B2C customers. Businesses have many decision-makers and various quoting, approval, and purchasing permissions. If you personalize checkout steps to each customer, knowing where they get stuck is a golden opportunity for improvement. For example, if you notice checkout sessions are being abandoned, you might need to improve your content or streamline your steps.
16. Shopping Behavior Open Funnel
Once you've set up Enhanced Ecommerce for your eCommerce website, you can create reports with key eCommerce data. This dashboard offers session, shopping, and checkout behavior from Google Analytics. You can use it to visualize drop offs and abandonment before users move on to the next stage of the funnel.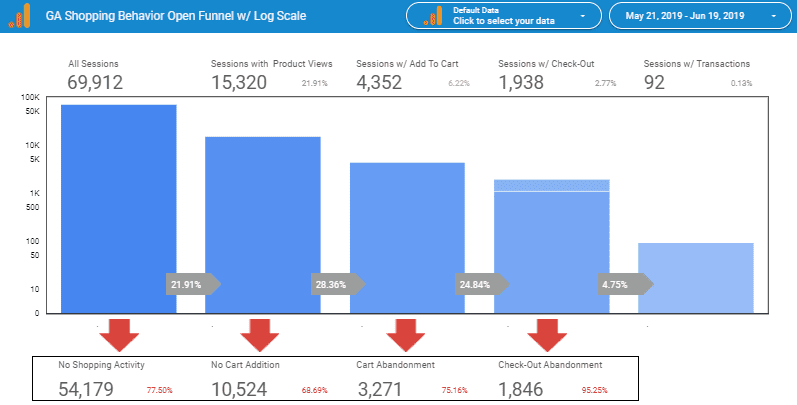 We hope you find these sample B2B eCommerce sales and marketing dashboards useful and help your business get the most out of your traffic, sales, and customer data.
Google Data Studio, Coming Soon to Your OroCommerce
In the coming weeks, we'll be unveiling the OroCommerce Data Studio Dashboard, an excellent way to get these reports into the right hands so that your eCommerce sales and marketing teams can make better decisions.
Keep checking the OroCommerce blog for updates about any developments on this exciting new feature! Feeling impatient? Can't wait for the next announcement? We know the feeling.
Feel free to contact us and we'll happily fill you in with more details.