Originally published September 20, 2017, updated November 16, 2021
Over the past few decades, the way we conduct sales has changed radically, leading to the rise of eCommerce. Technology has streamlined back-office purchasing processes, and the prevalence of digital tools is making procurement more convenient than ever.
Before the COVID struck, eProcurement sales were already growing by 17.6 percent, surpassing the $700 million mark. In the US, eProcurement remains the fastest-growing B2B selling channel.
Digitized B2B workflows also introduced new ways of describing business transactions. Eprocurement, ERPs, PIM for eCommerce, Punchout catalogs – if it isn't "i" something, it's "e" something else. No wonder it gets confusing. We often get asked to participate in the eProcurement vs eCommerce debate, or, more specifically, if OroCommerce is an eProcurement system or how it is related to Punchout catalogs. 
To clear up any confusion, we thought we would take the opportunity to dot those i's, cross those t's. In today's post, we'll start with the definition of eProcurement systems. Then, we'll talk about how digital selling through B2B eCommerce fits in the picture.
Confusion Between eCommerce vs eProcurement Systems
Both electronic procurement (eProcurement) and electronic commerce (eCommerce) systems are routinely used in B2B commerce. Medium to large size companies and supply chain participants use them for sales/marketing and purchasing. However, in B2B, relationships aren't so cut-and-dry. For every sale by one party, there is a purchase by another, often a very different party. These are the two sides (buyer and seller) of the same coin (the purchase/sale transaction).
Aside from having some similarities, both eProcurement and B2B eCommerce systems have differences. Both have features and capabilities that make them unique.
All B2B eCommerce platforms can handle online transactions and some eProcurement systems do this too. Some eCommerce systems (like OroCommerce) can handle RFQ (request for quotation) workflows, but all eProcurement systems have this functionality. The same is true for handling credit limits.
But this is where the similarities end. In a nutshell, the eCommerce platforms are designed around the business needs of the seller and the eProcurement platform is developed for the purchaser. Let's explore this in more detail.
How Do eProcurement Systems Work?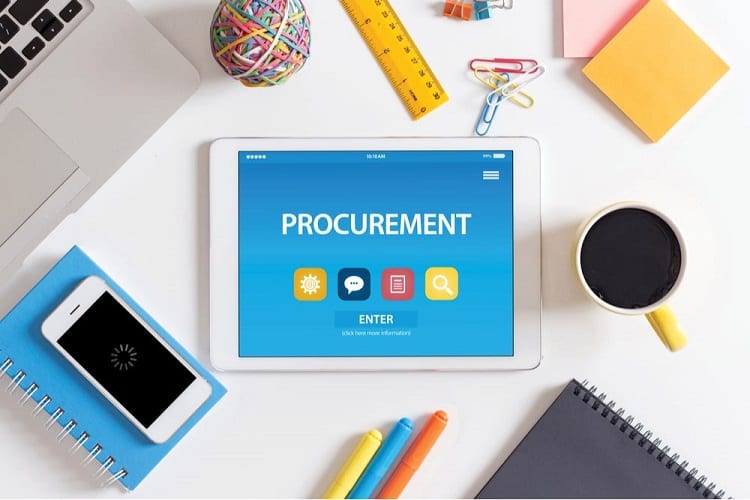 Essentially, eProcurement encompasses all corporate buying and selling activities over the internet. Whereas a typical business would require faxing physical order forms or rummaging through paper catalogs and price lists, eProcurement digitizes these activities. Businesses rely on eProcurement software to help them make the research, shopping, and purchasing process more efficient.
The benefits of eProcurement are numerous for businesses, their suppliers, and purchasing companies. It's a way to make the requisition and payment process easier while driving down the cost per transaction. It brings the ease of eCommerce to business purchasing and provides a means of better managing expenditures.
Most eProcurement solutions provide:
Pre-purchase approval workflow

Manageable list of preferred/approved supplies

Expenditure tracking

Purchase order generation

Receiving of goods/services against a PO/WO

Multiple levels of user access

Budgeting tools
Many leading eProcurement applications such as Coupa or Gatekeeper feature such capabilities out of the box.
Unlike a typical B2B shopper, a purchaser using eProcurement is a slightly different breed. The seller must do more to accommodate the second customer – that is, join an eProcurement system at the request of the buyer.
Manufacturers may use eProcurement to facilitate purchasing of direct goods for the production process. Governmental and public-sector entities may use an eProcurement system to simplify the RFQ process and leverage spending power.
Because they can direct purchases to select vendors, buyers can negotiate better pricing. There's more transparency and accountability. Information can be shared with the right individuals.  The risk of fraud is reduced by duty separation. Errors during the contract administration and the quoting processes are minimized. Lastly, employees access to a pre-approved catalog of the goods and services they need at set pricing. As a result, purchasing, accounting, and all other related functions operate more efficiently.
Since they have numerous moving parts, it's essential that eProcurement systems and the buyer's purchasing process work together perfectly. To save time and costs, they must offer the right permission management, accurate inventory, pricing, and quality product information.
That's one difference between eCommerce and eProcurement: an eCommerce platform will have this information from the oustet.
How Do eCommerce Systems Fit in?
How else are eProcurement vs eCommerce different? Digital commerce systems are used by manufacturers, distributors, and other B2B businesses to market and sell goods and services. Where eProcurement systems are built around the needs of the buyer, eCommerce systems are built around the needs of the seller. It can be confusing because sellers are all about giving buyers what they want. 
However, B2B sellers have demanding requirements too – they operate within tight confines of their industries, processes, partners, or customer relationships.
There are many B2B eCommerce platforms on the market that are B2C platforms repurposed for B2B applications. However, systems like OroCommerce are built from the ground up for the special needs of B2B eCommerce. B2B-focused solutions provide capabilities for:
Content management

Shopping cart for online purchasing

Custom catalog management

Multiple levels of customer access

Multiple price lists

User-created shopping lists

Price list and catalog personalization capabilities

On-line submission of RFQs and RFPs

Customer relationship management

Customizable workflows
Those who purchase an eCommerce platform are organizations making the sales. While the buyers use the website to make purchases and submit requests for proposals, eCommerce systems are developed for the use of the seller in the B2B transaction.
Distributors of products such as pet food distributor Animal Supply Company use eCommerce to facilitate sales, maintain customer relationships and execute marketing strategies to build their business. Manufacturers such as ARC use eCommerce platforms to reach into new markets, support existing supply chains, and reinforce corporate identity. Lastly, let's consider eCommerce for B2B electronics distributors. These brands need to track and manage electrical equipment orders for different manufacturers, distributors, and B2B retailers.
In short, eCommerce enables companies to achieve operational, marketing, order management, and sales effectiveness.
Buyers participate in an eCommerce system when they fill out a contact form, place an order online or submit a RFQ from the web browser. Buyers engage in the eCommerce system because it makes the purchase process easier. The eCommerce platform is designed for the benefit of the seller to engage with their customers, grow their business and digitize workflows.
One Transaction, eProcurement vs eCommerce
With any given business transaction, the buyer and the seller may have a common goal – to finalize the deal – but they have very different needs. The more complex the participants to the transaction are, the more these needs can diverge.
That's why they use two very different systems to automate and digitize their workflows. eProcurement systems are designed with the buyer in mind and eCommerce systems are designed to meet the needs of sellers. The two systems are not interchangeable and any attempt to do so is a recipe for disaster.
Here are some of the differences between how eProcurement and B2B eCommerce software handle the electronic procurement process.
| | | |
| --- | --- | --- |
| Process | eProcurement | B2B eCommerce |
| Product location | No, with integration |  Yes |
| Configure Price Quote (CPQ) | No, with integration | Yes |
| Request for Quote (RFQ) | Yes | Yes |
| Quote to Cash (QTC) | Yes | Yes |
| Requisition management | Yes | No, with integration |
| Purchase order management | Yes | No, with integration |
| Invoice management | Yes | Yes |
| Payment processing | Yes | Yes |
| Returns processing | Yes | Yes |
Benefits of eProcurement and B2B eCommerce Integration
In certain industries and selling models, it's not enough for sellers to offer customers the right products. Sellers need to meet unique purchase requirements that vary from one customer to the next. Buyers utilizing eProcurement systems typically start their search there, pulling up seller catalogs (also known as the Punchout catalog) to proceed with the purchase process.
Thus, it makes sense for sellers to facilitate a fast and efficient eCommerce integration with an eProcurement provider used by their customers. Besides, makes great business sense: buyers spend more and have longer relationships with sellers that accommodate their eProcurement systems.
By integrating their B2B eCommerce and eProcurement systems, both B2B buyers and sellers can reach their desired objectives without affecting the other. The purchaser can utilize their eProcurement system to make the purchase from the supplier's eCommerce website. The seller utilizes their own system they understand and know how to use.
Therefore, a seamless exchange of procurement data between B2B eCommerce, eProcurement, ERP, and other systems is necessary to maintain consistency and transparency of inventory data, purchase orders, payment, shipping, and invoicing information.
The Necessity of eProcurement in B2B eCommerce
While B2C eCommerce tries to make purchases easier and more transparent, B2B eCommerce has slightly different goals. Since B2B purchasers are employees making purchases on behalf of their organization, B2B eCommerce businesses must make it easy for them to do their jobs.
But how do eProcurement users see the purchase experience? Whether they select a pre-approved vendor or choose from a list, they'll first start by evaluating vendors in their eProcurement solutions. When they choose a supplier, they will see their personalized account with the products and prices pulled up from the eCommerce store. When they add products to cart, the shopping list is transferred to the eProcurement system where the purchase order and necessary approvals are made. Then, the information is transferred to the eCommerce system where the purchase is logged.
Businesses look to automate this process with an eProcurement system to save costs for the organization, ensure procurement consistency and transparency for key stakeholders. It also reduces manual data entry and the possibility of errors, and that shortens purchasing cycles.
It's not surprising that many B2B buyers evaluate B2B sellers by their eCommerce experience and the ability to integrate with their eProcurement system of choice. It's important to realize that many eProcurement users are invested in their systems, and businesses that have flexible eCommerce solutions with the ability to integrate with them have a competitive advantage.
The Role of B2B Marketplaces in eProcurement
For a successful buyer-seller relationship, purchasing processes need to be efficient, convenient, and easy. However, when buying organizations and their supplier networks expand and grow in complexity, there's a greater need to optimize and control these relationships. In this case, a marketplace allows large organizations to offload various growing pains that come with growing their business.
Marketplace systems, as opposed to eCommerce systems, split the responsibilities of the seller between operators and vendors. Operators facilitate transactions for vendors, vendors gain more exposure, and buyers get their products faster. Even if growing networks is not the goal, marketplaces strengthen existing relationships and selling channels, thereby boosting efficiency, reducing costs, and minimizing risk.
These platforms come with marketplace features to centralize various purchasing steps from quoting, orders, validation, invoicing, and fulfillment. And, since everything is automated, there are fewer chances of error. Other benefits include transparency and increased visibility on product and supplier performance.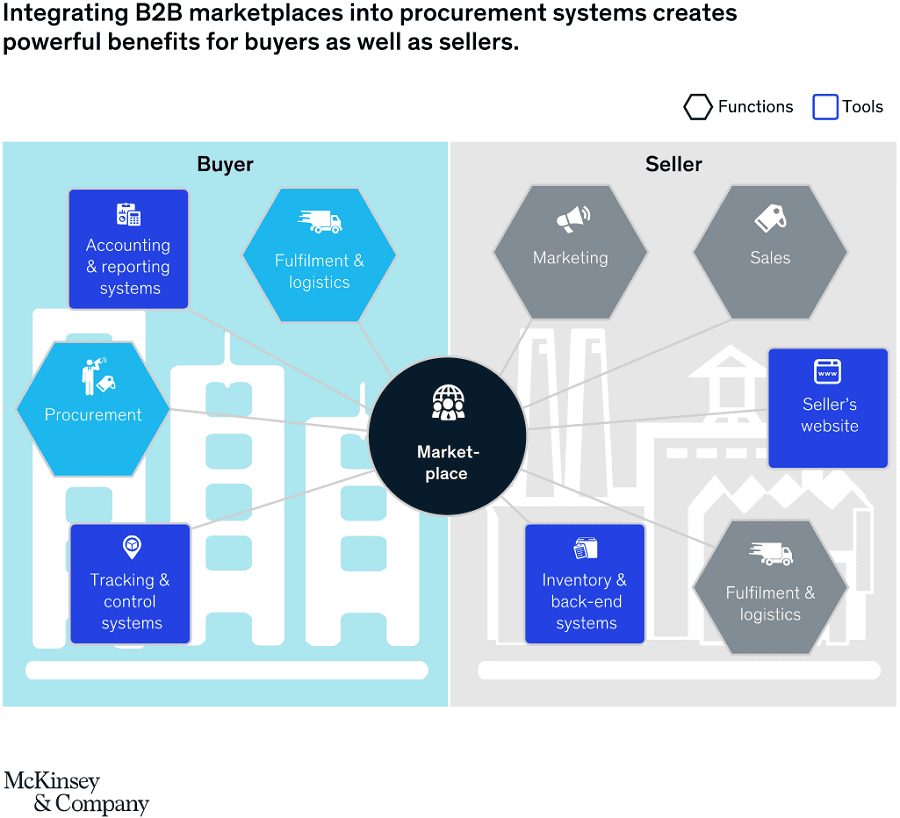 [Source]
Ultimately, how you integrate your eProcurement system with the B2B marketplace will depend on the nature of your relationships. For example, enterprises that sell to large buyers will integrate their ERP with source-to-pay (S2P) applications. 
Smaller operators can get away with simply connecting the marketplace with back-end tools such as warehouse management and fulfillment systems to get accurate inventory data to the buyer.
Integrating B2B eCommerce and eProcurement
Does the eProcurement vs eCommerce debate even make sense? As long as different buyer and seller needs exist, there will be a need for integration.
An integrated eCommerce and eProcurement system consists of a procurement software for the buyer and eCommerce platform for the seller such as OroCommerce.
OroCommerce is a flexible B2B eCommerce platform that is partnered with Punchout technology  and punchout catalog providers such as Vurbis and Greenwing Technology. Furthermore, Oro's robust open-source architecture and scalable front-end and back-end APIs can be set up to integrate with other, third-party eProcurement systems.
Whether you'd like to develop an eProcurement solution in-house or connect to an existing system, Oro has the technology, the expertise, and the partner ecosystem to turn your goals into reality.