A digital transformation starts a company on a new path. Teams rethink how they use technology, how they conduct operations, and how they provide value to customers. This demands a fresh perspective on everything from operating models to employee roles and organizational culture.
The importance of digital transformation cannot be overstated. According to a recent Deloitte and Fortune report, 77% of CEOs in 15 industries say the COVID-19 crisis hastened the pace of digital transformation. Additionally, IDC predicts spending on digital transformation will exceed $10 trillion in five years.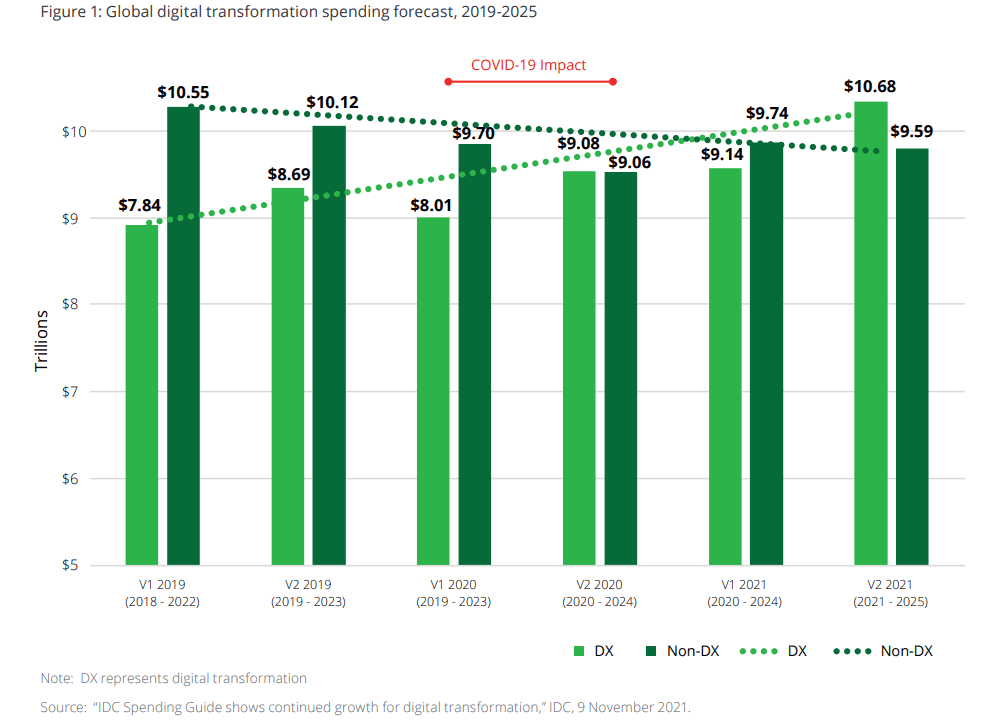 Initially, business leaders thought the new normal would be fully digital. Today, they understand it is a combination of people and technology working faster than ever. To keep up, businesses must identify how a digital transformation can solve current problems and avoid future obstacles. 
This article explains why companies should embrace digital transformation and how the organization benefits.  You'll get a look at the current state of digital transformation in various industries and the benefits these digital initiatives generate.
What is the Purpose of Digital Transformation?
Digital transformation refers to the process of leveraging digital technology to completely reinvent the way a business operates and serves its customers. It's not just about adopting new technologies – it's about changing the company's culture, processes, and operations.
Regardless of industry, digital transformation offers a host of advantages. These include greater efficiency, transparency, better decision-making, and improved experiences for both employees and customers. It can also open up new revenue streams, drive higher profits, reduce costs, and make businesses more resilient.
Who Do You Need for Digital Transformation?
People play a critical role in digital transformation, they drive change and make it happen. Digital transformation enables people to work more effectively and efficiently, and provides them the opportunity for growth and development. The most important people are the leadership team.  Support from the CEO and executives keeps overall goals aligned with strategy. Here are the types of people you need for digital transformation, and the skills, expertise, and personalities they bring to the table.
Visionary
Visionaries are leaders with an eye on the big picture. They formulate and maintain a clear vision of the transformation, and communicate with stakeholders and executives to maintain alignment. Visionaries cultivate relationships and promote a culture that supports change. These highly creative people possess a forward-thinking mindset and motivate people naturally. Rely on visionaries to maintain enthusiasm and the sense of urgency that drives transformation forward.
Planner
Planners are strategic leaders that work closely with visionaries and executives to formulate strategies and steps. They have a deep understanding of business functions, future operations, and what it takes to get from here to there. Visionaries initiate change and planners execute the change. To be successful in their role, planners must adopt a systematic approach, diligently monitor resources, and possess the skills to communicate and motivate others.
Analyst
Analysts rely heavily on data to support and validate the work of planners. They evaluate existing processes, perform experiments, scrutinize budgets, and calculate return on investment. Analysts work closely with leaders, planners, and stakeholders, using data-based insights to support their recommendations. During digital transformation initiatives, analysts must be able to think innovatively while maintaining a strong focus on the data.
Architect
Architects convert plans into action so everyone knows what needs must be done. Together with visionaries, planners, and analysts, architects set the stage for solutions that drive digital transformation initiatives. They are also responsible for managing resources to ensure objectives are met. To succeed, the architect should be an excellent problem solver, with a sharp eye for identifying gaps and shortcomings.
Product manager
Product managers lead project teams to develop new products and capabilities. Their work is where the rubber meets the road. They work closely with cross-functional teams to translate business requirements into functional requirements. To excel in this role, product managers must keep the big picture in mind, have organizational and project management skills, and possess the ability to adapt quickly to change.
The Essential Guide to Technology Change Management
How Do You Know If You Need Digital Transformation?
Before any digital transformation, it's important to assess your digital maturity. Fortunately, there are several benchmarks available, including Google and Boston Consulting Group's digital maturity benchmark and the Microsoft and Harvard Business Review (HBR) model.
HBR identifies five stages that companies typically progress through on their transformation journey. By evaluating your company's current performance using this benchmark, you can gain insight into where you are on your digital transformation journey and use this as a starting point. 
As digital transformation progresses, your digital efforts will become more efficient and effective.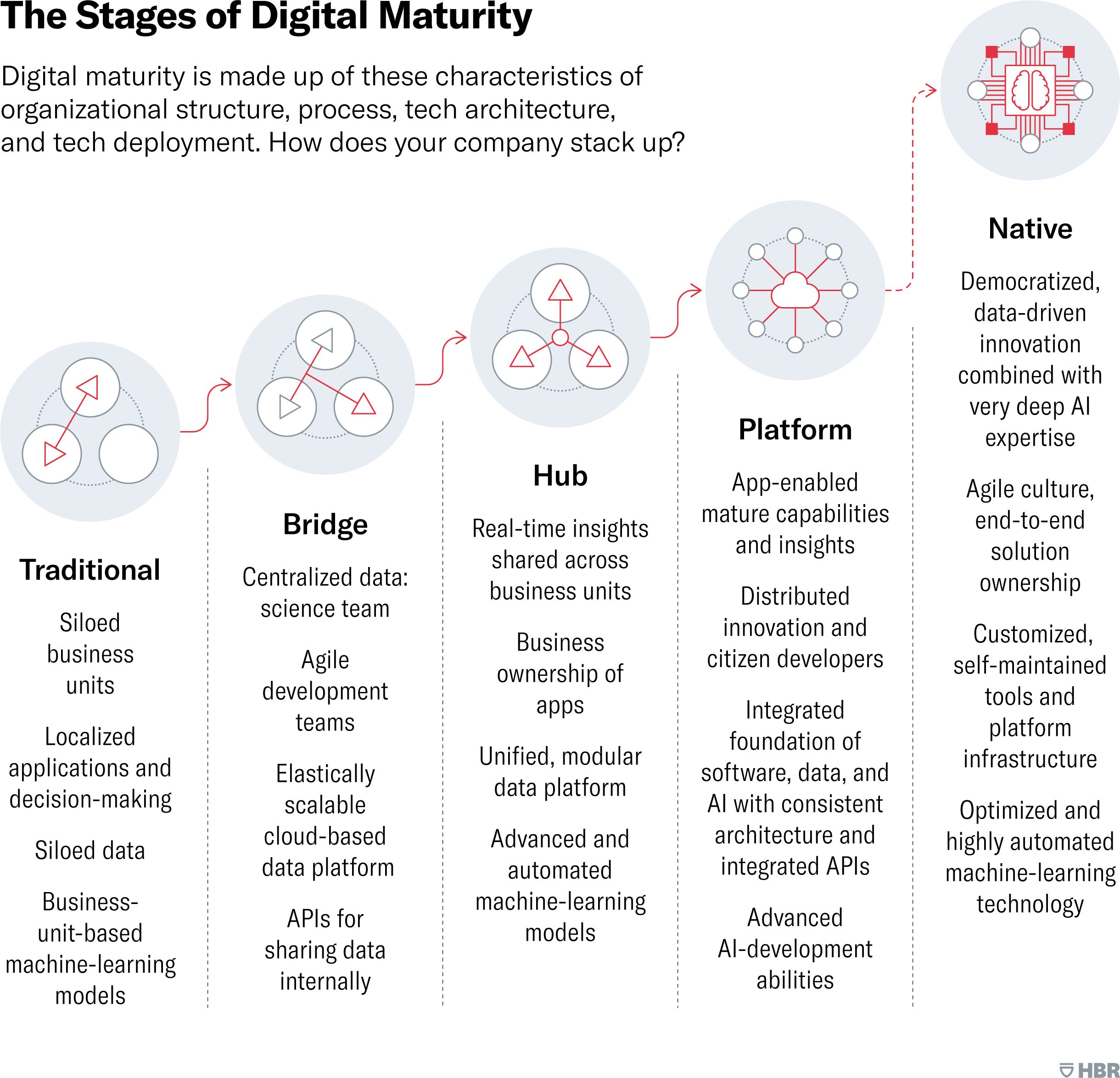 In addition to defining the levels of digital maturity,  HBR also assessed the digital maturity of 150 companies across different industries, including manufacturing, healthcare, consumer products, financial services, aerospace, pharma, and biotech.
They discovered that while some companies struggled to make progress in their digital transformation efforts, many had achieved significant success. Interestingly, success wasn't linked to the size of the company's IT budget, nor did it matter whether the company was a digital native like Uber, Airbnb, or Netflix. 
Size wasn't a barrier to transformation either. Enterprises like Unilever, Fidelity, and Starbucks foster a digital innovation mindset and culture.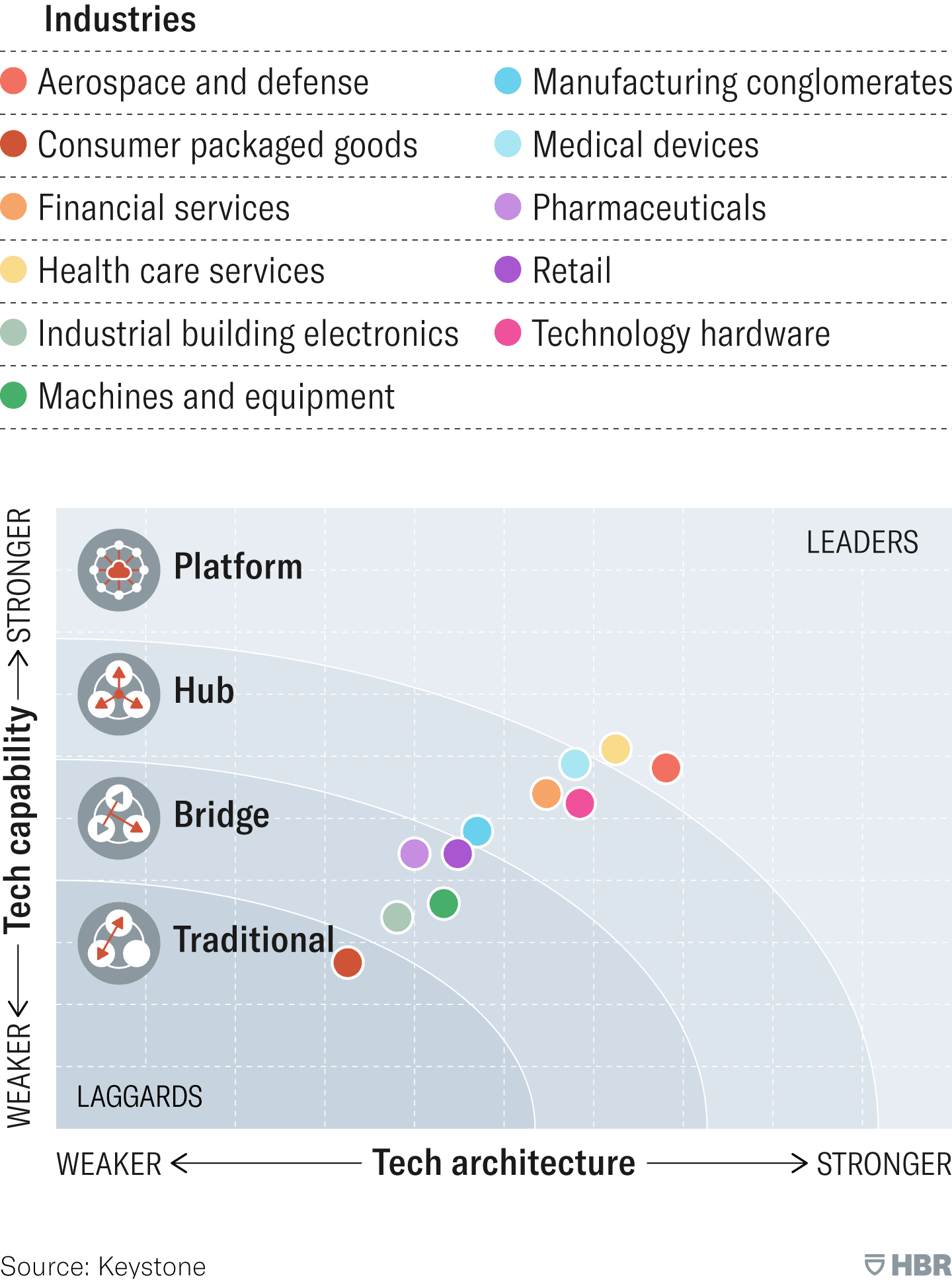 Finally, the researchers concluded that not all industries achieved a positive return on investment from their digital transformation efforts. Simply investing in technology isn't enough – companies must provide the tools transformers need and support employees at all levels. It takes the right combination of technology, people, and processes to achieve superior performance. Companies that didn't adequately support their employees with effective tools and processes failed.
To ensure the success of digital transformation initiatives, it's important to have a clear understanding of the level of digital maturity in your industry, your competitive landscape, customer expectations, and the specific benefits you can gain from your initiatives. Only then can you maximize your chances of success.
Getting Offline Customers to Purchase Online: A Guide to Website Adoption
Benefits of Digital Transformation By Industry
A digital transformation holds the power to reinvigorate stagnated businesses and bring traditionally offline businesses online. The benefits of digital transformation aren't limited to one industry, market, or niche. These 5 industries are very different, but they are all benefitting from a digital transformation. 
Manufacturing
Manufacturers are embracing Augmented Reality (AR), the Internet of Things (IoT), and eCommerce digital transformation technologies to accelerate innovation and remain competitive. According to XRToday, manufacturing powerhouses like Airbus, GE, and AGCO use smart glasses to improve operational efficiency, reduce errors, and improve training performance. Motor manufacturer WEG developed a sensor to monitor motor performance and now includes the sensor as standard equipment across its product line. The sensor monitors vibration, running hours, speed, lubrication, and temperature, and reports errors. The real-time operational data allows WEG to make productivity improvements, reduce waste, and minimize equipment downtime.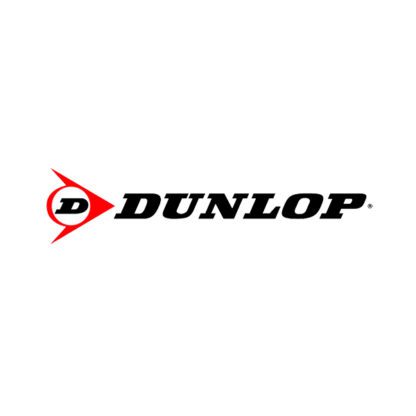 Dunlop Protective Footwear
is a global protective footwear manufacturer for industrial customers. They serve businesses of all sizes across 50 countries, from agriculture and fishery to construction and mining. Their digital transformation initiative, Always Dunlop, deployed a new digital commerce platform by OroCommerce. After launch, the company experienced a 3.5x increase in website traffic, a 41% rise in self-service adoption, and automated over 300 hours of routine work each month.
Medical devices
The COVID-19 pandemic increased the need for digitalization in the medical devices industry. Digital transformation allowed medical suppliers to mitigate cybersecurity risks and provide enhanced protection for sensitive patient information.  For example, Intellicentrics offers a contactless check-in device for credentialing. By introducing digitalization, medical devices can enable increased supply chain visibility, boost revenue growth, and enhance the overall customer experience.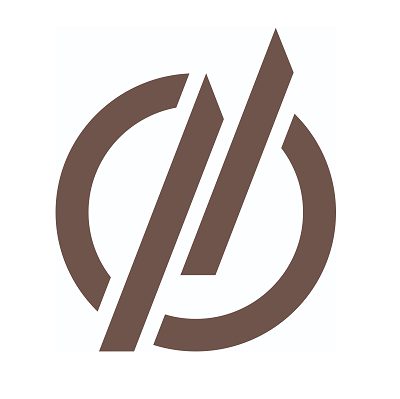 WEINMANN Emergency is a German provider of mobile systems and devices used in emergency aircraft and ground transportation. Due to the stringent regulations in the medical industry, product-related data was scattered across various departments. To eliminate siloed data, they adopted PTC Windchill life cycle management software for complaint handling. They now centralize complaints throughout all process stages. This has resulted in a significant improvement in IT operations and enabled the company to offer consistent, high-quality customer experiences.
Oil, gas, and energy
From innovation, flexibility, and cost-savings, energy companies are experiencing the benefits of digital transformation. For example, oil companies operating off the coasts of Norway and the Gulf of Mexico are now using Spot, the Boston Dynamics quadruped robotic dog, on their offshore oil rigs to collect data, interpret information, and scan images, which is particularly useful in dangerous offshore work. Robotics is just one part of digitalization, as the integration of technology offers a host of other advantages such as greater supply chain visibility, improved monitoring, enhanced worker safety, and more.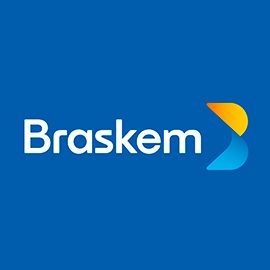 Braskem
is the largest petrochemical company in the western hemisphere, and also one of the largest producers of biopolymers. Over the past few years, the company has invested more than $7 million in a variety of innovative technologies to transform how team members work and offer value to clients. One of these initiatives is the B2M EDGE customer self-service platform, part of the effort to elevate the customer experience in a largely offline industry.
Consumer packaged goods (CPG)
The consumer packaged goods industry has been rocked by shifting consumer behavior, turbulent economies, and rising expectations. To adapt, Panos, a US-based CPG supplier, implemented Crisp, a retail analytics platform. Sales, operations, and marketing teams can now access real-time data, saving them over 100 hours of manual data retrieval across all segments and retail locations. Real-time monitoring and predictive analytics increase work efficiency, recognize trends, and act swiftly. They can also improve the customer experience or unlock new opportunities for innovation and growth.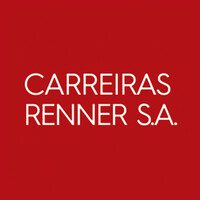 Renner, one of Brazil's largest retailers, implemented RFID technology in 2019 to track its vast inventory of over 500 million products. After implementing Sensormatic Inventory Intelligence for its stores, the retailer monitors when customers take items to fitting rooms and if the item is purchased. Whether they're shopping in-store or online, customers can easily locate products as well. Renner has seen remarkable results, with an 87% reduction in out-of-stocks and a 64% increase in inventory accuracy.
Banking and fintech
Over the years, the banking and fintech industries have come a long way in terms of digital maturity. By implementing digital technology, banks and fintech companies significantly elevate the customer experience. Blockchain is also disrupting the banking industry by providing greater personalization, transparency, efficiency, and security. Some big names in banking are investing in blockchain. JP Morgan Chase offers its Blockchain Center of Excellence and Mitsubishi UFJ Financial Group operates a digital currency platform in Japan.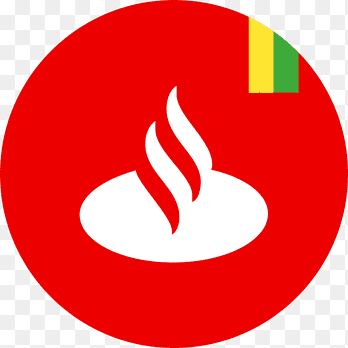 Santander Group is a Spanish multinational bank and financial services company. They've partnered up with other European banks to create we.trade, a blockchain platform. The initiative relies on the IBM blockchain platform powered by Hyperledger Fabric technology to connect banks with startups, entrepreneurs, and other businesses. The bank can differentiate in cash management, letters of credit, and smart contract management. Technology is transforming how money is managed, moved, and optimized around the world.
Explore more case studies on digital transformation in our guide
Digital Transformation For Every Industry
It's hard to identify an industry that hasn't been transformed by digital technology. Manufacturers, for instance, have adopted robotics and augmented reality to improve worker safety and efficiency, while warehouses and distributors have seen the value of the Internet of Things (IoT) in optimizing their operations. Banks have turned to blockchain to ensure security and compliance, while sales and marketing departments rely on eCommerce to boost visibility, efficiency, and customer experience.

OroCommerce is a digital commerce platform that streamlines operations, increases efficiency, and provides an exceptional customer experience. Additionally, it's a reputable choice for businesses in various industries.
How OroCommerce Helps With Digital Transformation
At Oro, we believe in comprehensive B2B digital transformation that goes beyond industry-specific solutions and simplistic systems. We understand that every business is unique, which is why we offer a full spectrum of products, services, and solution partners to help companies achieve their goals. Whether you need to automate workflows, centralize databases, integrate systems, or enhance the customer experience, Oro has you covered.
When you choose Oro as your digital transformation partner, you not only get products that are tailored to your industry, but you also benefit from the expertise of our team. Our experts have extensive experience working with mid-sized companies and large enterprises in complex B2B environments, so you can trust us to deliver solutions that meet your specific needs.
Learn why flexible workflows are essential for B2B digital transformation
Questions and Answers
What are the obstacles to digital transformation?
Digital transformation can be challenging for enterprises as employees may be resistant to change and accustomed to existing processes. Resistance may make it difficult to adopt new technology and processes. Preconceived biases and limited understanding of the benefits of digital transformation may also contribute to hesitancy. If legacy systems are not compatible with new technology, security risks and the high cost of integration also become barriers to transformation.
How crucial is technical experience to digital transformation?
Although having experience in change management, data analytics, cloud computing, and machine learning can be helpful in implementing digital transformation initiatives, individuals without such expertise can still make valuable contributions to the process. Senior-level team members who are experienced in specific processes can help identify opportunities for transformation and navigate potential obstacles, such as resistance to change, compatibility issues with technology, and supporting the transition.
What roles drive digital transformation projects?
Several types of leaders drive digital transformation projects. A visionary leader provides direction and inspires others, a planner develops and manages the project plan, an analyst provides data-driven recommendations, an architect designs and implements technical solutions, and a product manager manages the development and delivery of new products or services. Together, they can ensure that digital transformation projects are successful.
How do you measure the ROI of digital transformation?
There are many different methods of measuring the ROI of digital transformation. Digital transformation initiatives usually impact revenue, productivity, customer satisfaction, and cost savings. Thus, it's helpful to focus on tracking key performance indicators that are tied to these initiatives. These may include sales numbers, adoption rates, retention rates, or time to market for new products.