2020 was a year of uncertainty for many industries. It's hard to make strategic decisions in uncertain times, but the smartest decision any company can make is to begin or continue their digital transformation. For the consumer packaged goods (CPG) industry, digital transformation is crucial for success. Consumers rely on digital for everything from forming brand opinions to purchasing products. In a digitally connected but socially distant population, a digital transformation in the CPG industry isn't optional if you want to succeed.
Why CPG Companies Need a Digital Transformation
In 2013, only 1% of all CPG sales were made on digital channels. By 2018, digital sales accounted for 11% of the total market. 
It's not just millennials that are researching and shopping online. The COVID-19 pandemic pushed 47% of seniors (those 65+) to begin shopping online and Mintel research indicates this will continue post-pandemic. 
Customer experience is now the key differentiator in product selection, surpassing price. Shoppers of all ages expect an omnichannel digital experience. A CPG digital transformation must focus on the customer experience. Whether it's improving the actual customer experience or improving the delivery of the experience, the customer is at the center.  A digital transformation may include a mobile-first approach, augmented reality or AI, use of cloud services and software, IoT devices, better use of data, and a host of APIs to hold it all together.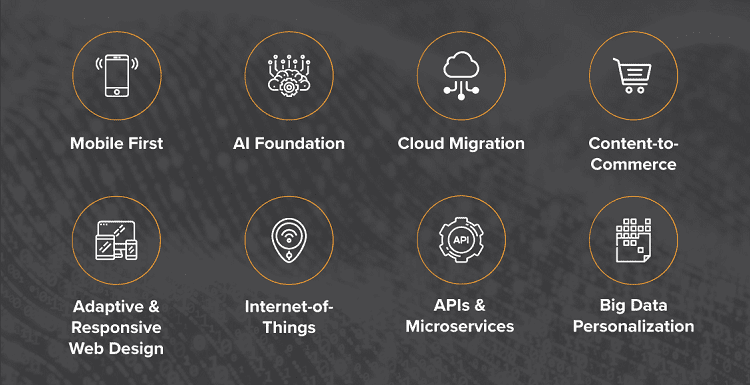 Shoppers want a customized and personalized experience, and you aren't going to provide that without a digital transformation.
As the number of digital devices in the home increases, consumers will rely more heavily on their tech to complete purchases.
For example, when one of LG's smart refrigerators says it's time to buy mayo, the consumer can use voice to order through Alexa, add the item to a shopping list on a grocery store app, or set a smart phone location reminder to pick up mayo next time they are in the store. If consumers are digital, CPG companies must be digital too. 
Digital Transformation Trends for CPG
Packed goods brands are finding success with CPG digital trends that use technology to improve brand image and build the relationship between the business and the consumer.
Subscription models
In a busy world, who has time to buy pet food, shampoo, deodorant, or laundry detergent? Since most CPG products are purchased at regular intervals, they are perfect for subscription sales. And digitizing the sign-up makes selling the subscription even easier. 
What's more routine than brushing your teeth? Most people buy a new toothbrush every nine months, but dentists recommend more frequent replacements. Quip built an entire business around the toothbrush subscription model. 
A website provides the channel to subscribe, customer support, and order tracking and history. Social media builds the community and provides for old-fashioned word of mouth marketing. Quip gets steady revenue and customers always have a fresh toothbrush to use. 
Online only products
With more and more sales moving on-line, retailers and grocers are looking for ways to differentiate their web stores or marketplaces.
One CPG retail digital transformation strategy that capitalizes on this need is the creation of web only products. For example, Unilever brands, Dollar Shave Club and Graze, are only available online. 
These brands capitalize on the current frenzy of online buying due to government-imposed lockdowns and position the companies for the future. Once consumers are free to roam the stores and examine the shelves, a slight downturn is expected.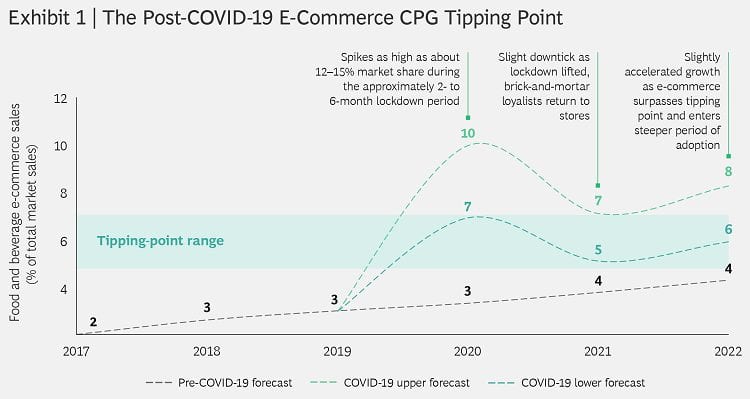 [Source]
But analysts predict CPG eCommerce for the B2C and B2B beverages & food sector will rise again after a slight dip. And online-only brands future-proof this dip, as they will not be available in brick-and-mortar stores. 
Better use of data
Better use of data is one of the most impactful trends in digital transformation in manufacturing. According to Deloitte, CPG companies have been spending about 8% year over year on technology. And while they are collecting vast quantities of data, they aren't using it wisely. The continuum Deloitte describes looks like this: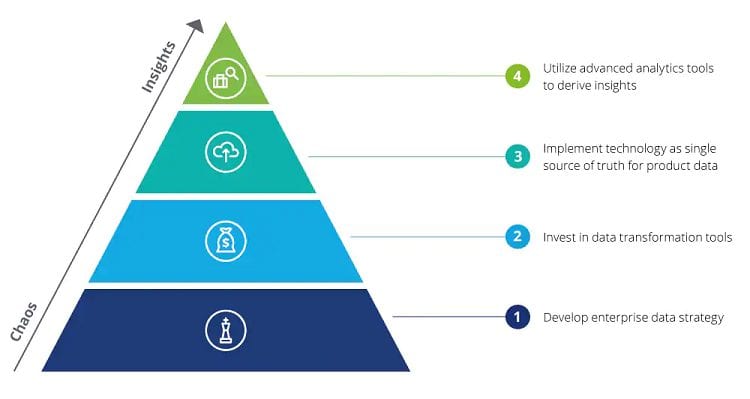 [Source]
Too many companies are stuck in chaos because they haven't developed a cohesive data strategy. A digital transformation that includes advanced analytics tools like AI and cloud-based computing can provide granular insights necessary to change your business strategy. For example, state by state or county by county information regarding the closures of gyms for COVID-19 reasons or monitoring gym trips can indicate the need (or lack of need) for anything from travel-sized personal care products to water bottles, gym towels, and duffel bags. 
Unified engagement strategy
It's clear that mobile usage must be top of mind in any digital transformation for CPG brands. This includes web pages that are totally responsive for all mobile devices as well as progressive web apps (PWA) that render and perform flawlessly on smartphones and tablets. 
However, it's important that no matter how you engage, the brand voice and experience is consistent.  For example, consider the multiple types of individuals like architects, project managers, and contractors that need access to the same eCommerce for building materials site.
Don't confuse shoppers by using one navigation scheme on the website and another on the PWA. A customer looking for a coupon or their loyalty points balance should be able to find the information they need quickly and easily no matter what channel they use to engage the brand. 
Don't forget the importance of extending this unity to your social media presence. And when your customers leave the safety of a social media walled garden and venture out onto the wild web, make sure your people based marketing efforts continue this unified approach.
COVID-19 Impact on CPG
The COVID-19 pandemic changed the way people view and buy CPG products and early indicators signal the change is evergreen.
Fitness and health will continue to be more important than pre-pandemic. It's unclear when and if consumer confidence in shopping in brick-and-mortar stores will return on a wide-scale basis. Accenture research from March to June showed little change in the high level of concern most people felt about being in a public place.
And when people do feel safe about socializing, they'll be doing it more from home. What was once a place to live is now the office, movie theater, and restaurant. Products and practices that support this new lifestyle will be readily embraced. That means a continued strong desire for upscale cooking at home experiences while cosmetic products demand will be weak. 
Brand trust will continue to be important. With online shopping projected to remain strong, it's hard to touch, feel, and smell products. Consumers will rely on their sense of trust in a brand instead of trusting their physical senses. 
In the short-term, the rollout of vaccines gives pharmacies a chance to increase in-person sales of CPG products. Promotions such as coupons to incentivize vaccinations can boost sales. And with the first vaccines requiring two doses, this doubles your chances of increasing sales. 
The Future of CPG
IRI research shows that older millennials are more reluctant to take a vaccine than seniors. This means contrary to conventional wisdom, the population returning to "normal" patterns first will be the older consumer. 
The future of the CPG industry is closely tied to economic recovery. How people respond to the vaccination programs that are currently rolling out will impact the economic recovery. In the US passage of an additional stimulus package may temporarily prop up consumer demand.
Online channels and physical channels will continue to blur as more PWAs with in-store features are released. Sustainable, plant-based and CBD products will continue in demand. As online purchasing of CPG products continues, consumers will be more concerned with packaging.
Brands that can leverage data, roll out new products, and deliver where needed will continue to be winners. 
Explore more digital transformation case studies in our guide.
Successful Use Case: Digital Transformation in the Consumer Packaged Goods Industry
FairPrice is the largest supermarket chain in Singapore. They serve B2B and B2C markets to the tune of $3.8 billion in sales. With 115 stores and a strong online presence, they needed a unified approach to their digital sales and marketing that served the needs of business and retail buyers. 
Their legacy solution couldn't provide the modern customer experience that is so important to online shoppers. In addition, their workflows were either inadequate or clunky and inefficient. It was difficult to extract useful data or create meaningful marketing or sales reports. 
They decided to re-platform with OroCommerce's B2B eCommerce system and implement it in the cloud. This didn't drain resources during the development and implementation phases of the project, so they could continue to use the legacy system until their new application was ready for prime time.
Once launched, FairPrice could run multiple campaigns that provided a unique personalized-to-the-customer experience for each account. This provides shoppers the recognition and a sense of relevance that creates a great customer experience.

Because they used customizable workflows, triggers were set based on purchasing history. This allows personalized upsells, marketing campaigns, and loyalty programs that are so granular they can be individual to the customer. 
This was no small-scale implementation. FairPrice moved over 5,000 online customers as well as their associated product catalogs and loyalty program information. 
In addition, their FMCG eCommerce solution had to integrate with the ERP for smooth operations. With the help of Keyrus as their digital commerce integration project partner, they reached their digital transformation goals and improved the customer experience. Want more case studies like this? Check out our list of digital transformation examples in manufacturing.
Continually Innovating – CPG Digital Transformation Is the Next Wave
The CPG industry thrives on innovation. From the newest, latest, and most improved product or variation to new packaging and new product delivery methods, the CPG sector is engaged in the relentless pursuit of improvement.
Maximizing digital technology transformation to increase customer satisfaction and grow sales and profitability is just the next stage of innovation.