Originally published November 5, 2020, updated April 6, 2022
The automotive industry is no stranger to rapid and disruptive change, and digital transformation in automotive is the next big disruptor. Trends like increased connectivity, environmental regulations, IoT, wireless solutions, and heightened customer expectations drive investments into digitization in the automotive industry.
Technology already permeates many aspects of the automotive value and supply chain from product design to manufacturing, distribution, and retail. Automotive experts predict that connected vehicles, smart factories, and an abundance of customer data will drive investment well into the future. According to the Future of Mobility report by Frost & Sullivan, IT spending will increase from $38 billion in 2015 to over $168 billion in 2025.
What Can We Expect in Digital Transformation for Automotive?
Some automotive purchase experience aspects have roots deep into the 20th century and have changed little until now. For new car sales, eCommerce has long been available to dealerships and customers but most preferred the traditional buying experience. What's more, the push to include digital tools such as iPads in showrooms did little to augment the customer experience.
As 2022 unfolds, we see that the world has changed, and customers of all types are more willing to go online for their automotive needs. This trend is set to accelerate – automotive companies of all kinds, whether offline, B2C, or B2B eCommerce, will seek to improve the digital experience and connect with customers whether on social media, app, or website.
Does the Automotive Industry Need Digital Transformation?
Whether for replacement parts or building materials B2B eCommerce, the digital revolution makes our lives easier and more convenient.
The same is true for the auto industry. Digital technology adoption is underway in autonomous and electric vehicles, manufacturing, maintenance, marketing, and sales. However, these developments are not without their challenges.
Challenges of Digitization in the Automotive Industry
Most automotive technological change management initiatives circle around technology-driven trends and customer demands to stay competitive. What's more, the automotive industry is highly competitive and interlinked with many other sectors. Trends like digital transformation in manufacturing, concerns for the environment, mobility-as-a-service, and predictive analysis bring numerous benefits but also highlight multiple industry challenges. Here are some of them:
Investment
In this challenging economic climate, cash conservation and risk management are the main areas of focus. As automotive businesses prioritize efficiency, they will focus on investments that drive supply chain visibility, sales efficiency, and customer loyalty.
For businesses that invest in automotive digitalization, they will need to remain focused on the most valuable uses cases with the highest ROI. Predicting the ROI of new technologies and identifying optimal use cases within the automotive industry will remain the biggest challenges.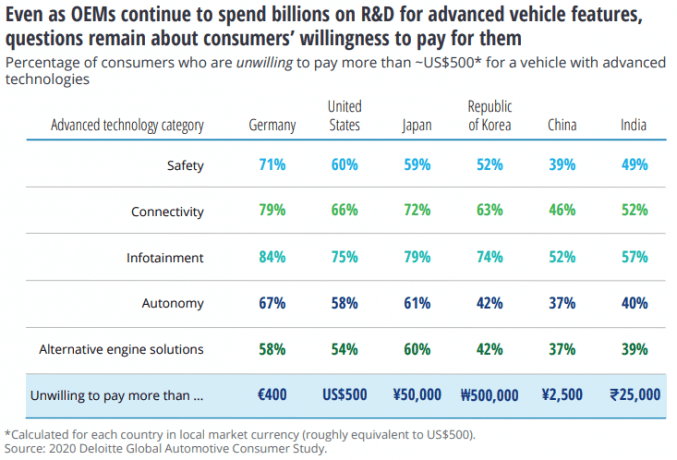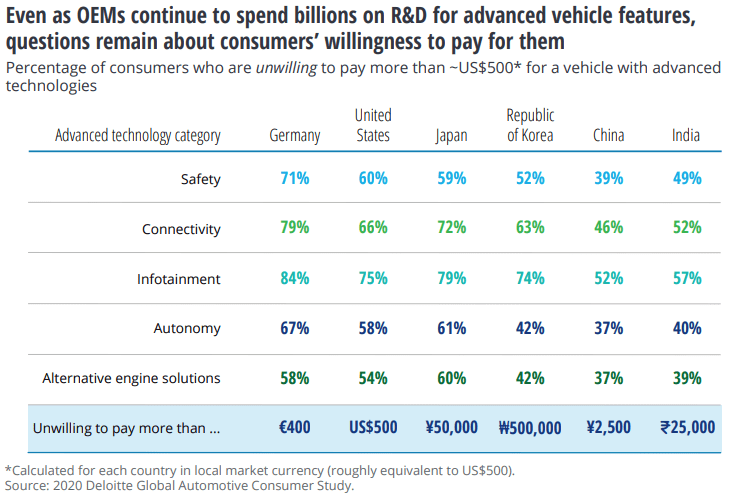 [Source]
For example, just a few years back, the press heralded autonomous vehicles as the biggest disruptor. However, since then, the arrival of fully autonomous vehicles has been postponed. A 2020 Deloitte survey revealed that most consumers in Germany (67% percent) and Japan (61%) are unwilling to pay more than $500 for autonomous vehicle technology options on their cars.
The story is similar with innovative powertrain technologies. 58% of German and 54% of US consumers responded they would not pay more than $500 for alternative-fuel engines. While proponents of these technological advancements exist, the shaky investment climate and unclear customer demand for technology remain some of the biggest obstacles.
Resistance to change
The automotive sector could be doing more to advance crucial transformative initiatives and business models. For example, as the range of electric cars increases, range anxiety remains a real problem. The automotive industry's fragmented nature means there is little responsibility for pushing worldwide or nationwide charging infrastructure. There is also an ongoing debate on whether charging infrastructure should be OEM's or the government's responsibility.
While the automotive aftermarket industry has long benefited from B2C eCommerce, other areas of eCommerce in automotive have seen sporadic digital adoption. Manufacturers face similar challenges. One study revealed that automotive manufacturers expect a 24% growth in digital investment over the coming years. Yet challenges remain due to low levels of digital maturity in the industry and the speed of implementing these changes.
Customer-centricity
According to a Qualtrics study, a lack of customer focus is a pressing challenge to automotive retail digital transformation. However, enacting customer-centric organizational change often means executing corporate programs at the national level than can be implemented at the dealer and service levels.
For these programs to succeed, the in-person dealer experience, and the digital experience on every device should be indistinguishable. The growing ranks of digital natives are sensitive to these experiences, and brands must rethink how their relationships with customers, dealers, suppliers, and vendors can help improve the overall experience of car ownership.
While a digital transformation journey might be challenging, it's not something done alone. We've recently updated our list of digital transformation consultants that can assist automotive businesses on their journeys, bringing years of experience in working on mid-to-enterprise B2C and B2B digital transformation projects.
Examples of Digital Transformation in the Automotive Industry
The sector is full of excellent digital transformation examples in automotive: from product innovation to operational change to customer-facing improvements. Here are some ways automotive businesses enacted digital change:
Top 5 Digital Transformation Trends in the Automotive Industry
The automotive industry is one of the most receptive to emerging technologies and trends, making it one of the most dynamic. We've analyzed the top digital transformation trends driving critical change in all aspects of the automotive industry. Here are some of them:
Environment
As the human impact on the environment remains a hot topic, every industry moves towards a more sustainable or environmentally friendly technology. Almost every automotive major brand already offers a fully electric vehicle in its lineup. According to CNN's research, Volkswagen predicted to sell 1.4 million electric cars by 2025, and there's a strong possibility that electric cars could fully outsell gasoline-powered cars by 2040.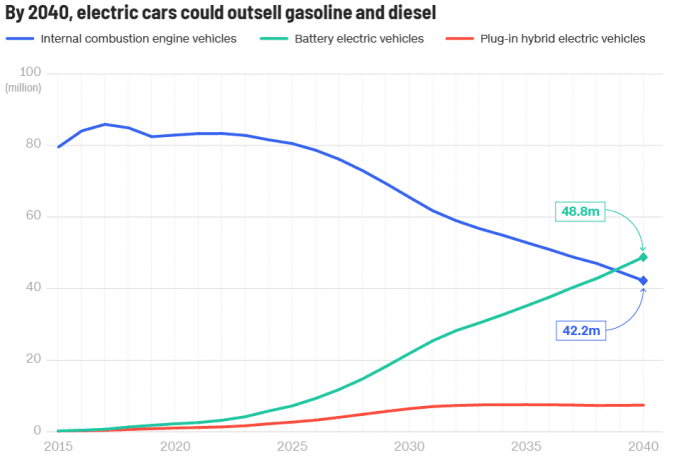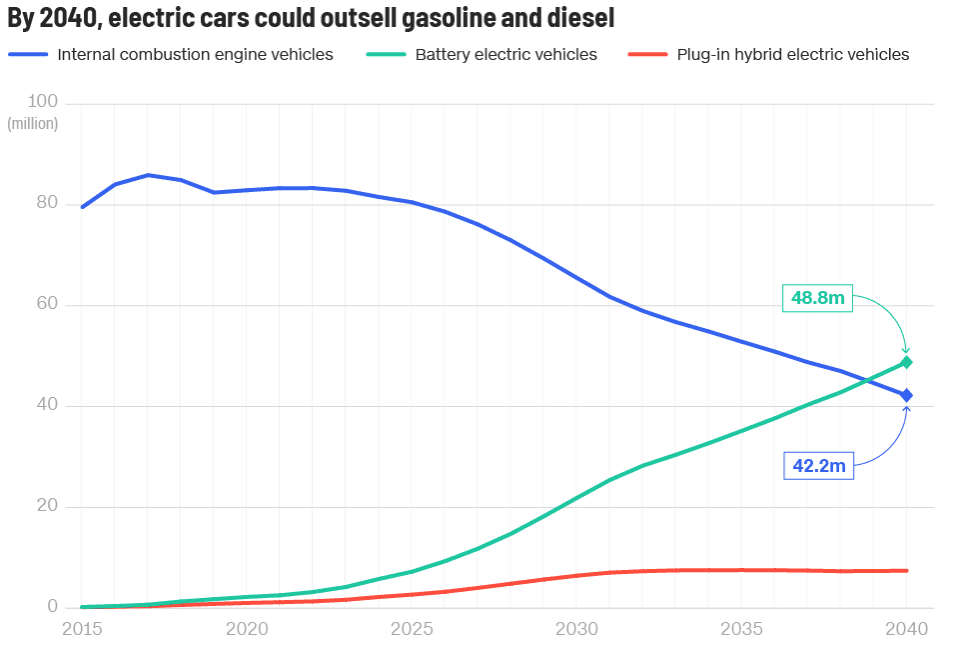 [Source]
The boost of online shopping is driving sales of electric delivery vans. In fall of 2020, Amazon ordered 1,800 electric vans from Mercedes. Many brands are shifting sales online, too. As automotive brands launch new models, they are pivoting online to offer customers a comfortable experience without the need to go to the dealership.
Connectivity
From telephones to televisions to watches, most of our devices are already connected in some form, and automotive products are quickly catching up. The evolution of the infotainment systems, for example, is occurring at a rapid pace. Cars are more capable of understanding voice commands, monitor parts for wear according to driving habits, and adapt to the driver's personality.
With digitally-enhaced experience becoming the norm, automotive brands will need to accelerate updates to in-vehicle systems. For example, Tesla has long pioneered wireless vehicle software updates. Car brands see remotely updatable vehicles as a significant value-add, and their sales are expected to grow to 35 million by 2025.
Autonomy
Machine learning and predictive driving technology are already widespread in the automotive industry. As unique manufacturer-developed technologies advance and autopilot ranking systems develop, the general public will warm up to the idea of letting cars drive themselves.
The automotive industry is extremely data-driven, and the amount of data passed through cameras, sensors, and computers is increasing by the day. Assisted driving is already becoming mainstream, and these technologies will soon expand into automotive products at all price points.
Digital commerce
Digital commerce technologies are disrupting the automotive industry by unlocking greater efficiencies, personalization, and cost savings. The proliferation of new tools and the breadth of data available can be better used to serve customers. One example of this is feedback tabs or surveys on eCommerce and social media sites that can relay information directly to the distributor or manufacturer.
Automotive suppliers can digitally transform their offline businesses with automotive eCommerce platforms like OroCommerce. With a 2-way integration between their ERP and CRM systems, a business can establish a single source of customer truth and gain deep visibility into their supply chains.
Aside from increasing efficiency and cutting costs, this greatly decreases human error during inventory and order management. These elements should make up a part of the future-proof strategy for every carmaker and distributor to help them scale, remain resilient and expand into growing markets such as direct sales (D2C) or B2B2C alongside existing channels.
Augmented reality
There are many applications for augmented and virtual reality capabilities in the automotive industry. For example, in virtual showrooming, customers can sit in a chair that imitates a car seat and get a real-time experience of being in that particular car. Virtual prototyping and configuration can help users visualize the final product and understand how all parts are connected.
For example, service departments can use manufacturer-supplied augmented reality software to help automotive technicians shave time off their work. These technologies can expand past OEMs to service departments in the insurance and used car industries.
What Are the Benefits of Digital Transformation in Automotive?
As digital technologies evolve all around us, manufacturers are increasingly coming to crossroads: to transform and develop or stick with the tried, tested, and true methods. Digital transformation offers many benefits in the long term, including:
Streamline the supply management in automotive manufacturing and facilitate a connected supply chain

Innovate vehicle performance and design

Expand into new markets with auto parts or supply sales

Offer omnichannel experiences in sales and customer care

Provide post-sales support and monitor customer satisfaction
How to Get Started with Digital Transformation for Automotive?
Today's businesses must remain ahead of the curve and get into the customer's minds before their competitors. They need to determine their current and future needs and work with the right digital transformation technology partner to help them get there. They also need to streamline internal processes, maintain and grow relationships, and cut costs.
Oro, Inc offers a suite of products that help automotive players address the challenges within their industries and grow their brand through the digital revolution.
OroCRM is a CRM system that's fully integrated with OroCommerce and allows automotive businesses to get a unified view of leads, customers, and sales data. Armed with this information, automotive brands can better position themselves to make the right moves to grow their business and seize new opportunities.
OroCommerce is one of the very few B2B eCommerce platforms built from the ground up for B2B needs. Designed for various corporate structures and B2B workflows, it offers unmatched flexibility in pricing calculation, ordering, checkout, payment, invoicing, and shipping options. It also meets PCI eCommerce compliance requirements.
With these robust, time-tested platforms comes an ecosystem of developers and technology partners operating in every corner of the world. Whatever you are, and whatever B2B eCommerce challenge you face, Oro helps you stay on your digital transformation path and gets you to market faster.
Enable Digital Change in Your Automotive Business Today
The automotive industry is going through some exciting times. The pressure to digitalize creates the need for automotive businesses to partner and collaborate with technology solution providers.
Don't make the mistake of limiting your automotive digital transformation to isolated business areas such as manufacturing, distribution, or customer-facing activities. Make digital transformation a central, inseparable way of operating your business, whatever area of automotive you are in.
How do top midmarket brands use technology?
Forrester shares real-life case studies from leading business sellers.
Frequently Asked Questions
What is digital transformation in the automotive industry?
Digital transformation is a means for automotive OEMs and tier suppliers to modernize their processes to increase operational efficiencies, create sustainable products, and provide new experiences that consumers expect.
How does technology affect the car industry?
Breakthroughs in computers, software and manufacturing technologies help automakers reimagine how they approach car design, production, and sales.
For example, additive manufacturing enables automotive brands to develop more efficient car components by removing the limitations of traditional molding and subtractive technologies. Alternatively, eCommerce unlocks new growth opportunities for automotive OEMs and suppliers by automating sales and creating a modern buying experience for customers.
How is IoT used in the automobile industry?
Automotive IoT uses sensors on vehicles to monitor and collect data about vehicle performance. OEMs can use this information to improve the reliability, compliance, and safety of their cars.