The construction industry is one of the largest industries in the world. It also is one of the lesser digitized sectors. According to an IDC survey, the pandemic pushed over 72% of construction companies to change priorities in their processes, business models, and ecosystems. Construction companies quickly realized they must adapt to today's digital realities to stay competitive in the years and decades ahead.
Despite the need for digitalization, many companies struggle to complete their digital transformation and quickly run out of steam. The hurdles along the path to digitalization are discouraging. Construction projects are unique, involve multiple independent subcontractors and suppliers, and can change at a moment's notice.
Stakeholders have little incentive to adopt new methods, and companies deploying technologies struggle to find tools they can repeatedly deploy. In addition, construction usually takes place in harsh conditions. Workers need tools that are safe and easy-to-use in extreme environments and situations.
With these challenges in mind, how can construction businesses achieve a successful digital transformation? This article explores how the right approach to technology can drive change for construction companies. The key is to focus on the benefits and understand the challenges along the way. Learning from successful digital transformation initiatives can help you execute your digital initiatives in construction.
What is Digital Transformation in Construction?
For those in the construction industry, digital transformation means utilizing digital technologies for more efficient operations. Digital technologies can involve anything from physical devices to software used in the office or the field.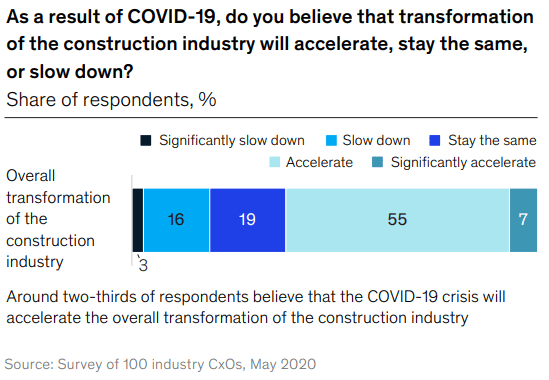 The construction industry is diverse, with global, national, and small players. While industries, projects, and working conditions vary, both planning efficiency and productivity are low. Projects routinely go over time and over budget.
According to McKinsey, global construction productivity growth averaged 1% over the past two decades, compared to 3.6% for manufacturing. As an industry second last in technology adoption, just ahead of agriculture and hunting, the demand for change in construction has never been stronger.
Increased operational costs and global uncertainties are driving construction companies to adopt and accelerate digitization. And the construction industry, like the healthcare, automotive, and merchandising industries, stands to benefit from digitalization.
Discover the benefits of digitization for distributors in the construction industry
What Are the Benefits of Digital Transformation in Construction?
For professionals in the AEC (architecture, engineering, and construction) industry, building information modeling (BIM) technology revolutionized how projects are planned and visualized. Unknown just a decade ago, today's architects and designers rely on BIM during the building design, planning, construction, and operation phases. The adoption of BIM paved the way for other technologies such as workflow automation, cloud computing, AI, IoT, and digital twinning.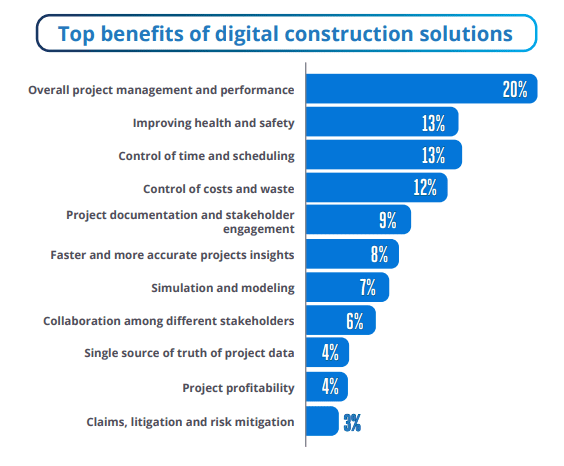 Source
Here are the benefits of digitization for construction companies.
Increased productivity
According to McKinsey research, over the last 20 years construction productivity has lagged.  At only 1% annual growth, the number is far behind manufacturing (3.6%) or the global average (2.8%). With new digital processes, construction-sector companies can boost productivity to match other industries. Double-digit productivity gains and sizable cost reductions result.
Improved worker collaboration
Real-time collaboration, data gathering, and timely changes make projects more successful. And the right technology makes it possible. For example, the proliferation of cloud-based software breaks down data silos, simplifies data management, shortens timeframes, and reduces costs. Modern systems like cloud-based modeling, project planning, and accounting applications facilitate stakeholder collaboration.
Better risk management
Forecasting plays a crucial role in today's construction industry. Digital tools coupled with meaningful data analysis can identify project financial risks. Digital tools allow small construction firms to manage risks and measure performance. Companies can better track cash flow, margins, billing, and procurement and make accurate cost projections.
With the power of integration, construction managers can connect their business intelligence (BI) tools with their tech stack to get an overall picture of company performance and trajectory. That leads to reduced effort and better decision-making on every project.
Sales workflows
Technology helps firms optimize sales and purchasing processes. That's crucial to optimize costs and remain competitive. With a B2B eCommerce platform, for example, construction suppliers can make it easier for their customers to order online and also streamline back-office workflows. This technology can reduce overhead and improve customer purchase experience for larger businesses with multiple branches and franchises. 
Regardless of the construction software you choose, it will help you optimize your operations and keep projects on time and budget. 
The Essential Guide to Technology Change Management
What are the Challenges of Digital Transformation in Construction?
Common challenges to digital transformation in the construction industry include incomplete or unsuccessful past digital transformation projects, obtaining stakeholder buy-in, and integrating technology with business processes. These main challenges are exacerbated by the unique characteristics of the construction industry:
Fragmentation and transience
Every construction project is different and requires the services of different specialists such as architects, engineers and project managers, as well as subcontractors. Implementing change across numerous projects and disciplines presents a challenge. Large, multi-year, hundred-million-dollar projects provide an opportunity to implement new technology, establish efficiencies, and reinforce change over time.
Workforce diversity and turnover
It's rare that the same group of people work on the same projects, although this may be true in some specialized forms of construction. The construction industry experiences some of the highest turnover rates in business. This makes it difficult to implement processes and technologies across multiple projects with any degree of success.
Tight profit margins
Countless economic factors impact the construction industry. Federal and municipal budgets, the investment climate, interest rates, inflation, and consumer demand exert pressure on construction company profits. Budgetary considerations and constraints also differ from project to project. Against this backdrop, companies may face obstacles in funding technology investments.
Jobsite challenges
End users make or break any technology's implementation. Front-line workers need to be fully trained on any new technology. Construction managers must gather feedback and build buy-in from stakeholders before investing in technology. If workers do not embrace the technology, adoption suffers, and digital initiatives fail.
Poor data management
From plans to diagrams, tenders, and RFIs, construction companies historically conducted business on paper. These same companies find it challenging to transfer paper documents to digital. And, since data is the backbone of any digital business, poor data management can represent a significant barrier to digital technology transformation.
Culture
Much of the construction industry operates just like it has for decades. It relies heavily on manual and mechanized tools and processes. Workers don't trust new digital technologies and stand in the way of adoption. 
Getting Offline Customers to Purchase Online: A Guide to Website Adoption
Trends and Examples of Digital Transformation in Construction
Technology has reimagined every industry, and construction is no exception. The following technologies are either increasing in adoption or are already in widespread use to improve processes, reduce errors, and increase return on investment.
Cameras
Cameras have changed the construction and engineering industry in many ways. In the past, jobsite cameras were little more than webcams. Today, however, cameras are irreplaceable on construction sites. Today's cameras can help construction companies uphold safety standards, monitor productivity, and reduce site visits. Advancements in solar technology, image quality, 360-degree cameras, and remote operation make construction cameras more accessible and indispensable to construction companies.
Laser scanning
Laser scanning technology helps on-site workers, from installers and surveyors, to workers in building material warehouses. Laser scanners can avoid conflicts between HVAC, plumbing, and electrical during installation. They also provide an as-built record for facility managers, helping with operations, maintenance, and renovation. Laser tools are developing quickly to help workers not only measure distance but accurately map areas in all dimensions. A simple scan improves the accuracy and quality of Installations and fitments.
Augmented Reality and Virtual Reality
Augmented Reality (AR)  and Virtual Reality (VR) have been well-received by the construction industry. Many forward-thinking players combine Mixed Reality (MR) with VR so construction workers can use VR headsets to view a highly augmented version of the physical world. In the post-COVID and remote work environment, MR enables remote job site tours. Installers improve quality by following overlaid instruction data as they work. 
Connected tools
Many digital tool manufacturers have built ecosystems that support digitization. Hilti's Nuron cordless battery line includes drills, hammer drills, and saws. The intelligent 22V battery works under a single cordless battery system, with interchangeable battery packs and chargers. Nuron goes a step further: the data generated by every tool is stored in the battery. Data on usage, performance, location, and battery health automatically uploads to the cloud. This reduces downtime and optimizes tool usage.
Digital twinning
A digital twin is a real-time digital simulation of a building project created from integrated data pertaining to the design, construction, and operation of the project. Once data is collected it can be used to optimize processes for safety and efficiency. The key to a successful digital twin is its ability to integrate built environment data with system, sensor, and utility data. A digital twin system like Autodesk Tandem is designed for the entire project lifecycle.
Digital commerce
Digital commerce is another element of industrial digital transformation fast accelerating change throughout the construction industry. Construction buyers are everywhere: in the office, on the jobsite, or on the road. They certainly cannot afford to call the support department or wait on hold. They need to make mobile purchases with minimal clicks. They need an intuitive self-service experience.
Aside from helping buyers, successful eCommerce for the construction materials industry streamlines order processing, logistics, and inventory management while enhancing supply chain transparency. All that streamlines operations, boosts productivity, and saves the project time and money.
Explore more digital transformation case study examples in our guide
Construction Companies Empowered by Digital Technology
Virtually any construction company can utilize digital technology regardless of the line of work or sector they serve. See how two construction companies, one a construction equipment rental company and the other, a building materials distributor, streamline their workflows with a digital commerce solution.
Heavy Equipment Rental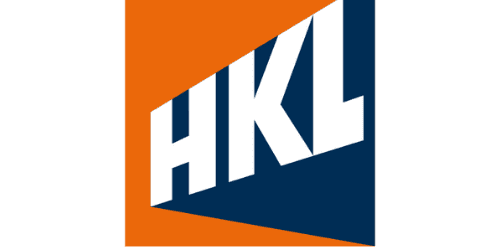 HKL Baumaschinen is a Hamburg-based company that rents heavy equipment to construction sites from over 170 retail and service locations.
One of the biggest names in Germany's construction rental market, HKL Baumaschinen rents, sells, and services heavy equipment, machinery, and handheld tools. Since construction equipment rentals include many variables and some equipment is location-specific, the company was challenged to offer a seamless customer experience.
After customizing OroCommerce's B2B eCommerce solution for its rental service, HKL launched a new platform to handle rentals. The new system offers customers real-time information such as availability, pick-up, delivery options, and product manuals. Customers can book multiple orders for different locations independently.
As a result, sales reps are freed up from calls and manual data entry, with more time to advise customers on their purchases.
Building Materials Distribution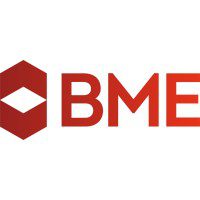 BME France is a division of BME Group, one of Europe's leading building materials distributors. They sell to small to medium-sized contractors and installers in the residential and renovation markets.
BME France offers building materials through Busca and Raboni branded stores. The eCommerce stores are managed through OroCommerce, which enables customers to set specific delivery times and direct orders to job site addresses. 
What's more, BME allows customers to request quotes and get the lowest prices applicable to their needs. This is done by integrating the ERP and PIM with their eCommerce platform. BME's websites are connected to a single back-end, and admins can track KPIs in one dashboard.
How Oro Helps Digital Transformation in Construction
The construction industry is ripe for a digital transformation. The benefits are well worth overcoming the common challenges.
As project planning and design incorporate new technology, business processes are digitizing as well. Buyers need digital tools to manage multiple projects and want as little friction as possible in the quoting and ordering process. 
Oro helps manufacturers, wholesalers, and distributors serving the construction industry to streamline their sales and ordering workflows. Whether your goal is to improve the customer experience on the front end or improve backend processes, we can help.
Start a conversation with the Oro team today. 
We can help your construction business reach new heights.
Let's build a better future for your construction business.
Questions and Answers
How is digital transformation changing the construction industry?
While the construction industry remains among the world's least digitized and fragmented, digital technologies are slowly but surely changing the industry past the point of no return. Starting with cameras and virtual reality systems that help construction companies, project managers, contractors, and installers work effectively, and ending with software that help deliver and manage projects.
What are the examples of digital transformation in construction?
Some examples of digital transformation projects in construction involve implementation of building information modeling (BIM) systems, project management solutions, B2B eCommerce solutions, as well as physical products such as cameras, virtual reality (VR) technologies, or laser imaging systems.
However, due to the nature of the construction industry, many companies face challenges in applying transformative change within their business areas, business units, or even individual projects.
How do you succeed in construction digital transformation?
The secret to construction digital transformation is that the right approach allows brands to achieve success. In other words, before digital products and systems get implemented, all processes should be optimized for that technology.
Technology should enable communication and collaboration between company and project stakeholders – both in the office and out in the field. After all the challenges are addressed, and operational processes are adjusted, you can identify how particular digital tools can improve operations. Only then can you start evaluating your shortlisted technologies.