IDC estimates that digital transformation spending will reach $7.4 trillion in 2023, and the majority of that spending will be in the manufacturing sector. Additional IDC research suggests that 75% of large manufacturers are already updating their operations with innovative technologies.
If you are in manufacturing, chances are these companies are your competitors.  If you've been sitting on the sidelines, unsure if digital transformation is right for your company, take a look at how others are successfully using advanced technologies in these manufacturing digital transformation case studies and examples below. You just might find the inspiration you need to start your own digital transformation.
Digital Transformation in Manufacturing is Everywhere
Thanks to Industry 4.0 and the Industrial Internet of Things (IIoT), manufacturers generate more data than in any other industry. Unfortunately, they don't fully leverage big data and data analytics to make business and operational improvements in areas such as product development or manufacturing execution. Successful manufacturers are embracing digital transformation that shakes up the status quo and introduces new technologies for processing data in a timely, useful fashion.
In manufacturing, technology has the power to be a disruptive force for an entire industry. Before you start drafting a roadmap for digital manufacturing, you must get everyone in your company on board. That is, if you want to sell the digital transformation idea to upper management, you need use cases and positive examples of how other companies approached their challenges by implementing digital technologies.
Digital transformation in manufacturing helps companies create value in operational effectiveness and product innovation by:
Utilizing machine learning to offer insight into end-to-end processes, optimize supply chain, and continuously monitor production activity in real-time and reduce costs.
Integrating their manufacturing network with tools such as ERP, eCommerce PIM, eProcurement, eCommerce, and CRM for deeper bonds with customers and improved customer experience.

Deploying augmented reality to optimize factory operations, improve quality control, and reduce energy consumption.

Adopting digital transformation tools such as modern

B2B eCommerce platforms

to take advantage of new business models, automate sales, streamline interactions with their customers and partners, and ultimately increase sales.
Case Studies of Digital Transformation in Manufacturing
As technology revolutionizes manufacturing, both industry leaders and small players find competitive advantages in their niches. By embracing technology on the manufacturing floor and in the back office, manufacturers can digitize all areas of their operation. Here are some digital transformation examples in manufacturing showcasing how digital technology brings value to companies and their customers.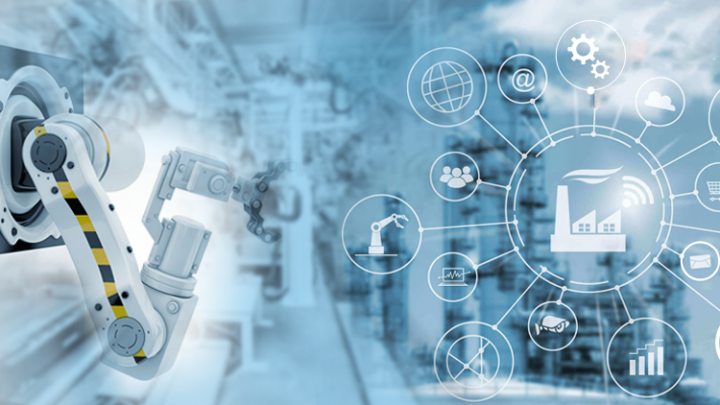 Digitizing to improve materials and supply chain management
The first B2B digital transformation case study on our list is about ThyssenKrupp Materials Services (TKMS), the largest material distributor and service provider in the western world. They offer turn-key and tailored services in global material distribution, materials management, and supply chain management. TKMS processes over 2 million orders per year for 250,000 customers worldwide.
The Challenge
TKMS needed to fully utilize data insights through algorithms. Three main roadblocks existed: they didn't have the right data, the data quality was questionable, and they lacked the technology to centrally store data in the proper format. The plan was to carefully analyze data and build algorithms to improve materials deployment.
The Process
A key task was to optimize specific problem areas involving network simulations. For example, TKMS needed to optimize transportation costs and deliver stock without sacrificing service levels. The result was Alfred, an AI and data analytics solution developed in-house in 2018. Since its original deployment, Alfred has been updated with the domain knowledge and expertise necessary to bring about improvements in TKMS target areas. 
The Solution
Alfred (named after the company's founder Alfred Krupp) was developed with the help of Microsoft's global Azure cloud platform. Its self-learning algorithms provide recommendations on stock levels and machinery maintenance models, including malfunction warnings. Alfred recommends which physical sites should be expanded and the sites to close down and identified material substitutions that assist with contract negotiations and bundling. Alfred helps employees with key tasks such as assigning materials to each industry, identifying the best transport route, and recognizing the needs of individual locations.
The Results
Alfred's decision engine accelerated decision-making processes. It identifies supplying locations for each customer, taking into account all relevant data. Alfred also improves efficiency by simulating the TKMS network setup at any given time. 
Transforming customer experience with ERP, CRM, and eCommerce 
Since 1930, Samuel Hubbard has manufactured shoes using only the finest materials and leathers. Today, Samuel Hubbard is famous for its line of sport, casual, and dress shoes. Their products are manufactured and sold around the world.
The Challenge 
Their primary challenge was automating day-to-day tasks to reduce the amount of time teams spent on coordinating and manual data entry. Sales teams needed to be focused on generating leads, reaching quotas, and engaging with customers. Improving the overall customer experience, offering more user-friendly B2B purchasing, and harmonizing their B2B and B2C data were additional goals.
The Process
Samuel Hubbard utilized Magento for B2C sales but quickly realized they needed to seamlessly integrate the B2C and B2B while using a unified CRM. OroCommerce offered everything they needed, including a customizable product matrix and a one-step checkout and still allowed Samuel Hubbard to retain Magento for their B2C channel. Implementation involved a complete overhaul of their eCommerce systems and only took 6 months.
The Solution
Samuel Hubbard utilized their B2C data from Magento and integrated it with OroCRM while implementing OroCommerce for their B2B portal. They now had a 360-degree view of all customers. Staff better understand the customer journey, offer better customer support, and can even log in on behalf of B2B customers to assist with the shopping process when needed.
The Results
By investing in a platform that prioritized customer experience, Samuel Hubbard increased sales. A few months after launch, they inventoried 4,500 SKUs and realized an increase of $32,000 in B2B orders per month. Today, Samuel Hubbard shows no signs of slowing down their digital transformation journey.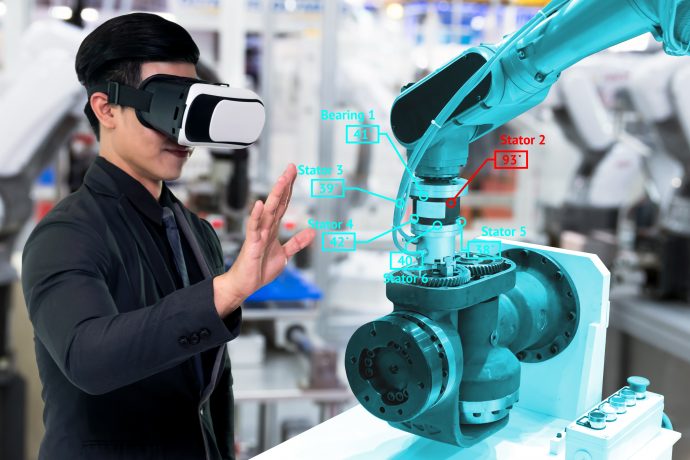 Improving training with IoT and VR technology
Another great digital manufacturing case study comes from BAE Systems, a British multinational defense, security, and aerospace company with over 85,800 employees and worldwide operations. They are one of the largest defense contractors in Europe and one of the largest suppliers to the U.S. Department of Defense, as well as the Australian, Indian and Saudi Arabian militaries.
The Challenge 
As a high-tech manufacturing facility, their main challenge was the correct assembly of complicated batteries on a consistent basis. BAE Systems wanted to leverage augmented reality technology to improve the quality of the finished product, increase assembly speed, and achieve industry compliance. 
The Process 
As their production speed increased, BAE wanted to equip line workers with augmented reality glasses to reduce training periods. They sourced HoloLens smart glasses from Microsoft and utilized PTC's Vuforia Studio, a software that translates CAD and IoT data into training and instructional AR experiences. PTC designed the software to offer correct modeling of battery assembly instructions on a step-by-step, color-coded basis to maximize efficiency and minimize errors.
The Solution
The solution effectively bridged the digital and physical world for BAE battery line workers. It projects in virtual reality a 3D model of the right battery components with real-time instructions and drag-and-drop functionality to help workers assemble complex products without sacrificing quality.
The Results
BAE Systems' adoption of AR is one of the most illustrious examples of digitization in manufacturing, with some impressive results: the company managed to reduce assembly time by 50% and training time by over 40%. Microsoft was retained for hardware and digital infrastructure and PTC provided the software solution and ongoing support to help scale operations.
Unifying B2C and B2B sales with one platform
Saltworks, an American salt manufacturer, is the largest of its kind in the world. They import and supply gourmet and artisan salts to the B2B beverage and food industry as well as the health and beauty industry. Their products are imported from over 14 countries and processed for wholesale, bulk, and retail markets.
The Challenge 
In order to manage their pricing schemes, catalogs, and rich content, Saltworks invested heavily in costly add-ons to their legacy eCommerce platform. What they needed was the functionality to cater to their B2C channel while simultaneously offering a tailored B2B experience that differentiated them in a competitive market.
The Process 
As they looked to improve their B2B capabilities, they considered eCommerce for FMCG applications. Saltworks considered platforms such as BigCommerce, WooCommerce, and Magento 2. Upon investigating OroCommerce, Saltworks realized they could meet over 80% of RFP requirements and use cases right out of the box. A new platform and website later, the Saltworks store went live.
The Solution
After implementing OroCommerce, Saltworks operates both B2B and B2C websites from a single source of truth. In addition, they can analyze and track both B2B and B2C sales from a single admin panel. This increases data integrity and allows for accurate and reliable syncing to their CRM and ERP systems. Saltworks also added site functions such as a button for customer purchases through Amazon Seller Accounts.
The Results
The improved B2B and B2C storefront experience and a singular admin panel for back-office staff enabled Saltworks to streamline operations and grow sales. Without the need to perpetually implement costly plugins and extensions, they save time and money.
Is Your Manufacturing Company Ready to Be Digitally Transformed?
For many industries, digital transformation isn't only about reducing costs and increasing efficiencies, it's also about embracing an agile mindset and maximizing revenue through unique competitive advantages. If rethinking operating models, adopting new principles, and increasing efficiencies are creating digital fatigue, rely on the services of a digital transformation consulting company. They are also useful in helping you to develop digital manufacturing use cases and compile a roadmap for successful digital transformation in retail, manufacturing, automotive, and other sectors.
If you want to be a customer-focused company, you need flexible B2B-specific digital commerce for manufacturers. Platforms such as OroCommerce help manufacturers of all sizes to offer customer experiences that stand out from the competition. Join businesses just like yours that successfully completed their shifts towards digital commerce in the manufacturing industry.