Originally published March 3, 2020, updated February 1, 2022
The impact that digital transformation in manufacturing has on businesses, their suppliers, customers, and other third parties is staggering. Whether you're selling precision machinery or construction material eCommerce, there's many ways technology can help you. Digital technologies help manufacturers improve operational efficiencies and optimize different business areas, from product development to the supply chain.  
Advanced manufacturing technologies have numerous advantages, such as helping companies unlock digital business models, adapt to changes faster, or even anticipate changes before they occur – all crucially important to manufacturing. It's not surprising that IDC expects that by the end of 2022, half of all manufacturers will be invested in improved resilience, data analytics, and artificial intelligence to drive smart manufacturing. 
As the digital landscape shows no signs of disappearing, this article will answer some relevant questions about smart manufacturing: what is digital transformation in manufacturing, and which technologies are driving it? What makes it important? What's holding companies back from investing in a digital transformation journey? And how can they prepare to take the plunge?
What is Digital Transformation in the Manufacturing Industry Today?
Digital transformation in manufacturing means enhancing traditional manufacturing processes, products, and workforce with digital technologies, such as automation software, eCommerce, sensors, industrial robots, and more.
The goal of digital transformation in manufacturing is to:
Improve operational efficiency, reduce costs, and maximize revenue

Increase the quality of manufactured goods

Improve customer experience (e.g. streamline the ordering process)

Enhance decision-making capabilities 

Adapt quickly to changes in the customer demands and market to secure competitive advantage
The state of manufacturing is constantly changing due to volatility in global, economic, and policy landscapes. Not to mention, many manufacturing businesses were severely hit by the pandemic and needed to adapt quickly to stay afloat.
Outside of these changes, we're seeing many technological advancements promising to disrupt the sector. Greater network capabilities of 5G, a push for IoT, Industry 4.0, machine learning, and data-driven predictive analytics all leave a mark on manufacturing. They brought about a new concept of smart factories, driven by enhanced efficiency and sustainability. 
Customer expectations and solving customer pain points are equally important drivers for digital transformation of manufacturing. With eCommerce for manufacturers, CRM, ERP platforms, and manufacturing execution systems, customer data is more visible than ever, and poor experiences become too big to ignore.
Challenges of Digitalization in Manufacturing
Just like in any industry, many things can hold manufacturers back from digital transformation initiatives, whether it's selling the idea to upper management, or fighting over fears surrounding business and personnel resources.
Nevertheless, starting the discussion can offer manufacturers a candid look at their inefficiencies, their resource allocation procedures, and open them up to new technologies. 
Any digital transformation initiative can place demands on the IT department's technology stack and development structure. This may require the use of new release cycles, processes, APIs, or innovating in other areas of digital infrastructure and performance.

Digitalization in the manufacturing industry

incurs costs on human resources: the workforce can feel disillusioned in the face of changing workplace realities and requirements. Employee reluctance and communication issues also pose a challenge to manufacturers.

Being in a dynamic and cash-sensitive industry, manufacturers need to address any budget and investment limitations carefully. This can lead to reservations about sticking to the factory digital transformation strategy.

Manufacturing operations are complicated with tight schedules and numerous resource constraints. As a result, management doesn't take kindly to ill effects on operations before seeing any benefits delivered by their

digital transformation for manufacturing

.
Even though embarking on a digital transformation journey may be challenging, it's not done alone. There are numerous digital transformation consultants and advisory services out there to assist manufacturers in their journeys. Additionally, countless digital transformation manufacturing success stories and case studies show how businesses capitalized on smart manufacturing.
Examples of Digital Transformation in Manufacturing
In the manufacturing industry, digital transformation is not just about automating the assembly line, better tracking inventory levels, or optimizing the supply chain. It involves a change in mindset, approaches, and new ways of problem-solving. Here are just some examples of how manufacturers benefit from digital transformation strategies:
Ecommerce
Selling to businesses is difficult, and it can be counterproductive with a platform that doesn't address the needs of today's business buyers. Wastequip, a leading manufacturer of waste handling equipment, started its digital transformation with the strategic goal to simplify the ordering process for customers. For this, the company implemented a B2B eCommerce solution to create an easy-to-navigate site, where customers can search, order, and track their purchases. Digitization through eCommerce has been successful for Wastequip: it enabled the organization to boost its online presence, with an 8x growth in web traffic.
Recommended reading: A Guide to Digital Marketing for Manufacturing
Big data and data analytics
The impact of big data in manufacturing cannot be understated: NIST has demonstrated that General Electric increased production capacity up to 20% while lowering material consumption rates by 4% with machine learning alone.
One California-based fruit supplier increased production by 50% without hiring a single employee. What made the difference was an automation system that includes data-driven history analysis, alarm notification, and other big data reporting capabilities.
IoT
With IoT supported by cloud systems such as Microsoft Azure, Tetra Pak could use real-time data to accurately predict when their dairy processing equipment needs maintenance.
Furthermore, inefficient data processing from wearables directly translates to inefficiencies in the workforce. Honeywell and Intel created a Connected Worker Proof of Concept to merge sensor data with worker-worn devices.
Advanced manufacturing technologies
Innovative manufacturing methods such as additive manufacturing help manufacturers overcome the limitations of traditional production methods. For example, in the automotive industry, Ford is using additive manufacturing to produce polymer spare parts for its vehicles faster than traditional molding processes would allow. 
Explore more digital transformation case studies in our guide.
Top 8 Digital Transformation Trends in Manufacturing
Let's get an understanding of the top digital transformation trends in manufacturing in the 2020s and how each one will play a role in defining the future of the manufacturing industry.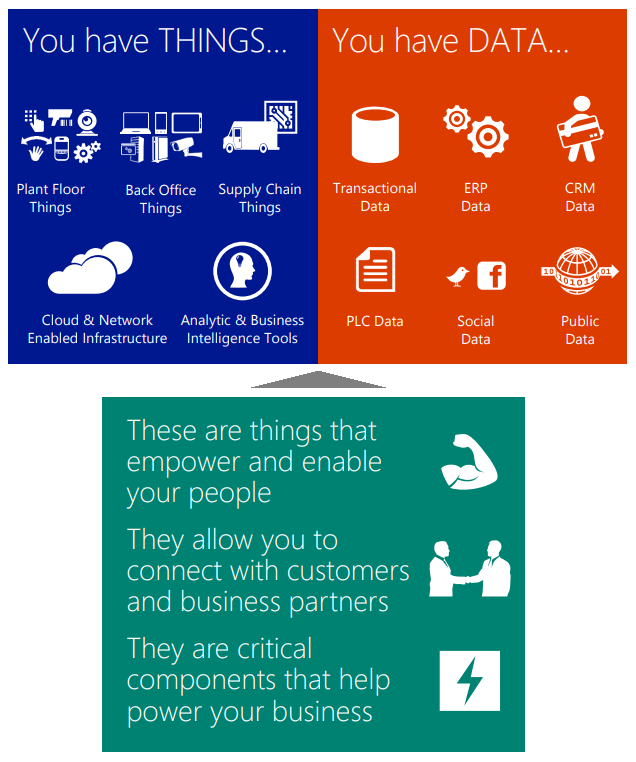 1. Industry 4.0
Industry 4.0 is a trend that describes the integration of traditional manufacturing, industrial factories, and smart technology across the value and supply chains. Also referred to as "the fourth industrial revolution", the main purpose of Industry 4.0 is to automate production processes to the point where all processes are automated and controlled digitally in real-time.
An example of a fourth industrial revolution technology could be a machine with embedded sensors that interacts with another machine based on the data they receive through the sensors, all happening without the intervention of another human. In the future, Industry 4.0 can blur the line of actual and virtual warehouses that can free staff for more effective collaboration.
2. IoT
One key technology of Industry 4.0 is the Internet of Things (IoT), a network of interconnected physical objects that communicate based on calculated data and their environment, including data fed from outside. Embracing IoT can lead to new functions, insights, services, and benefits for manufacturers.
The most prominent IoT use cases lie in operations, asset management, and personnel management. For example, manufacturers can establish preventative maintenance programs with real-time monitoring, improve energy efficiency and working conditions through intelligent air management, risk management, worker productivity, and more.
3. Machine learning
With the amount of data machines are collecting, it's easier than ever to leverage algorithms to quickly perform the best course of action among multiple options – something that would be too inefficient with humans. Today's machines have proven that quality is not sacrificed for efficiency, as machines can more carefully identify and anticipate which factors will impact production, or assembly line speed and quality. 
Some examples of machine learning can include suggesting the best course of action for employees, predicting waiting times, shipping times, or behavior models for supply chain risk prevention. Another example is artificial intelligence or AI in eCommerce. Data generated by machines offers insights into all areas of the production process when integrated throughout the supply chain.
4. Robots
Future robots aren't projected to differ much from what we see in manufacturing today. What will change, however, is the learning aspect from previous behavior and the use of pattern recognition for improving results. The number of connected devices, how they interact with each other, and the volume of data are all expected to increase as well.
Against the backdrop of connectivity, new technologies in robotics will continue to innovate, particularly in autonomous driving, dexterous carrying, moving, and so on. As robots become more autonomous, flexible and cooperative, they will be able to tackle even more complex assignments, relieving employees from repetitive tasks and increasing productivity on the factory floor.
5. B2B eCommerce
Today's B2B eCommerce platforms must react to B2B buyer needs quickly, which tend to mirror those of B2C consumers. Preserving B2C-like experiences is difficult when B2Bs demand that custom checkout workflows, pricing rules, product data personalization, and other complex functions run in the background. Nevertheless, manufacturers such as Saltworks and Samuel Hubbard are great examples of digital transformation manufacturing case studies that were able to digitally transform their stores by implementing OroCommerce. This transformation allowed them to use a single website for segmentation and multichannel capabilities and helped improve their business models.

Aside from delivering the right product data to customers, B2B eCommerce platforms can automatically sync data with the ERP and WMS to cut down on inventory management efforts and the chance of human error. More importantly, B2B eCommerce provides more flexibility for manufacturers selling direct to consumers or selling B2B2C without disrupting their existing channels.
6. Additive manufacturing
Alongside robotics and intelligent systems, additive manufacturing, or 3D printing, is a key technology offering digital industrial transformation opportunities. Additive manufacturing is a production method, which works by using digital 3D models to create parts with a 3D printer layer by layer. For complex, intricate objects (e.g. aircraft parts, some consumer goods, like jewelery, medical implants), 3D printing often is a more cost-effective manufacturing option than more traditional technologies. 
Modern manufacturing companies include 3D printing into their digital strategy to speed up time-to-market for new products, increase profitability, and support operational improvements.
7. Digital Twins
The concept of a digital twin holds great potential for optimiaing the performance and maintenance of manufacturing systems. A digital twin is a digital representation of a real-world product, machine, process, or system, that allows companies to better understand, analyze and optimize their processes through real-time simulation.
As an example, an operator can use a digital twin to identify why a part in a machine is malfunctioning or to predict the lifetime of a product. This continuous, real-time simulation helps to improve designs of products as well as to ensure equipment uptime.
8. Augmented reality
Despite its uptake in consumer applications, the manufacturing industry is just beginning to embrace Augmented Reality (AR) technology. And yet, there is a huge untapped potential for using AR.
What's attracting manufacturers in AR? For one, AR enables workers to speed up the assembly process and improve decision-making. Using AR glasses, workers can see data, like assembly guidelines, or a serial number of components, projected on the real part, facilitating faster and easier work procedures.
Benefits of Digitization in Manufacturing
As digital technologies evolve all around us, manufacturering companies are increasingly coming to crossroads: to step up their digitization efforts or stick with the tried and tested methods. Digital transformation for manufacturing creates a lot of value in the manufacturing sectorin the long term by unlocking many benefits, including:
Better data usage
Digitization in manufacturing is about optimizing data usage in operations, and manufacturers can utilize data more effectively – feeding it to their B2B eCommerce, ERP, CRM, finance, warehousing systems, and more.
Improved processes
Digital transformation in manufacturing has the opportunity to revolutionize operations. For example, real-time insights can help monitor, resolve and even predict situations to optimize machinery lifecycles. This helps maintain error-free operations and avoid costly rework and disruptions.
Increased innovation
Innovation encourages innovation, so a strategy for digital transformation in manufacturing sets the stage for a holistic approach to optimization. For example, deploying automated smart factory capabilities in your ERP helps you improve your business performance and the supply chain.
Smarter outsourcing
By introducing remote monitoring, troubleshooting, proactive maintenance coupled with data at their fingertips, manufacturers can prevent disruptions and eliminate risks of rushed solutions.
Customer-centricity
Manufacturers can provide greater value to customers by launching a B2B eCommerce platform with separate portals for regions, brands, or clients. Moreover, manufacturers can use sales data that accurately predict customer demand cycles and adjust their production accordingly. 
How to Prepare for Digital Transformation in Manufacturing
Just like manufacturing, information, and technology is not going anywhere. Because suppliers and distributors are also being exposed to Industry 4.0, IoT, and machine learning, they have grown to expect the same from manufacturers.
To keep up with their partners' and clients' expectations, manufacturing organizations have no choice but to embrace smart manufacturing. The adoption of digitally transformative technologies empowers companies to achieve cost reduction in operations, deliver better customer service, and make operations more agile. 
Businesses looking to learn more about digitalization in manufacturing can explore the four-part blog series, where we share business cases, success stories, best practices, and tips on succeeding in manufacturing digitization.
How can Oro help in your digital transformation journey?
Today's businesses rely on complex and company-specific processes to attract customers, grow sales, and maintain all types of business relationships, such as quotations, contracts, and ordering functions. Thankfully, Oro, Inc. is perfectly positioned to help businesses harness the power of digitization in manufacturing.
Oro's CRM, being fully integrated with OroCommerce, offers enterprise businesses a unified view of B2C, B2B, sales, and customer data. This leads to greater resistance to market forces, increased agility, and the ability to seize new opportunities. 
Furthermore, Oro's smooth synchronization with ERP, PIM, and eProcurement and marketing systems gives you a single source of truth for the entire business. With connected systems, businesses can better work towards a common goal and offer omnichannel experiences, driving digital transformation in retail, wholesale, distribution, and more.
Lastly, Oro offers a time-tested eCommerce automation platform with an ecosystem of developers, worldwide technology experts, partners, and solution integrators. This means the right solution to the most difficult B2B eCommerce challenges is never out of reach, as Oro partners are focused on helping clients succeed and ensuring the best ROI from their technologies.
Wrapping Up…
For the most part, digital transformation in manufacturing unlocks many opportunities, including customization, efficiency, agility, and automation.
However, any digital transformation strategy must never lose track of changing times. That's why manufacturers should always remember that while digital transformation is inevitable, it should not be seen as a solution to any single area of manufacturing. Instead, creating a manufacturing digital transformation roadmap should be looked at as an ongoing process of getting and staying at the top of your market.
Questions and Answers
Industry 4.0 describes a new phase in the evolution of technology that focuses heavily on interconnectivity, automation, intelligence, and real-time data. 
Industry 4.0 is about the integration of previously disparate systems and processes through computer systems and online networks to enable business agility, flexibility and operational performance. 
How is digitization transforming the manufacturing industry?
Digitization in manufacturing helps positively transform processes both on the factory floor and in the management operations. Digital technologies, like AI, IoT, 3D printing, digital twins change how products are designed, produced, and maintained, while helping businesses optimize the energy footprint of factories and supply chains. 
To streamline sales and operations management processes, manufacturers also invest in solutions, like eCommerce, CRM, and ERP. They help synchronize business functions, increase sales, and improve the overall customer experience.
How can manufacturing companies use industrial eCommerce to digitize their business?
B2B eCommerce software enables manufacturers: 
Unlock online selling business models to increase sales

Introduce self-service streamlining the ordering process

Create personalized purchasing experiences for customers 

Sell direct to customers without disrupting your current sales channel