The digital landscape is constantly changing for manufacturers. Change is propagated by rapidly changing consumer expectations, connected devices and technology improvements in neighboring industries in the supply chain. We are already seeing the effects that digital transformation in manufacturing has on businesses, their suppliers, customers, and other third parties.
This has numerous advantages, such as helping businesses adapt to changes faster, or even anticipate changes before they occur – all crucially important to manufacturing. It's not surprising that IDC expects that by 2022, half of all manufacturers will be invested in improved resilience and artificial intelligence to drive productivity improvements.
What is Digital Transformation in Manufacturing Industry Today
The state of manufacturing is constantly changing due to volatility in global, economic, and policy decisions. From trade policy to AI to IoT, 2019 has seen a number of developments that promise disruption in this sector. The 2020s will see a continuation of this trend, with numerous areas in manufacturing accelerated by network capabilities of 5G, the greater push for IoT, Industry 4.0, machine learning and predictive analytics.
Customer expectations and solving customer pain points are still the main drivers for digital transformation within companies. With eCommerce for manufacturers, CRM, and ERP platforms, customer data is more visible than ever and cannot be ignored by manufacturers in their transformation initiatives.
Challenges of Digitalization in Manufacturing
Just like in any industry, there are many things that can hold manufacturers back from digital transformation initiatives, whether it's selling the idea to upper management, or fighting over fears surrounding business and personnel resources. Nevertheless, starting the discussion can offer manufacturers a candid look at their own inefficiencies, their resource allocation procedures, and open them up to new technologies.
Any digital transformation initiative can place demands on the IT department's technology stack and development structure. This may require the use of new release cycles, processes, APIs, or innovating in other areas of digital performance.

Digitalization in the manufacturing industry

incurs costs on human resources: the workforce can feel disillusioned in the face of changing workplace realities. Employee reluctance and communication issues also pose a challenge to manufacturers.

Being in a dynamic and cash-sensitive industry, manufacturers need to carefully address any budget and resource limitations. This can lead to reservations about sticking to their

digital transformation strategy

.

Manufacturing operations are complicated with tight schedules and numerous resource constraints. As a result, management doesn't take kindly to ill effects on operations before seeing any benefits from their digital transformation.
Even though embarking on a digital transformation journey may be challenging, it's not done alone. There are numerous digital transformation consultants out there to assist manufacturers in their journeys, as well as many success stories involving businesses that have seen life-changing results.
Examples of Digital Transformation in Manufacturing
In the manufacturing industry, digital transformation is not just about automating the assembly line or better analyzing existing data. It involves a change in mindset, approaches and new ways of problem-solving. Here are just some ways that manufacturers transformed their businesses:
Top 6 Digital Transformation Trends in Manufacturing
Let's get an understanding of the top digital transformation trends in manufacturing in the 2020s and how each one will play a role in defining the future of the manufacturing industry.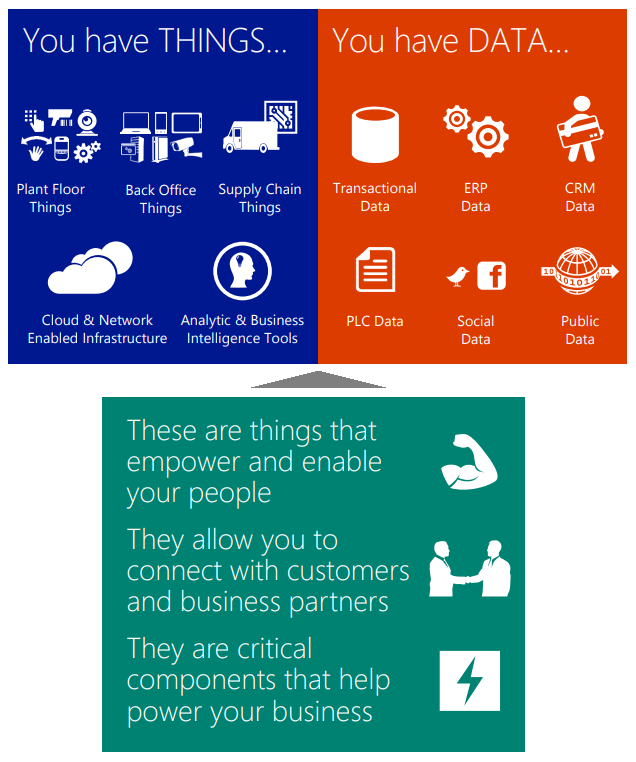 Industry 4.0
Industry 4.0 is a trend that combines traditional manufacturing and industrial factories with digital. Also referred to as "the fourth industrial revolution", the main purpose of Industry 4.0 is to automate production processes to the point where all processes are automated and controlled in real-time. 
An example of that could be a machine with a sensor that interacts with another machine based on the data they receive, all happening without the intervention of another human. In the future, Industry 4.0 can blur the line of actual and virtual warehouses that can free manpower for more effective collaboration.
IoT
One key technology of Industry 4.0 is Internet of Things (IoT), which is a network of interconnected physical objects that communicate based on calculated data, their environment, including data fed from outside. This can lead to new functions, services, and benefits for manufacturers.
The biggest IoT use cases lie in operations, asset management, and personnel management. For example, manufacturers can establish preventative maintenance programs with real-time monitoring, improve energy efficiency and working conditions through smart air management, risk management, worker productivity, more.
Machine learning
With the amount of data machines are collecting, it's easier than ever to utilize algorithms to quickly perform the best course of action among multiple options – something that would be too inefficient with humans. Today's machines have proven to us that quality is not sacrificed for efficiency, as machines can more carefully identify and anticipate which factors will impact assembly line speed or quality. 
Some examples of machine learning can include suggesting the best course of action for employees, predict waiting times, shipping times, or behavior models for risk prevention. In addition, data generated by machines offer insights into all areas of the production process when integrated throughout the supply chain.
Robots
Future robots aren't projected to differ much from what we see in manufacturing today. What will change, however, is the learning aspect from previous behavior and the use of pattern recognition for improving results. The number of connected devices, how they interact with each other, and the volume of data are all expected to increase as well.
Against the backdrop of connectivity, robots will continue to innovate, particularly in the areas of autonomous driving, dexterous carrying, moving, and so on. And, with movement data being connected with IT systems and teams across longer distances and even geographic locations, we will likely see this drive quicker and more effective business decisions.
B2B eCommerce
Today's B2B eCommerce platforms must react to B2B buyer needs quickly, which tend to mirror those of B2C consumers. Preserving B2C-like experiences is difficult when B2Bs demand that custom checkout workflows, pricing rules, product data personalization, and other complex functions run in the background. Nevertheless, manufacturers such as Saltworks and Samuel Hubbard are great examples of digital transformation manufacturing case studies that were able to digitally transform their stores by implementing OroCommerce, which allowed them to use a single website for segmentation and multichannel capabilities.

Aside from delivering the right product data to customers, B2B eCommerce platforms can automatically sync data with the ERP and WMS to cut down on inventory management efforts and the probability of human error. More importantly, B2B eCommerce systems allow manufacturers more flexibility in selling direct-to-customer or B2B2C without disrupting their existing channels.
Benefits of Digitization in Manufacturing
As digital technologies evolve all around us, manufacturers are increasingly coming to crossroads: to transform and develop or stick with the tried, tested, and true methods. Digital transformation for manufacturing creates a lot of value for companies in the long term by unlocking many benefits, including:
Better data usage
Digitization in manufacturing is about optimizing data usage in operations, and manufacturers can utilize data more effectively – feeding it to their B2B eCommerce, ERP, CRM, finance, warehousing systems, and more.
Improved processes
Digital transformation has the opportunity to revolutionize operations. For example, real-time insights can help monitor, resolve and even predict situations in order to optimize machinery lifecycles. This helps maintain error-free operation and avoid disruptions.
Increased innovation
Innovation encourages innovation, so a digital transformation strategy sets the stage for a holistic approach to optimization. For example, utilizing smart factory capabilities in your ERP helps you improve your business performance, as well as the supply chain, too.
Smarter outsourcing
By introducing remote monitoring, troubleshooting, proactive maintenance coupled with data at their fingertips, manufacturers can not only prevent disruptions, they can also eliminate risks of rushed solutions.
Customer-centricity
Manufacturers can provide greater value to customers by launching a B2B eCommerce platform with separate portals for regions, brands or clients. Moreover, manufacturers can make use of sales data that accurately predict customer demand and adjust their production accordingly. 
How to Prepare for Digital Transformation in Manufacturing
Just like manufacturing, information and technology is not going anywhere. Because suppliers and distributors are also being exposed to Industry 4.0, IoT, and machine learning, they have grown to expect the same from manufacturers.
To keep up with expectations their partners and clients have out of their products and processes, manufacturers have no choice but to innovate. Manufacturing businesses looking to learn more about digitalization and digital transformation can explore the four-part blog series we've prepared on the subject. 
How can Oro help in your digital transformation?
Today's businesses rely on complex and company-specific processes in order to attract customers, grow sales, and maintain all types of business relationships, such as quotations, contracts, and ordering functions. Thankfully, Oro, Inc. is perfectly positioned to help businesses harness the power of digital technology.
Oro's CRM, being fully integrated with OroCommerce, offers businesses a unified view of B2C, B2B, sales, and customer data. This leads to greater resistance to market forces, increased agility, and the ability to seize new opportunities. 
Furthermore, Oro's smooth synchronization with ERP, PIM and eProcurement systems gives you a single source of truth for business processes. With connected systems, businesses can better work towards a common goal and offer omni-channel experiences.
Lastly, Oro offers a time-tested platform with an ecosystem of developers, worldwide technology partners, and solution integrators. This means the right solution to the most difficult B2B eCommerce challenges is never out of reach, as Oro partners are focused on achieving client success and ensuring the best ROI from their technologies.
Wrapping Up…
For the most part, digital transformation in manufacturing unlocks many opportunities, inclusing customization, efficiency, agility, and automation. However, any digital transformation strategy must never lose track of changing times. That's why manufacturers should always remember that while digital transformation is inevitable, it should not be seen as a solution to any single area of manufacturing. Instead, creating a manufacturing digital transformation roadmap should be looked at as an ongoing process of getting and staying at the top of your market.