Originally published November 17, 2020, updated March 23, 2022
Retail is how consumers and businesses purchase goods and services. Consumer spending is a crucial component of the economy, making up almost 70% of total US economic output. Businesses in manufacturing, education, healthcare, or transportation engage in retail sales, and while their specialties differ, they have one thing in common.
These organizations must sell their products to customers – and to do that effectively, they have to improve their products, processes, facilities, and customer experience. The most effective way of doing that is through retail digital transformation.
What Is Digital Transformation in the Retail Industry?
Whether looking for replacement parts or building materials B2B eCommerce, digital buying seems to permeate every industry.
The digital revolution – namely, the rise of digital commerce – was always an innovation driver in the retail industry. When the coronavirus pandemic hit, it not only changed how we interact but pushed even more retail customers online. 
According to Shawn Fitzgerald, research director of market research firm IDC, eCommerce digital transformation is about applying "third-platform technologies to transform decision-making." Digital transformation in retail enables retailers to unlock new sources of innovation rather than just upgrading or modernizing existing legacy systems. 
Digital retail transformation does not begin and end with a specific function, like a shopping cart website. In reality, organizations must make deep changes to their operations, supply chains, inventory management, and customer relationship processes. They must analyze data to accurately project demand, react to customer needs, and ship products quickly and efficiently.
Here are some developments in retail and how they drive retail industry digital transformation:
Trust is more important than ever
Over 81% of online shoppers feel anxious when shopping on a website they are not familiar with. Online, trust must be built through informative product descriptions and accurate availability. One way of communicating real-time data around products, pricing, and shipping is through ERP integration.
Everyone is on their phones
Close to 3.8 people billion, which is half of the world's population, were usingsmartphones in 2021. According to Smashing Ideas, companies that switch to PWA (Progressive Web App technology) and cloud technologies notice engagement increases from 20% to 250%.
Automation is everywhere
Automated retail technologies such as robots, drones, and automated checkout are transforming retail. For example, drones can cut delivery costs by 86%, warehouse robots can reduce manual labor costs by 70%, and almost 50% of shoppers would use unattended checkout due to speed improvements alone.
People expect unified experiences
Shoppers are using multiple channels – web, mobile, social, to name a few – and they expect brands to be available across channels at all times. To achieve that, many retailers implement a unified commerce strategy by connecting various channels through one platform. Through unified commerce, retail organizations can create a frictionless, personalized shopping experience while also ensuring back-office efficiency.  
Four Reasons Why Retail Digital Transformation Will Matter in 2022
According to Forrester, the global retail industry is expected to lose $2.1 trillion in sales this year. In addition, Moody's downgraded five of the seven largest shopping mall REITs, and the outlook of others has been changed to negative. As higher vacancies lead to weaker incomes, investors are not hoping for physical stores to recover until at least the end of 2022.
The same trends can be seen in the much larger business sector. According to Steve Forbes, the editor-in-chief of Forbes magazine, B2Bs are "vastly more important than consumer or government" when it comes to spending. Thus, B2B spending is the driver of the economy, which reflects how consumers spend.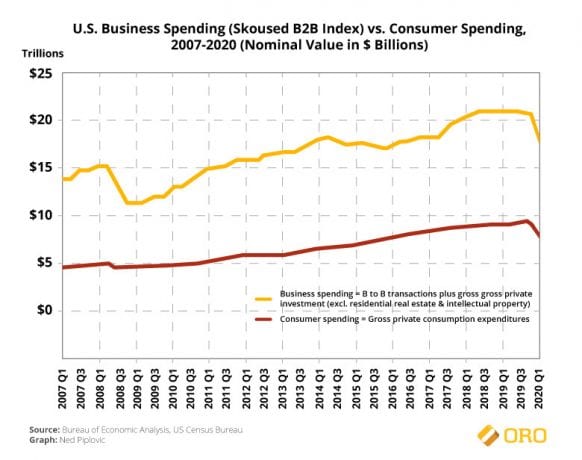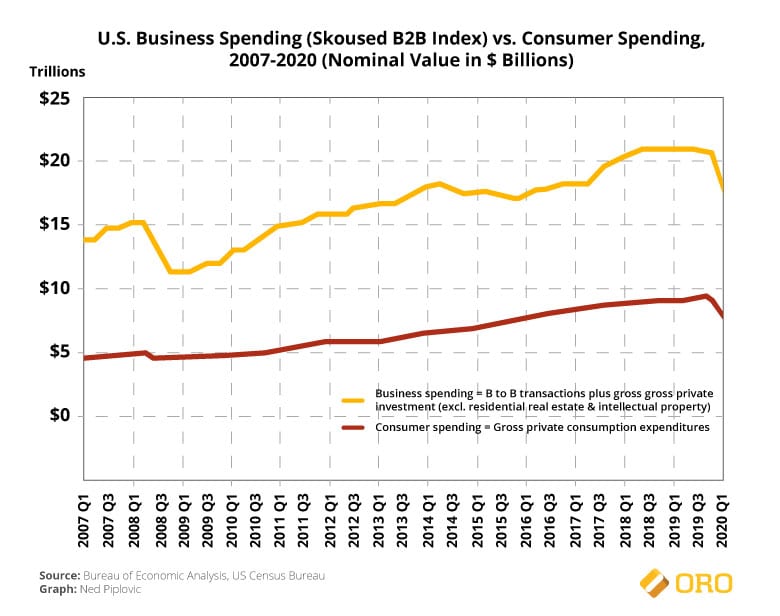 While the pandemic has affected spending across the board, we've seen an unprecedented spike in both B2C and B2B online purchases. As businesses prepare for the new digital era, retail digital transformation will happen at different rates in different domains. What's for sure is we can expect changes in the customer experience and faster adoption of digital technologies and innovative business models that allow retailers to survive in the years ahead.
COVID-19 has changed retail
As customers get used to turning online for everything from food to clothes, retailers that depend on brick-and-mortar sales need to ask themselves some difficult questions. 
Brick-and-mortars weigh down the industry as a whole, with an expected drop of 14% in 2020 with slow recovery on the horizon. Before any talk of normalization, investors, landlords, and retailers themselves need to balance their interests and come to a consensus to bring confidence back to the industry.
Besides the move to online, we're also seeing changes in consumer goods preferences, spending patterns, and new purchase channels. Retailers are reacting to the changes in consumer behavior but also look for ways to improve operational efficiency. They are introducing new or connecting existing business systems such as CRM, eCommerce, ERP, WHM or PIM eCommerce solutions.

Other changes are more gradual. These include investments in data and business analytics, machine learning, robotics, and augmented reality. These will take more time but are inevitable as brands seek to meet customer expectations, predict future demand, and seek to work more efficiently, particularly remotely.
Customers expect easy shopping
Most of us communicate and perform research online, so it's natural that we purchase on these channels, too. Accelerated mobile adoption is driving demand for frictionless shopping experiences. Customers look for quickly loading websites, responsive design, and personalized websites.
They gravitate to brands that meet their needs with relevant product information, knowledgeable staff, and safety assurances. According to data by Optinmonster, personalization is central to purchase experiences, while irrelevant content has an opposite effect, leading to lost sales for retailers. These changes accelerate innovation, driving digital transformation initiatives throughout the retail sector.
Retailers are going omnichannel
As competition increases, retailers will have to reevaluate their offerings in their markets and see where they can differentiate. Omnichannel retailing is viewed as one of the solutions. For example, this could mean bringing more in-store experiences online, allowing online shoppers to have a video call with sales associates. 
Omnichannel retail digital transformation has created tools that can remove doubt and confusion during purchase decisions. Augmented reality is one example of technology retailers can use to help customers visualize products with cameras on mobile devices.
Consumers remain reluctant to enter public places, which drives demand for alternative delivery and pickup services. New delivery models are already gaining traction among the general public, with BOPIS (buy online, pick up in-store) expected to stay in demand long after the pandemic.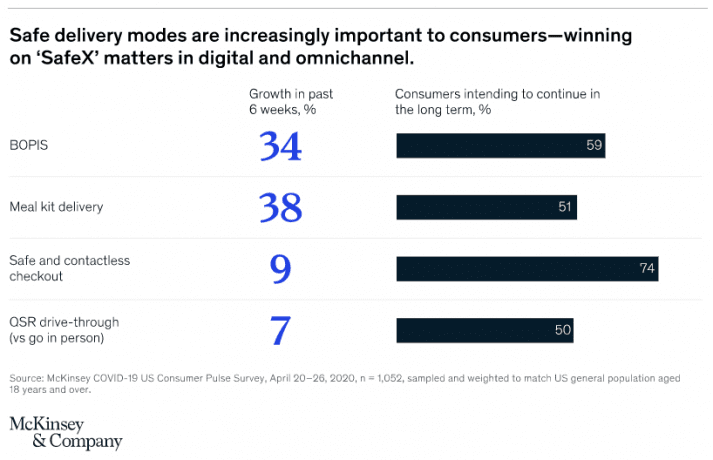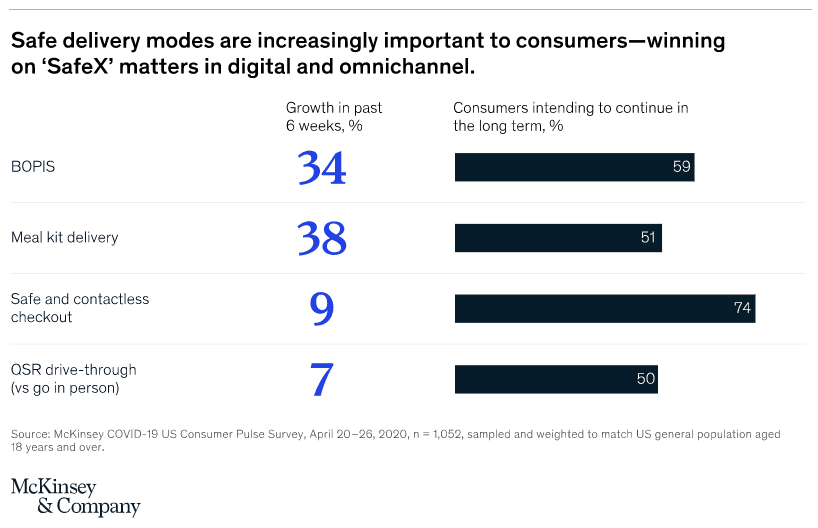 [Source]
Small, physical items such as groceries and FMCG are perfectly positioned to capitalize on these new customer preferences. As customers warm up to the idea, it won't be long until other retail sectors, including B2C and B2B, follow suit.
Retail roles are getting redefined
Physical stores have long-tracked shopper behavior and purchases to optimize retail store layouts. Recent research, however, revealed that physical stores could complement eCommerce sales: opening a new location increases traffic to a retailer's website by 37 percent the following quarter. The effect works in the opposite direction, too: Amazon uses its physical stores, Whole Foods, and Amazon Go, to blend in-person and digital experience.
The pandemic also made many businesses reevaluate their supply chains like never before. As demand fluctuated, many customers faced out-of-stocks and delays. Retailers are looking to protect supply chains from crisis the next time around, and embrace digital transformation to reach their resiliency and efficiency goals. Supply chain improvements like transparency, speed, and shortened delivery times are more important than ever.
The Benefits of Digital Transformation in Retail
Retail digital transformation positively impacts three important aspects of retail business: 
Customer experience: Digitization helps retailers advance in-store and online experiences. Big data analytics, location-based services, eCommerce, and mobile apps enable brands to offer unified, personalized customer service. 
Enterprise agility: Technology moves at a fast pace. The ability to quickly capitalize on digitization initiatives will be critical to building and maintaining the flexibility necessary for success in the future.
Retail supply chain: A digital supply chain enables supplier and carrier connectivity, inventory visibility, and integrated demand forecasting. These benefits accelerate retail supply chains, allowing retailers to achieve operational efficiencies and delight their consumers with timely deliveries.
What Are the Key Trends of Digital Transformation Initiatives in Retail?
Systems integration
Data intelligence is essential for predicting demand and quickly reacting to new opportunities. As different ways of connecting software emerge and data transfer increases, there's never been a better time to keep track of it all. Seamless integrations help retail businesses dig out data-driven insights to understand all aspects of the retail process, from inventory management to staff productivity.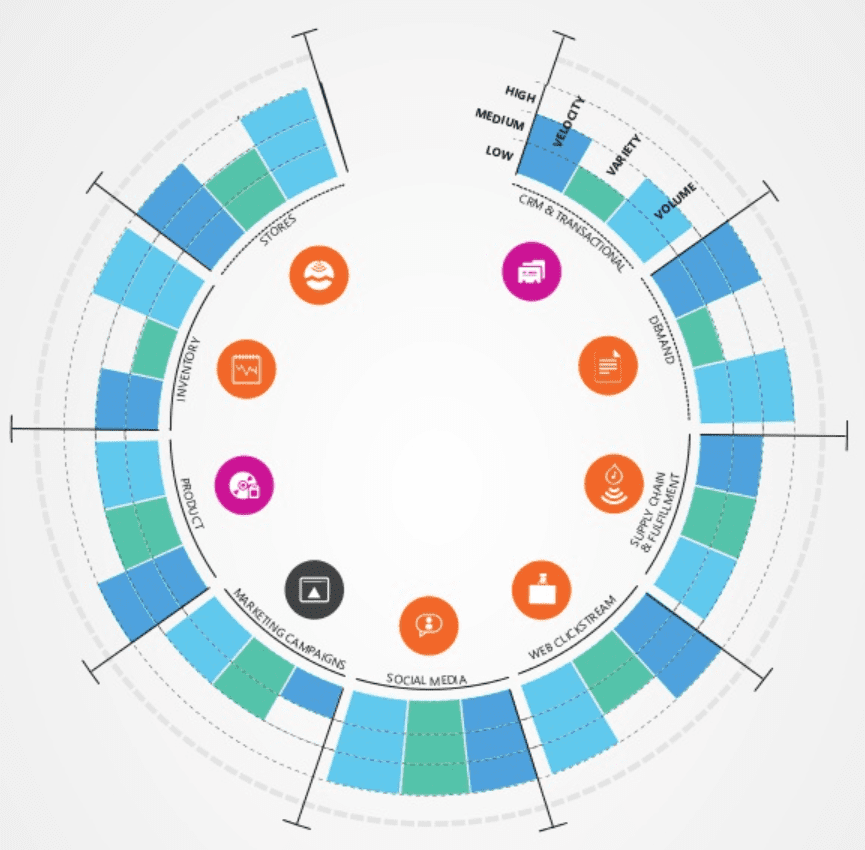 Connected systems help brands understand how customers are using their products and how to optimize pricing based on this knowledge. For example, eCommerce data can identify best-selling products and offer the right, personalized suggestions and discounts to customers. CRM data is necessary to understand your best customers and create targeted marketing campaigns to attract more of them.
Additionally, retailers need to maintain a single source of truth and ensure that data flows freely between systems. These can consist of ERP, PIM, 3PL, supplier databases, and other specialized software, streamlining processes like:
Display correct prices, availability, and shipping information to customers

Deliver personalized customer data like suggestions and order history

Gain transparency and generate better inventory projections

Manage fulfillment from multiple locations
Virtual or augmented reality
As digital and physical experiences blur, consumers will shop via AR technology either online, in-store, or both. Online shopping will become more immersive, offering customers the convenience, safety, and security of experiencing products on their terms. Retailers have a perfect opportunity to offer digital experiences that are different from the competition.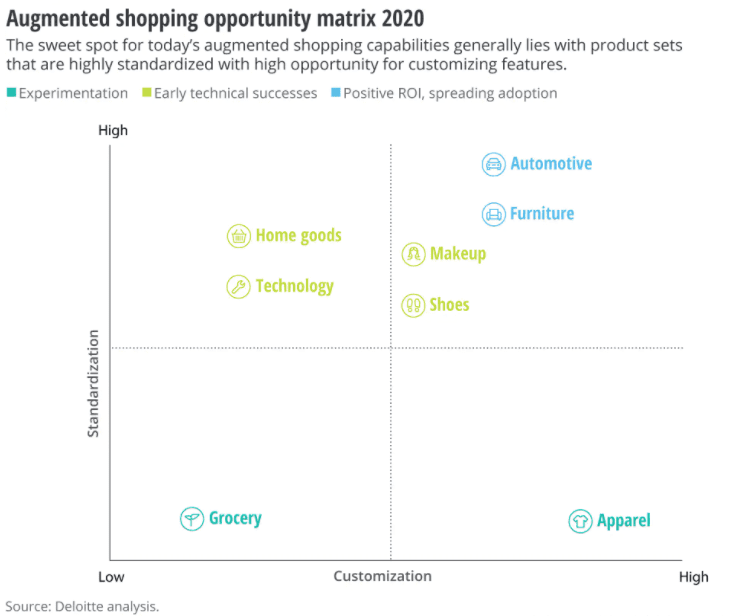 According to Deloitte, consumer products are more applicable for virtual and augmented reality. Automotive, B2B furniture, and makeup retailers have already seen success with this technology. AR and VR can further unlock new value propositions, such as  try-on (seeing a product on themselves), try-in (seeing a product in their environments), and interaction (an immersive VR experience)
Automated workflows
Investment in automation is implemented fast in retail, from product recommendations to demand predictions to customer service. Currently, one of the most popular uses of automation is to help retailers understand their customers better – but that's not all.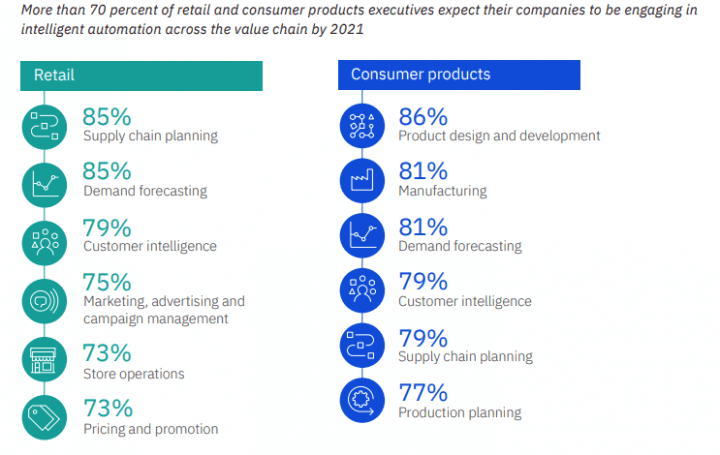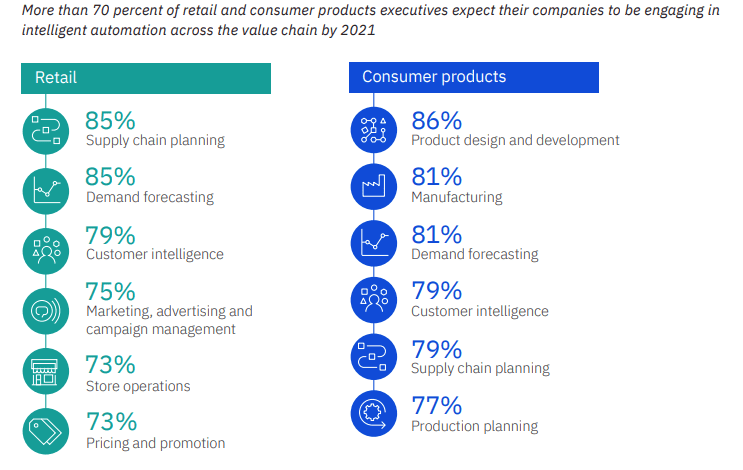 IBM surveyed 1900 companies across 23 companies and discovered that 85% are planning to invest in intelligent automation to improve their supply chains. That's because as product catalogs, your customer base, and sales grow, automation becomes a necessity. 
Aside from sales automation and data integration for seamless self-service experiences, retailers shouldn't forget about automating their back-end processes. For example, connected supply chain, inventory, and other back-office data ensures product accuracy for customers, team productivity, and workflow optimization.
All this is great news for retailers, as automation has the potential of markedly boosting sales numbers, a presumption shared by retailers across organizational areas.
Digital commerce
According to eMarketer, online retail sales already make up 14.4% of all US retail spending, a number which will only grow in the future.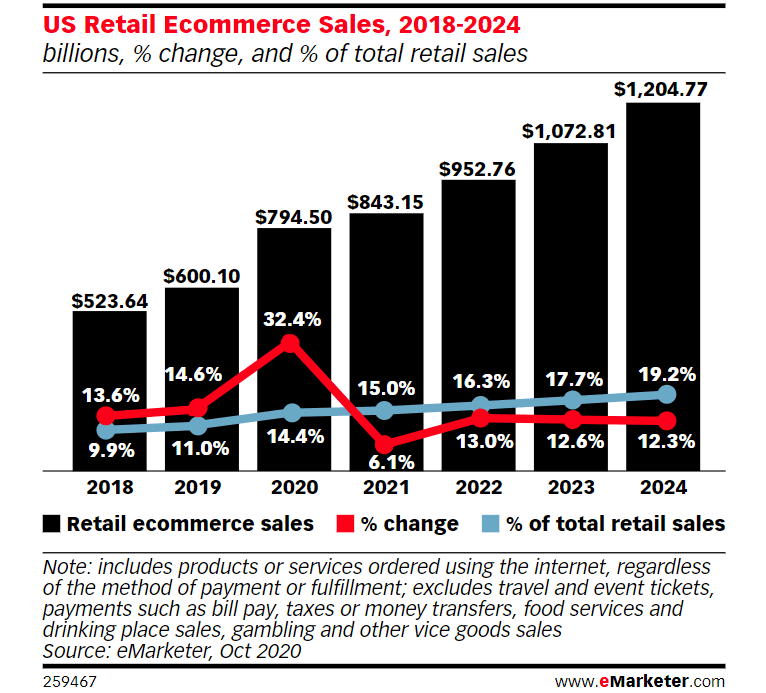 [Source]
Digital commerce offers many benefits to retailers. First of all, it helps retailers to react to quickly changing demand. They can sell globally or move to adjacent markets such as B2B, B2C, D2C without interrupting existing channels.
The second one is personalization. Self-service portals allow brands to offer unique experiences to targeted segments. By integrating with existing systems such as CRM, ERP, and WHM systems, retailers can deliver customers accurate inventory information, increasing odds of purchase.
Streamlined processes is another one. Retailers can improve operational efficiency through back-office automation. As manual data entry is eliminated, so are errors, allowing staff to spend more time with customers. By investing in the right B2B eCommerce solution today, you future-proof your business for tomorrow and build resilience for future disruption.
Algorithmic merchandising
Algorithmic merchandising enables retailers to stock, price, and promote merchandise more accurately, while also reducing the cost of inventory significantly. 
Driving algorithmic merchandising is the use of sophisticated data and analytics tools. The 2021 Gartner CIO Survey shows that 63% of retailers expect to spend more on business intelligence/data analytics, and 35% on artificial intelligence in eCommerce. 
Merchandising will be one of the key areas incorporating AI-augmented data tools into processes. By addressing merchandising with algorithms and predictive analytics, retailers can solve many of the challenges presented by growing customer expectations and rising inventory costs.
For example, retailers can rely on algorithmic processes to detect patterns and bring under-performing products to attention. They can also recommend a temporary price reduction tactic for these products early on to optimize revenue during the rest of the season.
A well-implemented algorithmic merchandising enables retailer companies to attain higher sales and margins, by enabling smarter inventory stocking and pricing decisions. 
What Are the Challenges in the Digital Transformation of the Retail Sector?
Whatever your retail digital transformation entails, it must have a strong foundation. Whether your focus is customer data management, increased product, inventor, or order visibility, evaluate the ROI and risks associated with each initiative. As you're researching, selecting, and implementing the right technology, keep an eye out for the following challenges:
Culture change.

Regardless of industry, digital transformation involves a unified approach across organizations and departments. IT departments and internal stakeholders need to be on board, agree on a plan of action, and work together on the initiative.

Lack of expertise.

For the retail business transformation to be successful, leaders must be honest with their technical capabilities and expertise. Establish what can be done in-house and where outside help is needed to get where you want to be.

Investment challenges.

Many retailers are cash-sensitive and operate on low margins. This can lead to pushback from leadership, sustained back-and-forth with stakeholders, partners, and customers.
Even if you've got your digitization journey under control, there's always help if you need it. We've recently updated a list of digital transformation consultants that can take over where in-house teams leave off. It's an excellent starting point for retailers at the beginning stage of their digital transformation.
Start Digital Transformation in Your Retail Store
More than ever, sellers are pressured to out-maneuver their competitors for a bigger share of customers. But retail customers don't sit in one place: their tastes, expectations, shopping journeys are evolving. Besides keeping on top of these trends, retailers cannot forget about streamlining internal processes, growing relationships, and reducing expenses.
Oro offers sellers several products that help them accelerate their retail industry digital transformation.
For example, OroCRM helps retailers manage their leads, customer behavior, and sales data. With direct and seamless integration with an eCommerce platform by OroCommerce, retailers can get full visibility of their customers. The added understanding of the customer helps them grow their businesses and seizing the right opportunities.
Oro products are built specifically for B2B needs, so they are robust, flexible, and customizable for any business need. Some of the standout features include support for corporate structures, B2B workflows, personalized product catalogs, pricing calculation, as well as ordering and checkout workflows.
Furthermore, Oro supports an ecosystem of developers, technology, and full-service solution partners around the world. With deep experience in the power of digital, our experts have completed many successful transformative projects. Regardless of the challenges you face along your digital transformation journey, Oro's solutions and expertise can make your goals a reality.
Are You Ready to Enable Digital Change in Retail?
Retailers, both online and offline, are caught at a crossroads. Many are hesitant to implement their digital transformation, which places them in a losing position in terms of key indicators. In the meantime, customers are responding to relevant, convenient, and meaningful experiences, and in turn, spend money with brands that deliver.
If you're looking to implement a retail business transformation, think globally. It's not a simple web-app, but an immersive experience that is seamless across all your digital and physical channels. It's not just a simple FMCG eCommerce site but also improved inventory, supply chain, order management, checkout, and shipping options.
When digital transformation is a whole and inseparable part of your business, everyone, including your customers, will take notice.
How do top midmarket brands use technology?
Forrester shares real-life case studies from leading business sellers.
Frequently Asked Questions
Digital retailing involves using digital technologies, both online (e.g., eCommerce) and offline (e.g., VR experiences in a brick and mortar store) to make it easy for customers to evaluate a product or service, determine its cost, and purchase it using a preferred method.
Why should retail companies embrace digital transformation?
The shift to digital has never been just a passing trend. It's been unfolding organically since long before the pandemic. Retailers looking to stay relevant in the new online purchasing reality should explore, invest in, and implement digital technologies that can future-proof their business.
What are some examples of digital transformation in retail?
Let's take a look at digital transformation through eCommerce. SaltWorks, a salt manufacturer supplying restaurants, gourmet retailers, and end consumers with gourmet salts, was looking to provide both B2B and B2C customers with an intuitive website experience. It had to include a personalized storefront, rich page descriptions, and product availability information. The company achieved its goals by implementing a flexible eCommerce solution. An eCommerce platform created a unified shopping experience for Saltworks' customers by enabling three crucial functionalities: 
a flexible checkout workflow to accommodate different shipping methods

multi-layered pricing strategies to provide personalized discounts 

Amazon cross-promotion to give customers the option to purchase Saltworks products on Amazon 
Digitization through eCommerce helped Saltworks unlock a whole new level of serving its customers online, boosting sales and customer retention.